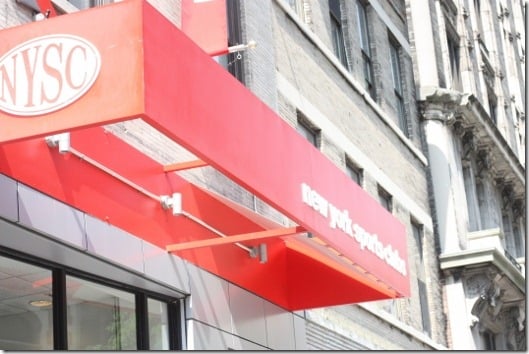 Hey guys!
Such a nice response to yesterday's post—I like how much you like it when I open up! Moreover, it is amazing to me that so many of you also own my giant hot pink sweater. I almost want to keep it out of a sense of camaraderie.
Let me tell you, though: it has been mighty cathartic to donate a lot of my wool and leather. Vegans tend to have varied opinions on whether it's better to keep the leather and wool you acquired pre-veganism (so as not to waste what's already yours) or better to give those items away, so that you can set a positive example by wearing synthetics. Thus far I've done the former, if only to accommodate a tiny shopping budget, but this was really a nice excuse to weed out some things that I'm ready to let go of (makes me think of my post on having a dynamic wardrobe!)
Yesterday, I talked all about the things that are constant in my life. I forgot to mention a very crucial one: the gym. Specifically, New York Sports Club, to which I have belonged for a solid decade now. Ten years! I've spent about six of them at this location, on Broadway and 80th:
I'm terribly attached to the NYSC, which is everything I want in a gym: tons of locations (so I can squeeze in a workout no matter where I am, or how busy), tons of machines, tons of classes, and a relaxed atmosphere. Some Manhattan gyms are just too she she for my taste; there are only so many women I can watch strutting around in 90$ workout pants and makeup. The uptown locations of NYSC are pretty unassuming. Sure, there are plenty of image-conscious young people, but there are also a lot of parents, grandparents, and fitness newcomers. I like the range. And I like the people.
A view of Zabar's from the window—could anything be more quintessentially Upper West Side?!
A year ago, I pulled a muscle in my groin, and over the course of limping and overcompensating (and possibly because the whole region was inflamed) I developed a nasty case of tendonitis in my hip. I had to switch to an almost exclusively stairmaster-based routine for three months, along with physical therapy. The plus side? Leg muscle. The downside? Boredom, and a little unwanted body commentary.
Last weekend, I pulled some groin muscles in a way that felt very reminiscent of last year, and this time, I vowed to take a break from running and stretch more, rather than allow the injury to get out of control. It worked! Today, I'm feeling almost pain free.
But I used the week not only to rest the inner thigh muscles, but also to take advantage of the NYSC's wonderful lineup of fitness classes. Group exercise and I have a fairly antagonistic relationship (sorry, Diana!). It's not that I don't like the idea—it's just that I don't like the reality. I'm a control freak, and I don't like being told what to do—especially when I work out. Second, I like adjusting my daily workouts to fit my mood—sometimes they're calming and mellow, sometimes they're intense, sometimes they're focused, and so on—and group exercise sort of dictates the mood for me. Third, I like being able to go to the gym on impulse, and signing up for classes means having less freedom about the what and when. And since I've never really needed the motivation that class exercise seems to give a lot of people—I'm far from a prodigious exerciser, but I do love it, and I'm consistent—I tend to opt out.
But I can't deny that classes force me to work muscle groups I frequently ignore, and they force me to work on strength training in general, which is an area I overlook. And tendonitis often results from weak or disproportionately worked muscle groups. So this week became my tribute to the NYSC offering of fitness classes. Every morning, I did some cardio, and every afternoon or mid-morning, I took a class. It went like this:
Monday: Hatha yoga
Tuesday: Total Body Conditioning
Wednesday: Pilates (mat)
Thursday: Power Yoga
Friday: Total Body Conditioning
Overall, I had a great experience with all of these classes! Power yoga made me pretty sore; yoga and I go through phases, and this has been a long dry spell. Pilates, meanwhile, was a little slow for my taste; I found myself feeling restless, and stared often at the clock. But my hatha class was lovely, and both total body conditioning classes were good in different ways: the first focused on precision and repetition, while the second focused on hybrid exercises (i.e. squats with bicep curls). All classes reminded me of how badly I need to challenge myself to focus on strength training.
Of course, I know myself, and I know it's unlikely I'll ever really devote a considerable amount of time to working my very modest (read: puny) muscles. In some ways, I'm cool with that: I think exercise, like food, should be a pleasure, and if something's no fun, you should do something else. But it doesn't hurt to challenge yourself to at least step outside of the comfort zone once in a while, and I'm so lucky to have spent ten years belonging to a gym that gives me so many options when I do feel that urge. I'll be using the student gym at Georgetown when I get to DC, so I'm not sure what class options await, but I do know there's a yoga studio near my apartment, which I look forward to exploring.
Speaking of comfort zones, I rarely write about fitness, so Melissa, I hope you're proud! And if you're a New Yorker, I really do recommend you check out NYSC as an affordable and worth-every-penny gym option.
Back to my comfort zone: food. On my bucket list of NYC dining this week was Café Blossom, where I supped on Monday night. Behold, food porn:
(Raw sweet potato rolls with jicama and avocado and almond ginger dipping sauce—my fave!)
(Massaged kale salad with avocado—a new menu item. couldn't have done it better.)
Kristen, I missed you!
Candle Cafe and Candle 79 give me food that I could never make at home; it's why I love dining there. But I love Blossom because it feels as though I'm being fed food that I made in my own kitchen. And when you're waking up tomorrow morning at 7:30 to move cities, food that feels like it came from your kitchen is very, very welcome.
Wish me luck, guys – I'll try to have a post set up from the road, but I make no promises! If not tomorrow, I'll see you all on Sunday, at which point I can report to you from my new home
xo