I spend a lot of time dining with non-vegans. At bottom, this is a fact I'm deeply grateful for. All of the people in my life (with one or two exceptions) are not only supportive of my veganism, but enthusiastic about it as well. My mom, my friends, my coworkers: they enjoy talking to me about veganism, trying vegan restaurants with me, and asking me about my motives in a kind, curious way. I often have the pleasure of taking loved ones to vegan restaurants and watching as they discover fine vegan dining, and it's a task I embrace with relish.
Sometimes, though, the experience of dining with a non-vegan can be a little stressful. Because it's important to me that my dining companions enjoy their meals, I do tend to get a little type-A about offering menu recommendations, and I sometimes find that I'm anxious throughout the meal. What if they don't like their food? What if they assume that all vegan food is, therefore, unfulfilling? Is it all my fault for picking the wrong restaurant?
For this reason, I breathe a sigh of relief on nights when I can dine with a fellow vegan or rawbie. Take my dinner on Tuesday night. I met up at one of my favorite vegan restaurants, Caravan of Dreams, with a friend who eats a whole lot like I do: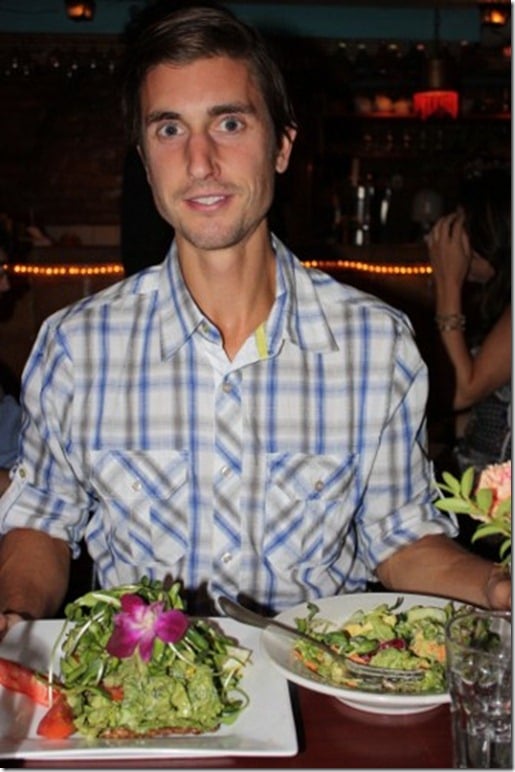 That's my good friend Brendan, who's work you're all pretty familiar with by now. I've blogged enthusiastically about Brendan's work before, as well as his incredible Vega line of foods. To this day, he's the writer whose work I most frequently recommend to clients—especially clients who are interested in athletic performance with plant based foods. Brendan is smart, intensely well educated about nutrition, passionate, yet balanced, and driven. He practices what he preaches, and he's a living breathing embodiment of what this lifestyle has to offer. (Sadly, I cannot say that honestly about all—or even most—of the health leaders I meet.)
Caravan was Brendan's suggestion, and it suited me fine. It's a perfect restaurant for the semi-raw: all of the food is simple, fresh, and the menu is about half-raw, half cooked—all vegan, of course! It's also cozy, unassuming, and reasonably priced. I'm a big fan.
Brendan and I both arrived with appetites, so we dug right into the hummus and sprouted grain wrap appetizer (live hummus and flax chips were on the menu, but we both agreed that almond hummus and flax chips can be a little too heavy for our tastes).
Delicious!
Brendan and I have similar tastes (and his appetite is almost as big as mine) so I wasn't surprised that we chose the same two dishes as our entrees. We both ordered raw sandwiches and big salads. Brendan went for the sprout sandwich (pumpkin seed butter, sunflower seed bread, sprouts, tomato, dulse), and I went for the avocado sandwich (aioli, pesto, sunflower bread, lemon basil dressing). And we both ordered big salads with avocado and Thai dressing. Observe the mountains of green:
As you can see, the sandwich was really just a cracker with a topping, buried underneath raw veggies. And guess what? That's precisely what I wanted. This is why I love Caravan: it's a Gena approach to food! The only downside was that, when the food arrived, it looked a lot like Brendan had gotten the avocado sandwich, and I'd gotten the sprouts. Both of our waiters insisted this wasn't so, but halfway through the meal, it was very clear that Brendan was indeed eating my food, and I his. No biggie. When you have friends who eat the way you do, it's easy enough to swap plates!
It's a joy to take non-vegans to vegan restaurants—for example, when I took Chloe and Knud to Millennium, and they loved it. But it's also such a tremendous relief to eat one's own kind of food with someone else who you can count on to enjoy its simplicity every bit as much as you do. Thanks for the company, B!
Nary a day later, I got to see Brendan in his professional capacity as a speaker and green eating advocate. He had a speaking engagement at the James Beard house: a great opportunity, we both agreed, because this is typically a clubhouse for "foodies." If there's one thing I hate, it's the disdain that "foodies" and gourmands fling at vegans—as if we can't be a part of their elite club because we refuse to ooh and ahh over foie gras or find ourselves enticed by Julia Child's coq au vin. Well, times are changing, and the gatekeepers of fine cooking are learning to think more progressively about green food. Brendan was a part of their new series on eco- and health conscious dining, and they couldn't have hoped for a better advocate.
This was actually the first time I'd seen Brendan speak publicly, and I was so impressed by how succinctly and well he offered up a huge amount of knowledge in a short time. He was direct, funny, accessible, and he spoke with conviction. With vegan ambassadors like this, I don't doubt we'll only continue to share our lifestyle with even the most difficult to reach audiences.
It didn't hurt that there were Vega snacks being served in abundance at the event. If you're not interested in vegan snacking after a vibrancy bar, you have a problem.
The more Brendan and I speak about our goals—as vegans, as eco-conscious eaters, and as people who are a part of the health community—the more I realize how touched he is by a unique kind of ambition and passion. He's done a lot for athletes and new vegans already, but he's now poised to do much broader, deeper work, and I'm excited to watch him do it.
On that note, I want to share this article. That Hugh Jackman is turning to Brendan for inspiration is, naturally, a wonderful thing. But I was pretty shocked and dismayed by the ignorance (and INSANITY) of the commentary. You needn't scroll through all of the toxic remarks, but do take a look at the piece—as well as this one, mentioned second from the top, and written by my friend Kevin. I love that more and more athletes and high achievers are seeing what plant based foods can do for them, for animals, and for our world!
xo