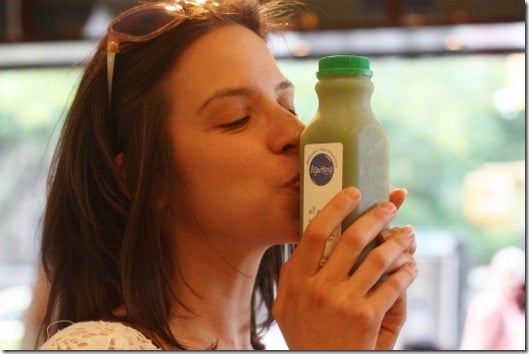 A few posts ago, I alluded to the fact that I've been meaning to write an homage post to my favorite of New York's many juice bars. If you're a fan of fresh juice—and I think we all are—there is nothing more luxurious than an availability of fruit and veggie concoctions that someone else has gone through the trouble of making. Juice is like a sandwich: you can make your own, but for some reason it's always tastier when somebody else does it.
Unfortunately, there aren't a lot of people who can make it for me here in D.C.: there's a juice bar at Java Green, and Peacock Café makes fresh juice, but that's about it. My personal favorite is the Wonji Juice Bar at Whole Foods, which has a great selection of juices and smoothies, but it's not easy for me to trek up Wisconsin Avenue to get there on a busy class day.
In New York, on the other hand, fresh juice is a dime a dozen. If I were to google "juice bars"
within my mom's zipcode, I'd come up with no less than five places—and that's within a pretty small radius. If I were to round up all of what NYC has to offer, the list would be too infinite for this post. But I did think I would put together a list of my top juice bar picks in the Big Apple. I'm always asked for NYC recommendations via email, so NYC readers and travelers, take note!
1) Liquiteria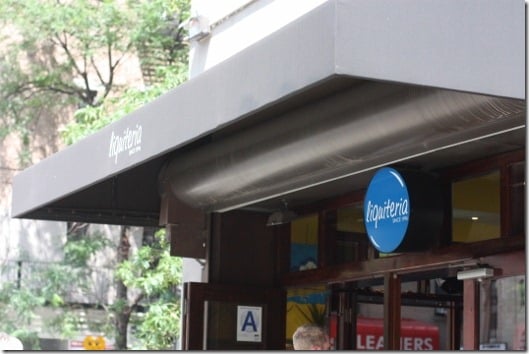 My favorite of NYC's juice bars. This place offers fresh juices aplenty, and it has an admirable smoothie list. My favorite of their "liquid meals" is predictably the "green monster," (blueberries, strawberries, bananas, apple cider, super green food powder, vanilla vegan protein) and the "mudslide" (blueberries, banana, rice milk, spirulina, vanilla vegan protein). But what everyone comes to Liquiteria for is really the pressed juice.
What's pressed juice, you ask? Think of it this way: most commercial juicers and home juicers are centrifugal juicers: these are the ones with a giant plunger and a spinning blade/mesh unite. My own juicer (which I love) is a Breville Juice Fountain Plus, which is a centrifugal juicer:
These juices will be delicious and easy to prepare, but they'll start to lose bright color after about 15 minutes. Why? Because the juice is exposed to a great deal of oxygen as it's made in the juicer.
Pressed juicers allow juices to stay fresh (if sealed and refrigerated immediately upon making) because they don't spin the juices with a centrifugal blade, and they don't oxygenate the juice in the same way.
Juice presses come at a high price: about $2500 or even more. But when juicing establishments invest in them, they can offer customers a huge array of freshly pressed juices that will stay fresh for 2-3 days, so that you can order them, transport them to your office or home, and have them waiting when you need them.
And really, when don't we need them?
Pressed juice tastes a little different than the usual stuff: it's strained to perfection, and it's thicker. There are times when I don't actually prefer it: my homemade green lemonade is tangier and spicier than any pressed juice I've tried, and the sweetness of the apples "pops." But pressed juice always feels like a wonderful luxury, and I'm always dying to get my hands on it when I can. Liquiteria offers a fairly extensive selection. My two faves are the greens with apple, lemon and ginger, and the greens with carrot. Both are so, so good, and my gratitude for them is obvious: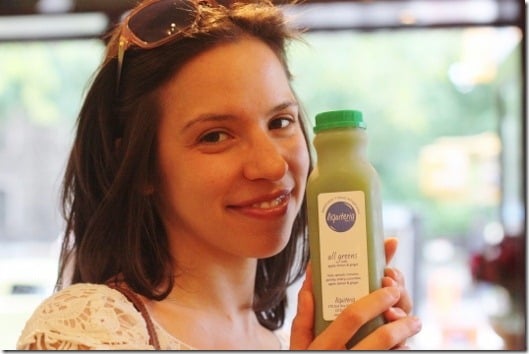 As a side note, there are juicers called "masticating juicers," which crush and squeeze at a slower rate, and the juice they produce will stay fresher longer than centrifugal juicers. They're a great option for those who juice seriously at home, but can't invest in a Norwalk juice press. I would definitely get one if I juiced more regularly; as it is, I don't really juice enough to justify it, but that may change now that I live in a city where I can't easily purchase juice when I want it.
Just a few years ago, Juice Generation was a good spot to grab a protein smoothie (whey protein, most likely) or a fruit juice and call it a day. In the last couple of years, the juice chain has stayed ahead of the curve by offering fresh green juices (the "green power pleasure" is my fave), wheatgrass (ick!) and, most recently, pressed juices and young thai coconuts.
I absolutely love their watermelon lime juice—it's the most refreshing summer drink I know of—and I'm also fairly devoted to their "essential greens" elixir:
As a fun sidenote, Juice Generation is also host to NYC's "cooler cleanse," which offers fresh raw food and pressed juice to those who are interested in cleanses. I tried the kale salad from this line of food on the bus home on Sunday night, and gave it two thumbs up.
3) The Pump
Over a year ago, I wrote a glowing tribute to The Pump, which in only a year has completely changed its aesthetic and menu from protein-saturated, muscle-builder fare to local, organic, clean food with an emphasis on fresh juices. They have a huge array of fresh smoothies…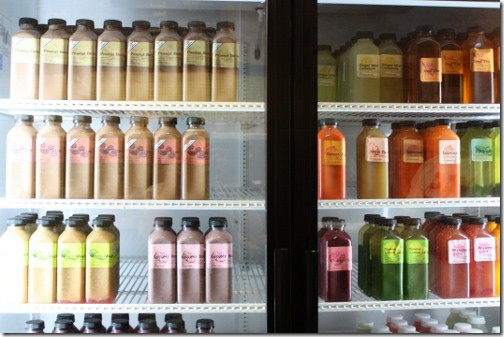 …but also allow patrons like me, who favor rice milk over soy and hemp protein over whey, to make their own:
And their fresh juices are outstanding. My favorite is a cucumber, pear, and green veggie blend, and I enjoy their greens+apple, too: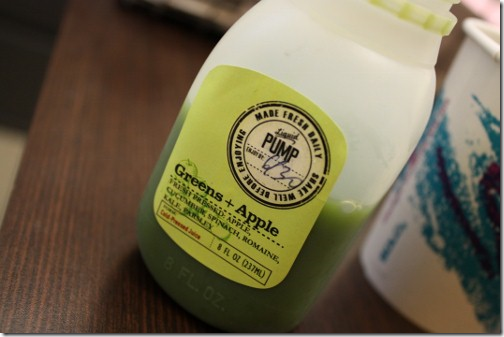 Favorite bonus? They offer juices in both a sixteen- and an eight-ounce size, which means you can save a little money if you're only in the mood for a sip.
The Juice Press opened in 2009, much to the delight of the raw-oriented all over NYC
(source)
It has quickly become one of the city's most popular pressed juice bars (also featuring smoothies, coconut or ale water, and more), and rightly so: the selection is huge, and the Dr. Green juice (pineapple, cucumber, and mixed dark greens) is to die for! I also appreciate the raw fare served, though I can't say I've ever tasted it (yet). The Juice Press, like Liquiteria, Juice Generation, and others, has juice fasting programs for committed patrons.
5) Blossom
Blossom's juice bar isn't pressed, but it has a really special place in my heart for two reasons:
It used to be across the street from my apartment, which made it easy to take advantage of the juices when I was too tired or stressed to make my own.
Some of it's flavors have inspired my own top ten juices: the pink lady, which has beet, pineapple, ginger, and pear, is one of my all time favorites! There's also a wonderful carrot-apple beverage, and a regular green lemonade that's pretty solid. Check out this cute photo of me and Kristen, enjoying the freshly squeezed goodness!
I met Craig, the wonderful owner of Terri, back when he was at the helm of Blossom. We hit it off immediately, and I was honored when he started to pick my brain about pressed juice. Years later, when he started Terri (which is one of my favorite NYC lunch destinations!) I was thrilled to see that he'd invested in a Norwalk and started pressing juice.
(source)
All of the flavors are fantastic, but I personally recommend the Live Long & Green, which is a pear (rather than apple) based green concoction.
What a list!
There are other notable mentions: Organic Avenue has pressed juice, though I have to confess that I find the vibe there to be elitist (and the price tags match). I also love the juices at Candle Café, at Peacefood, and at Juicy Lucy in the East Village. No matter where you are in NYC, the best fresh juices are only a few blocks away.
Interested in more about juicing? Check out my top ten juice recipes and this ancient post on the difference between juicing and blending. And tell me, what's your favorite fruit or veggie juice? Juice bar? Would love to hear!
Finally, a winner of my contest to win a free ticket to the Take Back your Health Conference! The winner is Dendra, who wrote:
I would love to "Take Back Your Health"! I am plagued with arthritis, and have a devastating family history of cancer, diabetes, high blood pressure and heart disease. But I am determined not to go out like this! I started increasing raw foods in my diet in January of this year and have already lost 24 pounds. I am now passionate about learning more about how and what to eat for my best health. I have great energy and commitment and I love the idea of being able to take control of my health! Pick me! Pick me!

Thanks much,
Drenda!
Congrats, Dendra! Please email me to arrange the details. I am so glad I could indeed pick you!!
xo