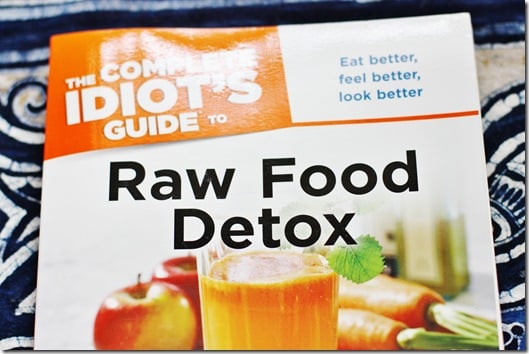 Happy Friday! Nice responses to yesterday's Vitamin-rich juice. I am so glad you all enjoyed the recipe. Today, I'm switching gears to offer you a Friday giveaway for two copies of the Complete Idiot's Guide to Raw Food "Detox" (quotations mine).
I was offered copies of this book by Adam Graham, a wildly talented raw foods chef. I immediately said yes, please—a copy for me and one for one of my readers. Adam generously obliged, and made me the recipient of two copies of the book.
I was a little trepidatious when I first heard this book's title: though I was once as influenced by the concept of "detox" as are most newbie raw foodists (including the years in which I started this blog), I gradually came to believe that the expression is overused and often misunderstood. People talk about "detox" without specifying the precise biological pathways by which they think it's happening. Rather than defining the process biologically, they treat it as a mystical, unknowable, mysterious phenomenon that is specifically tied to raw food. For this reason—and because I have yet to fully explore and gather evidence for the idea of "detox" as it relates to what we eat—I'm incredibly wary of the word, and try not to use it sloppily.
When I received The Complete Idiot's Guide to Raw Food Detox, I was immediately impressed with the awesome recipes. These include many useful recipes for blended smoothies and juices, which are a mainstay of mine during busy student days. The desserts and snacks are likewise delicious and often very ingenious. So I recommend the book heartily for its food! Note, however (it's clear in the photo below) that bee pollen and honey appear in the book. So, if you're vegan, you'll want to modify with agave or maple syrup in those places.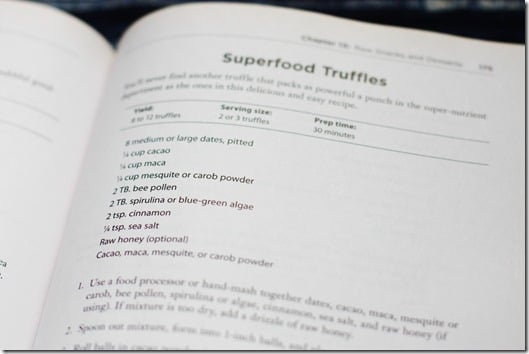 I will confess that I was less impressed by some of the health writing, which emphasizes "cleansing," "detox," and acid/alkaline balance without enough scientific support for my liking. It's a great compendium of many of the theories about health that abound in the raw community, but they simply aren't theories that speak to me any longer (of course, a lot of the information does speak to me—for instance, the parts about nutrient density, freshness, non-GMO foods, organic produce, and so on). Ultimately, I'd recommend the guide first as a resource for great raw recipes, and second as a good primer in raw foods theory. But since I've read up on the theory a lot already, I am going to offer both copies to two lucky Choosing Raw readers, and encourage them to draw their own conclusions about the health info therein.
To enter this giveaway to win one copy of The Complete Idiot's Guide to Raw Food Detox, you can do any of the below. Each action counts as a separate entry, so please leave a comment for each action you complete!
Leave a comment, telling me what you hope to get out of this reading experience.
Tweet about this giveaway, being sure to include a link to the giveaway post.
Follow me on Twitter.
Like Choosing Raw on Facebook.
Like The Complete Idiot's Guide to Raw Food Detox on Facebook.
Mention this giveaway in a blog post.
You have until next Friday to enter the giveaway. Good luck!!!
What are you all up to this weekend? Good things, I hope.
xo