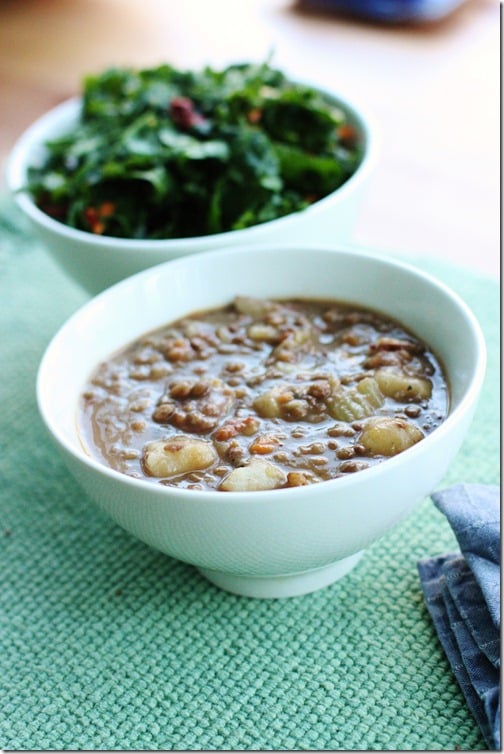 Thanks for the excitement about my raw, vegan caramelized cauliflower snack! I hope you'll all be snacking on it (the raw or the cooked version) soon.
Last week, I highlighted Dreena Burton's chickpea ratatouille, which is a favorite dish in my home. Today, I wanted to share my enthusiasm for Susan V's ridiculously easy lentil soup, which is just as simple as the name suggests, and very tasty.
These days, with the fever pitch of school at a maximum and so little time in which to breathe, it is really comforting to be able to rely on my blogging friends for inspiration with food. Dreena and Susan are both shining examples of bloggers who make wholesome, delicious, and crowd-pleasing vegan fare look easy. Susan puts a particular emphasis on speed and simplicity in her recipes; indeed, she has a whole category of recipes labeled as "ridiculously easy," and I think the name is apt.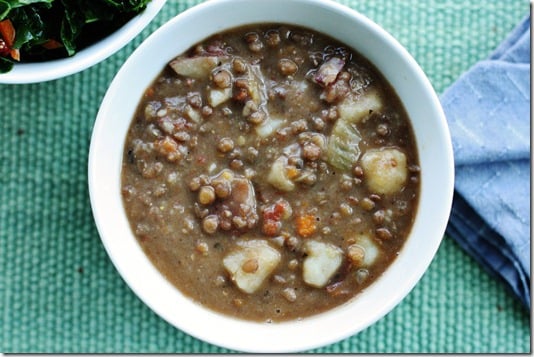 This hearty soup, which is ideal for cooling temperatures, is made from lentils and potatoes, and it features a slightly unusual twist in the inclusion of fire roasted tomatoes. I also noticed that one of Susan's other lentil soup recipes calls for smoked paprika, with which I am obsessed, so I added a heaping 1/4 teaspoon to this one. That, along with the omission of onion, was my only modification of the recipe. It is designed to serve 8; I often find that my serving sizes are a little bigger than what's suggested, and I got 6 out of it. Two are in my freezer, and I look forward to relying on them on busy days. This is a big, crucial tip for anyone who is busy and planning ahead: don't cut recipes in half because you're not sure you'll finish them! If what you're making can be frozen, make it and freeze half. You'll be so grateful later, when you need food in a pinch.
The trick to making this soup as fast as it was was the use of my beloved pressure cooker. I mentioned it recently online, and got some questions about which one I use. I use a Kuhn Rikon. I currently have the 5-quart, though I love cooking in bulk, so I've thought about the 7-quart. These products are costly, so it's not in the cards right now, but if you're toying with the idea of getting a pressure cooker I can tell you that they are wise, wise investments. They save a lot of time, and the leftovers can help you to be thrifty and plan ahead.
I served Susan's delightful soup a couple of ways. It's pictured here with my current kale salad of choice: kale massaged with avocado oil or sacha inchi oil, apple cider vinegar, salt, pepper, and mixed with goji berries and pumpkin seeds:
All together, it was a really satisfying lunch.
I also learned that the soup is fantastic with a dollop of cashew cream, or topped with avocado slices. Something to keep in mind if you make it!
Though I am far from a low-fat cook myself, I do love Susan's accessible and tasty recipes—especially her soups and stews. I recommend checking them out. Meanwhile, I'll return tomorrow with two recent student lunchboxes that hit the spot. Happy hump day!
xo