In the last few weeks you've probably heard me mention From the Farmer, a weekly farm-to-consumer delivery company. From the Farmer emphasizes fresh, high-quality, local produce and is dedicated to connecting farmers with their consumers. The idea is simple: offer folks the same access they'd get to local, seasonal produce at a farmer's market via convenient weekly deliveries. From the Farmer baskets feature produce highlights that have been carefully selected by farmers in the D.C. area (Virginia, West Virginia, Maryland). The produce is typically picked within 48 hours of delivery, then packaged and delivered, at no additional cost, between midnight and 7 am on a morning that you, the customer, select.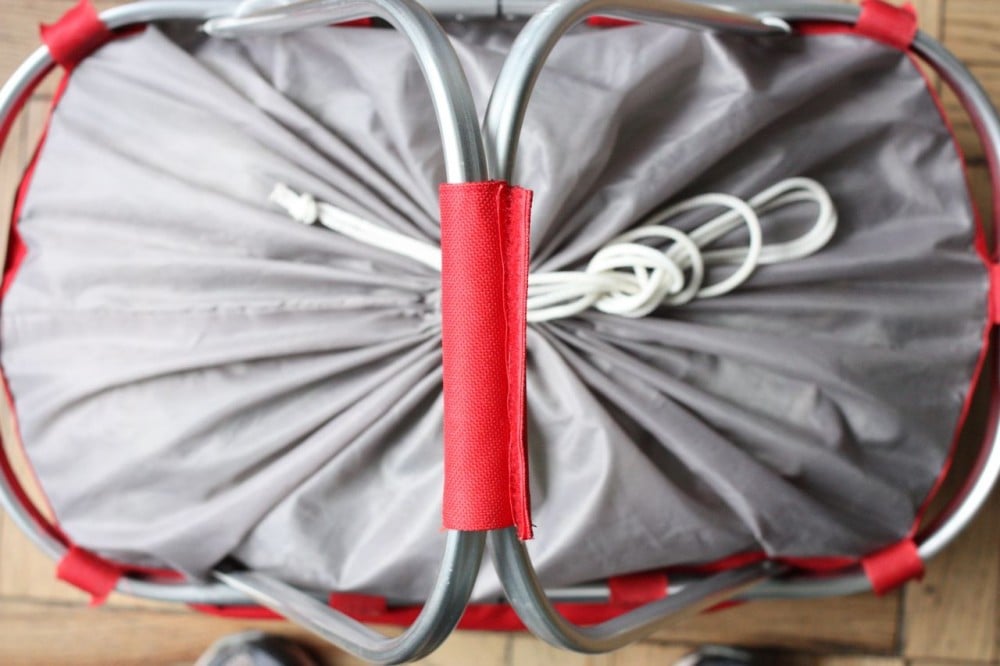 Deliveries arrive in these adorable, reusable red folding baskets. Each time a delivery arrives, you simply leave the previous week's basket outside your door (or wherever you get deliveries). From the Farmer employees collect the tote as they drop off your new basket.
One of the nicest features of using From the Farmer is that it's a really flexible service. Produce subscriptions can feel really binding sometimes, especially if you travel periodically or have busy spells at work that preclude cooking. From the Farmer lets customers pause their subscription whenever they like and however many times they need to, by using a simple online scheduling system. I paused my subscription three times, and it was absolutely no problem.
Deliveries come in the following three sizes:
Half Bushel ($35 per week)
A typical Half Bushel might include beets, carrots, a head of lettuce, zucchini, tomatoes, strawberries, bell peppers, and cucumbers.
Single Bushel ($45 per week)
A typical Single Bushel might include beets, carrots, kale, lettuce, zucchini, arugula, tomatoes, strawberries, bell peppers, cantaloupe, and cucumbers.
Double Bushel ($55 per week)
A typical Double Bushel might include beets, carrots, kale, lettuce, zucchini, arugula, tomatoes, strawberries, bell peppers, cantaloupe, cucumbers.
I opted for the single bushel. From the outset, I wanted to get a size that would cover a large portion of my produce needs for the week, but also give me space to pick up any additional fruits/veggies I was really craving, along with pantry items as needed from the store.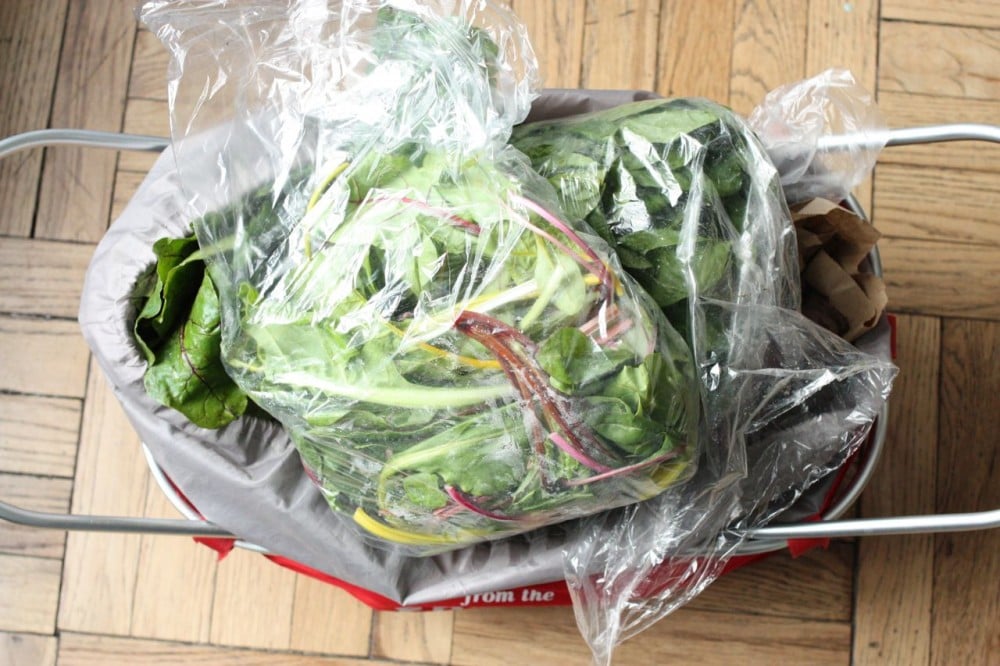 It worked well. Part of why I haven't used a local delivery basket exclusively in the past is that I didn't like the idea of being confined to a certain set of ingredients for the week. With my From the Farmer deliveries, I had nearly all of the produce I needed, but I'd typically pick up some extras (say, sweet potatoes, or avocado, or bananas, or perhaps some herbs that weren't included).
I also found that, thanks to the deliveries, I was encouraged to get creative with what arrived in my box, rather than planning out meals for the week and then only shopping for the items my meal plan demanded (which is what I normally do). I've always been more of a proactive than a reactive cook, but lately I'm trying hard to trust enough in my culinary abilities that I can work with what I have, using my pantry and my creative skills to assemble something spontaneously. It's a big challenge, but it's a challenge I like, and I know it's turning me into a better home cook.
To illustrate this, I thought I'd share some of the delicious, fun meals that I created with the produce I received (side note: if you like seeing meals like this, which don't always make it to the blog, come follow me on Instagram!).
Week 1
Rainbow chard
Sweet potatoes
Button mushrooms
Green bell peppers
Spring mix
Beets
Cameo apples
Spinach
Some meals that emerged from this basket included lots and lots of salads, a quinoa dish with sauteed chard, pesto, and pine nuts (uncaptured, sadly), and some green, green, green smoothies.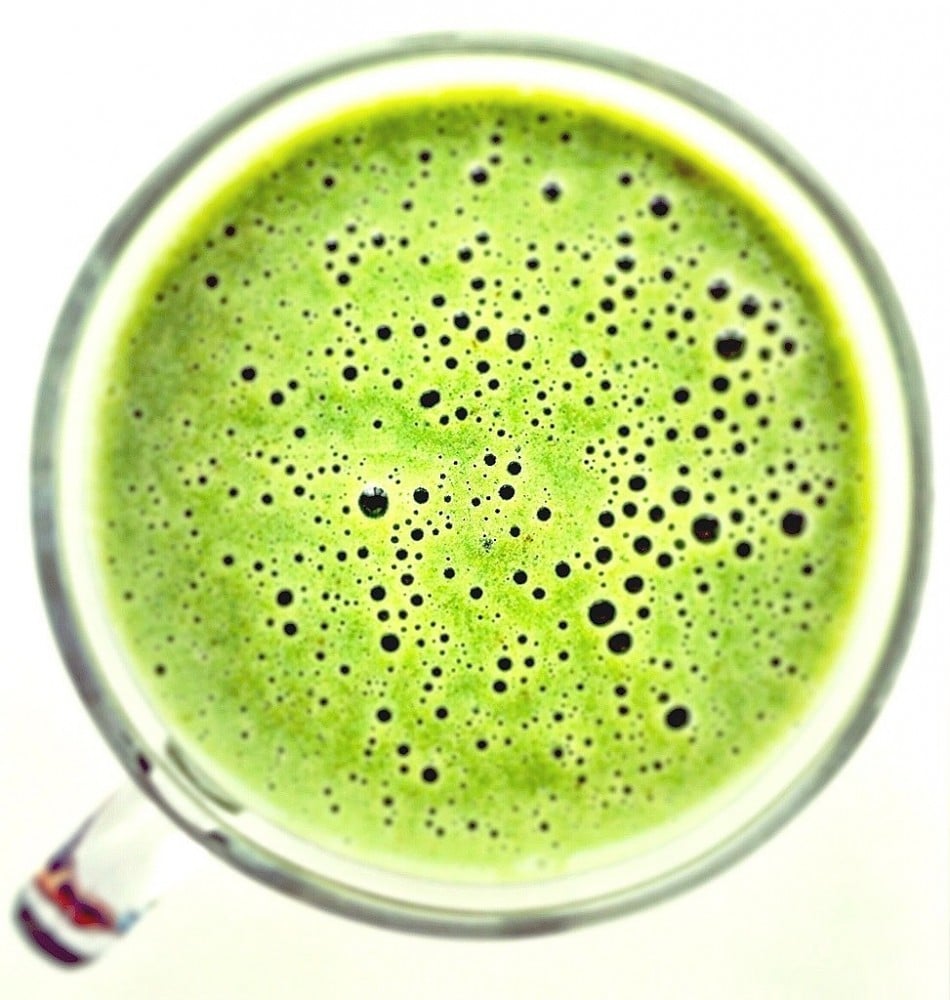 Week 2
Curly kale
Sunflower sprouts
Apple cider
Scallions
Parsnips
Red shallots
Shiitake mushrooms
Green meat Asian radishes
It took me a while to figure out what the radishes were.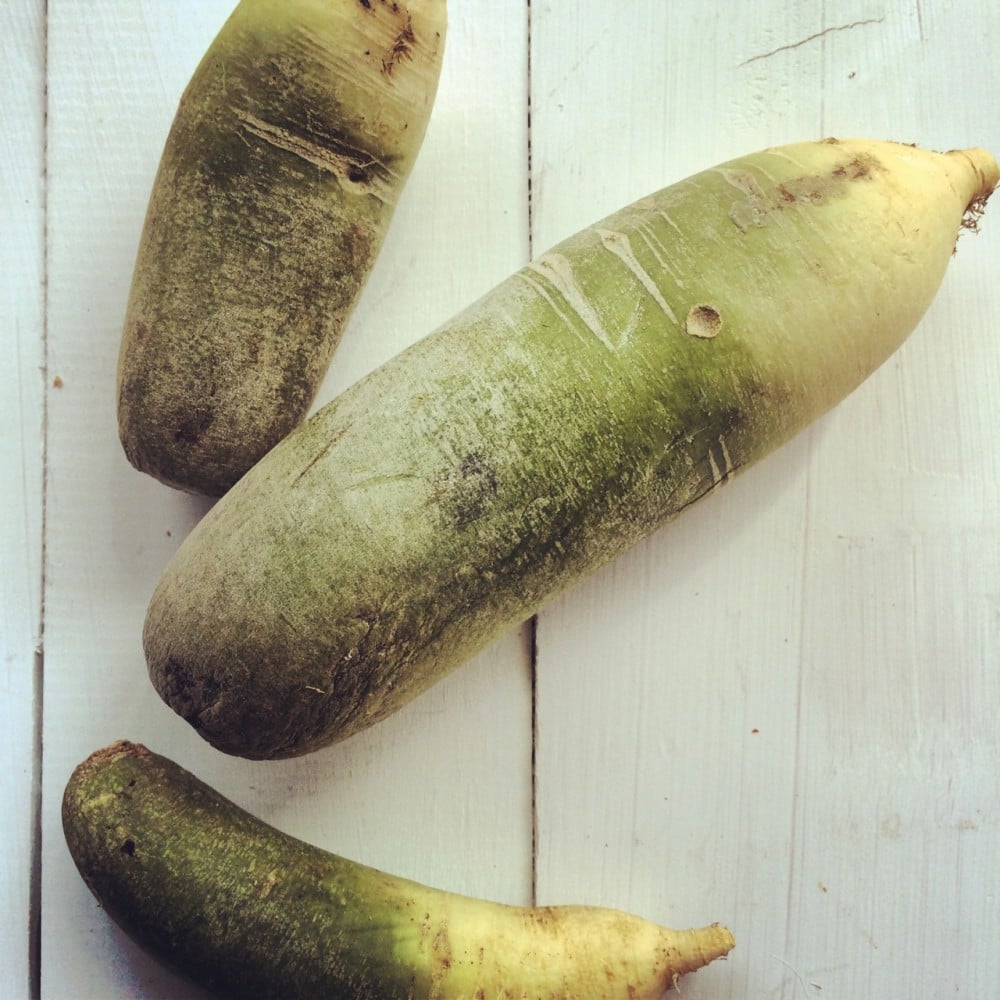 I ended up slow cooking them in some coconut oil, sea salt and pepper. They were great this way. I also shaved them into a lot of salads.
Other meals that resulted from this bushel included my creamy spring pasta with shiitakes and peas: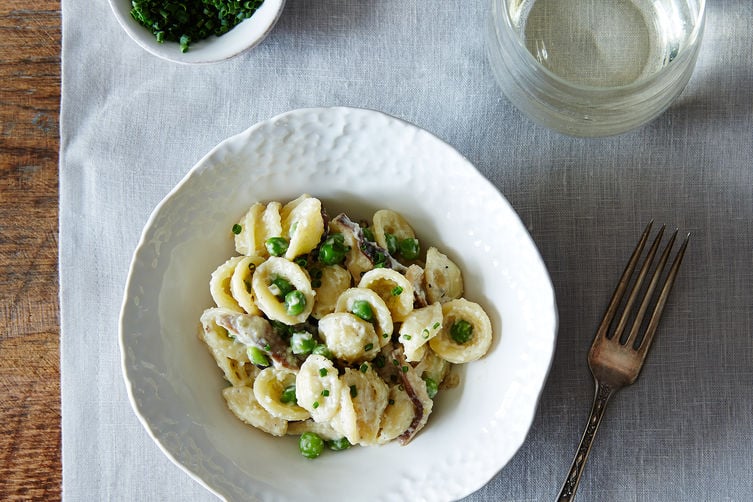 My parsnip steaks with miso gravy:
And my roasted baby beet salad with cashew cheese and sunflower sprouts: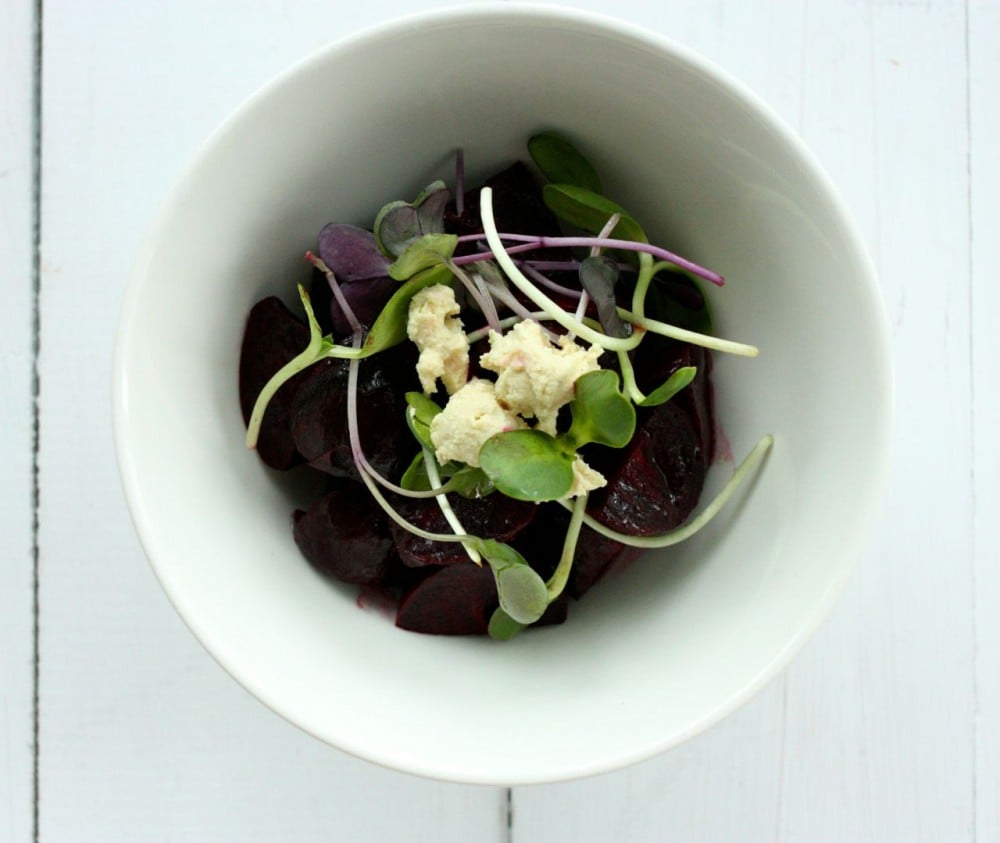 And, with the leftover sprouts, lots of salads: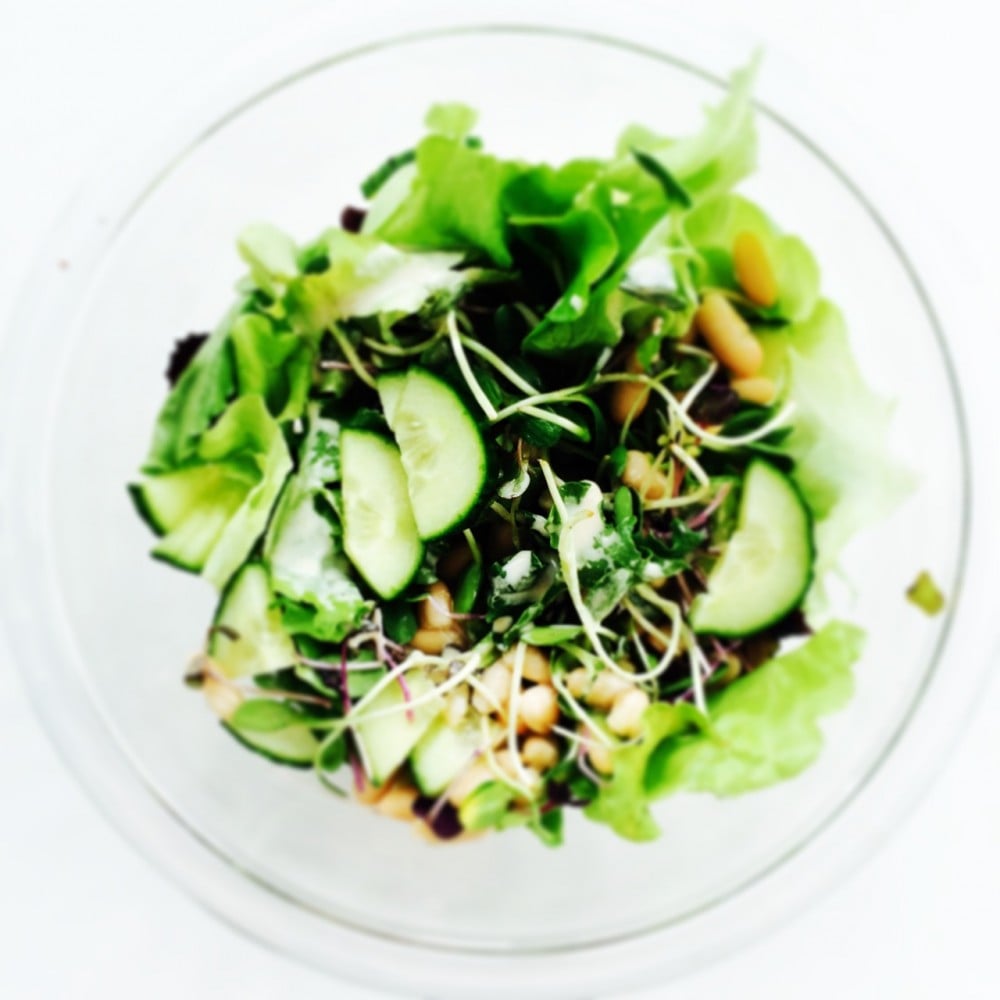 (That's a turmeric quinoa, and chickpea dish up there, based on a salad I tried at Whole Foods. I like it and will share soon. Also pictured: an awesome Jrink fuel me up juice!).
And the sprouts also found their way into my easy hummus and nori vegetable wraps.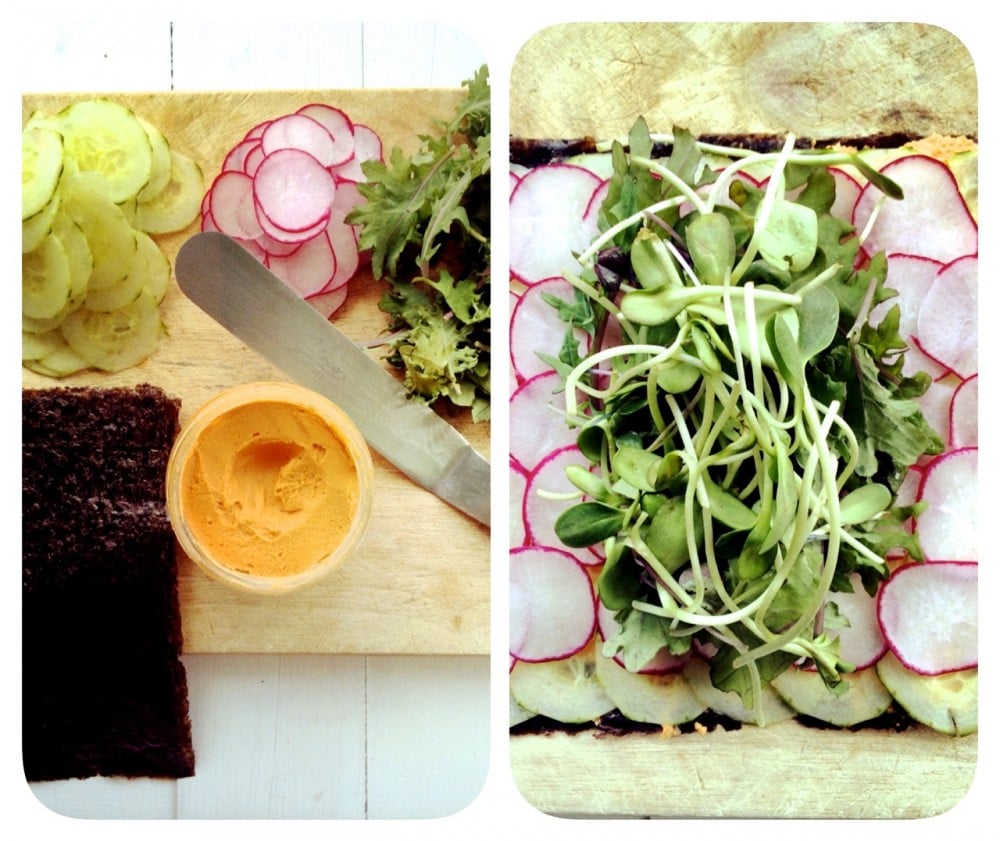 Week 3
Organic, all purpose flour
Pink lady and Fuji apples
Asparagus
Spinach
Beets
Scallions
Radishes
Strawberries
Recipe highlights included my couscous with asparagus, sundried tomatoes, and pine nuts: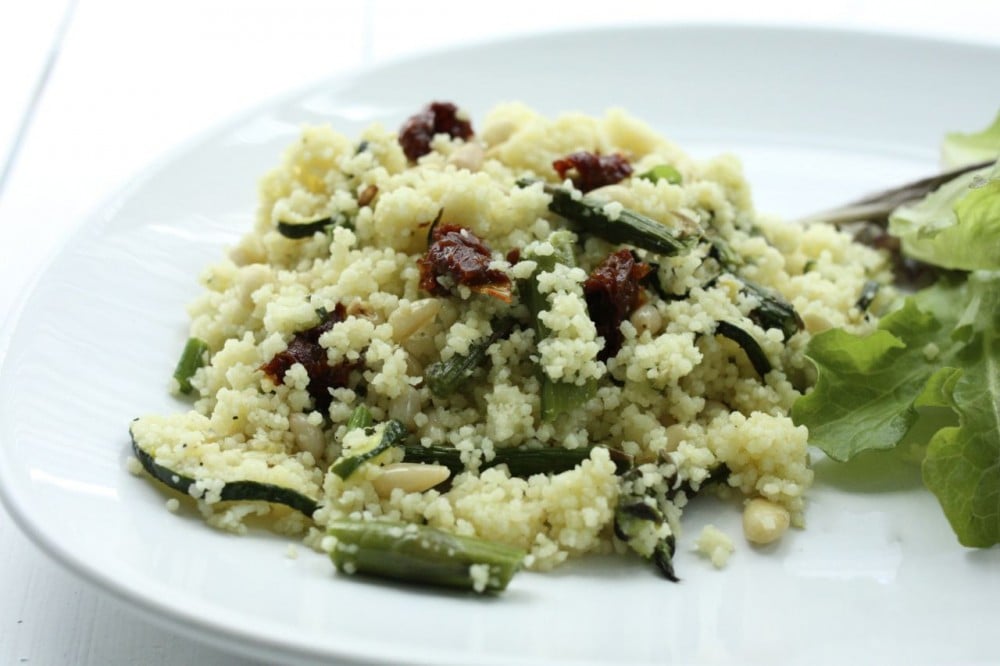 I should mention that this dish made for awesome packed lunches: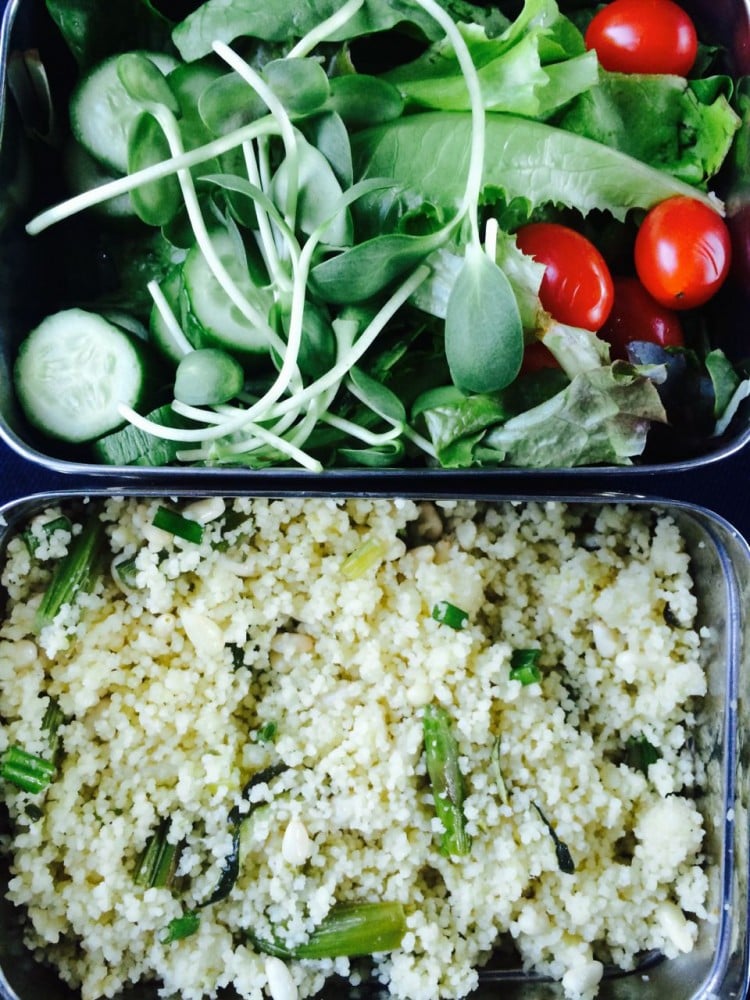 To use up all of those strawberries and apples, as well as the AP flour, I made a delicious apple and strawberry crumble pie, loosely based on this fabulous recipe of Isa's (but substituting apples for rhubarb) and using my perfect vegan pie crust: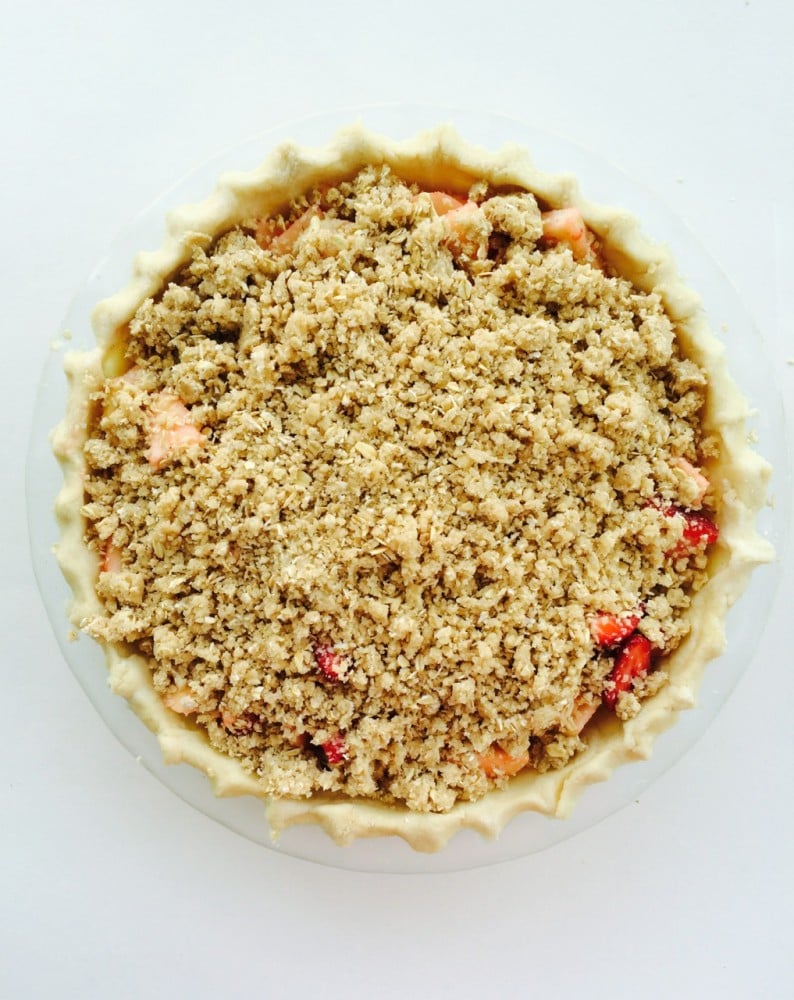 That's it right before baking. It was fantastic.
And, using the scallions and a bunch of pantry staples (tempeh, rice, spices), as well as some peppers I picked up, I whipped up a really cool stuffed pepper dish. I'll post the recipe soon!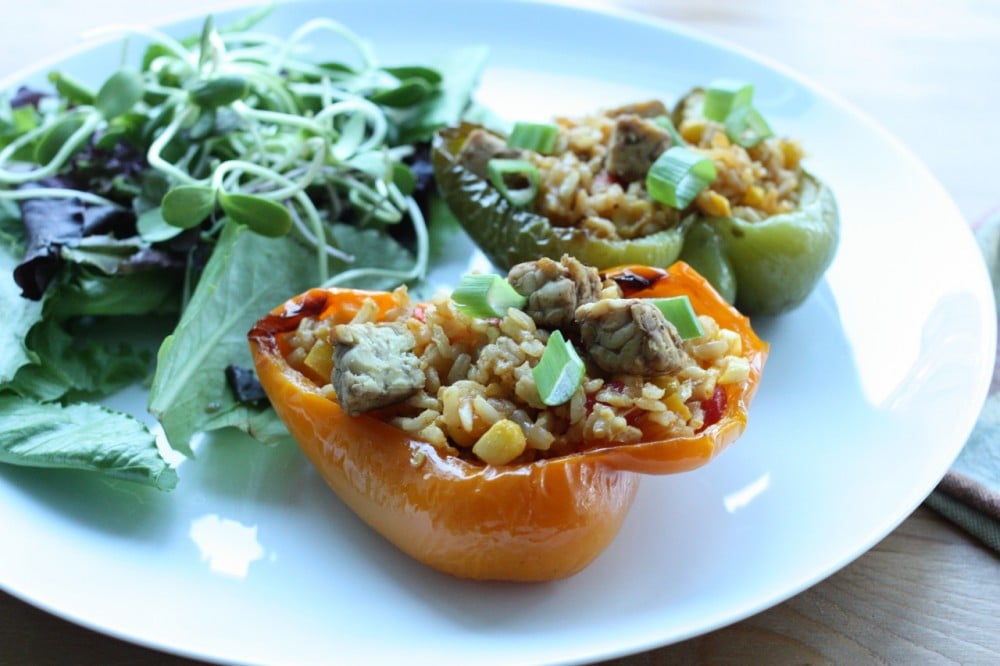 Week 4
Spinach
Asparagus
Collard greens
Asparagus
Button mushrooms
Butter lettuce
Fuji apples
Strawberries
This week, I used strawberries in anything and everything. They were so incredibly ripe and perfect!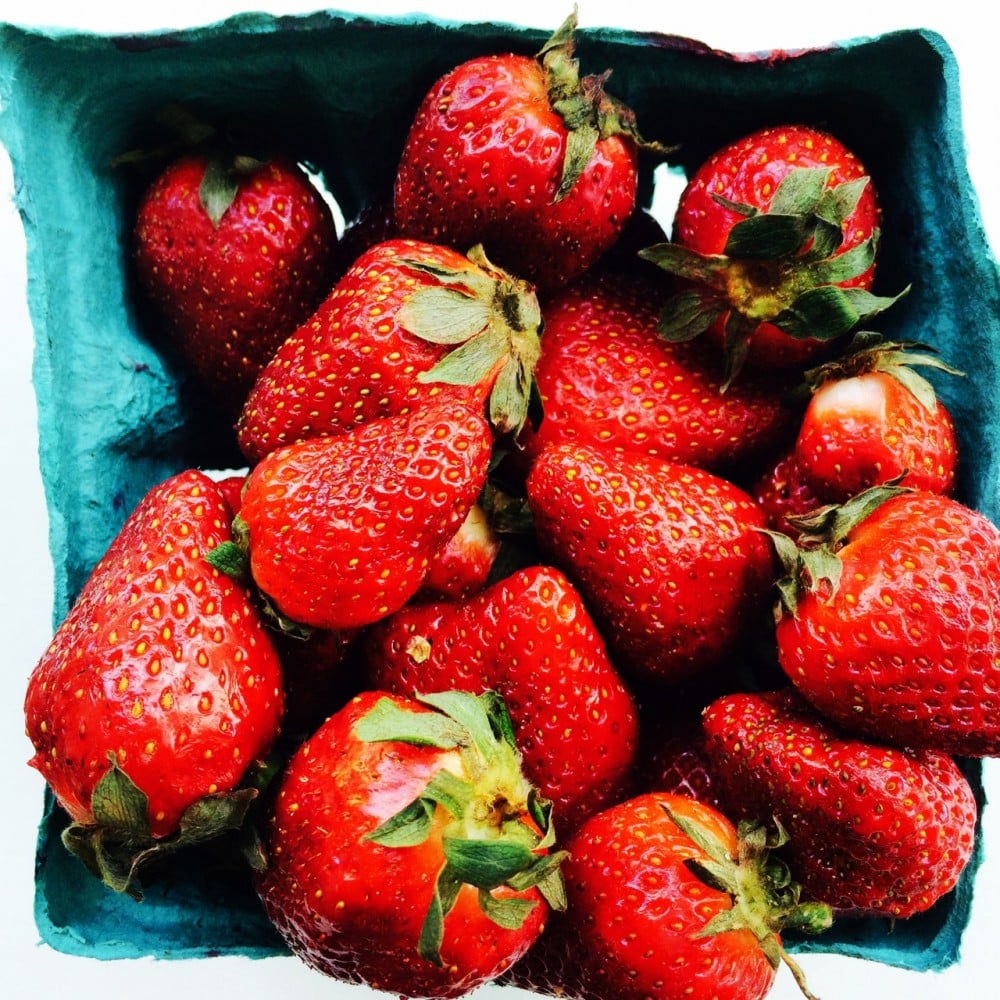 I made a bunch of salads with sliced strawberries. I also relished eating them in the morning, often with some sort of homemade raw buckwheat granola (my classic buckwheat cereal, or my "only raw vegan granola you'll ever need," (aka hyperbolic granola)):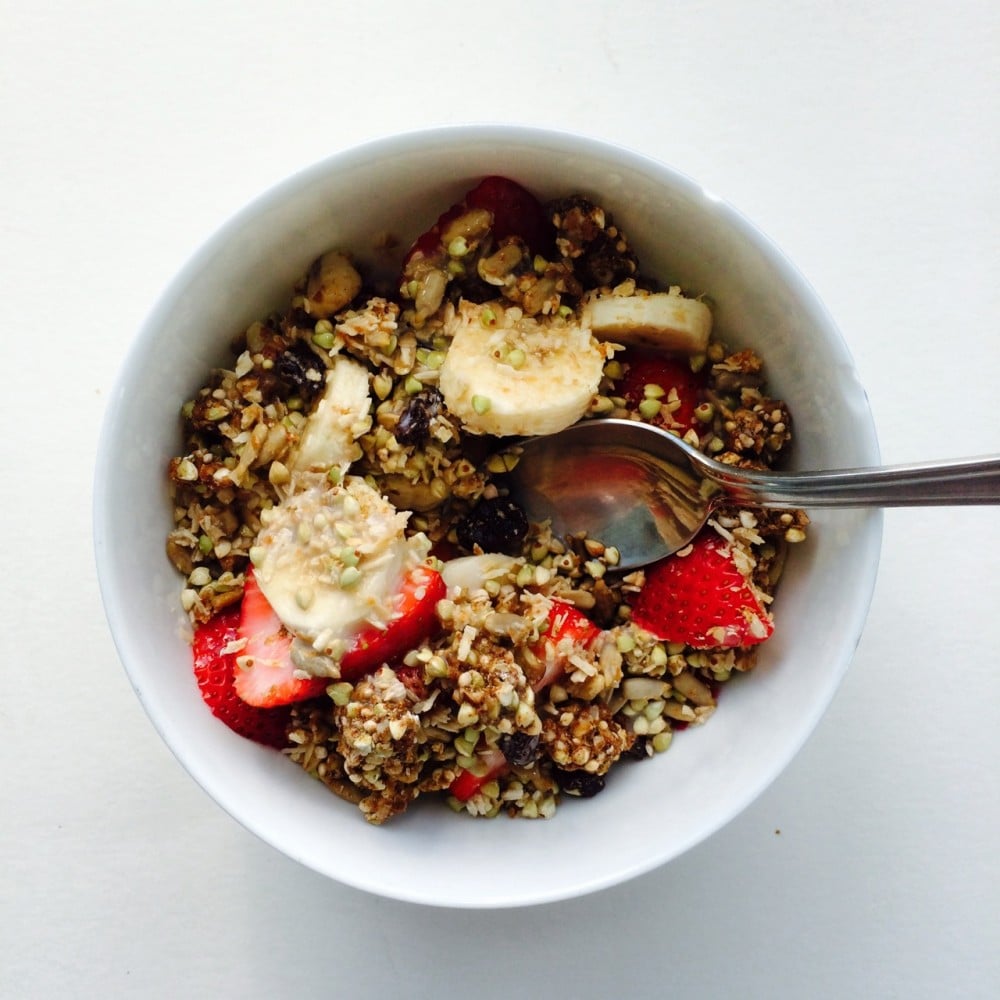 Nom.
The spinach appeared in many a fine salad: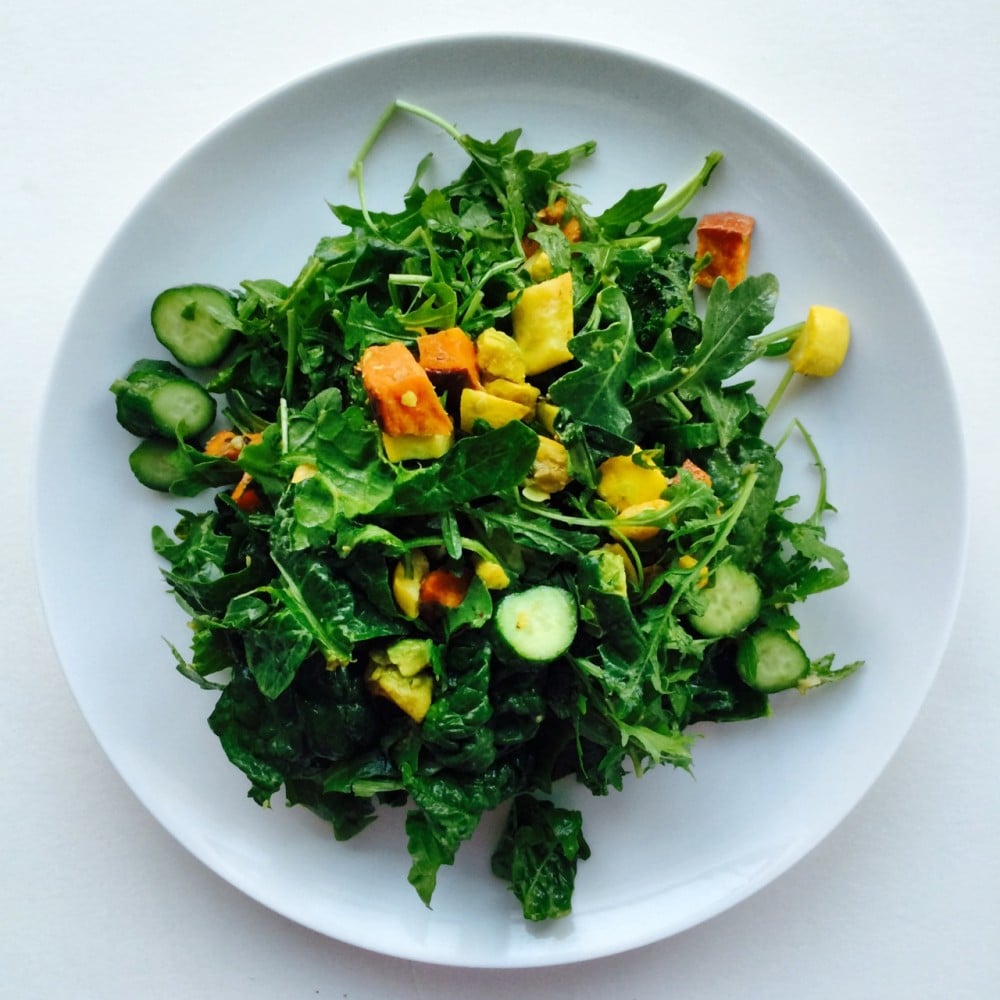 Week 5 (this week)
Chipotle ketchup (cannot wait to try this)
Romaine lettuce
Kale
Swiss chard
Asparagus
Broccoli crowns
Portabello mushrooms
More strawberries (!)
Tomatoes
So far, not too much to show you, but man, was I delighted to get some plump tomatoes–my first of the season. I had them as part of a savory breakfast two days ago (white corn tortillas, toasted, homemade hummus, tomato, avocado, and arugula on top):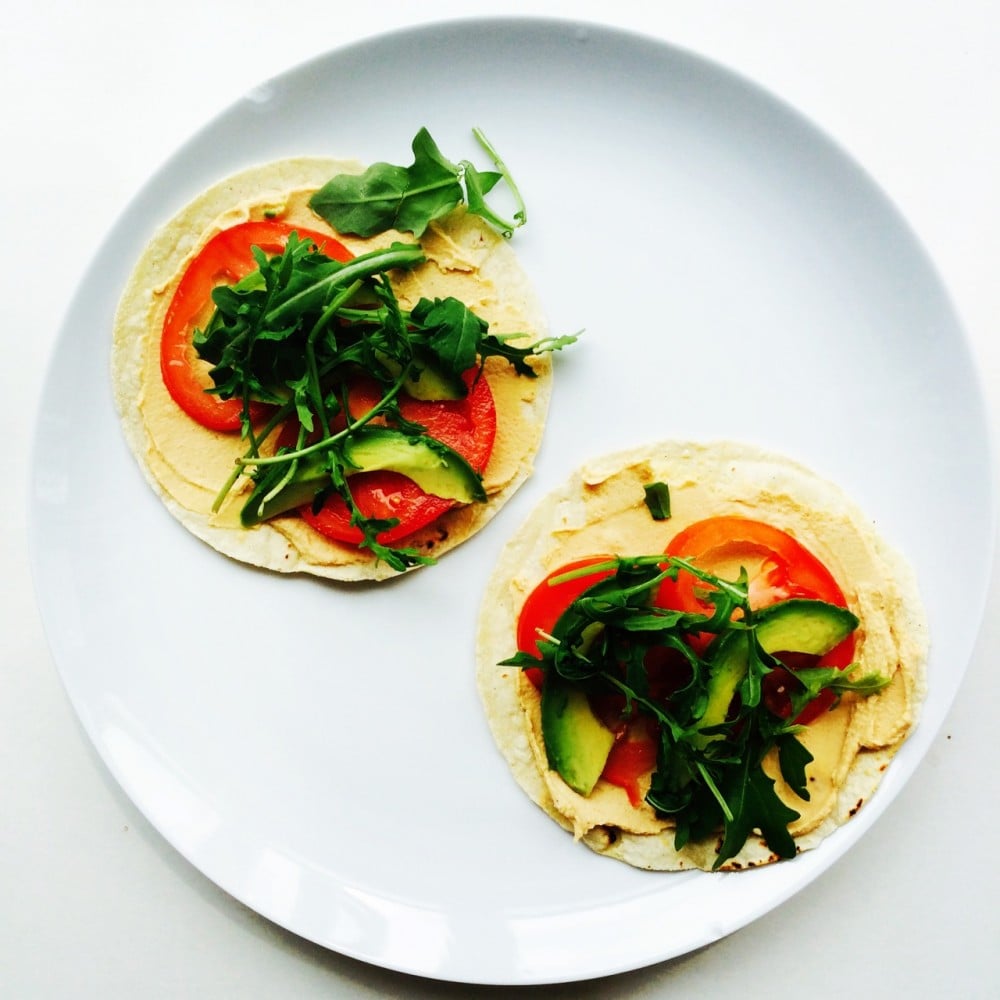 And another green, green smoothie, using some of the delicious kale (along with frozen banana, grapes, coconut water, and flax meal):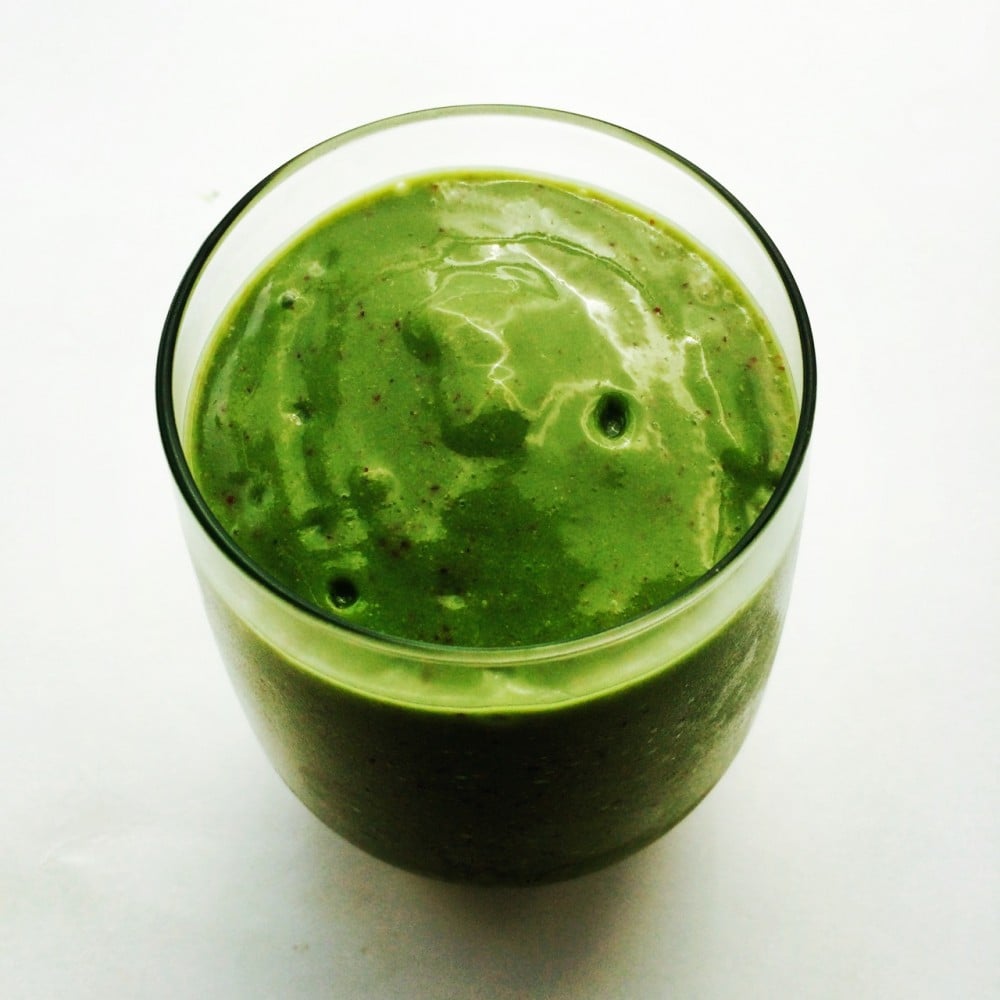 And radishes and asparagus made their way into this lovely wheatberry salad–another recipe that's soon to come on the blog: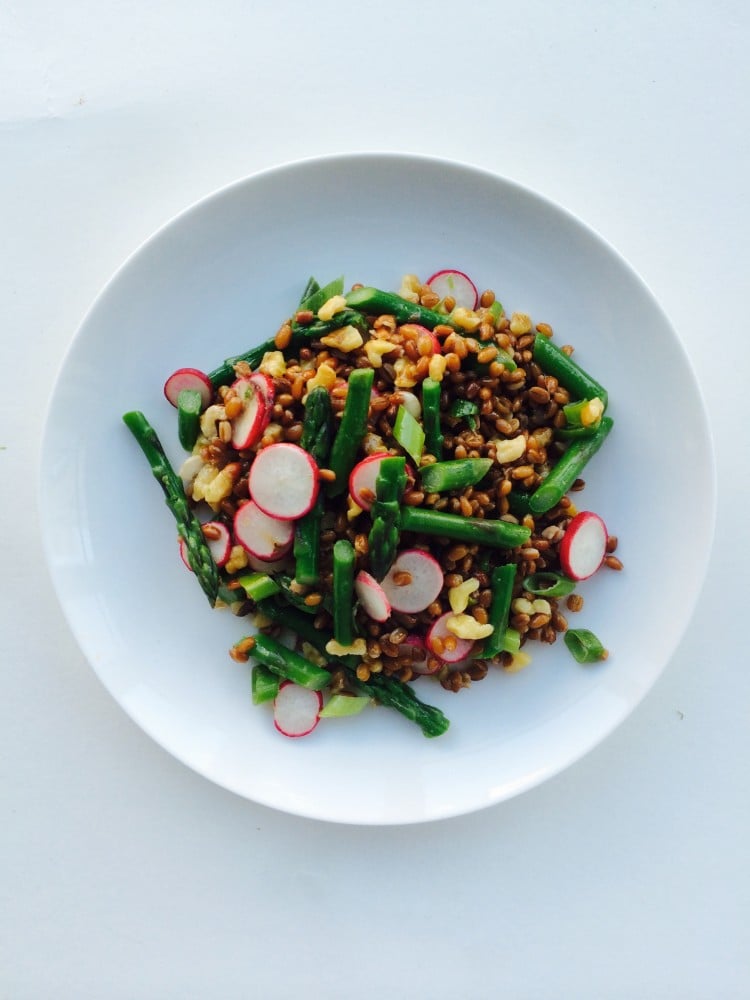 My experience with From the Farmer also encouraged me to use vegetables I often neglect; the green radishes were a great example. And even though I often use them for wraps, I really don't use collard greens often enough. When I received them last week, I sent out a tweet asking what I should do with them, and I got a ton of really cool ideas. But in the end, I wanted something almost instant and easy, so I decided to give a raw collard salad a try; hey, if I love massaged kale, then doesn't it stand to reason I'd like massaged collards, too? It was simple and delicious, and I'll share that recipe soon, too.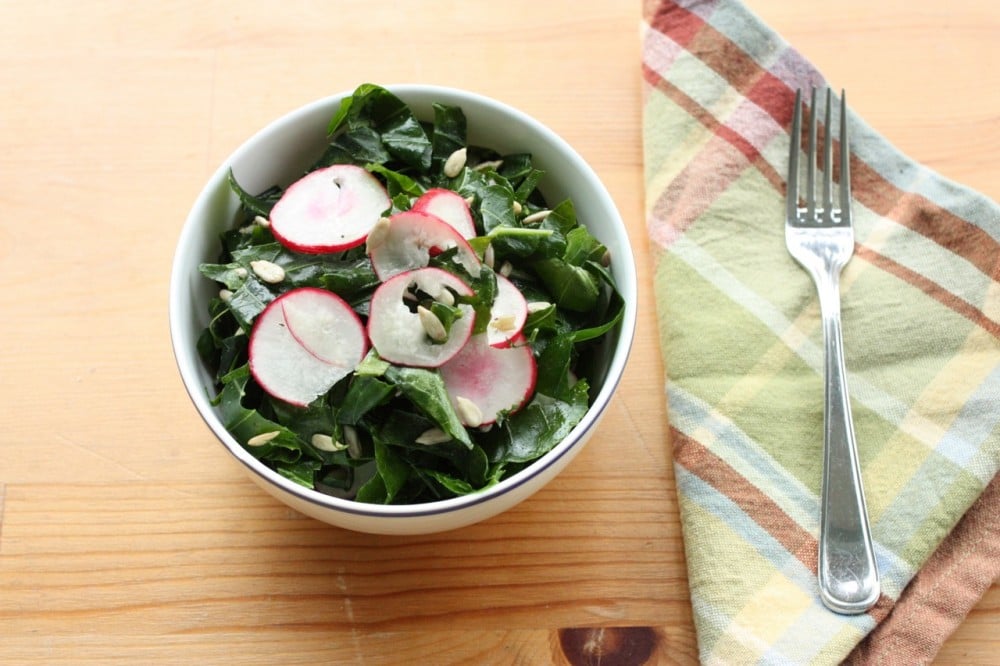 As you can see, I had a really wonderful time as a From the Farmer customer. The company generously offered me my first four bushels on the house, but I'm continuing to use the service (hence my fifth week) because I really like the variety it encouraged in my cooking habits, the flexibility it offered, and the opportunity to support local farmers. I've tried local produce delivery in the past, and I found the quality of From the Farmer to be really special; in particular, the greens were a lot cleaner than they have been with other services, which meant less washing, double washing, and triple washing produce. I also loved that there were small, non-produce extras in some of the bushels, from local artisans (I'm thinking of the local, organic AP flour and the chipotle ketchup). Such a nice way to discover small food purveyors in the DC area. I also appreciated the company's weekly "what's fresh" newsletter, which featured recipes for each of the items in the bushel!
All things considered, I'm glad that I got the single bushel, so that I could save space in my budget for some non-seasonal items. But it's worth saying that a double bushel would likely have covered virtually all of my produce needs each week, and then some. As it is, I've been doing a lot of cooking for two lately (a certain special someone, whom we'll call S for now–more on him soon, readers), and we had plenty of food on our hands in the last month. Very fresh, very good food.
I'd love for all of my local readers to have an opportunity to check From the Farmer out for themselves. So, if you're in the DC or Baltimore metro area and you're curious, I have good news: you can use the coupon code CHOOSINGRAW20 to get a 20% discount when you sign up for your first four From the Farmer deliveries. Just enter the coupon code when you register and check out. From the Farmer delivers to:
Washington D.C.
Baltimore
Howard County
Most of Montgomery County in Maryland
In VA:
Alexandria
Arlington
Centerville
Chantilly
Dulles
Fairfax
Fairfield
Falls Church
Flint Hill
Great Falls
Herndon
McLean
Merrifield
Oakton
Springfield
Sterling
Vienna
It was a real treat working with this company, and I wish all of my friends in the District the same experience. To learn more about From the Farmer, you can check out the company website or Facebook page.
Before I sign off for the long weekend, I wanted to mention that there has been so much interest in my giveaway for NuZest protein powder that the company is generously offering another 50 readers free satchets to try at home. Sign up today!
And now, I wish everyone a wonderful Memorial Day weekend.
xo