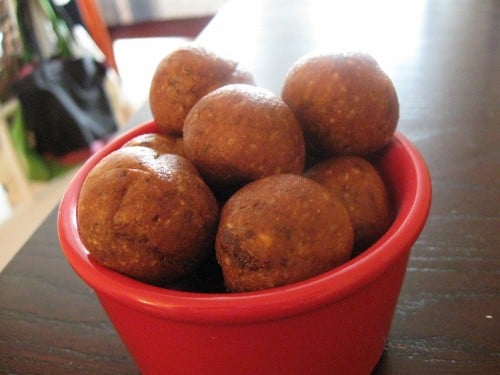 Happy Monday, people!
It seems that this is a dessert themed week: on Saturday it was chocolate banana soft serve. Today, I'm sharing a dessert recipe that I cannot take credit for (I wish I could!), but which I've delighted in all weekend. The recipe is my friend Katie's. Remember last week, when I announced Katie's wonderful Operation Chocolate Covered Kindness on the blog? To recap, Katie is raising money for two worthy charities on her blog. All you have to do to support her (and I assure you that this will not be a chore) is to visit Katie's wonderful blog yourself.
To whet your appetites, I thought I'd blog about one of Katie's many chocolate creations: fudge babies. These little treats might also be called raw donut holes, raw truffles, raw bon bons, or Larabar bites. Regardless of the name, they're easy to make, easy to modify, and totally delicious. The variation I made (and Katie has posted a few) were for chocolate chip cookie dough fudge babies. I won't share the entire recipe here — to read it, you should all check out Katie's post — but I will say that these demand no more than three simple ingredients, and that they took me about five minutes to whip up. The result?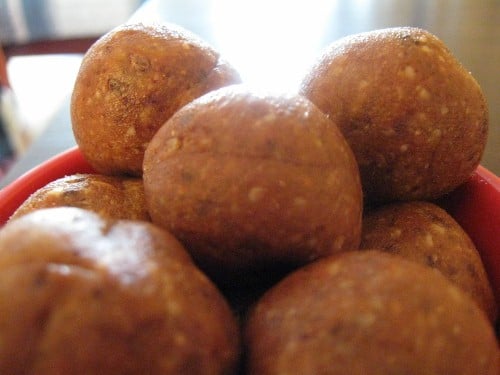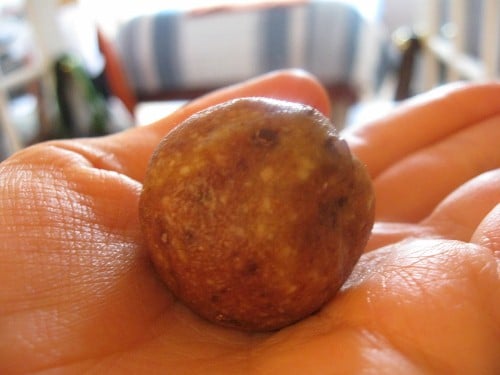 An all raw, all vegan dessert or snack that's sinlessly delicious.
I highly recommend whipping these little guys up tonight. And I'll be back soon with a post on vegan holiday survival. Stay tuned!
xo