I am so excited about today's giveaway!
Do you remember my round up of favorite NYC juice bars? I mentioned Juice Generation, and the Cooler Cleanse line, which is sold there. Cooler Cleanse juices have always been among my very favorite on the market: the flavors are creative, and the basic green juice is quite possibly perfect. Typically, pressed green juices are either a little too sweet for me or not quite sweet enough: Cooler Cleanse "essential greens" hits exactly the right note, and so does the new green juice in their "juice for a day" package.
How do I know? Because recently, the generous people at Cooler Cleanse reached out to me to let me know that they have created a fresh group of flavors, available online and in Juice Generation locations. They sent me all six to sample, and today, I'm offering you guys the chance to win six of your own!
The Cooler Cleanse "juice for a day" pack includes six flavors, sweet, citrus, green, spicy, veggie, and hemp (milk). They arrived to me nice and cool:
And looking totally fabulous:
The juices are packaged into a one-day bundle on the Cooler Cleanse website, but if you, like me, would prefer to incorporate the juices into your existing routine, rather than fasting, you can absolutely order them and drink as desired with or between meals. They last for three days when kept cold, thanks to the cold-pressing process. Indeed, my juices stayed beautifully fresh over the three days in which I got to enjoy them, one by one.
Let me give you a round up of the flavors:
Sweet: Kale, watermelon, apple, lime. I loved this one: the watermelon was very light, and in spite of the title, I didn't find it too sweet at all.
Citrus: Pineapple, orange, lime. This one was a little too intensely sweet for my liking, but it was perfect when cut with a little water! And very refreshing.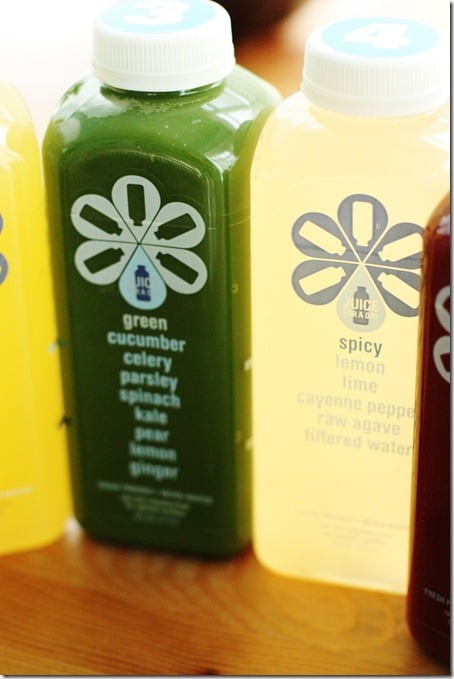 Green: cucumber, celery, spinach, parsley, kale, pear, lemon, ginger. Definitely my fave! The perfect green juice: spicy, sweet, and so nutritious.
Spicy: Lemon, lime, cayenne, agave, water. Yum! This was a really refreshing afternoon pick me up, especially served over ice.
Veggie: Carrot, apple, beet, lemon, spinach. Totally delicious. This was the most "veggie-ful" of the juices. I loved the addition of a little lemon to the beet and carrot. I've never done that before!
Hemp: Raw hemp seeds, vanilla bean, dates, filtered water. Oh-so-decadent! This reminded me so much of my own beloved hemp milk recipe. I used it in a smoothie and I even poured it into my morning coffee (naughty me!). But it was delightful drunk cold, on its own, too.
I typically drank the juices early in the morning, before breakfast, and/or as a mid-morning or afternoon snack. As you can see, they were a delight to have by my side during class!
I really adored these juices, and would recommend them wholeheartedly on taste alone. But I was also impressed with the nutrition. To give you some fun facts, sweet contains 300% of your recommended daily Vitamin C, green provides 16% of your daily calcium, hemp 25% of your daily iron, and "sweet" 30% of your daily Vitamin A.
Since I'm such a fan of the juices, I asked if Cooler Cleanse would share six juices with one of my readers. Much to my delight, they said yes. One continental U.S. reader will win the "juice for a day" bundle, with all six of the flavors I enjoyed. Here's how to enter!
1. Leave a comment on this post telling me which new Cooler Cleanse flavor you are most excited to try.
2. Tweet this giveaway with the following text: Win six fresh cold pressed juices from @coolercleanse on the @choosingraw blog! http://bit.ly/WI6G1c
3. Follow Cooler Cleanse on Twitter
4. Like Cooler Cleanse on FB
5. Like Choosing Raw on Facebook
6. Pinthis giveaway.
Please leave me a separate comment for each of these actions, telling me you did it!
Good luck, guys! I'll announce the winner in two weeks: December 18. Happy (early) holidays!
xo