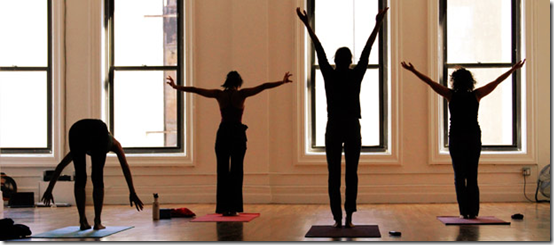 As you may have gleaned from my tweets and mentions on Facebook, I am a little obsessed with Down Dog Yoga, my heated flow studio in Georgetown. I would go so far as to say that discovering Down Dog was the moment when I truly began to feel at home in Washington. I never imagined that I'd find a studio I loved as much as Laughing Lotus (my yoga home in NYC, though there are many studios I go to). Much to my surprise, I fell in love instantly with everything about Down Dog–the practice, the heat, the instructors, the community. And it offered me a great deal of relief and comfort this summer, as I adjusted to the demands of my new program.
Not surprisingly, I've been terribly homesick for my studio over the break. I've been comforting myself with hot classes at Yoga to the People (in fairness, also a fantastic studio). And this week, I decided to try a brand new (and highly recommended studio): Strala Yoga.
Strala is the child ofTara Stiles, who is the author of Slim Calm Sexy, the star of the Yoga Anywhere DVD series, the new face of fitness for Jane Fonda's WORKOUT series, and the personal yoga instructor to Deepak Chopra. (She also happens to be a pal of my pal Kris). She founded Strala, she says, to provide "an authentic form of yoga that clears the body and mind, and brings you back to your self."
Tara has been depicted in the media as something of a yoga iconoclast: in a famous NY Times profile, she was described thus:
Tara Stiles does not talk about sacred Hindu texts, personal intentions or chakras. She does not ask her yoga classes to chant. Her language is plainly Main Street: chaturangas are push-ups, the "sacrum" the lower back. She dismisses the ubiquitous yoga teacher-training certificates as rubber stamps, preferring to observe job candidates in action.
And:
She rejected the city's yoga scene as exclusive and elitist — it reminded her of the mean girls in high school, only with incense and bare feet. She refused to pledge allegiance to one teacher, one studio or even one style of yoga. She charges $10 a class, a bargain in Manhattan. And her short online videos have catchy, user-friendly titles like "Yoga for a Hangover" and "Couch Yoga."

"I feel like I'm standing up for yoga," Ms. Stiles said. "People need yoga, not another religious leader. Quite often in New York, they want to be religious leaders, and it's not useful.
I appreciate a bit of chanting and mindfulness in my yoga classes, but I must confess that the more secular approach appeals to me. (Laughing Lotus strikes me as a far more spiritually oriented studio, for the record, but its exuberance and charm win me over regardless.) I don't really practice yoga to see the divine–I practice because I love the physical process, the health benefits, the community. (I also realize that yoga is a lifelong journey, and that I may be blogging about my experiences with deities and chakras in 20 years, or two–the only thing I know for certain about yoga is that it likes to surprise me, and change my mind.)
In any case, after I read up on Strala, I was excited for a strengthen &  tone kind of experience. And who better to have that with than Melissa–my fave fitblogger! Yesterday, we braved painfully cold temperatures and wind to meet downtown at Strala. We were greeted by this bright, warm space:
And by a smiling and intensely calm Tara. She and I had a few moments to chat, which was lovely, before the practice itself, which was just what I needed on that chilly morning. It was definitely strengthening and toning, but frankly, it was also a lot more restorative than I expected. For all of Strala's reputation of being more down-to-earth than other studios, it didn't strike me as an entirely secular place. There was a sense of spiritual communion in the room, to be sure: far more, actually, than I ever feel at Down Dog (which I can only describe as an intensely athletic studio). And in spite of the fact that this was a strength based class, the flow was moderately paced, the movements graceful (even balletic). My typical practice is a very fast flow, so it was actually good for me to hold my poses for a good long while. And I went to bed with the sore thighs to prove it!
In all, I really enjoyed my Strala experience. It's yoga for the people, sure, but it's not lacking in spirit. And students, take note: student rate is $10 with a full time ID.
Having now gone on for a while about my yoga class, I realize that I'm overdue for a proper Down Dog post when I get back to DC. Till then, I'm really curious to hear about what kind of practice/studio you guys enjoy, and why?
On this topic, I've now added a response to the question "what's your workout routine like" in my new and improved FAQ tab. Check it out when you have a moment!
And switching topics: since you guys seem to relish my meal-sized salads a lot, I thought I'd share a closeup of last night's: brown lentils, steamed beets, celery, cabbage, broccoli, carrot, radish, and some of my zucchini dressing, which is rich in nutritional yeast, lemon, and green veggie power. It was great.
I swear I don't eat a giant salad every single night. But to be honest, gosh, I so happily could. A little boring, maybe, but I guess that's a part of my food identity, no?
Tomorrow: a new recipe for a very high-protein breakfast bread that is homemade and bursting with plump raisins. Yum.
xo