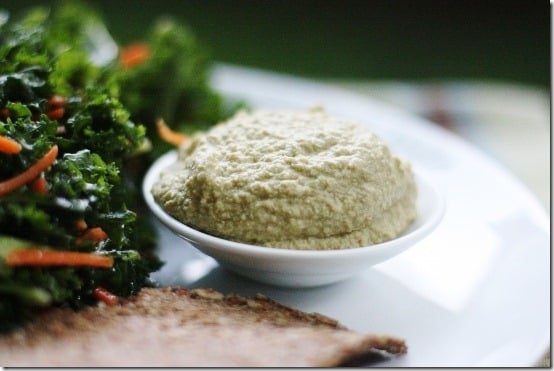 One of my favorite early summer recipes this year took the form of my scrumptious (and simple) ginger-lime edamame sweet potato burgers. Sure, the name is a mouthful, but the burgers themselves were/are really easy to make, and they're bursting with flavor.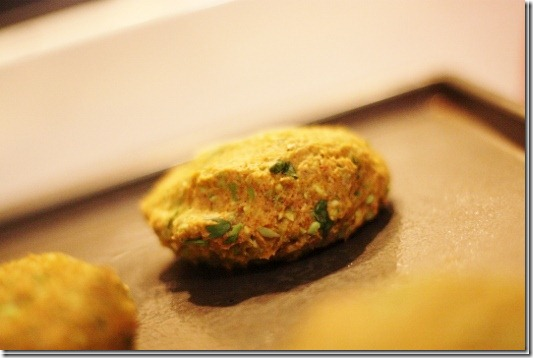 The ginger really animates the flavor of an otherwise basic bean and potato burger recipe. A few days ago, as I was whipping up some hummus with shelled edamame—a higher-protein variation I'm very fond of—it occurred to me that ginger and lime might work beautifully in a thick, creamy summertime dip, too.
I think I was right.
Ginger-Lime Edamame Hummus (vegan, gluten free)
Serves 6
1 can BPA-free, organic chickpeas (or 2 cups)
1 cup shelled, organic edamame
Juice of 3 large limes
1/3 cup tahini
1/2 tsp salt (or to taste)
1 clove garlic, minced (or garlic powder to taste)
Pepper to taste
1 heaping tsp powdered ginger (you can use fresh, but this speeds up the recipe)
1/2 tsp cumin
Dash Tobasco sauce
1 tbsp olive oil (optional, but I like the subtle effect)
1) Place the beans, lime juice, tahini, salt, garlic, pepper, ginger, cumin, and Tobasco in a food processor fitted with the "S" blade. Pulse to begin combining.
2) Run the motor to begin blending the hummus. As you blend, add water in a thin stream, just to help get the mixture moving. Be careful not to add too much. If you're using olive oil, now is the time to drizzle it in, too.
3) Keep blending, stopping to scrape the bowl and add more water as needed, till the hummus is very creamy and warm.
As usual, I served up this delectable bean dip with some kale salad and some of my almost raw carrot and sunflower seed crackers, shaped this time into flatbread: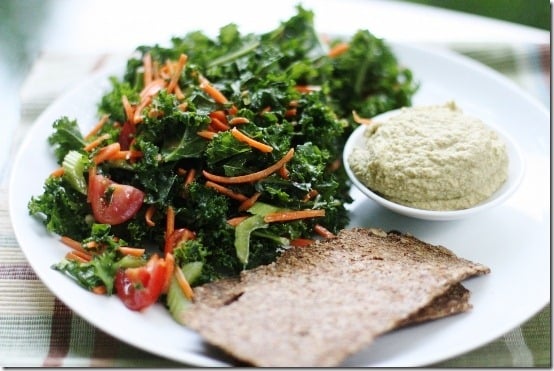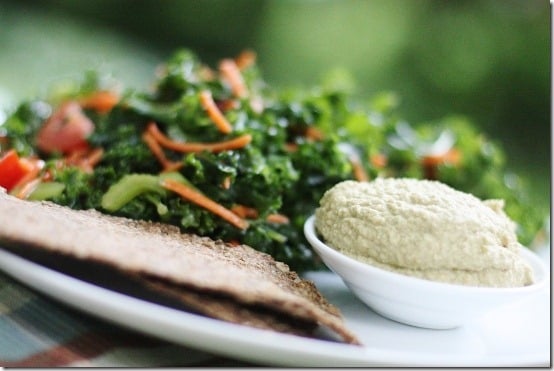 What a tasty lunch! And if edamame isn't your thing, don't worry: there's a CR hummus for you. You may want to give my famous sweet potato hummus a try!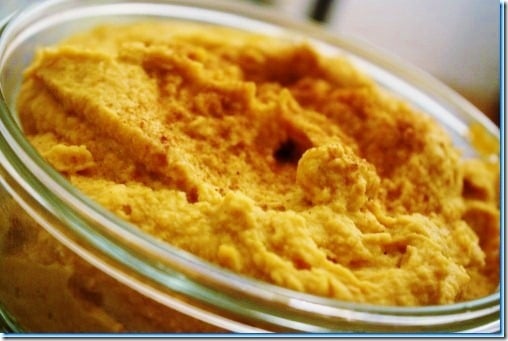 Thanks to everyone who chimed in yesterday about joining the science club. I thought it was a nice little digression. Tonight, I'm afraid I have to write and run: I've got a midterm at 8:15 am sharp tomorrow.
Wish me luck!!
xo