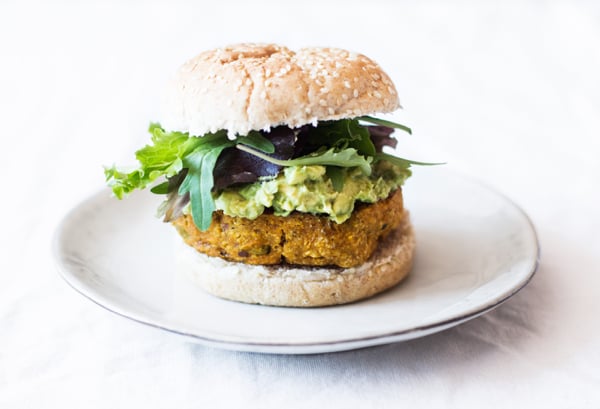 I made it! Before I get to these ginger lime edamame sweet potato burgers, I want to thank you all for the tweets, comments, emails, and good wishes you sent as I made my way from NYC to DC. We arrived safely and soundly, and, a few minor hitches aside, things went according to plans.
The last two days have been spent in a flurry of unpacking, cleaning, cooking, and also trying to squeeze in a little R&R: it may be moving weekend, but it's also a holiday weekend, and since I have a week before classes begin at Georgetown, I'm taking my time. I'm excited to take photos of the new place and tell you all about it, but in truth, it's a mess, so I'm not sharing yet! Instead, I'm giving you some Memorial Day food porn to gaze upon.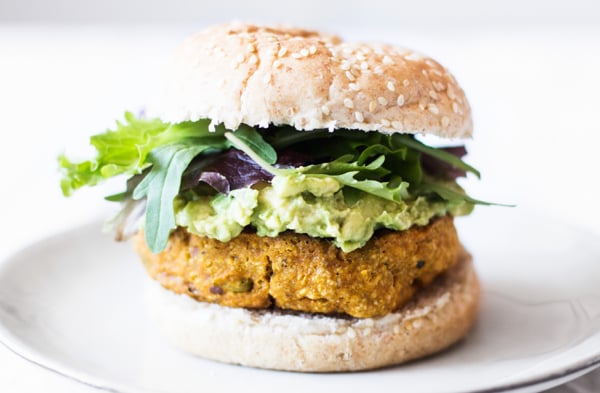 I came up with these burgers last week, in the thick of packing, and my first reaction was delight at how easy and nutritious they were. Burgers always involve some moving parts, so easy is a relative term, of course. But these are pretty doable, as far as veggie burgers go, and they're sure to be a hit at any summer barbecue!
Ginger Lime Edamame Sweet Potato Burgers
Author -
1

tablespoon

flax meal

1

tablespoon

olive oil

3/4

cup

frozen

shelled edamame

3/4

cup

chopped onion

about 1 small onion

2

teaspoons

fresh

minced or grated ginger

1

clove

garlic

minced

1

large sweet potato

peeled, cubed, and steamed (about 1 cup, cooked)

1/3

cup

quinoa flakes or quick oats

2-3

tbsp

lime juice

to taste

1/2

teaspoon

salt

or to taste

1

small handful

1/4 cup cilantro, chopped

Black pepper
Preheat oven to 350F. Mix the flax meal with 3 tablespoons warm water to create a flax "egg." Allow it to thicken while you get the other ingredients ready.

Add the oil to a large skillet or sauté pan. Add the onion, edamame, and ginger. Cook, stirring often, for 5 minutes, or until the onion is clear. Add the garlic and continue cooking for 1 more minute.

Place the onion, edamame, ginger and garlic in a food processor fitted with the S blade. Add the sweet potato, quinoa flakes or quick oats, lime juice, salt, cilantro, and flax egg into the processor. Pulse until the mixture is evenly mixed and broken down, but some texture remains. Add a few tablespoons of water if it's overly dry or thick. Season mixture to taste with black pepper.

Shape mixture into 6 patties. Place them onto a parchment or foil lined baking sheet. Bake for 30 minutes, flipping once halfway through, or until the burgers are crispy on the outside. Serve with fixings of choice!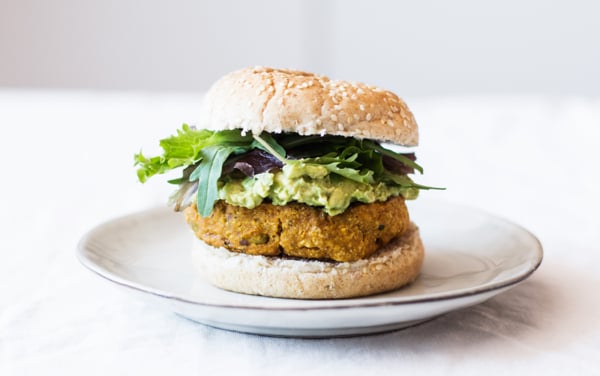 These burgers are wonderful: a little sweet, a little spicy, and tangy from the cilantro and lime. They scream "summer," and since it's 94 degrees in the District today, that feels pretty apt to me. I highly recommend topping them off with some guac, if you've got it!
A lot of you have emailed to ask me—and I don't blame you—how it feels to be in a new place. Honestly? Not that weird. Yet. I'm familiar with DC, I've got tons of support here, and I've been mentally preparing myself for this move for months. That doesn't mean that I didn't burst into tears as our car leapt out of the Lincoln Tunnel and swerved into Jersey (because I definitely did). It just means that I'm happy and excited to be here, and actually quite relieved that the transition itself has passed.
One day at a time, right?
Readers, tell me: when was the last time you moved? And how did you feel in the days that followed? 
Hope you try the burgers soon. Happy long weekend!
xo