In my last product review roundup, I mentioned that I had tried and been impressed with the Clean Lean Protein from NuZest USA. It's a pea protein, available either in a neutral flavor or in subtle varieties of vanilla, cappuccino or chocolate. Clean Lean Protein is nut free, soy free, gluten free, vegan, non-GMO, and rich in complete protein (more info here).
I come across a lot of allergen-free, vegan protein powders, but what impressed me about this particular one was the taste. Clean Lean Protein uses thaumatin, a stevia alternative that's harvested from the katemfe fruit (native to West Africa). I don't particularly care for artificial sweeteners, even these so-called natural ones, but as far sweeteners go, I found the taste of Clean Lean Protein to be much less sugary and artificial than a lot of the stevia-flavored proteins I've tried. And this is the vanilla flavor–I haven't yet tried the natural flavor, which contains no sweeteners at all.
So far, I've used Clean Lean Protein primarily in smoothies.
It adds flavor and texture without overpowering the fruit. And the vanilla flavor is really reminiscent of vanilla bean.
It's very rare that I use protein powders in any other way than as a smoothie add-in, but lately I've been meaning to branch out. When the folks at NuZest, who are sponsoring today's giveaway, asked if I'd be interested in peeking at a few of their recipes for the protein powder, I said yes. One that immediately stood out to me was this delicious recipe for gingerbread granola.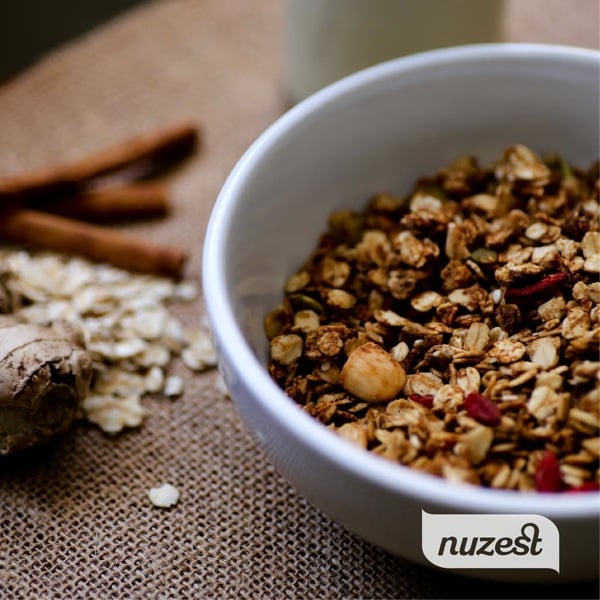 Gingerbread Granola Recipe from Nuzest (gluten free, soy free)
Author -
2

cups

gluten free

rolled oats

1

scoop Smooth Vanilla or Just Natural Clean Lean Protein

1/3

cup

chopped almonds

2

tbsp

raw pepitas

2

tbsp

shredded coconut

1/2

tbsp

raw sesame seeds

1/4

tsp

ground ginger

or try 1 tbsp finely grated fresh ginger for a stronger, spicier taste

1/4

tsp

ground cinnamon

1/2

tsp

vanilla powder

or extract

Pinch

of salt

1

tbsp

molasses

2

tbsp

brown or coconut sugar

2

tbsp

unsweetened apple sauce

1

tbsp

vegetable oil or melted coconut oil

1/4

cup

dried fruits

e.g. cranberries, goji berries, white mulberries, raisins, chopped crystallized ginger etc
1. Heat oven to 325 F.

2. Add all ingredients, except the dried fruits, in a large bowl and mix until well combined.

3. Line a tray with baking paper and spread mixture into a thin layer.

4. Bake for about 60 minutes or until golden brown, stirring every 20 minutes to ensure even cooking.

5. Remove mixture from oven & allow to cool before stirring through dried fruit.

6. Store in an airtight container for up to 10 days.
 The one hesitation I had when I reviewed NuZest originally was the cost ($43.95 for 500 grams). In order to give my readers a chance to sample Clean Lean Protein, and decide for themselves whether or not it's a worthy investment, the folks at NuZest are offering free full serve samples of the protein powder to the first 200 of my readers who sign up to their mailing list. Anyone who signs up today will have samples on the way next week.
Anyone who signs up will also get a 30% discount on his or her first purchase through the NuZest website. And finally, one lucky winner who signs up will get three large jars of the protein, in whichever combination of flavors you prefer: chocolate, vanilla, cappuccino, strawberry, or natural, as well as a NuZest shaker. Pretty sweet!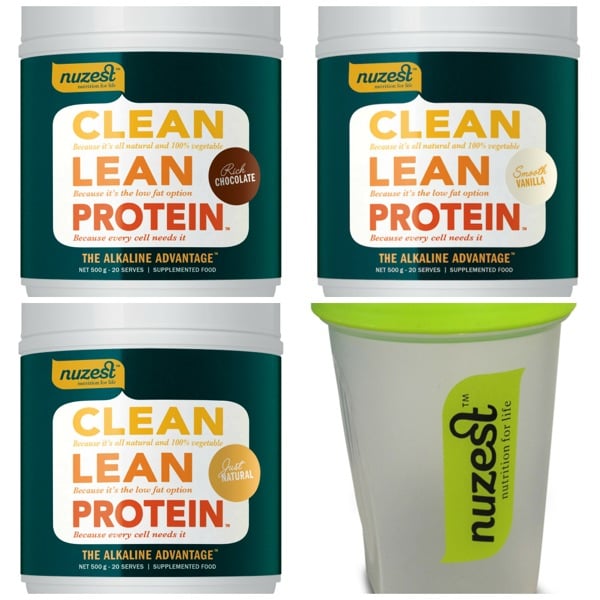 To sign up and take advantage of this cool offer, click here to be taken to the NuZest site. Good luck, and I hope you'll enjoy checking the product out! In the meantime, I think that granola recipe is enticing whether you add protein or not; I'm hoping to whip up a batch soon.
Speaking of giveaways, I was of course tardy announcing the winner of my Veestro frozen meal giveaway. That lucky winner was #1272, Sarah H. Congrats, Sarah!
I wish everyone a nice Saturday afternoon. I'll be back tomorrow with weekend reading.
xo