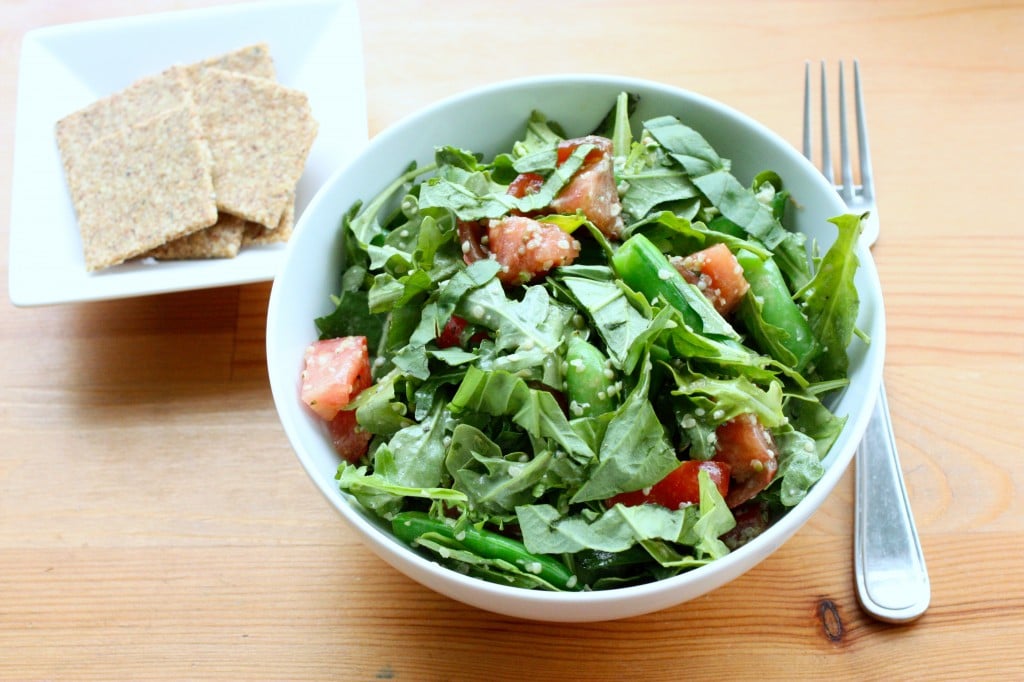 There's a long list of vegetables I "love," yet never seem to use in my everyday cooking. This includes, but is not limited to:
fennel
brussels sprouts
rutabaga
green beans
sugar snap peas
It's not that there's anything wrong with these vegetables. In fact, everything about them is right. It's just that, with the exception of the fennel, they involve cooking, and part of my penchant for raw foods is that even steaming strikes me as a lot of effort sometimes.
Of course, cauliflower rice is effort too. It's really all in my head.
On Sunday, when I saw sugar snap peas on sale at the farmer's market, I resolved to put them to use for once, rather than talk about how fond I am of them, and then fail to use them.
I'm so glad I did. They added character and sweetness to this otherwise tart salad (which features spicy arugula and bitter dandelion greens). Steaming them took mere minutes, and was a good reminder that it's good to get over one's culinary mental blocks sometimes. What's next, I wonder? Is roasted fennel in my near future? I think it should be.
The dressing in this delicious salad is my newest favorite, a mixture of hemp oil and tahini, lemon, orange juice, salt, agave, and pepper. I've been eating it on anything and everything, and it was delightful here.
Sugar Snap Pea, Arugula, and Heirloom Tomato Salad with Hemp Seeds and Vinaigrette
Author -
1

cup

sugar snap peas

ends trimmed

2

cups

tightly packed arugula

1

cup

dandelion greens

sliced very thinly

1

small heirloom tomato

diced

2

tbsp

hemp seeds

1/4

cup

hemp oil

1/4

cup

tahini

1/4

cup

orange juice

2

tbsp

lemon juice

1

tbsp

agave

Sea salt and pepper to taste

Chopped basil for garnish

optional
Bring a small pot of water to boil and add the snap peas. Boil for about a minute or 90 seconds. Drain them and run under cold water for a minute or so. Set them aside.

Place the greens, tomato, and peas in a salad bowl. Add the hemp seeds.

Use a whisk, blender, or food processor to mix the hemp oil, tahini, orange juice, lemon, agave, sea salt, and pepper. Pour a few tablespoons of dressing over the salad and toss till everything is coated. Serve, with a little chopped basil if desired.

Makes a single serving. Can easily be doubled.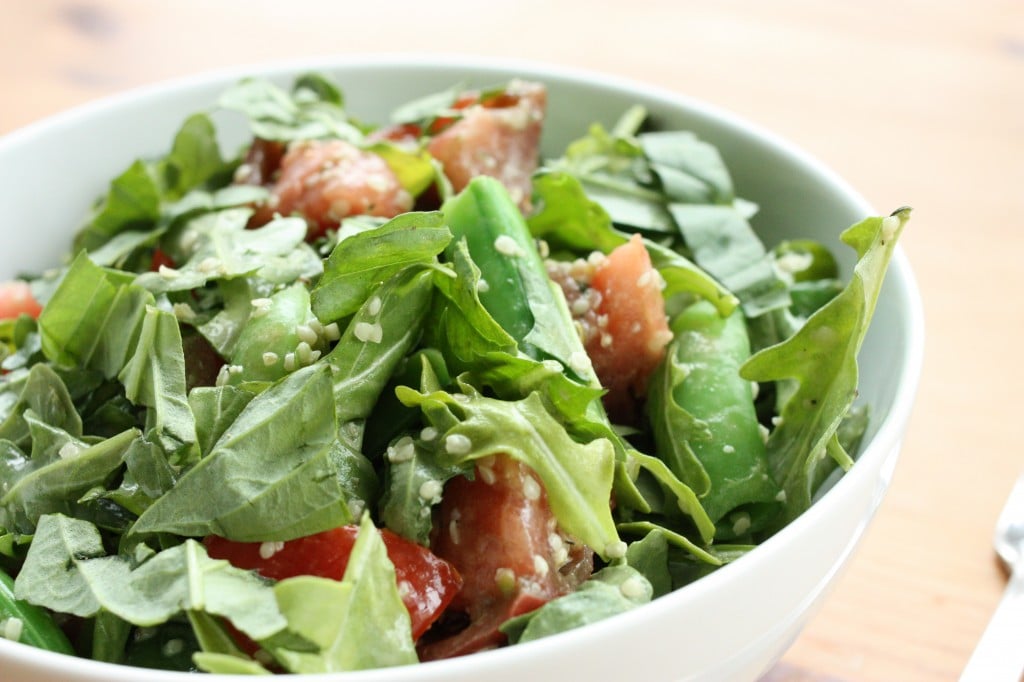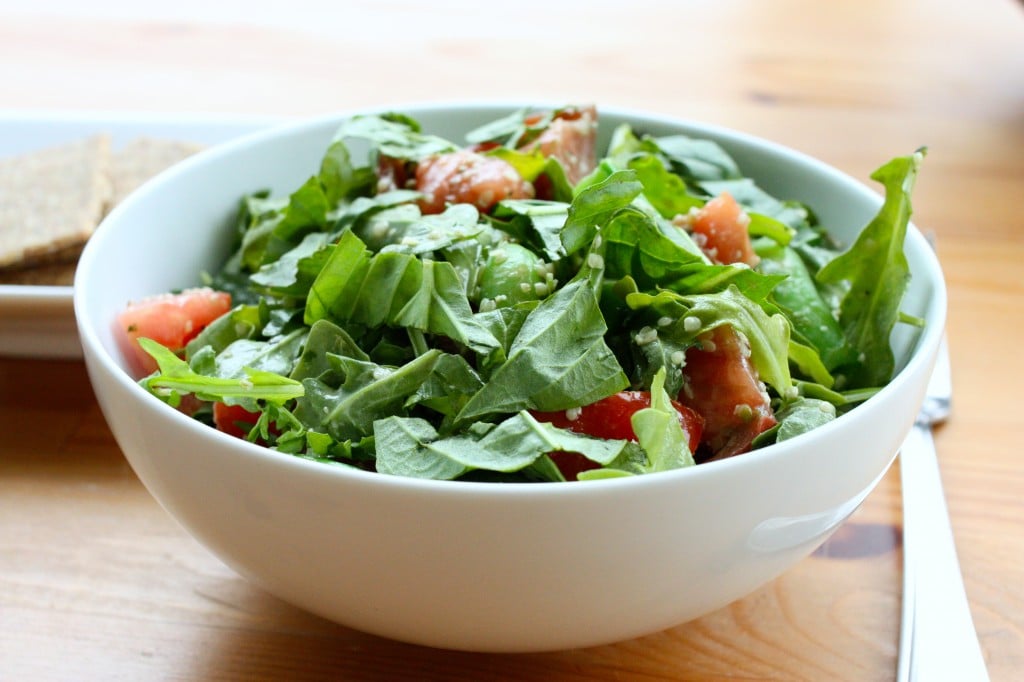 Alongside my tasty salad are some almond crackers I've been working on, and working on, and working on. I think they're just about ready to share, and share them I may, as soon as tomorrow. Perfecting a cracker recipe feels like no work at all, whereas boiling water sometimes does. The kitchen is a funny place.
What vegetables do you love, but fail to make often enough? What are some of your culinary mental blocks? I'm curious to hear!
xo