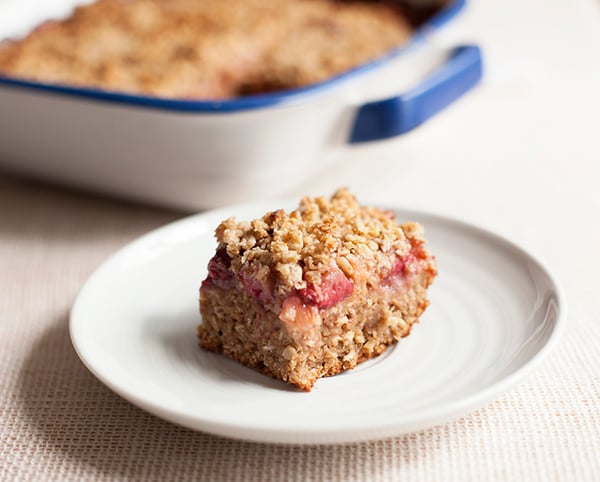 Am I the only one here who's just a little intimated by rhubarb? I love the way it looks, I love nearly every recipe I see it in, and I love the color (or colors, I should say—on any given stalk of rhubarb one is likely to find shades of green, light pink, and a brilliant, dark rose). But this sturdy, stringy, sour vegetable–which has been used medicinally in China for thousands of years–continues to elude me a little. I'll always say yes to strawberry rhubarb jam or a slice of vegan strawberry rhubarb pie. But I can count the number of times I've purchased rhubarb on one hand.
When there's a vegetable like this—a vegetable I tend to shy away from—I like to offer myself the challenge of getting to know it a little better. So it is with rhubarb. I'm determined to get a little cozier with this fascinating springtime ingredient. These wonderful bars mark the first chapter in our friendship.
Full confession: this isn't a totally original recipe. When I picked up rhubarb at the farmer's market a few weeks ago, I intended to make a pie or a crumble. I did, and it was delicious, and the whole thing got gobbled up by me and Steven and a friend over ours over the course of one very sweet after dinner chat. But I had a few stalks of rhubarb leftover, and I wanted to do something with them that was a little different from the normal pie/crumble as usual. I settled on the idea of a bar. And, as I was coming up with a recipe, I took some inspiration from my blueberry breakfast bars, which are one of the most popular baked goods from my blog archives.
The nice thing about these bars is that they bridge the gap between breakfast and dessert. The top is perfectly crumbly, the filling undeniably sweet. But the bar base itself is made only with oats, banana, and a modest amount of maple syrup. You could enjoy these with a smear of nut butter and some fresh fruit for a sweeter breakfast, a brunch with friends, an uplifting snack, or dessert. No matter how or when you decide to eat them, I think you'll find that the strawberry rhubarb mixture is perfectly sweet/tart, and that the notes of brown sugar and coconut oil are delightful.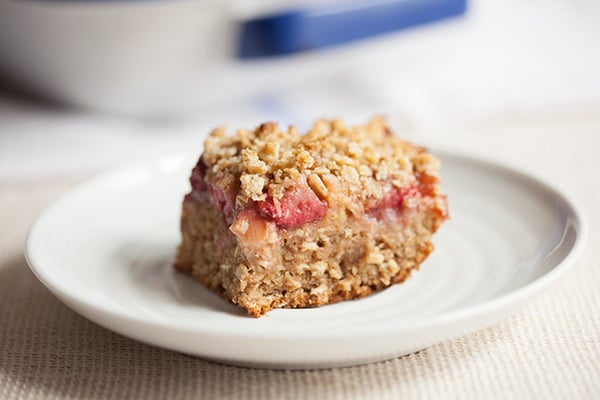 NB: Steven would like you all to know that, if you eat these for dessert, they are best when heated gently and served with vanilla ice cream. You heard it here first.
Here's the recipe.
Gluten Free, Vegan Strawberry Rhubarb Crumble Bars
Ingredients
*For the base*:
1 3/4

cups

oat flour

1

cup

rolled oats

1

teaspoon

scant baking powder

1/4

teaspoon

salt

1

teaspoon

cinnamon

1

large

ripe banana, mashed

1/3

cup

almond milk

1/4

cup

melted coconut oil

1/3

cup

maple syrup

1

teaspoon

vanilla extract
*For the rhubarb and berry filling*:
3

cups

strawberries

raspberries, or a combination of both (if you use strawberries, trim and quarter them prior to measuring)

1

cup

chopped rhubarb

3

tablespoons

organic sugar

3/4

tablespoon

tapioca starch
*For the crumble topping*:
3/4

cup

rolled oats

1/2

cup

almond flour

1/4

cup

organic brown sugar

1/4

teaspoon

salt

1/4

cup

melted coconut oil
Instructions
Preheat your oven to 350F.

Mix the oat flour, oats, baking soda, salt, and cinnamon together in a large mixing bowl. Whisk together the banana, almond milk, coconut oil, maple syrup, and vanilla. Add the wet ingredients to the dry ingredients and mix well to combine. The mixture should be thick but easy to mix with a spoon or whisk. If it's too sticky, add an extra few tablespoons of almond milk. Transfer this mixture to an oiled 8x8 or 9x9 square baking dish.

Toss the strawberries, rhubarb, sugar, and tapioca starch together and mix well. Spread this mixture over the base layer in the baking dish. Place the baking dish in the oven and bake for 15 minutes.

Place the oats, almond flour, brown sugar, salt, and melted coconut oil together in a food processor fitted with the S blade. Pulse until the mixture has formed nice, big crumbs. Remove the baking dish from your oven and sprinkle this mixture over the rhubarb and strawberry layer (which should be releasing some liquid by now, and even bubbling at the edges). Bake for another 20-25 minutes, or until the top is brown and the strawberry rhubarb layer has thickened up. Place the baking dish on a wire rack to cool completely. Cut into 9 or 12 squares, and serve.
A couple of added things: you can make the oat flour for this recipe by placing rolled oats into a food processor fitted with the S blade and whirling them until they've formed flour. Also, this recipe is gluten free, but if you have celiac disease or gluten intolerance with any cross-reactivity when you eat oats, it's important to purchase GF certified oats and oat flour.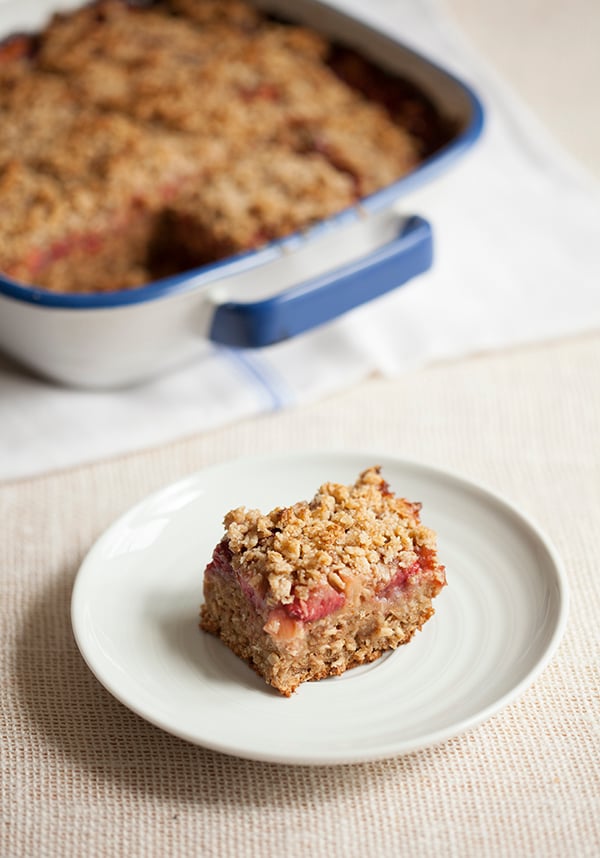 Finally, this recipe would be a great template for many other fruit flavors. You can find my blueberry variation here, but I'd also suggest peaches, cherries, or apple. Basically, rotate your filling according to the seasons and what you're craving. Frozen berries will work perfectly well.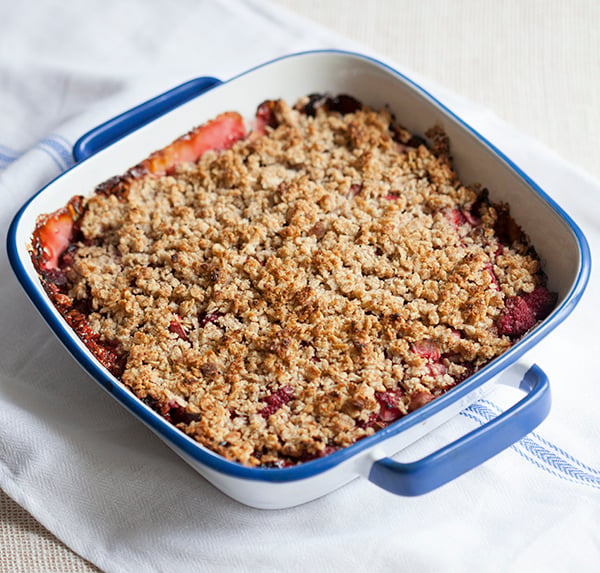 Enjoy the bars, all. On Wednesday, I'll be reviewing a wonderful new vegan cookbook. And on Friday, I have a veggie burger recipe to share, and it's pretty special. Till soon!
xo