Those of you who have been reading this blog for a while know that I'm a big fan of cashew cheese. It has found its way into countless lunchbowls, salads, pasta and grain dishes, collard wraps, and other recipes since I started blogging, and it remains one of my favorite ways to add flavor to dishes. When I mention cashew cheese to clients, it often tends to evoke raised eyebrows, or the quick disqualification of "oh, that sounds like a lot of work." But making cashew cheese at home is really as simple as making hummus or bean dip or any other number of condiments. Today, I'm sharing my go-to cashew cheese recipe, the one I return to again and again (along with a few flavor options). I hope you'll come to rely on it as much as I do!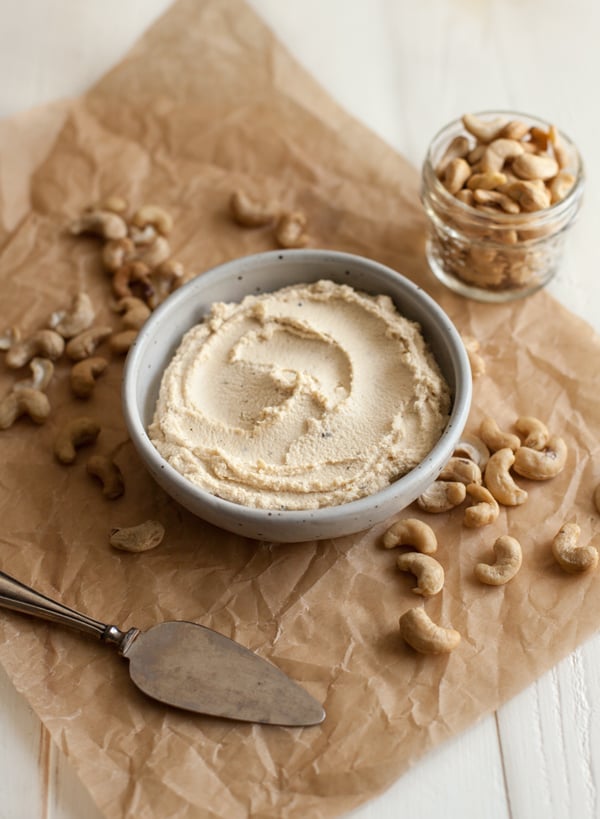 There are different approaches to making cashew cheese. Some folks like to use a high speed blender; I find that you have to add a lot of liquid to make the cheese blend properly, which results in something that's closer to cashew cheese sauce than cashew cheese (not that there's anything wrong with a cashew sauce).
So, I like to use my food processor, which creates a texture that falls someplace in between ricotta cheese and hummus. When I was working on Food52 Vegan, my editors asked me a few times what the perfect texture consistency for cashew cheese was. To some extent, this is a matter of preference–you might want to create a loose, creamy cashew cheese for folding into pasta, or you might prefer a really thick batch to crumble onto salads. But for the most part, what you want to whip up in the food processor should resemble a thick batch of hummus: smooth, but with a bit of coarse texture.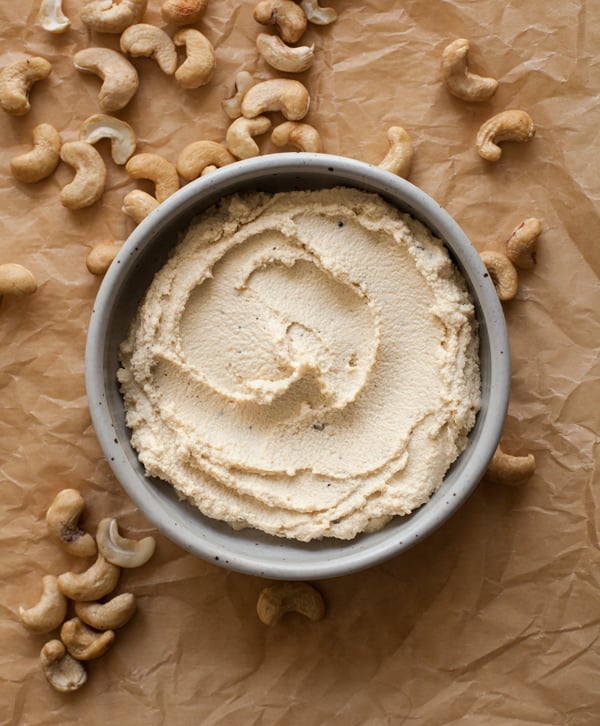 Once you prepare the basic recipe I'm sharing today, you can start to modify it by adding your favorite herbs (I like to pulse in dill, chives, thyme, and herbes de Provence), spices (extra garlic powder and even a pinch of curry add tons of flavor), or dried fruit (cranberries make a great addition, especially for a holiday appetizer). The cashew cheese will keep for about 5-6 days in an airtight container in the fridge, so you can savor it in meals all week long.
Go-to Cashew Cheese Recipe
Author -
1

generous cup raw cashews

soaked for at least 2 hours (up to 10, or overnight, is fine), drained, and rinsed

2

tablespoons

nutritional yeast

2

tablespoons

freshly squeezed lemon juice

1/4

teaspoon

garlic powder

for stronger garlicky flavor, use 3/4 teaspoon garlic powder or 1 crushed garlic clove instead

1/2

teaspoon

salt

more as needed

1/4

teaspoon

freshly ground black pepper

1/4

cup

water

more as needed
Place the cashews, nutritional yeast, lemon juice, garlic powder, salt, and pepper in a food processor. Pulse repeatedly to break the cashews down, until they form a coarse, wet meal. Scrape the sides of the food processor down with a spatula.

Turn the motor of the processor on. With the motor running, drizzle in the water and let the cashews process for about 10 seconds. Stop and scrape the machine down again. Continue processing for a full 1-2 minutes, or until the cashew cheese is smooth and thick, adding a tablespoon of extra water if needed. The consistency should be a little bit like hummus (see photos of finished cashew cheese as a cue).

Taste the cashew cheese and add lemon, salt, and pepper to taste. If you like, pulse in fresh herbs or other flavorings. Serve. Cashew cheese will keep for up to 6 days in an airtight container in the fridge.
Here you can see one of my most recent favorite ways to serve cashew cheese: as a base for oven charred carrots and a sprinkle of za'atar. It's a perfect nibble to serve friends at a gathering or before a dinner, and the contrast between sweet, tender carrots and tangy cashew cheese is really irresistible.
Here are some of my other favorite recipes featuring cashew cheese:
Fennel salad with ancient grains and pomegranate seeds
Maple roasted acorn squash and red quinoa salad with baby kale and cashew cheese
Farro salad with roasted zucchini, herbed cashew cheese, and mint
Minted pea and cashew cheese crostini
Cucumber rounds with herbed dill cashew cheese
Hopefully, this post will inspire you to add homemade cashew to your own list of go-to condiments and toppings. Once you get in the swing of making it at home, you'll find yourself wanting to put it in just about anything and everything. (Tonight, I'm planning to stir some into a batch of savory oats–why not?)
Enjoy your cashew cheese adventures, everyone. I'll be back tomorrow with a new green recovery post.
xo