Greetings from upstate, all. It's a quiet, gray September day—perfect for sitting on the porch with a cup of tea—and I'm enjoying my last few hours here before my return home. The reason for my visit was, sadly, a memorial service for Chloe's grandparents, who passed away earlier this summer. Work obligations kept me in the city for most of Saturday, so I missed the memorial itself, but I was here for a family dinner last night, and had a chance to offer my condolences in person. Chloe's grandparents might well have been my own, and I'll miss them very much, but I also feel grateful that they lived very long, very rich lives, were at Chloe's wedding in June, and passed away peacefully.
Today, Chloe and Knud and Alexandra (Chloe's sister) and I had a little time to enjoy the change of seasons upstate. We made it to Golden Harvest Farms in the sweet town of Valatie, NY, for some apples, donuts, and other goodies. Check out the pumpkin harvest! If I weren't weighed down with books and manuscripts, I'd most certainly have toted one of these home with me for yet another orange smoothie!
The entire farmstand was suffused with the scent of apple cider donuts frying, and being gobbled up!
On the way in, I drooled over fall bounty: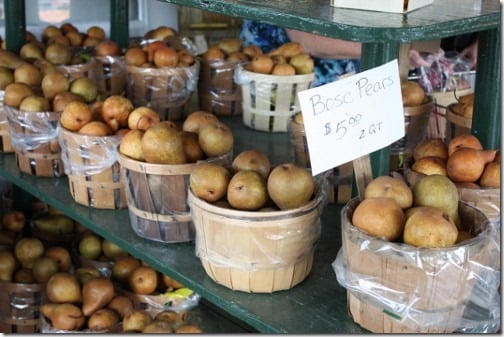 Honeycrisps! Elizabeth, I remembered my favorite apple post and thought of you:
There were also plenty of jams and baked goods – non-vegan, alas: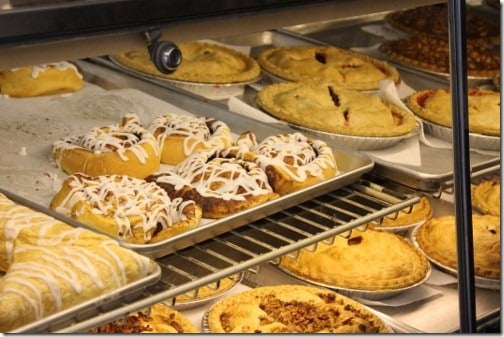 After Chloe and Knud and Alexandra stocked up on some fresh donuts, we took a little detour to visit the farm's own distillery:
It was very cool!
They make pear brandy, apple brandy, and applejack with the spare apples and pears that aren't sold. I thought this was quite resourceful!
I gave the applejack at little taste, and thought it was great. The pear brandy was a bit much for me!
Distillery humor:
That's "wing of beetle and eye of goat"—irony, I hope!
And the caskets of liquor:
What a fun excursion! When we got home, I donned one of the aprons that Barbara, Chloe's mom, made as a child. We ladies happened upon a stash of these this weekend, and we all enjoyed doing our best Donna Reed impersonation:
OK, I'm pretty sure Donna Reed never made awkward faces like that. Nevermind.
For lunch today, I wanted to put some off our fresh apples and cider to use. So I whipped up a traditional massaged kale salad, but adorned it with an apple cider dressing and some fresh empire slices. The recipe? Simple as (apple) pie:
Golden Harvest Salad (serves 1)
For the salad:
2-3 cups washed, dried, and chopped kale (I'd say about 100 g)
1 small carrot, grated
1 stalk celery, chopped
2 tbsp golden raisins
2 tbsp chopped walnuts
1/2 apple, sliced thin.
For the dressing:
2 tbsp olive oil
2 tbsp apple cider (fresh, local, and unpasteurized, if you can get your hands on it!)
1 1/2 tbsp apple cider vinegar
1 tbsp agave
Salt and pepper to taste
Whisk the dressing ingredients together, and set aside. In a big mixing bowl, pour about 2 or so tablespoons of the dressing onto your chopped kale, and begin "massaging" it with your hands, until it starts to get soft and well coated. It should develop even a slightly wilted texture–this really shouldn't take long. Use more of the dressing (you'll have extra) if necessary.
Add the remaining salad ingredients, and toss the whole salad again.
Plate the salad, and top it with your sliced apple. Enjoy!
This is a near perfect showcase of the best of fall produce, and I savored every bite:
Can't wait to make it again.
Hope you all had equally lovely weekends: what was on your activity list? And your menus?
xo