Tonight on my way home, I took one of my favorite walks. It's the walk across DuPont circle around 9pm, in the summertime, when folks are draped over the fountain and park benches, savoring every moment of warm evening weather. I realized that this may be the last time I take that walk as a D.C. resident. Time is moving fast.
I came to D.C. four summers ago. My boyfriend at the time lived here, and I was a first semester post-bacc student who was growing weary of trying to do Gen Chem problems on bumpy, five-hour Boltbus rides. It seemed only logical to transfer programs and relocate, so that I wouldn't have to feel as though my life was split geographically. Looking back, I was more nervous about the move than I let on to anyone, myself included, but I was determined to make it work: the relationship, my post-bacc, all of it.
That summer, the summer of 2011, was a sweltering and stormy one, even by the region's standards. I spent it dressed up in goggles and long pants and close-toed shoes in a poorly ventilated, ancient Georgetown laboratory, where about thirty other post-bacc students and I set out to conquer Gen Chem II in five weeks. I woke up every day at quarter of six, walked along Canal Road in the wee hours to yoga, made it to class by eight, and spent the day in lecture and lab. At night, my friends and I would park at the library until midnight or even later, trudge home after completing the day's work, crash, and do it all over again the next day. It wasn't my hardest post-bacc semester, but it was probably the most sleepless one.
That summer, only weeks after arriving in the District, I came the sudden and largely unforeseen realization that my relationship probably wouldn't survive through autumn. It was strange and sad and disorienting, and I spent much of my time wondering how something I had been so certain of could prove to be so different from what I'd thought.
This became the theme of my first two years in D.C.: things didn't turn out the way I thought they would. The relationship, my life as a post-bacc: none of it was what I'd imagined. I came to D.C. certain that proximity would breathe new life into my romance and hopeful that my initial post-bacc struggles would give way to success in a smaller classroom environment. I didn't plan on staying in the District forever–I always knew I'd find my way home to New York–but I thought that I'd find firm footing as an aspiring physician here, and envisioned myself leaving only when I'd been welcomed into some med school or another.
None of that, as we know, came to pass.
I didn't come to D.C. to make friends. I didn't come here to have fun. I didn't come here to explore a new city. As far as I was concerned, I was on a mission, and developing any robust personal life would only distract me from my goal, which was to become a doctor. I didn't need friends, I told myself; I had school to occupy my time. And I certainly didn't need or care to explore Washington. Stubborn New Yorker that I am, I couldn't imagine that I'd ever develop the kind of fondness for another city that I feel for my hometown. (The fact that 90% of my time was spent in the Georgetown library did little to inspire a sense of curiosity about the District as a whole). When I look back on my first year here in D.C., it seems like such a narrow, cloistered existence, all of it spent in the corridor between my Hobbit House and the Georgetown campus. It was hardly the way to begin life in a new place, but then, I didn't know much about beginning life in a new place. I'd spent my first 29 years in a forty block radius. I'd never had to make a home away from home.
Lucky for me, D.C. reached out and embraced me in spite of the fact that I was so reluctant to embrace it. I see it as wonderfully ironic that the very things I didn't come here looking for–friendship, community, and, ultimately, love–are the things that I'll be taking away from my time in this beautiful city. The relationship that brought me here is not one that survived, and medical school–the goal around which I oriented so much of my time and energy–is not to be. But as I was grappling with these unexpected twists and turns, I came to appreciate D.C. more strongly than than I ever thought I would. I made friendships that I'll cherish forever. I found a vibrant, welcoming, and wonderful community of peers and yogis and fellow wellness enthusiasts. I found an exceptional professional mentor. And, of course, I fell in love. Things didn't turn out the way I'd planned, but they turned out pretty wonderfully, in the end.
Here's what I'll remember about my time in D.C.:
Walking along the highway to early morning yoga in the dead quiet of winter, wrapped up in my parka, my mat slung around my back, watching the sun rise over Virginia.
Leaving my five hour Orgo lab, lips blue from the cold of the room, and stepping out into D.C.'s incredible, enveloping early summer heat.
Walking home from evening class with my fellow post-bacc and neighbor, Dave, and catching the sight of a sunset over the Georgetown soccer field, all crimsons and purples. Sitting in Dupont circle on a late spring evening at dusk, watching the skateboarders.
I remember all-night study marathons with my peers, the way we became half delirious with coffee and fatigue and the sight of benzene rings. I remember how heightened our emotions were, how we all felt as if we'd sacrificed something huge to go back to school as a part of a tremendous gamble that might ultimately take us nowhere at all. I remember the camaraderie that broke through our layers of uncertainty, the way we'd all be so grateful for a bad joke or a nervous laugh or an inappropriate remark.
I remember sitting around with my genetics lab partner for hours one day as he carefully explained to me the nuances of unraveling a Holliday junction. I remember his patience, the way he refused to let me insult my own intelligence and insist that I was hopeless, that I'd never understand. I remember how calmly he told me to pick up my pencil and try each problem again, until I understood, and I remember how grateful I was when I finally did. Those kinds of friendships, and that kind of generosity: it's a debt I'll never be able to repay. I'm not going to become a doctor, but most of my post-bacc friends are, and I feel so proud to have passed through the fire by their side.
I remember the end of my post-bacc, when school was almost behind me and I began re-emerging into normal life. I remember how odd it seemed to be out at a bar, smiling and flirting; normal stuff, but at the time, it was as though I was a stranger in a foreign land. I remember how weird it felt to go out to dinner, to linger over a conversation or a phone call, to go to yoga without feeling as though I had to rush home and get back to work. I remember going to see movies again, and feeling as though it was some tremendous extravagance. Say what you will about intense grad school programs: they make you appreciate the little things.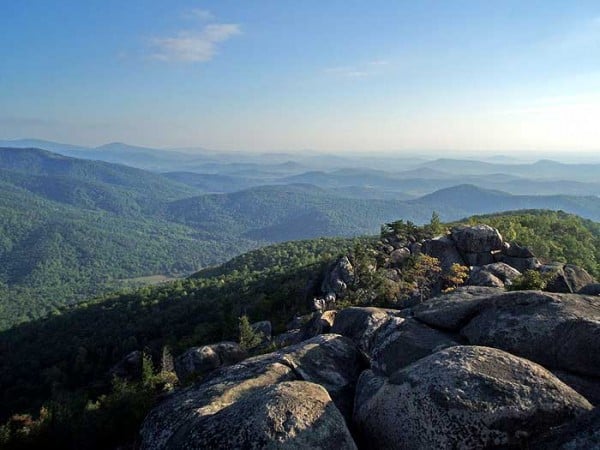 I remember how it was when I discovered how beautiful the landscape of D.C. is: the green space, the circles, the parks, the monuments. I remember when it dawned on me that I was incredibly lucky to be able to walk to the mall. I remember hiking Old Rag and other parts of Shenandoah, amazed at the foliage and views. D.C. is a rich and interesting place to live in so many ways: culturally, geographically, visually. In my last year and a half here, after I moved out of the Hobbit House and said goodbye to Georgetown, I began exploring it in earnest, getting to know new neighborhoods, trying new restaurants, seeing concerts and art and getting outdoors more often. I'm so glad I stayed here for my "gap year," because without that time, I might never have come to appreciate this city as much as I do.
I remember the highs and lows of this past winter. I remember being huddled at home, shivering my way through the flu, burning with fever and grappling with the fact that med school had become decidedly unlikely and trying to figure out what would come next. And I remember walking through District streets in April and May, the theme of springtime renewal more poignant to me than it had ever been, realizing that my future was plenty bright without an acceptance letter. I remember the first few months of my life with my current partner, which weren't so long ago; I remember how happy we both were to have found each other, to have slipped so easily into a love that was sweet and solid and real.
At the beginning, I told myself that the D.C. years were just a weigh station on my way to longer journeys ahead. When you do a post-bacc, it feels as though you've put your life on hold en route to a bigger and larger goal. You tell yourself that you've simply got to keep your head down and stay focused and survive it all. But in spite of the fact that I felt as if my life was on hold, it wasn't. Life was happening, all around me, whether I planned on it or not. The memories I've just shared add up to a rich, textured, and vibrant three years of life experience.
I'll never look back on my time in D.C. as easy, or fun, or even very happy; there were pockets of intense happiness and joy, but this phase of my life was a crucible from start to finish. Even so, I'm positive that I'll one day remember these last few years as some of the most significant of my whole life. They were the years in which I learned to accept new challenges, to reshape my life without the safety and comfort of what's familiar, to humbly accept that I cannot do anything I set my mind to and I can't have everything I want. They are the years in which I came to terms with how fleeting and fragile and fast life is, the years in which the idea of non-attachment started to resonate with me. I think that my life in D.C. helped me to become a better person. And I am so glad that I found myself here, even for a few years. I need to create a new path forward this year, and I want to do it in New York. But I'm leaving D.C. with a tremendous sense of gratitude for all it has given me.
By the time this post is published, I'll probably be unpacking on the upper west side. As I write, though, I'm sitting at my table in my D.C. studio, gazing out the window and feeling all sorts of nostalgia and strangeness about leaving the city in which I've spent such colorful, dramatic, and important years. This won't be goodbye; I now have a family in the District, a group of people whom I love dearly, and I'll be visiting before too long.
In the meantime, I'll soon be back in magical New York, where I'll one again be given a fresh start. This time, I'll be a little less goal-oriented and a little more open to life's surprises. And I'll be sharing my life (and my apartment) with a new partner. As many of my blog readers have said to me since I wrote my 32 post: onwards.
By the time I post weekend reading, I'll be able to tell you how good it is to be home. Goodnight, all.
xo
Image of Dupont Circle courtesy of Larry Chang.