At least a few times a year, I have my mind blown by a meal. Rarely, I happen to have been the architect of that meal, which is always a cause for blushing pride. But more often than not, it's because I've been lucky enough to sit at the table of a truly extraordinary restauranteur. I've had a few such meals this year. Recently, I was a lucky guest at Elizabeth's Gone Raw in D.C.. A few months before that, I had the great pleasure of having dinner at Portobello in Portland with the VegNews team. What a night that was! I'm still fantasizing about the gnocchi.
A few nights ago, I had the privilege of yet another extraordinary dining experience. As you'll see in a moment, it was slightly different from any other great restaurant meals I've had lately, in that it was intimate and blended the best of gourmet raw cuisine with a welcoming environment. But it has instantly been filed away under "meals to remember forever." And it's all thanks to Jamie Graber, the innovative, inspiring, and confident owner of Gingersnap's Organic.
Gingersnap's Organic is the latest and greatest raw foods restaurant to hit New York City's East Village. Though all of the foods served are raw, vegan, and gluten-free (the only ingredients that are not 100% raw are two of the spices used, which by my estimation still puts the restaurant firmly in the "raw" category), Gingersnap's isn't marketed exclusively to the raw or vegan audience. Instead, it's labeled as "handcrafted conscious cuisine." This is the right choice of words, because everything at Gingersnap's—from the tables and chairs to the floor to the food—has been crafted with love and care.
Jamie, the energetic, hip, and glowing Gingersnap after whom the restaurant takes its name (she's in the hat, above), is deeply eco-conscious. She has created a dining space that is as earth friendly as a space can be, from the floorboards (which are recycled from an old barn) to the reusable bags, which patrons are asked to return with their next visit. Some plastic packaging is used, but Jamie takes care to limit waste in any other way she can: pulp from almond milk is put to use in burgers, for example. All ingredients at the restaurant are organic, and Jamie takes care to also shop local and fresh. I've met many an environmentally-aware restaurateur in my time, but I must confess that I've rarely been so struck with a restaurant owner's passion and conviction as I was by Jamie's. She's out to change the way people eat, one meal at a time.
For example: Jamie offers her patrons a special GO cleanse (which I'll refer to simply as "raw meal delivery service," since I don't love the language of "cleansing"). For $50 per day, all participants receive:
A chia pudding for breakfast
A giant lunch salad
An entrée and side salad for dinner
A dessert pudding
A green juice ($10 extra)
What a wonderful way for people to explore raw cuisine! And I was mighty impressed with the price; compared to certain other love-ly cleanses (ahem) this is a total steal. Most importantly, it motivates people to stick with raw food for more than a meal or two, and educates them in how to eat raw consistently. Jamie's vision is to create a restaurant that makes eating raw on the go easy, and caters both to raw foods pros and those who are simply hoping to work more raw dishes into their busy lives.
When I received Jamie's invitation to visit, I was thrilled. It was also two days before I was due to have dinner with Ms. Jasmin before leaving NYC. Did she want to make Gingersnaps our destination, I asked? She said yes, and we found ourselves meeting there two nights later. I was really impressed with the sleek, yet cozy design: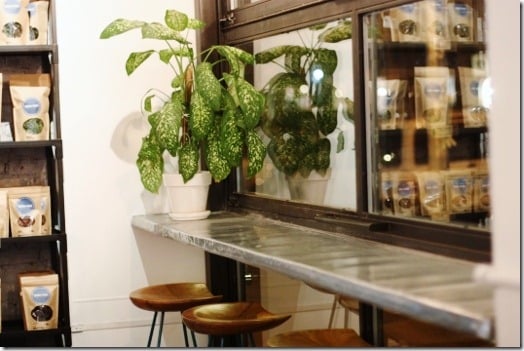 Great place to meet casually with a friend, or dine solo! The restaurant is designed either for sit-down service or for takeaway: various salads, puddings, and entrees are packaged in the cooler sections, but also available on the restaurant menu.
The restaurant carries a few pressed juices, and it also carries local kombucha:
They also carry fresh coconut water.
Jamie and I took a few moments to talk about her mission with Gingersnap's Organic, and her history. I asked how long she'd been working with raw foods. She told me that she'd been working in the raw world for about six years, though she had been enticed by and experimented with raw food long before that. In 2007, she was completing a teacher training at YogaWorks, and met a woman who worked with Juliano. She introduced Jamie to Juliano, and she started working for him the next day. In LA, she moved on to managing Euphoria Loves Rawvolution, and then returned to her home of NYC, where she originally founded Gingersnap's.
The clarity of Jamie's vision for her business really struck me. In fact, as Jasmin and I left later that evening, I exclaimed "it's so great to see such a business owner with such clarity and purpose!" (Or something like that.) Jamie is passionate about 1) making raw, organic, vegan food accessible to everyone, 2) creating green spaces, and 3) establishing a raw restaurant that caters to everyone—from sit-down gourmets to students on-the-go. If you ask me, she's succeeding in all of those goals.
When Jamie asked Jasmin and I if we were hungry, we chuckled and assured Jamie that we could probably handle as much food as she wanted to share with us. I told her to go ahead and bring us the dishes she's most passionate about. We began with the restaurant's superfood salad: baby spinach, avocado, sprouts, hemp seeds, dulse, goji-chia dressing.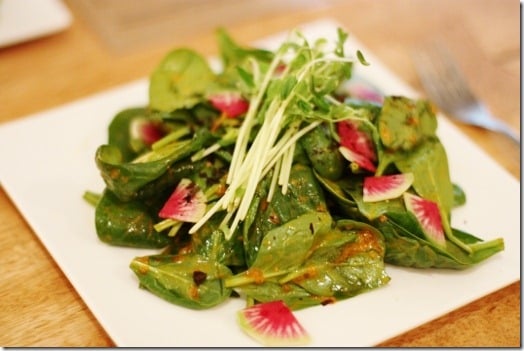 Crisp, lightly dressed, and full of salty and sweet flavors from the dulse and the dressing. I loved it!
Next, Jamie brought us some of her famous zucchini almond hummus, which was served with daikon and cucumber slices, sesame and tomato crackers with zaatar spices, and olives.
I have so much to say. First, the hummus was (true to promise) amazing. I've made zucchini hummus, and I've made almond hummus, but never have I hummus-ed the two together. Now I think I'll have to. Delicious. Meanwhile, the crackers blew. my. mind. I love zaatar spice—in fact, this reminds me that M has some that I've yet to experiment with—and it, along with the sundried tomatoes, made these crackers sing. I was enchanted.
Next up came the restaurant's portobello reuben wrap, served with house made kraut, sundried tomato, Russian dressing, and romaine.
I have spent four years trying to perfect the raw wrap, with truly tepid results. It's always too thick or too thin, too crispy or too soggy. How Jamie has managed to make a wrap (which is flecked with caraway seeds for authentic "reuben" taste) that is not only all raw and vegan, but also moist, thick, and delicious, I can't say. But I can say that this was in some ways the highlight of the meal. The kraut and dressing were stellar, too.
For our "entrees," Jasmin and I each got a tasting plate of the restaurant's prized dishes. This included (going clockwise on my platter from the kelp noodles) kelp and daikon noodles with sesame-ginger broth, sprouts, shiitake mushroom, kim chee, dulse (this is labeled as "ramen" on the menu), house made pickles, raw pizza with walnut hemp seed crust, sundried tomato, garlic kale,brazil nut ricotta, a thai collard wrap with spicy almonds and pea shoots, and the restaurant's taco, served with a chili corn flax tortilla, pepitas, guacamole, salsa, and shredded romaine.
Feast your hearts out:
Where to start? Well, I'll start with the kelp noodles, which blew me away not only because they tasted superb, but because their texture was so, so soft. When I asked Jamie how they manage to soften them that much, she said that they massage them. I guess if massaging kale is the key to its raw success, the same might be true of kelp noodles, which I personally love, but many people find too crunchy. I'll have to try this tip out for myself!
I was immediately won over by the taco, which was perfectly seasoned and also gave me a perfect bite of the quintessential Gena comfort food: guac. But Jasmin and I both spent the most time sighing over the pizza, which was bursting with flavor. The brazil nut ricotta was super lemony, which immediately won me over (I'm a bit of a lemon fanatic), and the crust was delectable.
When Jamie announced that it was dessert time, Jasmin and I could have feigned being too full, but who were we kidding? We were dying to taste Jamie's dessert creations! Little did we know we'd get not one, but three of them to savor. First, a vanilla chia pudding that instantly won me over with its creamy texture and lack of overt sweetness (as a side note, the restaurant uses no agave, which means that desserts have the more subtle sweetness of dates). There was also a mango pudding made with young coconut, coconut oil, and mango that was to die for. So, so delicious—it was almost reminiscent of coconut butter, which I love.
Finally, Jamie brought us a slice of gingersnap pie (perfectly spiced, hopelessly creamy), adorned with a slice of candied lemon.
It was insane. Like the best pumpkin cheesecake I'd ever had, except better. And the crust, like our chia pudding, was only sensibly sweet, not a sugar overdose.
At the end of the meal, as I gushed to Jamie and praised the hardworking chef who had been at her side that night, I could help but pick up some of the raw zaatar crackers:
…which are sold at the restaurant along with kale chips and other dehydrated treats.
I've been to gourmet raw restaurants before, and I've been to more casual raw spots. What makes Gingersnap's truly special—aside from the conscious ethos—is it's range. Whether you want a quick salad to go, a kombucha and chia pudding for a late night snack, or a full-blown, gourmet raw experience, Jamie can deliver it to you. This is the finest kind of raw foods experience—both stunning and accessible—and it's now yet another reason why I <3 New York.
After dinner, with only a few nights left in the city, I couldn't help but stop by another great raw culinary mecca, Pure Food and Wine, for an after dinner "mocktail" with Jasmin. This was in keeping with tradition: the first time Jasmin and I met, we sipped upon mocktails at Portobello:
This time, we sipped upon a virgin passion fruit juice cocktail and a virgin mojito inside the sexy and sleek interior of Pure Food and Wine:
The drinks were great—proof that a truly artful cocktail can hold its own without booze—and the wonderful bartender was kind enough to adjust the price for a non-alcoholic rendition. That's a rare show of decency at an NYC bar!
In all, this was a magical night of dinking and drinking and conversation. Thank you, Jamie, for having welcomed me to Gingersnap's Organic, and for having shared your vision with me. I hope New Yorkers everywhere will soon be participating in it.
Gingersnap's Organics is located on 7th Street between Avenues 1st Avenue and Avenue A. To see the menu, learn about the fabulous "Go Food Delivery Service," or connect with Jamie, visit the restaurant's website.
xo