On Monday, my post-bacc BFF, Dave, celebrated his birthday with ten hours of studying and a 7 p.m. orgo exam. Clearly, this is no way to usher in a new year. Last night, he and I ventured outside of the Georgetown bubble—a rare occurrence for us these days—to celebrate properly, and to get a desperately needed break from lab reports, exams, overdue readings, and all the tedium of post-bacc life. Our destination was Graffiato restaurant in the Penn Quarter, an Italian eatery led by Mike Isabella of Top Chef fame.
Image courtesy of the Washington Post
In case I've never mentioned it before, I'm kind of a Top Chef fanatic. I haven't really been able to follow recent seasons because of school, but I was once upon a time pretty hardcore about Bravo's famous culinary competition. Obviously, the food featured is rarely ever vegan, and I do find it off-putting sometimes (especially in recent seasons, as they seem to be celebrating carnism more than usual—maybe that was just the most recent season, in TX?), but frankly, my foodie's fascination with how talented chef's respond creatively to major time and practical constraints keeps me hooked. And I get lots of cool recipe ideas, even if they're all to be veganized.
Mike Isabella was known for his attitude, spunk, and confidence. Some found his personality a little overbearing, but I was charmed by it (for some reason, I always like the hyper-confident chefs: Stefan was a total fave), and especially loved when he and Antonia realized that they were distant cousins. Mike's passion for Italian food was always obvious, and I know from being a home cook that passion makes the best food. It was with high hopes, then, that I arrived to this hip space:
Image courtesy of Eater.com
Graffiato wasn't quite what I expected: no checkered table cloths, nothing that screamed "Italian!" at the door. According to Tom Sietsema of the Washington Post, this is what Isabella intended. His goal was to pay homage to the Italian food and the culture he grew up with in New Jersey, and not to try to recreate a slice of the motherland. The restaurant is is modern, bustling, and a little funky. The walls are adorned with street art (I may be wrong, but I suspect that whoever does some of the animation for Gorillaz is responsible for at least one of the murals). And the food is—so far as I can tell—Italian-inspired, but thoroughly untraditional.
Let's start here: the waitstaff was 100% knowledgeable about vegan dining options! I had emailed the restaurant beforehand to make sure that there were cheese-less things I could order (a challenge in Italian dining), and they had reassured me, but I also love that, when I told my server I'm vegan, he exclaimed "no problem!" He immediately directed me toward vegan dishes on the menu, and couldn't have been nicer. (I have also never before had a server who was so attentive about refilling water. I left the restaurant thoroughly hydrated.)
We began with the blistered sweet peppers:
These were mixed with onions, garlic and basil. While Dave got over his surprise that the dish is served cold (kind of a plus for someone like me, who loves cold food!), I prepared to be overwhelmed by garlic. Not so! The garlic used is, I am pretty sure, roasted or at least thoroughly cooked, so I really didn't have the same overwhelmed feeling often do with garlickly food. Ditto for the onions. The peppers and onions were amazing—stewed for long enough that their natural sweetness was intense, but mitigated by a slightly tangy mix of natural juices and a little bit of olive oil. Absolutely fantastic.
We also got the broccolini, which were served with a walnut crumble and red pepper coulis.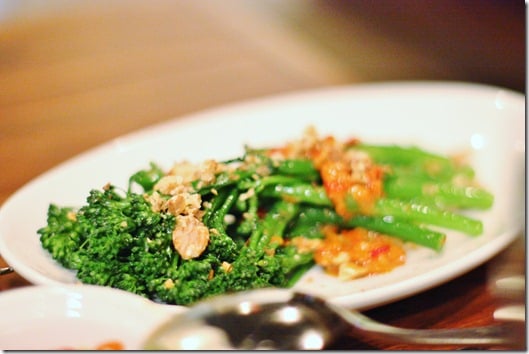 Very good, though not overwhelming. In fairness, the dish is meant to be served with cheese, so perhaps the flavors would be more vibrant in the original dish. Still, the broccolini were cooked perfectly, and it was tasty overall.
We followed up veggies with salad. Dave got the Caesar:
And I got the mixed greens (sans feta):
Simple and tasty! Lightly steamed carrots and asparagus made it sing.
For my entrée, I got the "Greco-Roman" pizza: eggplant, roast peppers, and arugula. Win!
Truth be told, I'm just not a pizza person. Not traditional pizza, anyway. This isn't traditional pizza—it's more like a flatbread, which is part of why I liked it! The eggplant was puréed, like Babaganoush, and spread on the amazing crust. Roast peppers were piled over, and fresh arugula and lemon were perched on top. It's pretty much the exact kind of fresh, minimalist pizza dish I'd make for myself, right down to the pureed veggie spread in lieu of a conventional red sauce.
And the crust: oh, the crust. I rarely eat refined flours, since I don't consider them to be a very nutritious food, but when I do, it's because they're contained in a bread dish that's is truly outstanding. This crust—crispy and thin in the center, soft and chewy near the edges, warm and ready to melt in my mouth—was most definitely one of those dishes! Funnily enough, it reminded me of the flatbread that gets served with Candle 79's paprika hummus, which I also absolutely adore. Two thumbs way, way up.
Dave ordered zeppole for dessert, which looked great; I guess one of my only criticisms of Graffiato is that I am so ready for restaurants to start stocking vegan desserts that aren't sorbet (I am not a fan of sorbet). But then, I was full of delicious food, and totally content to sip on some blood orange tea after the meal.
In all, this was a great DC dining experience. Graffiato hasn't got an extensive vegan menu by any stretch of the imagination, but the vegan dishes available are done just right, and moreover, the restaurant understands how to accommodate vegan diners along with other diners. It's a great place to bring mixed groups of vegans and non, and it's a great place to listen to hip music, sip wine, and indulge in some innovative Mediterranean fare—all by way of the garden state.
xo