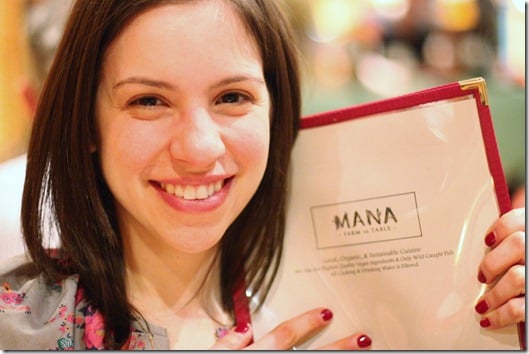 Happy Saturday, all! Thanks for the feedback on NOLA posts one, two, and three. I'm glad you enjoyed the recaps, because there are many more trips to New Orleans to come. Hopefully, each visit will unveil yet another vegan dining establishment.
Today's post takes us back to NYC, which is already a mecca of vegan dining establishments! Last Saturday, after a slightly tiring day at the NYC Vegetarian Food Festival, Brendan and I decided to explore one of the city's many vegan friendly and organic spots—Mana—for a quick catch up dinner.
You may recall that I had been feeling pretty beat that day, but that I perked up for the event. Well, after returning home in the afternoon, fatigue crept in once again. I texted the following to Brendan:
"Sooooooooo tired."
To which he replied: "So tired, too. We can just sit there and eat in silence, it'll be perfect!"
I responded: "That's fine. Though somehow I doubt it."
I doubted it because Brendan and I rarely ever lack conversation when we sit down and catch up. There are always so many things to talk about—our careers and projects, food politics, animal rights issues, and (of course) food we've recently eaten and loved. Mana has become one of our favorite places to convene, because it is a) on the Upper West Side, my home neighborhood and one of Brendan's favorite in the city, b) reasonably priced and 100% organic, c) totally vegan-friendly d) really tasty.
While Brendan and I are both identified with our connection to raw foods, we don't always eat raw food when we meet to catch up. More often than not, actually, we opt for simple grains, legumes, salads for a quick, casual bite. Technically speaking, Mana is a macrobiotic (or macrobiotic-ish) restaurant, so it fits the bill for all of those things!
What is macrobiotics? Well, you'll learn a lot more here than I can relay in a quick blog post, but it's a lifestyle founded both in diet and in holistic approaches to mind and body wellness. It's often sought out by people who are healing, but not exclusively so. As you can see from the food pyramid below, legumes, grains, and sea vegetables are the foundations of the diet: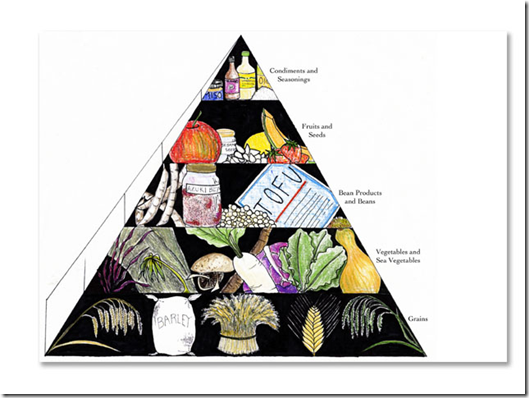 Image © Noe Designs
Raw foods are not emphasized in macrobiotic cooking; in fact, they are often discouraged to some extent. Clearly, a mostly raw diet is the one I thrive on, but that doesn't mean I don't appreciate some of the techniques and principles of macrobiotics. It inspires a number of my cooked dishes, and I love dining at macrobiotic restaurants for their simplicity and perfectly cooked whole grains. Mana is no exception—the food is reliably good, and the atmosphere, as you can see, is very cozy. Note that the restaurant serves fish, as do most macrobiotic restaurants that I've been to: though it's possible (and very common) to be a macrobiotic vegan, the diet is not vegan, per se!
Brendan and I did a quick download/review of the days events over the millet and cauliflower mash appetizer. Oh yes, you heard that right. A Gena cooked-food dish if ever there was one, and I will certainly get to recreating it for you! Brendan and I couldn't figure out what the creamy base was, but my money's on silken tofu: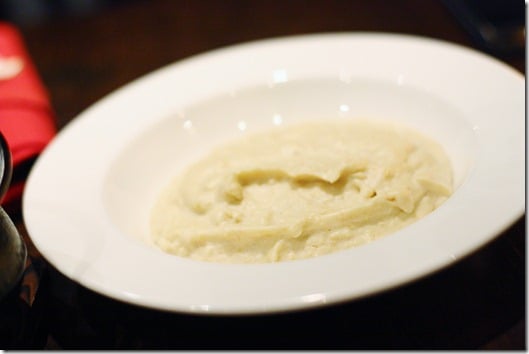 Brendan got a salad for his entrée, along with some kabocha squash. I was slightly hungrier, so I went with a brown rice, cucumber, and avocado roll, along with the house salad, which was steamed squash, carrot, romaine, avocado, olives, tomatoes, and a little bit of tempeh. They were both outstanding, as usual: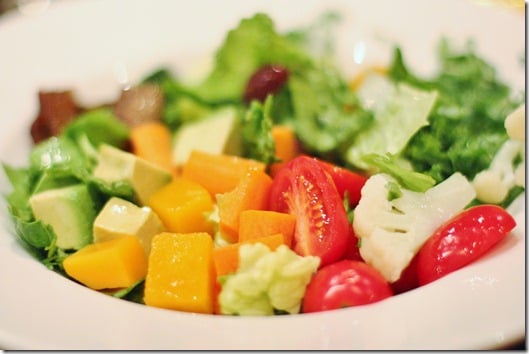 And the conversation, of course, was the perfect conclusion to a fun day of vegan community-building.
How do you feel about macrobiotic food—either as a lifestyle choice, or as something to incorporate into your routine? My favorite resource is The Kind Diet and The Hip Chick's Guide to Macrobiotics, though I'd love to hear which resources you guys enjoy, too.
Tomorrow, I'll be presenting a new Green Recovery post from a friend and fellow blogger. As always, she and I will be eager for your comments and musings in response. See you soon!
xo