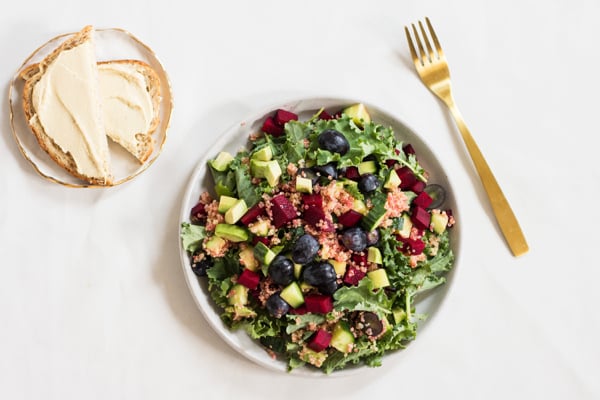 For the most part, I'm not one for fruit in salad. But if I'm going to have fruit in a salad, summer–with its rich offerings of fresh, seasonal, super juice fresh fruit–is the time to do it. This grape, avocado, and baby kale salad with quinoa is a perfect combination of bitter baby greens, sweet grapes and blueberries, crispy beets and cucumbers, and creamy avocado. If salads with fresh fruit were to always taste like this, I'd probably be a full time convert.
Yesterday, we talked about making veganism accessible with easy, elegant, and healthful recipes. My reader Fiona pointed out that veganism isn't always quite so easy as I like to make it seem; it can be lonely, and the early weeks, months, or even years can present challenges in the form of cravings for old favorites.
I'm glad she raised the point, because it's important: veganism isn't always easy. I think it's easier than the media sometimes suggests, but that doesn't mean it's a piece of (vegan) cake: if it were, I suppose a lot more people would be vegan already. That said, the challenges of veganism (as I edited my post to say) are rivaled–and hopefully surpassed–by the joys and pleasures of its food.
If you're finding it hard to be vegan, please don't feel as though you're doing something wrong, or as if you're the only one: most new vegans find the transition to be a little bumpy. But don't feel that you need to give up, either: instead, focus on simple, healthy, and flavorful food that can be put together without too much fuss. If you'd like, you can start with this salad, which is as vibrant and satisfying as it is nutrient-dense.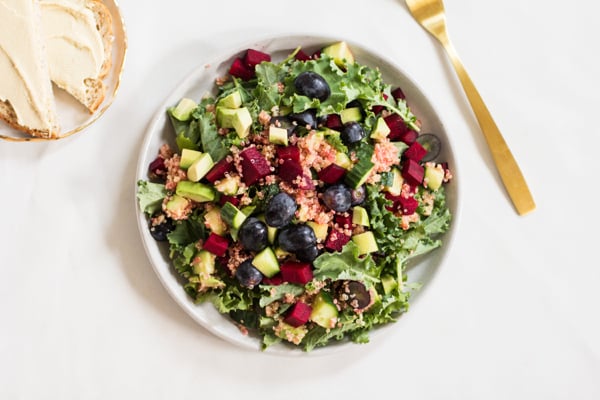 Grape, Avocado, and Baby Kale Salad with Quinoa
Author -
Yields:
2
large or 4 small servings
3/4

cup

dry quinoa

4

heaping cups baby kale (or chopped curly kale, or you can substitute baby spinach or mesclun)

1/2

cup

grapes, halved

1/2

cup

blueberries

1

cup

raw beets, grated or finely diced

1

cup

cucumber, diced

1

large Hass avocado, cubed

3-4

tablespoons

white balsamic vinegar

2

tablespoons

olive oil, or to taste

Sea salt and black pepper to taste
Rinse the quinoa through a fine sieve under running water for about a minute. Transfer the quinoa and 1 1/2 cups water to a 2 quart saucepan. Bring the mixture to a boil. Reduce the heat to low, cover the saucepan, and simmer the quinoa for 15 minutes. Fluff the quinoa gently with a fork, re-cover, and allow it to steam for 5-10 minutes. This step can be done a few hours in advance, or you can cook the quinoa a day or two in advance and store it in an airtight container in the fridge until you're ready to make the salad.

When the quinoa is ready, add it, along with all other ingredients, to a mixing bowl. Taste and adjust the vinegar, olive oil, salt and pepper to taste. Serve.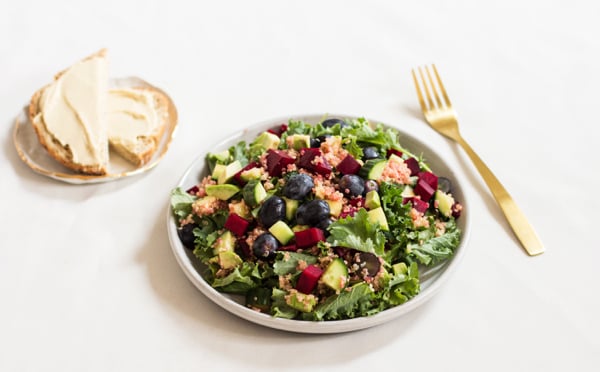 This salad is a standard variation on any number of my nutrient dense salads, which tend to use the formula of:
Healthy fat +  complex carb + protein source
As their starting point. I'm not dogmatic about this, and I'm open to nuance; beans, for instance, fit both the protein and the complex carb bill nicely, as does quinoa. But I'm generally mindful of getting all of my macronutrient groups in, if I can. Frequent nutrient-dense stars in my salads include beans and/or lentils, avocado, sweet potato, tempeh or tofu, raw crackers, nutritional yeast, hemp seeds, raw nut cheeses, and whole grains. I often add protein-rich dressings, such as my liquid gold dressing or my red pepper hemp sauce, for nutrient bonus points. After that, the bulk of my salads is raw vegetables and fruits, with an emphasis on variety and color.
This salad falls squarely within all of these lines. Quinoa provides protein and complex carbs, while avocado provides healthy fat. The beets, cucumber, and kale provide a varied array of color and micronutrients (and you could certainly expand on this to include more veggies) while the grapes and blueberries add lovely, bright flavor. Finally, white balsamic vinegar (a mellow relation of regular balsamic) brings it all together flavorfully while also eliminating the need for a great deal of extra oil; the avocado in here takes care of creaminess well on its own. To make it even more filling, you can add some tofu or white beans for a little extra protein power!
It's a beautiful, elegant dish that comes together very quickly if the quinoa is prepped in advance. I hope you enjoy it as much as I do, and enjoy your weekends, too.
xo