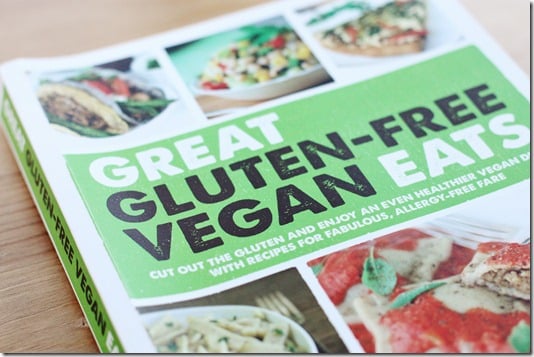 It's no big secret that I love Allyson Kramer.
I recommend her blog, Manifest Vegan, to pretty much everyone I know. I laugh from the belly every time we exchange an email train. I savor our dinners and value her feedback about matters both personal and professional. And I love—seriously love—her new book, Great Gluten Free Vegan Eats.
Shortly after Allyson started her blog (which was right around the same time I started mine) she was diagnosed with celiac disease. I had no idea at the time, but in recounting the story of her diagnosis, Allyson says that Choosing Raw was helpful to her. Though Allyson may not have known it, I was a Manifest Vegan fan from the very start, so it seems we had a mutual admiration society flourishing long before we met in person. When we did, it was as if we were old and beloved friends. We bonded over our love of art, our hatred of organized sports, and, of course, our passion for food.
When Allyson asked me to review her new book, I was thrilled. I've long appreciated her creativity as a cook, her balanced, non-alarmist approach to health/food, and the high standards she applies to her recipes. Allyson's instructions are detailed and precise; it's clear that she's tested her food carefully, constructed it mindfully, and that she never uses shortcuts in recipe development. Because of this, her recipes work, and it's a pleasure to make them.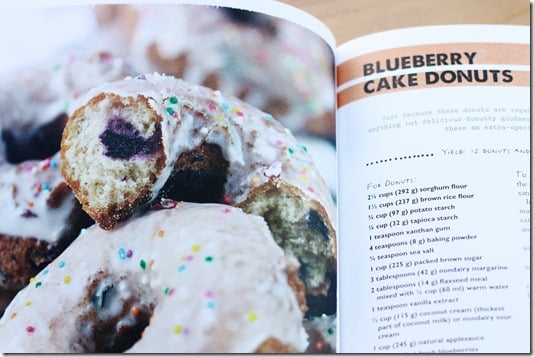 As you know, I'm not gluten free myself, but since very few of my favorite foods are glutenous, and since so many of my readers suffer from food allergies, I love preparing gluten free recipes and exploring gluten free baking. I often hear from people "I'd love to be vegan, but I'm allergic to gluten/soy, so I really can't be." While I do of course sympathize with the difficulty and dismay that can follow diagnosis to a major allergen, I'm also quick to point out that, once you learn to focus upon gluten free grains and psuedograins, and develop a knack for handling alternative flours, gluten free and vegan eating is most accessible. And if you need proof, there are so many wonderful vegan blogs to choose from: Ricki's, Valerie's, Kittee's—and Allyson's, of course.
(Did I mention Allyson's fantastic photos?)
In Allyson's book, you'll find basics, breakfasts, soups, salads, sides, entrees, and desserts. All are 100% gluten free and vegan, and they all offer user-friendly, helpful instructions. What unites them all is a sense of playfulness and creativity: unique flavor combinations, colorful presentation, and whimsical touches:
Is it any surprise that Allyson is a trained artist? Though I've had the pleasure of seeing some of Allyson's visual art, and hearing about her experiences in art school (I'm the child of an artist, so they sound familiar), I believe that food may be the medium in which Allyson's spirit shines most brightly.
I haven't yet had a chance to test out all of the scrumptious looking food in GGFVE, but I have tested a couple of standout recipes. First, I tried Allyson's banana buckwheat scones. As I was making them, I wondered how baked goods that were so healthy could possibly taste great. But in spite of the fact that they are made of buckwheat flour, sweetened with banana, and very low in fat, they are fantastic.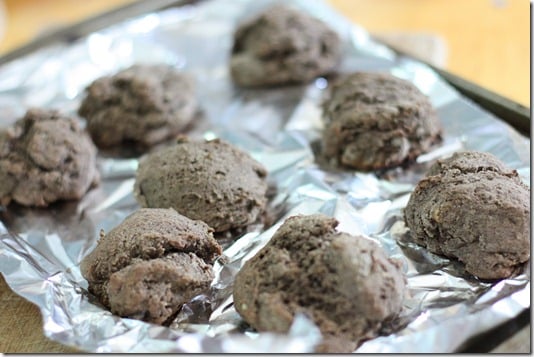 Next, I tried Allyson's zesty black-eyed pea salad, which is really her sister Wendi's black-eyed pea saladIt features black-eyed peas, brown rice, corn, peppers, and a unique dressing that contains apple cider vinegar, cumin, and other seasonings.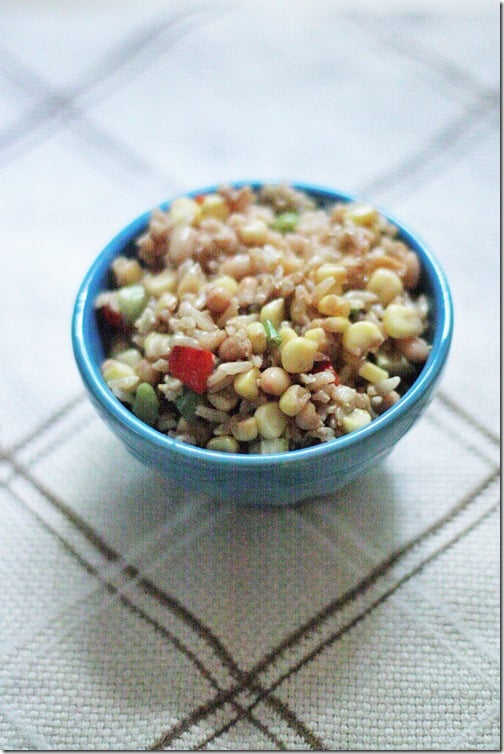 Forgive the fuzzy photo—it was really dark and late when I took the shot!
Finally, and as recently as two days ago, I helped myself to Allyson's deli-style chickpea salad. This is a mixture of chickpeas, grapes, vegan mayo, mustard, and seasonings. I didn't have sliced almonds, as called for by the recipe, nor the vegan mayo, but I simply swapped some of my own raw, vegan mayo. Recipe as follows!
Gena's Easy Raw Mayo (Makes about 2 cups)
Ingredients:
1 cup cashews, soaked at least 2 hours
3 tbsp – ¼ cup fresh lemon juice
4 tbsp extra virgin olive oil
1 clove garlic (optional)
Water
Procedure:
Food processor: Blend nuts, garlic if desired and lemon until the mixture is relatively well combined. With the motor running, drizzle in the olive oil until the mix takes on a creamy texture. Check the consistency: if it's still too thick or coarse, keep blending and drizzle some additional water in. Keep going until it's rich and creamy. Add some chopped herbs, if you like!
Vitamix: Blend all of the ingredients in a Vitamix till creamy.
The mayo worked beautifully in the salad. In place of the almonds, I used some hemp seeds. One of the nice things about Allyson's recipes is that, though they are certainly thoughtful and precise, they're also sturdy enough to hold up to modification.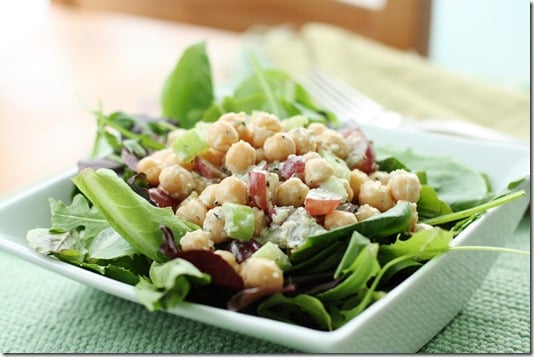 A winning recipe! This chickpea salad would be equally great on a sandwich, in a raw wrap, or (as pictured) atop fresh greens.
I am so looking forward to exploring other recipes in Allyson's wonderful book. And I really encourage you—especially those of you who are allergic to gluten—to check it out yourselves! I think you'll be as impressed as I am with her talent, her brains, and her creative sensibility.
To connect with Allyson, you can visit her blog, Manifest Vegan, or follow her on Twitter (@Allyson_Kramer) or find her on Facebook.
I'll see you guys here tomorrow! I hope you had pleasant weekends.
xo