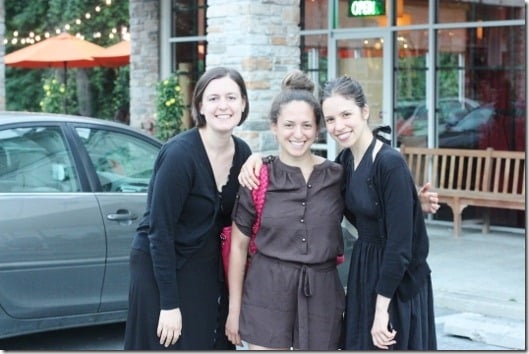 If I write one more post in which I gush about how much I love Valerie and Katie, you all will probably start to think I'm either a sap or a stalker (or both). But seriously, I love Valerie and Katie. As I noted recently in my chickpea, avocado, and nori dip post, it's hard to move to a new city. You feel unmoored, culturally ill at ease, vulnerable, lonely, and a host of other scary things. No matter how much I like DC—and I like it a whole lot—there are plenty of things about NYC that I miss. Mostly, I miss having a diverse and quirky and wonderful circle of close friends only a phone call away.
Which is why I'm so lucky to have found these two intelligent, hilarious, and ambitious ladies: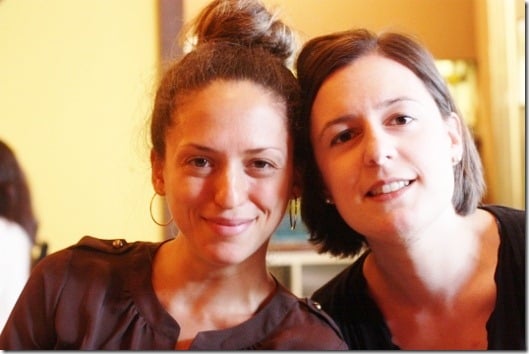 That's Katie on the left. Katie and I like to say that we're friends because we have more in common than just blogging: we're both blunt, we both hail from the literary world (Katie is a writer and MFA grad; I'm a former editor), we're both vegans who identify strongly with animal rights, and we're both prone to a little angst. We like it that way. Katie writes a blog called Quick Cook Rice, which you should all check out for its fabulous photography and recipes, it's funny stories of driving across America as a vegan, and its thoughtful and writerly writing.
Valerie's on the right. Valerie writes City Life Eats, which is a beautifully presented, personal-but-not-narcissistic, and intelligent-but-not-pedantic blog about life as a gluten free and high-raw eater who also holds down a demanding job in a big metropolis. Valerie's capacity to balance corporate hours with juicing and making wonderful meals in a rather tiny kitchen never ceases to impress me. Beyond that, Valerie and I might be twins, separated by birth countries (she was born in Europe). We have similar palettes, similar recipes, similar opinions, and similar sensibilities. She's one of the few people I know who's as particular as I am: we almost brought Katie to tears of laughter with our 10 minute discussion about how feckless Food for Life brown rice tortillas are. Nuff said.
Valerie, Katie and I decided to have a long overdue dinner at Great Sage, a vegan dining mecca in Maryland: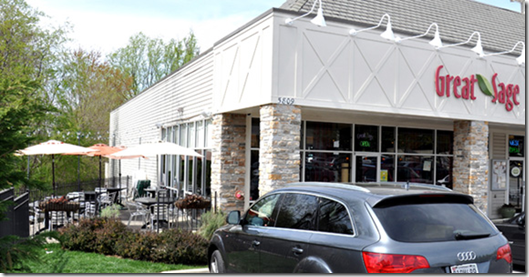 Boy, do I wish this place were closer to the District. It's by far the best vegan food I've had in DC, and it's wonderfully inclusive: you can find everything from juice and raw food to quintessential vegan comfort food on its menu. I can't imagine any friend of mine not finding something tasty to eat here. Just look at the options!
Valerie and I started our meals with the restaurant's live green juice. The color was a little off (clearly, they'd just been juicing carrots, so it had a muddy, orange/green hue), but the juice itself was fabulous: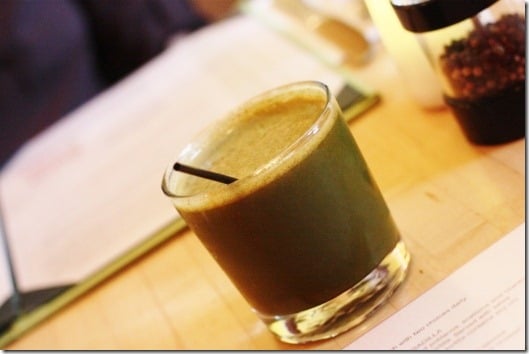 Katie had just been saying that juice really isn't her thang, but she was impressed with our cocktails, too!
I always feel happy after green juice: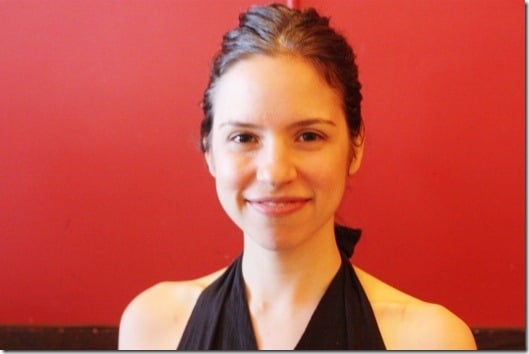 We all decided to split the gluten-free spin on the Mediterranean hummus tasting plate, which had dolmades, a generous portion of hummus, crudités, caramelized onions, olive tapenade, and rice bread. I was glad that the restaurant could accommodate Val, who's a gluten free eater. And I was even gladder that the hummus was delicious and heavy on the sesame: I suspect they may use homemade tahini.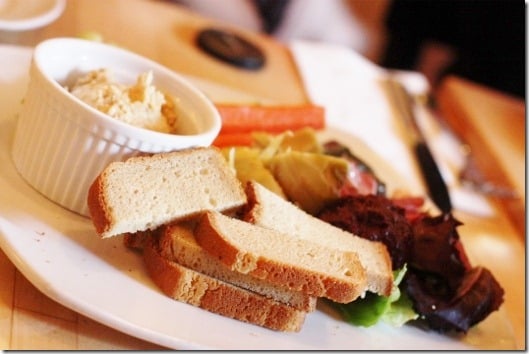 Next up, I had the "almost raw" Vietnamese spring rolls, which were simply raw veggies stuffed into rice paper and served with a peanut dipping sauce. I love to see other people embrace the "almost raw" or "mostly raw" title!!!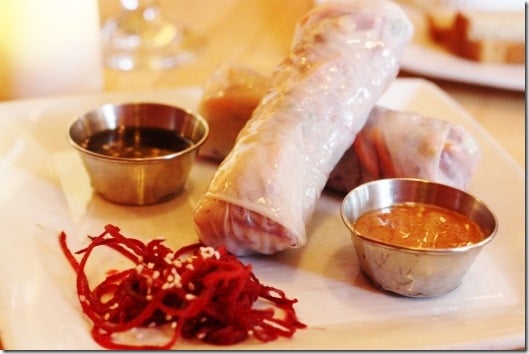 I got these along with the raw California salad, which had beets, veggies, guac, sprouts, tomatoes, and a wonderful red pepper vinaigrette that I have promised to recreate for Katie. She and Valerie got the same salad, and, like identical triplets, we all got sides of cashew cheese: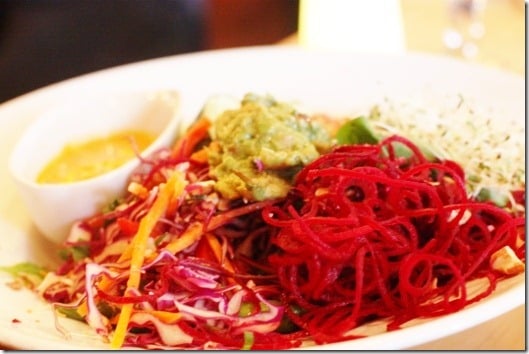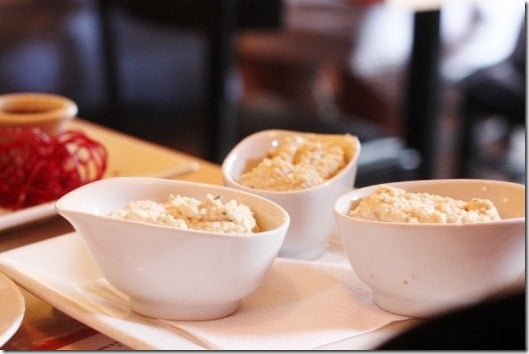 The cashew cheese was the only let down of the meal: way too grainy and not processed enough for me. But the flavors were right.
What a great meal! It's always a joy to eat exactly the kind of food you like with people who appreciate similar fare. I have spent a lot of time lately griping to friends about the vegan dining options in the District (right Kathy?), but having Great Sage a drive away definitely helps to alleviate my homesickness for Pure Food and Wine, Blossom du Jour, and the Candle Café empire. Speaking of that, I find it interesting that Katie, Valerie and I all share strong connections to NYC. I think we all feel a little like ex-pats in DC, even though we like it. It's a nice bond to share.
Thanks, Katie, for driving Val and I out to Great Sage, and thanks to the restaurant for one of the best meals I've had out in a long time!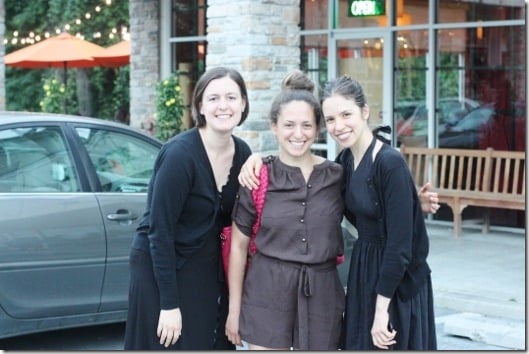 See you back here tomorrow. Enjoy the rest of your Sundays, friends.
xo