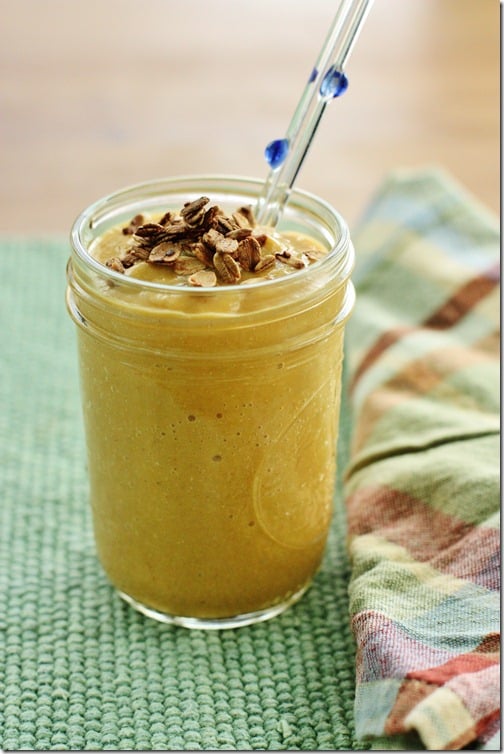 Yes, you heard that right: green apple, pumpkin, and quinoa. In a smoothie. What can I say? Put me in a room with some pumpkin purée that needs to be used up, and I can't be held accountable for the odd combinations and creations that will follow. Fortunately, no matter how odd this smoothie sounds, it tastes delicious, is full of all sorts of nutrients, and fills you up fast. So what's not to love?
To be honest, the creativity on display here isn't all that creative. I'm not sure I would have thought to put quinoa in a smoothie had I not had a half cup of quinoa (exactly enough to blend into something, but not enough to fill me up on its own) lying around, along with pumpkin puree and a bunch of granny smith apples I'd gotten in order to make more of my crunchy red cabbage and green apple sesame slaw. I was a little apprehensive about throwing the quinoa in, but then I figured that, if people can put oats into smoothies, why not quinoa?
Why not indeed. The smoothie was super creamy and delicious, and it filled me up nicely. This is a great option for winter and autumn mornings when you want something sweet and sippable, but you don't want anything cold, and you also want something a little more filling than fruit, greens, and the customary smoothie ad-ins.
Green Apple, Pumpkin, and Quinoa Smoothie (vegan, gluten free, soy free)
Makes 1-2 servings
1 1/2 cups pumpkin, sweet potato, or butternut squash puree
1/2 cup cooked quinoa
1 1 1/2 cups pumpkin, sweet potato, or butternut squash puree
1/2 cup cooked quinoa
1 granny smith apple, cored and roughly chopped
2 tbsp hemp seeds
1 3/4 – 2 cups almond milk (adjust based on whether you want the smoothie to be more like pudding, or a smoothie)
Handful spinach (optional–the color won't be nice, but the nutrition will be enhanced!)
1-2 pitted dates (also optional, but 1 is probably good to achieve the right level of sweetness)
Place all ingredients in a high speed blender and blend on high till smooth and creamy!
You can add a pitted date if you like, for extra sweetness, but I found that the apple and pumpkin made it nicely sweet in their own! I served mine with some granola from Fresh n' Lean (review to come!).
Hope you try, and enjoy! Tomorrow, I'll be back with my 2012 Thanksgiving recipe roundup. See you all soon.
xo