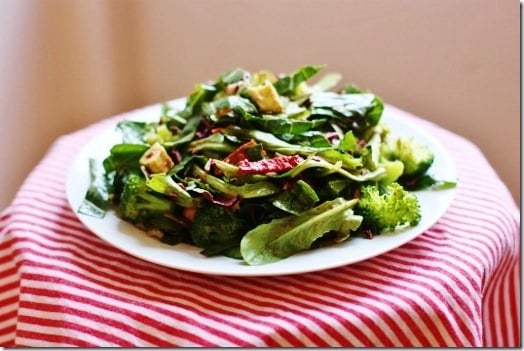 Who among us doesn't remember the fateful day when my friend Angela started the "Green Monster Movement"? That was an initiative to get more folks to discover the joys of green smoothies, and it worked: we all watched with smiles as testimonials of green breakfasts popped up all over the internet!
I've had a couple of green smoothies myself this week, but as always, my favorite way to get my green on is by chewing, not sipping. And my favorite thing to chew is an outlandishly sized salad. Last week, as I prepared to head back to DC for the new semester, I whipped up the following mountain of green at my Mom's place: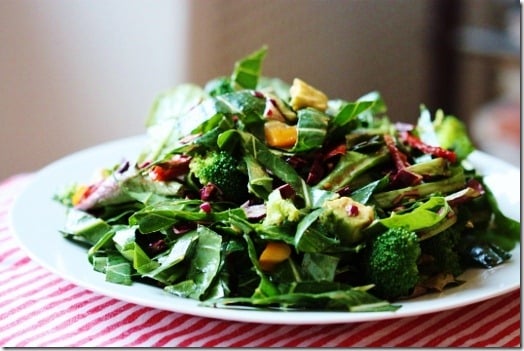 Collards, spinach, broccoli, avocado—this salad spares no expense. Talk about a green monster! These are my favorite kinds of lunches, and they always leave me satisfied. This particular salad went nicely with my zaatar crackers from Gingersnaps:
A lot of texture and flavor in one spread.
I know that many of you have said that you like to see my MSS (meal sized salads) lately, so here's the recipe for this one.
Green Monster Salad (Collards and Spinach with Avocado, Sun Dried Tomato, and Broccoli) (raw, vegan, gluten free, soy free)
Serves 1 hungry diner
2 1/2 cups thinly sliced raw collard greens (about 3-4 leaves)
2 heaping cups baby spinach
6-7 sun dried tomatoes, thinly sliced
1 cup broccoli florets, chopped into small pieces and steamed lightly OR raw
1/2 cup red or yellow bell pepper, diced
1/2 cup red cabbage, diced
1/2 large avocado, diced
For the collard marinade:
2 tbsp apple cider vinegar
1 tsp flax or olive oil
1 tbsp maple syrup
Dash Salt
For the salad dressing:
Balsamic vinegar
1 tsp flax or olive oil (optional)
Small drizzle of maple syrup or agave (optional)
1) Marinade your collards. This step is not necessary for the whole recipe, but I think it improves it. Raw collards can be a little tough to handle, even in a delicious salad! Cut your collard leaves into "Ribbons" by removing the stems, bundling them up, and slicing thinly with a good knife.
Place in marinade of ACV, oil, maple syrup, and sat for about 1-2 hours. Drain and set aside.
2) Mix all salad veggies together in a large mixing bowl.
3) This salad gets a lot of fat and creaminess from the avocado, sweetness from the collard marinade, and salt from the sundried tomatoes, so a traditional "dressing" isn't really needed. I like to top it simply with balsamic vinegar (or white balsamic, or fig vinegar) and then mix it with my hands, so that the avocado smooshes into everything. I often add the tiniest drizzle of agave or maple syrup. And if your avocado was a little small, and you're not getting the creaminess you need here, add about a tsp of flax oil, too!
4) Enjoy!!
So much taste, texture, and flavor!!! Plus, a heaping pile of healthy green veggies.
So, friends, I made it! Day 1 of the new semester is behind me. Orgo II was terribly intimidating, but I was ready for that. And my schedule, while still intense, is actually much more convenient than last semester's. So hopefully I'll have an hour or two more of free time each week.
Before I go, I wanted to point out something Heather said in response to my post on admirable resolutions for 2012, which linked to Jasmin's 10 questions activists should be asking themselves. She said,
Being in school and holding down two jobs, I often feel guilty because I don't do nearly as much as I should for animal activism. For now, I'm trying to focus on the little things that matter. For instance at Wildflour vegan bakery, the owner's golden lab (Henry!) is always outside. I make sure to pet him for a minute or so and talk to him. Maybe someone will walk by and think twice about being more compassionate to animals.
Heather, I can certainly relate to feeling as though there's barely time in a day to shower, let alone be an activist. But you make a great point: showing compassion and care to animals does not only take the form of activism. And activism itself often resides in small acts of kindness (this is a point that I think Jasmin and Mariann make beautifully in their work).
We should all labor to help animals through blogging, protesting, writing, teaching, working, cooking, and other activities to which we can lend effort and talent. But doing those things doesn't mean that we can (or should) forget to show compassion and friendship to animals through petting, playing, and communicating. Not only does this help us to establish a bond of respect with our animal neighbors, but it is also a form of activism (as Heather so smartly suggests) because it can make an impression upon other people who might not be inclined to notice animals in their daily life.
My best friend at school has two companion cats. I'm allergic, but only mildly, and this semester, I'm going to make an effort to say hi to them and play with them a little more. I'm also overdue to visit Hamlet, who is likely keeping warm in the hay this winter at Poplar Springs.
Simple acts of kindness go a long way.
xo