Hey guys!
I hope you enjoyed Mara's inspirational post yesterday. I thought that I would keep us on the theme of balance, and I asked my dear friend Bitt to contribute a post about how she's negotiated a raw/cooked food balance in her life.
This is a topic I've written about, too: in fact, I wrote a post about my own raw/cooked balance not too long ago. But you needn't even scroll back to have a general sense of the kind of semi-raw, all vegan lifestyle I lead. My blog says it all: salads, nut pates, smoothies, and raw wraps are the foundation of my diet, but they're punctuated by tons of cooked vegan fare. This keeps me happy, and it also gives me the freedom to cook for the non-raw people I'm close to, including my boyfriend and my friends.
Finding such a balance wasn't immediate: in my first year of eating raw, I was so hopelessly in love with raw food that it was all I ever wanted. That was fine. Over the course of the next two years, I started reacquainting myself with lots of cooked favorites, and that was fine, too. Even now, my balance will fluctuate depending on the season, my mood, my schedule, and who I'm cooking with.
This year, I've watched as my dear friend Bitt—one of the smartest and most honest bloggers I know—finds balance within her own life. Bitt came to raw foods for healing, and was always a bit more immersed in the raw food lifestyle than I was, but we're both hardcore vegans who have played around with our raw proportions. I think we share both a love of raw foods and a healthy understanding of why they shouldn't exclude all cooked foods, and I'm delighted to have her share more of her story with you. Enjoy!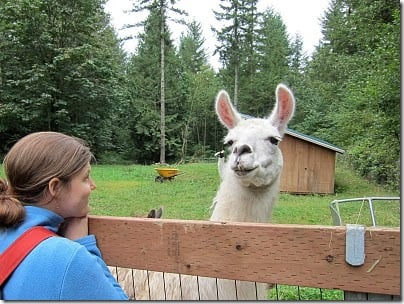 The very compassionate Bitt with a llama friend.
I've been down a long road with raw foods—and it's been twisted and tangled. Lately, even more so. Gena asked me to write about how I balance raw and cooked foods, and I would love to be able to give a simple answer like "I'm raw 'till dinner" or "I'm 80% raw" or something of that sort. The thing is, I haven't sorted it out yet. Instead, what I have for you are some insights on my past and present thoughts about raw foods.
The idea to eat only raw foods came to me in an odd way. I was feeling drained and knew my body needed a change. When I was at a conference and they couldn't figure out what to serve me that was both gluten-free and vegan, so by default I ended up eating a lot of salads, fruit, and the trail mix I brought with me. Between that experience and knowing that I felt more energy after eating salads (despite the fact I didn't like them very much), I decided to "go raw" for a week.
On the internet, looking for recipes, I found some raw forums that were helpful. One had a challenge put forth to members: Could you eat raw for two weeks? I was almost through the first week and I felt it was feasible to do it longer. And then it started going by like a blur. I ate nearly all raw for 6 months straight. I learned how to make delicious raw dishes. Before raw, I had come to loathe cooking, but making raw food was so easy! I invested in a Blendtec and a dehydrator to expand my options.
Then came the tricky part. I tend to be a black and white person and it was easy for me to get into the mindset of "raw = edible" and "not raw = inedible." A lot of the raw foods literature and online forums I was reading were reinforcing the notion that cooked food is "poison." I read incredible stories of people whose lives were transformed in amazing ways with raw foods: weight lost, cancer healed, diabetes reversed, and so forth. It was inspiring and uplifting. I was even experiencing some of those things myself, like a loss of eczema I had struggled with for decades.
However, my chronic back pain was not alleviated. I tried juice feasting (which is drinking a gallon of green juice a day) and other forms of detoxing, but they aggravated my pain. I hated to admit it, but my iron levels got lower and I developed hypothyroidism.
Of course, this isn't to say raw diet's at fault. It could have happened anyhow. But since I was blogging about it and sharing in forums, I got loads and loads of advice: try to eat only fruit, try to eat low-glycemic, try a water fast, try this form of natural healing, do this, do that. Some things I tried and found helpful. But the advice became a bit overwhelming.
Then others blamed the vegan diet—even one of my naturopaths. There was really no scientific evidence that I was even deficient in anything at that point (supplementation had slowly but surely brought my levels back to normal) but he still thought there might be some sort of magical element in meat that would make me well. This reminds me of how some raw foodists think that there is a magical life force or vibration in raw foods that can make you well. I don't really buy either theory.
Instead I found myself wanting a little cooked food. Just here and there at first, like miso soup with veggies or some popcorn. I appreciated examples of other people who successfully maintain a high raw diet, like Gena, Kristen, and Lori and Michelle. I pulled away from the raw forums in order to give myself a break from the constant 100%-raw-foodism-or-bust attitude that was making my head all twisted.
And my head was twisted. I had demonized cooked foods and forgotten how to eat them. Raw foods act really different in your stomach. If you eat only raw, there is this sort of light feel during digestion—save raw cabbage, which is excruciating! When I first introduced cooked foods back into my diet, they felt so heavy. I took advantage of this and it really helped me during those times when I felt like no matter how much raw food I'd eat I was still hungry. A little dense cooked grain like quinoa really helped me feel satisfied.
Then a lot of my deep-seated feelings of deprivation came to haunt me. In the two years I was nearly 100% raw, new veggie restaurants had come to town and new vegan and gluten-free foods had come on the market. I hadn't tried any of them! I scrambled to catch up, feeling left out. Simultaneously frustrated with many in the raw food community for their embracing of eating animal products and rigidity, I find myself floundering a bit with not many anchors for figuring out the right type of diet for me. It's taking time to work it out, even with the positive influences of my fellow high raw bloggers.
So I can't present to you my average diet at this point, because it's honestly in flux. This morning I woke up and had a delicious green smoothie with kale, banana, blueberries, strawberries, hemp protein, and wheatgrass powder. But tomorrow I might make oatmeal with gluten-free oats, apples, homemade almond milk, and maple syrup. It just depends on my mood and hunger level.
I still struggle with sugar cravings. It's the one thing I do eat that makes me feel crummy. I do fine with raw sweeteners like dates and coconut nectar and small amounts of agave, but sugar cane—even if vegan and organic—isn't the best for me. Once I opened the sugarcoated floodgates, I couldn't get enough. I can understand why people have to completely limit one food because they don't feel like they have control over it. I hope I don't have to do that forever, but I do have to be much more mindful of it.
My diet will never be comprised of all cooked food because I love so many aspects of raw foods: fermenting veggies and making sauerkraut, sprouting (which is very rejuvenating in the dead of winter), making fresh almond milk, the ease of throwing together a homemade date/nut bar, eating simple sliced fruits and veggies for snacks, the way green juice makes me feel, and wowing people with gourmet raw desserts. I've realize now I am in this for the long haul, so I know the amount of cooked food I'll include in my diet will fluctuate from time to time. I appreciate the flexibility this allows me (even within my vegan and gluten-free constraints), but know that raw food is my base for good health.
I really wish I could end my story with a miracle of being in amazing health and have solved all the world's problems. I don't find eating raw foods to be a miracle, just one of many tools for better health. Eating some cooked foods gives me a chance to get more forms of iron into my body (beans!) and feel more satiated. Cooked foods are not a miracle to me either. There is a downside to my eating cooked foods, particularly because my eczema has come back since the introduction of cooked foods. That is why I have to continue to experiment to find a balance that works best for my body.
On to a recipe. One of the things that I think almost anyone could do to get more greens and raw food into one's diet is to make a green smoothie. These smoothies really helped me when I was first starting to eat raw food. I feel like the greens balance the sugars of the fruit and if you aren't a huge salad person, you can get some greens by drinking them instead.
Here's my basic recipe for green goodness: Bitt's Berry Smoothie.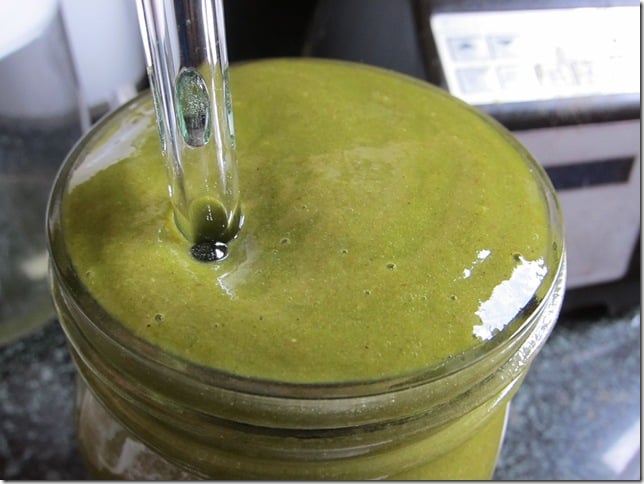 Bitt's Berry Smoothie (serves 1)
3-4 stalks of kale or chard (a few handfuls of spinach would work too)
1-2 bananas, fresh or frozen
a cup of frozen berries (I rotate these between cranberries, strawberries, blueberries, blackberries, or a combination) or frozen mangoes
2 teaspoons hemp protein (I can't really take more than that or its too gritty)
½ teaspoon wheatgrass powder (optional)
1-2 cups water or almond milk (or I've even used kombucha)
Add all ingredients to blender. I like my smoothies thick, so I'll use the least amount of water to get it to blend as possible. If you are a green smoothie newbie, go lighter on the greens at first. Then gradually add more.
If you want to be a complete raw food dork like me, put your smoothie in a mason jar and color-coordinate your glass straw to match.
Thank you Gena, for the opportunity to post here and everyone please feel free to visit me over at bittofraw.com.