Hey all!
Hope you're all having great weekends! I'm still in Florida, and I'm super excited to present you with my final guest post of my travel week.
Each year, a crop of new food blogs blooms. Last year, I was one of the newcomers. This year, I've had the pleasure of watching a group of bright and shiny new blogs come into their own. One of the ones I've watched with most pleasure and admiration is Burp and Slurp, the brainchild of the fabulous miss Sophia Lee. With wit, compassion, and hilarity, Sophia writes about food, about life as a student, and about eating disorder recovery, and about her faith.
When I contacted Sophia about a guest post, she said she was surprised: as you'll see below, she and I have fairly disparate ways of eating! But what unites us is a mutual belief that food is not only vital for survival, but also a means of feeding the spirit and mind. We share a conviction that eating disorders are about far more than the hopeless pursuit of aesthetic perfection or thinness: they are about control (which paradoxically becomes a complete loss of control), about a search for meaning, about cries for love, about alienation and loneliness, about the desire to transcend the limits of physicality, and about so much more. There is no one pathology for eating disorders, but what I am certain of is that they are all diseases of the spirit as much as of the body. Any treatment that doesn't seek to heal both body and mind isn't likely to succeed.
As I read Sophia's wonderful post below, I was alternately reminded of my "what food is not" post and of my "embracing our appetites" post. It seems that yet another thing Sophia and I agree about is that food must fall into a delicate middle ground between spiritual pleasure and simple nutrition (my blog reader Elizabeth also helped me to understand this connection). We can't fetishize and obsess, and yet we must also heed stripping food of pleasure and meaning. To negotiate this strange, liminal zone–between fixation and joylessness, between obsession and apathy, between caring too much and caring too little–is a challenge. But it's one worth taking.
Please welcome the smart, sassy, and sensational Sophia Lee to CR, as she discusses feeding your spirit and mind. Please note that Sophia was mighty trepidatious about concocting a vegan recipe; I'm personally grateful to her for her efforts, since I cannot wait to try this dish!
♦          ♦         ♦
Hello, raw foodists, vegans, vegetarians, flexitarians, pollotarians, pescetarians, ovo-lacto-vegetarians, locavores, omnivores, and…
Oh dear. The list just goes on and on.
Let's start over again. Hello, fellow humans. This is Sophia from Burp and Slurp. And I'm a human, too. Which apparently has way more categories under it than I can ever remember…but to me, we humans are all the same. We all have a spirit, a mind, and a body. And we need food, for all three of them. But how many of us can honestly say that we feed them all?
Food. It's not an indulgence; it's a requirement for survival. It's the most basic necessity in life, but we humans seem to come across so much trouble and complications with it.
Take me, for example. I've gone through every sort of eating disorders under the sun within the last 4-5 years. Anorexia, bulimia, orthorexia, binge-eating, compulsive exercise, spit-and-chew…I've done them all. I don't say this as some kind of twisted accomplishment; I say this with deep sadness that I had once made myself go through such severe starvation and abuse.
Food. Its main purpose is to sustain, to nourish, to provide all the energy we need to perform what we need to do in life. It's supposed to be something that helps us, enriches us, and strengthens us. So when did it turn into something so horrible and deadly?
I know several of you are immediately thinking about "processed junk food" and "fast food" and "carcasses" and pointing fingers at everyone from parents to the food industries…but let's re-think this deeper. What is really the problem here? It's not the physical body. It's not that that bag of Cheesy Doritos you have hidden under your bed. It's the neglect of your mental and spiritual sustenance.
You see, you are more than the physical body. I don't care if you are religious or not—we all agree that we humans need more than material sustenance to live. Live, not survive. To survive means to be physically functioning with the bare minimums of existence. To live means something more.
My hellish experience with eating disorders did not start with skipping meals. I was starving way before that, in my mind and spirit. I was unhappy, dissatisfied, angry, and insecure. But instead of dealing with these issues, I turned to food. Dealing with my problems physically through tangible food seemed so much easier. The control I relished over my eating habits and activities provided a false illusion of happiness and contentment. The gallons of ice-cream I crammed into my mouth late at night temporarily filled the aching emptiness I felt inside.
But no matter how much weight I lost, or how much/little I ate, I returned to square one, again and again. It was never enough. Because the problem wasn't the lack of physical food. It was the lack of spiritual and mental nourishment.
My recovery did not begin from proper diet and re-feeding. It did not begin with ingesting the "perfect" proportion of carbs, fats, proteins, nutrients. Heck, it actually began after I stopped taking all those nutritional supplements. In fact, I threw away all my preconceived knowledge of nutrition and health food. I stopped counting calories; I stopped analyzing every morsel that touched my lips. I simply…stopped caring so much about the physical food, and focused on my spiritual and mental well being.
Food. There has to be a proper balance. You can't focus too much on just one particular part of your life. Your spirit, your mind, and your body all needs to be fed properly, because each affects the other in really complex and intricate ways. For myself, the revival in my faith in God pulled me out of my ED hellhole. Instead of turning to food when I was down, I searched for God's love and mercy. Instead of obsessing over calories, I let my attention draw away to the simple pleasures of enjoying the company of those I love.
Of course, I may be oversimplifying things. There were many, many challenges I had to overcome in the process: facing my fear foods, breaking away from my destructive habits, constant reasoning with my irrational mind…All these battles required tons of energy—energy which I received by spiritually and mentally feeding myself.
Am I totally recovered? I don't know. It's been barely a year since I've turned away from all my eating disordered obsessions. But I've changed into a completely different person. I still face tons of struggles…but they are rarely eating disordered ones. Recovery does not mean that you are now problem-free. No, problems will still always come for the rest of my life…but now, I no longer hide away from them, or deal with them by abusing my body and food.
And that, I think, is one common ground between Gena and me. Honestly, I was a bit surprised when she asked me to do a guest post for her. Honored, but befuddled, because she and I are complete opposite eaters. She eats high raw; I like to cook the heck out of my veggies. She shuns dairy because of digestive issues; I am a self-proclaimed cheese-whore. She avoids meat products for both nutritional and ethical reasons; I pounce on my 99cents/lb hotdogs and dream of all things bacon.
But. We've both found our own way of feeding ourselves in the most balanced and perfect way tailored to us. Whether you're vegetarian or everythingtarian, we all have to eat. But the point is: is physical food dominating your life? Or do you have a fair balance between spiritual, mental, and physical food?
That said, there is no denying that physical food does bring a lot of pleasure. And why shouldn't it? Food is a gift from God, and we ought to celebrate it, as long as it's not to the extremes.
So. Gena asked if I can come up with a Koreanized recipe for her, one that is preferably vegetarian. I went one step higher and decided to come up with a vegan recipe. And boy, oh boy…I will never make fun of vegans again. I had a surprisingly hard time coming up with a single vegan recipe! Each time a recipe formed in my head, I could not resist the urge to add some cheese or egg or bacon in there. Even my beloved kimchi is not vegetarian (it's got shrimp paste and fish sauce)! Dang. Was I humbled!
But a challenge is a challenge, and Sophia Lee never backs down. I set aside my cheese-whore pride and after a few headaches, came up with a dish that is Oh. So. Utterly. Delicious (OSUD), I've realized with feverish excitement that there is a whole new fantastic realm of cuisine for me to explore.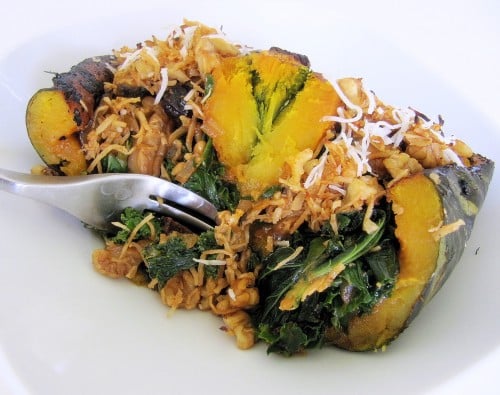 Coconut-Walnut Crusted Stuffed Kabocha with Kale, Shitake Mushrooms, and Figs
(yeah, yeah, it's freaking long. You got a better name than this, smartie pants?)
•    A decently-sized kabocha (or any other winter squash)
•    Korean PB-BBQ sauce (recipe to follow)
•    Sesame oil
•    ¼ chopped onion
•    A bunch of kale
•    Some shitake mushrooms, sliced
•    A handful of dried figs, chopped
•    A handful of walnuts, chopped
•    A small handful of dried shredded coconut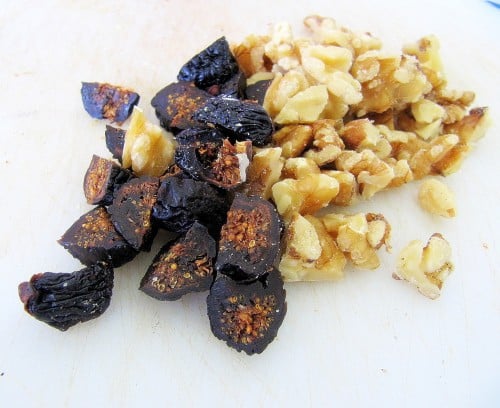 Korean PB-BBQ sauce:
•    Spoonful gochujang sauce
•    Spoonful natural peanut butter (can be chunky or creamy)
•    Spoonful soy sauce
•    Almond milk
•    Small spoonful sweetener, such as Agave Nectar or brown sugar, to taste
A note on gochujang sauce: It's a Korean fermented red pepper paste. Get it; you won't regret it. It is the shitz! Seriously, the best stuff ever. You can get super-creative with it. Salad dressing? Tofu marinade? Chili? Dips? The sky is the limit!
Directions:
Cut the kabocha into half, and place it on a baking sheet. Bake for about 30 minutes in a 400 degree oven, or until cooked through. Set aside.
Combine all the ingredients for the Korean PB-BBQ sauce together. Taste and test to your preference. You might want it spicier, or sweeter. Your choice!
In a large skillet, fry up some onions and mushrooms with the sesame oil. Cook for about a minute or two, then add in the kale, figs, and most of the PB-BBQ sauce save for about a spoonful. Sautee for a few minutes until the kale is cooked through, but not wilted to death. Add in half of the walnuts into the mixture and combine.
Fill the kabocha halves with the kale mixture. Combine the remaining walnuts and coconut with the spoonful of leftover PB-BBQ sauce, and press onto the top of the kabochas. Broil for 5-10 minutes until the tops are nicely toasted. Be sure not to let it burn!
To serve, just put the kabocha onto a dish, and sprinkle with more dried coconut for color. This should be able to serve about two, but if you don't wanna share, I totally understand.
So I'm totally tooting my own horn here, but dang, this was freaking GOOD! Like, OMFG-I-am-in-heaven good. Not even I-can't-believe-this-is-Vegan good— just plain, freaking delicious.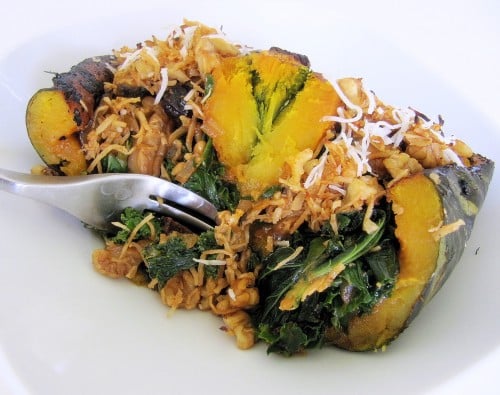 You don't actually need to stuff the kale mixture into a kabocha. You can serve it with rice, or barley, or whatever grain you like. You can even cook those grains in coconut milk for added exotic flavor.
I don't see why this can't be semi-raw, either. You can probably massage that kale with the Korean PB-BBQ sauce. Perhaps add some chopped green apples, and avocados. A drizzle of toasted sesame oil.
For meat-eaters, I think bacon would be fantastic with it, too (Sorry, Gena!). Top with runny egg, and some feta or goat cheese.
Gena mentioned that she's a bit shy with spices…but that's the beauty of gochujang. It's got some spice, but it's also got this natural sweetness of red peppers to complement it. Besides, additions like peanut butter really tones down the spiciness. This sauce will convert even the wimpiest spice-phobic person.
Well, that's it, folks. I've babbled enough, and it's time to go off to my own blog to babble some more. Thank you, dear Gena, for the wonderful opportunity to guest post, and for providing the incentive to venture out to vegan cooking.
But before I leave, please do share: How do you feed your spirit and mind?