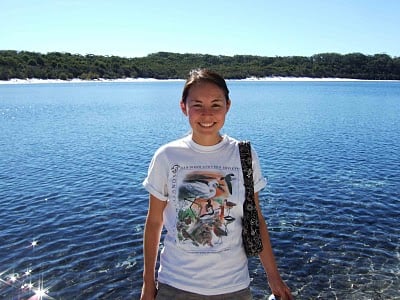 Hey guys!
It's day one of my vacation, and with any luck, I'm en route to some peace and quiet right now. For my first special guest post, I want to welcome one of my favorite bloggers: Melissa from Trying to Heal.
I met Melissa when I was in Miami last year, but I had been reading her work for well over a year before that. I love her simple recipes, her environmentalism, and her humor, but most of all I love how courageously and honestly she discusses the long, bumpy road to ED recovery. I especially admire her side note series, in which she talks about the post-recovery struggles so many of us have had — weight gain, weight maintenance, giving up obsessive habits. Few people can discuss what it means to live with an ED history as honestly as she.
For that reason, I wanted Melissa to write on the topic of ED recovery today, and I gave her the choice of what to say. She wrote back with the following post on the importance of counseling/therapy, and I could not be more thrilled. Outpatient therapy was a huge part of my own recovery–more than anything else, it was what helped me to realize that I did indeed have a problem–and as a nutritional counselor who now works with many women with ED pasts, I see how crucial the therapy experience is in others' healing experiences, too. When women who are actively suffering from EDs ask me for help, my first order of business is to recommend not my services, but formal counseling and therapy. One day, I say, I'll be able to help them with recipes and meal planning, but for now, they need the support and exploration that only therapy can offer.
I'll let Melissa tell you more about what to seek out in a good counseling experience. Enjoy!
Hi Everyone, this is Melissa from Trying to Heal and I'm so excited to be writing for Gena!
I am, as I'm sure you are, I'm a huge fan of Gena's blog. And of course meeting her in person goes to show how gracious and amazing she is.  I love the variety she provides on her blog from recipes for raw foods, nutritional information and most of all, recovery/issues on eating disorders.  The later can be a very sensitive subject for many, but I believe the more we talk about it, the more awareness is spread about the myths over how difficult eating disorders and recovery can be and that yes, you really can recover.
Alas, I'm here today to write about the part of recovering from an eating disorder that I think is the most vital and important: COUNSELING.
Many people shudder at the thought of going to a counselor or therapist, because they're afraid it means there is something really wrong with them.  Well, in retrospect there is something wrong with you if you have an eating disorder: you're torturing your body, mentality and not living your life in a healthy manner.  I went through the same stages when my eating disorder first started back in 2003.  When I was at my lowest weight and struggling the most, a friend of mine in college threatened me about telling my parents that I was in trouble, or go to the school counselor.  I reluctantly went to the counselor and cried the entirety of the first session because I felt so ashamed, embarrassed and guilty.  At the time I was in denial, as I didn't believe there was anything wrong with me other than I had lost some weight since I had brought my exercise back after slacking off at the beginning of school.  But in reality and after warming up to my counselor, I was able to dive into what was really going on in my life causing me to harm my body and walk down the path of a slow suicide.
As much as this first bout of counseling helped me open up to my disease and confront it with the effort of recovery, it didn't go about the way it should have, and the way that would have made me most comfortable.  I think there are several things you should look for when you decide to seek counseling as a step in your  recovery to make it the most effective.
1. Comfort
This can come in many different forms.
The Counselor/Therapist:
Since you have to spend an hour plus a week with this person talking about some of your deepest issues, you want to make sure that YOU are comfortable with your therapist.  When I sought out counseling for the second time this summer, I wanted to make sure mine was a woman (since my first one was a man and I didn't have a choice) because I feel more capable of relating to and being at ease with a woman.
You also want to make sure that they put you at ease and talk to you, not at you.  I have talked to quite a few counselors in an effort to find the right one and some of them talk to you like they automatically know what is wrong with you and can fix it up fast by telling you what to do instead of listening to the details of what is bothering you.  I believe talking about issues is one of the most essential parts of counseling and will get you the farthest in your recovery.
The Environment:
Make sure you are comfortable in their office or session room.  If it seems to small, overcrowded or just something you're not comfortable with don't be afraid to not accept this counselor.  This area needs to put you in a good place and provide you with the comfort you need to talk about the things you need help with.
2. Certification/Experience
When I was looking for my counselor, I made sure they had experience with eating disorders.  The first one I had was more of a general life issues counselor and knew very little about the issues, effects and difficulties someone with an eating disorder has.  By choosing someone who has experience with the issues you're dealing with, whether it be anorexia, bulimia, overeating, over-exercising, etc. you are providing yourself with more knowledge and support than by talking to someone who has no real knowledge of how to help you recover.
3. Availability
Depending on where you live, this can turn into a hassle.  I live in a very small town and knew there wouldn't be many options of who to see, but also how often I could see them depending on how I was doing.  In a big city this may not be much of an issue, but it is one to be aware of.  When I first started I wanted to see my counselor once a week and luckily we had no problem making that work.  After a while I went to an appointment every two weeks and now an appointment every three weeks, but when I need to at the end of a session, I might tell her that I'd like to see her in two weeks instead of three because I have something coming up that I might want to talk about or prepare myself for.
One thing I didn't include on this list but that most people worry about, is MONEY.  Yes, counseling can be expensive, but you know what, I believe it's the best money you're going to spend.  I remember being terrified at the amount of money that I was going to have to spend to talk to this woman, but I bit the bullet and made adjustments to my living expenses to make sure I could get the help I needed (I also got a bit of help from my parents, which was nice and something you can always look into if you want).  To this day I don't regret a single penny that I've given to her because in the half year I've been seeing her, I have made more progress in my recovery than I have in the past 6 years trying to recover on my own.
So all in all, I highly suggest looking for a counselor if you are recovering from an eating disorder.  Having an unbiased person to talk to about your issues and even just the little things going on in your life can make such a big difference.  I can see how my life has changed by talking my way through things like social events that cause me high anxiety, walking into a new relationship with a guy, and dealing with my guilts over eating and overexercising.  And even if you don't decide to seek help like this now, I think it's something to always consider!