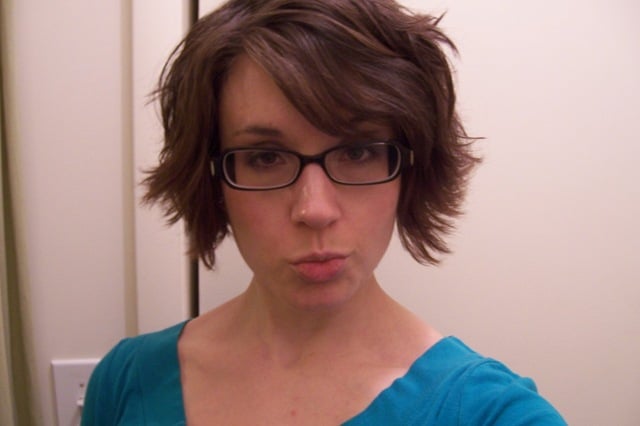 Hey friends!
I hope you enjoyed my recap of the bloggie meetup: I had an incredible time, and now I'm sad to leave Chicago. Tomorrow, you'll all get the deets of lunch with Jenn and dinner at Karyn's on Green!
Today, prepare to drool: we're being joined by Diana, the mastermind behind one of the most hilarious blogs in blogdom. Diana is, I am happy to say, a friend both in the blogosphere and out. In the last year, we've managed to keep up a nice rotation of dinners: she cooks for me, I for her, and so forth, though I'll confess that I'm usually happiest when she's cooking for me. Diana is a kitchen wizard: she's got such talent for constructing recipes that are delicious, healthy, and simple. So it's no surprise that she's now a kitchen apprentice at Sun in Bloom; specifically, she's now at the helm of raw dessert development at that most lovely of eco-eateries.
If you've been reading my blog for any amount of time at all, you've probably noticed that, in comparison to other raw or semi-raw blogs, there's a big hole in my kitchen knowledge: dessert. Why? Because I'm not much of a sweet person, and my kitchen time is limited. So when I do have a few hours to play in the kitch, I'm loathe to waste them on dessert, which (to me) feels more like an accessory than an outfit. But this doesn't mean I'm not psyched when other people do the honors for me 😉
This is why I asked Diana to visit today. I wanted her to show us all how one comes up with a raw dessert. What sparks an idea? How do you execute it? How do you ensure proper taste, texture, proportions? Inquiring minds want to know. With that, I'm proud to introduce my friend and raw dessert goddess Diana. Thanks, D, for being here!
♦♦♦♦♦♦♦♦♦♦♦♦♦♦♦♦♦♦♦♦♦♦♦♦♦♦♦♦♦♦♦♦♦♦♦♦♦♦♦♦♦♦♦♦♦♦♦♦♦♦♦♦♦♦♦♦♦♦♦♦♦♦♦♦♦♦♦♦♦♦♦♦♦♦♦♦♦♦♦♦♦♦♦♦♦♦♦♦♦
When Gena asked me to write a guest post on "how to conceive of and execute a raw dessert," she really opened my mental floodgates. Where to begin? More importantly, where do I begin?? Seriously, as in, I don't always remember how I came up with the danged idea in the first place. It's rarely a linear process, and as often as not, my recipes are ultimately born of practicalities such as cost and what I happen to have on hand as (literally) raw materials.
To that end, I can share some of the only-slightly-harebrained principles by which I operate both in my culinary imagination and in my kitchen.
1) Fantasize
There are plenty of raw foods in their whole and unaltered state that will satisfy your sweet tooth. Not to go all Captain Obvious on you, but fruit is certainly the most obvious answer. For something less "healthy tasting," dried fruit tends to seem more candy-like. Who among us hasn't loved on a nut butter-stuffed date? Turkish figs are a favorite dried fruit of mine–if you've never tried them, I encourage you to ditch the Newton and go straight for the Fig part of that dessert equation.
But if you're anything like me, dessert implies something richer and more decadent than anything that could be classified as fruit alone. Having had plenty of access to the cakes, cookies and ice creams of the world growing up, I am well acquainted with the many shapes, tastes and textures a treat can take on. Luckily, raw foods work really well in cake, cookie and ice cream form. And if you ask me, the best part is the lack of baking–never in your experimentation with raw desserts will you end up with a failed science experiment!
I don't consider myself a prodigy of raw cheffery by any means, but even so, I have never made anything that wasn't edible. The margin of error is so great that you can literally toss your favorite ingredients into a blender or food processor (or not!) and end up with something treat-worthy. So let your imagination run wild. Consider your favorite flavors and textures and experiment. It won't take long for you to learn how various ingredients behave when combined with others.
For example:
* soaked cashews blended with liquid = cream
* almonds + dried fruit combined in a food processor = a pliable cake/pie crust
* nut/seed butters = binding agent
* soaked chia seeds/lecithin/xanthan gum = thickeners
* coconut oil = solid at room temperature and therefore a good shape-holder
Also consider your favorite type of dessert. Would it be a layer cake? A cream pie? An ice cream or pudding you'd eat with a spoon? Or bite size finger food? This question is often where I start, actually. If it's cake I want, then I choose a flavor and make it work in that format. Same goes for ice cream or cookies, etc.
It can also be fun to recreate popular candies or "junk foods" using raw ingredients. That's what I did when coming up with the recipe included in this post. I always loved Andes mints growing up, and I knew the flavor and look would lend itself well to a raw version. Wait, don't scroll down yet! I'm still lecturing, ahem.
2) Assess the goods
What are you working with? What do you have on hand right now, before you make a trip to the grocery store? Unless you're un-cooking for an event/party or as a gift, you might want to economize and come up with a dessert that utilizes at least some of what you've got, rather than drop major coin on a bunch of expensive and exotic raw ingredients ::coughMacaYaconGojicough:: that you'll dip into once for a tablespoonful and then wonder how to use up.
Confession: for the crust of my recipe below, I'd intended for the dried fruit component to be dates only. Turns out I only had five dates, but the crust mixture really needed more stickiness. So I threw prunes in until I had the texture I wanted. No, prunes don't taste quite as neutrally sweet as dates, but they still taste good (to me, at least)! No harm done. I was in my chef zone and was not about to haul arse to the store to buy more dates. I just worked with what I had.
3) Do some homework
If you really feel clueless as to where to start, look up recipes online or flip through your favorite un-cookbook. This is not to say you should follow a recipe–in that case, this post would've been over before it started! I only mean that it can be helpful to simply read a variety of recipes that are similar to what you want to make so you get an idea of ingredient ratios (i.e. proportion of nuts to dried fruit for a pie crust). Then insert your own flavor ideas.
I have enjoyed flipping through Cafe Gratitude's Sweet Gratitude raw dessert cookbook. It teaches the fundamentals of constructing a raw cheesecake, for example, which is a springboard for infinite creations thereafter. For that matter, however, you can start right here at thefullhelping.com. You already love Gena's Chocomole, right? Well, why not add a touch of coconut oil to the recipe and pour it into a raw pie crust (such as is conveniently included in the 1st part of my recipe below)? Behold: raw chocolate cream pie! I'm just sayin'…
4) Keep an open mind
Prunes in the pie crust? Sure. Like I said, substitute pinch-hitters when you find yourself out of a certain ingredient. Nuts and seeds can be interchangeable, too, given that their textures are similar. I have been known to substitute sunflower seeds for pine nuts. I know, GASP!
Vegetables in the dessert recipe? Well, if you can think of a better way to turn something green than blending in some salad, I'm all ears. And no, food coloring does not qualify. Likewise, carrots = orange and beets = red/pink. This is not rocket science; it's arugula science. (ZINGER!)
5) And if all else fails, keep it simple.
There's really nothing wrong with a hunk of good chocolate. In fact, one might argue that there is everything right about it. Gena-sensei will agree with this one.
[End of lecture]
That said, there's also nothing wrong with a bit of a fancy-pants dessert for a special treat, and that's where the following recipe comes in. Its presentation belies the amount of actual work involved, so things like "skill" and "technique" are not really necessary here, unless you struggle with your blender's On/Off switch. Let the freezer do the work! Inspired by Andes mint chocolates, I give you:
Ingredients:
CRUST
* 3/4 cup almonds
* 5 dates, pitted
* 10 prunes (or more dates, if preferred–replace 2 prunes with 1 date)
* 2 tsp vanilla extract
* 2 tbsp unsweetened cocoa powder (raw cacao powder if you have it)
* pinch sea salt
FILLING
* 1 1/2 cups soaked cashews
* 1 cup non-dairy milk
* 1/2 cup agave nectar
* 1 tsp mint extract
* 1 tbsp vanilla extract
* 1 tsp xanthan gum
* pinch sea salt
* 1 1/2 cups fresh baby spinach
* 1/2 cup coconut oil
* 1/4 cup unsweetened cocoa powder (raw cacao powder if you have it)
Directions:
1. Lightly oil a square baking dish (8″x8″ or so). Set aside.
2. Combine all CRUST ingredients in a food processor and pulse/blend until crumbly, but sticky enough to stay put when pressed against the side of the work bowl.
3. Empty crust mixture into the baking dish and press evenly onto the bottom. Set aside.

4. Combine all FILLING ingredients EXCEPT coconut oil and cocoa powder in a blender and blend smooth. Add coconut oil and blend again. This should yield about 4 cups of cream filling.
5. Pour half of the filling mixture into the baking dish and spread evenly across the crust layer. Place baking dish in the freezer and allow to freeze until firm to the touch (probably at least an hour or so).
6. Meanwhile, re-blend the remaining filling with the cocoa powder. Add a drizzle of water to thin, if necessary. I probably added nearly 1/4 cup water to get the texture similar to the pre-cocoa consistency.
7. Once the green layer has hardened in the baking dish, pour the remaining, chocolate-ized filling overtop, creating a new brown layer.
8. Freeze again until firm to the touch. Cut into small rectangles and serve. Store in the refrigerator (or keep in freezer for more of an ice cream cake effect).
Enjoy! Feel free to contact me at diana @ soapandchocolate.com to talk treats some more. I'd love to see what you come up with!
[Gena's comment: Told ya! DROOL!]