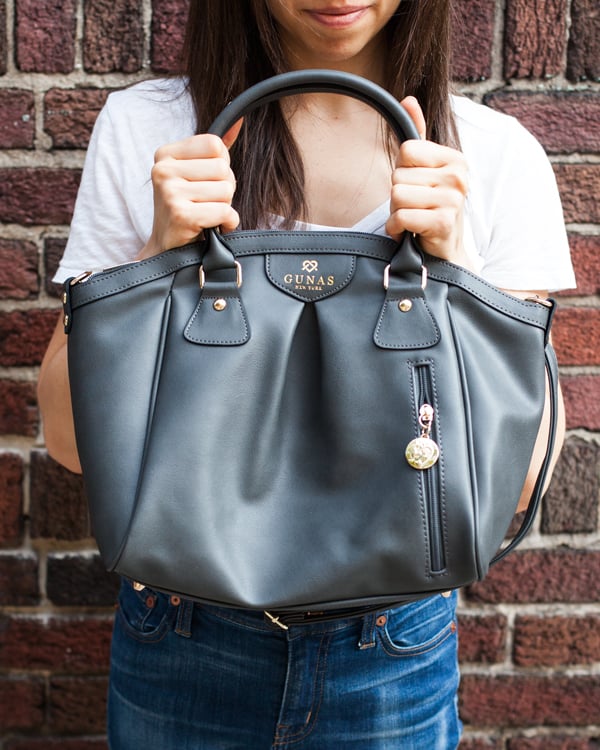 For a lot of folks, adjusting to vegan lifestyle choices–including vegan apparel and accessories, and vegan personal care items–is almost as difficult as adjusting to the diet. This may sound silly, but all consumer habits are tough to change. Attachments are strong, and there's a lot to think about. It's often in contemplating lots of small lifestyle changes–rather than diet alone–that people start to feel overwhelmed, or get overly hung up on perfection.
Because I'd given up some animal products already when I became vegan–it had been over a decade since I'd eaten red meat–my dietary transition was fairly smooth (it helped that I loved the food so much!)! But it wasn't easy to start eschewing leather and wool, and I'd say that the lifestyle transition ultimately took me a few years longer than the dietary transition. Like most vegans, I still have some pre-gan items that I haven't parted with and probably won't until they're worn out. But I make an effort to purchase vegan apparel, footwear, personal care products, and household cleaners. And I'm always super excited when I'm introduced to a cool, idealistic vegan-friendly clothing or accessory line.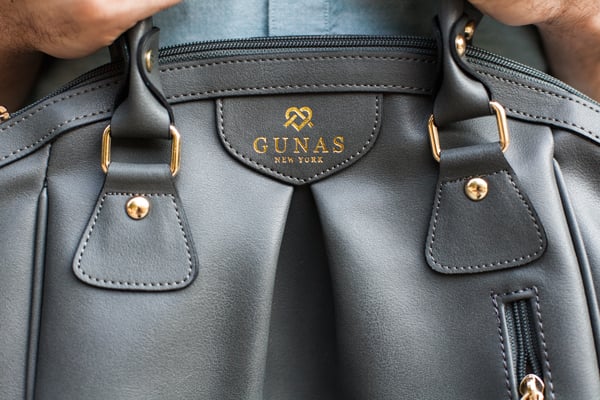 (Thanks to Steven for helping me model!)
GUNAS is one of vegan brands I most admire. Based in New York, GUNAS is an independent, high fashion label with a cause. It was started in 2008 by designer and animal lover, Sugandh G. Agrawal, who came from a successful design and business background at KitchenAid. She quit her 7-year corporate career to start a brand that would embody her belief that animals are not fashion items or commodities, and that we humans can look fashionable without harming other living beings. As Sugandh notes in the GUNAS mission statement, "We need to connect our selves with what goes on behind the scenes."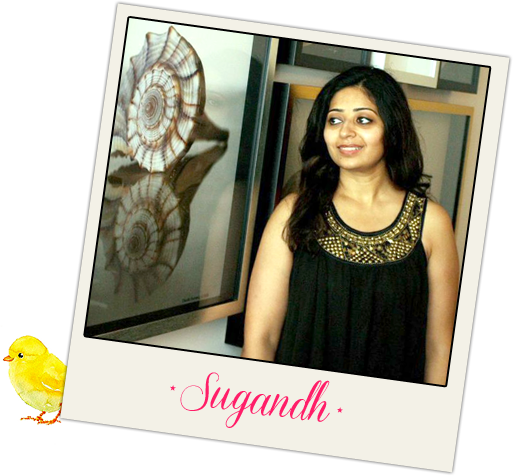 Since it's humble inception with 8 bag designs, the GUNAS label has evolved tremendously. It's now a global label, sourcing and manufacturing bags using artisans and small-scale ethical manufacturers from countries such as India, South Korea, Mexico, Brazil and Hong Kong.
In 2011, Sugandh also started a small-scale studio in India to help local artisans enhance their craft while producing ethical, 100% vegan fashion. In 2012 the Ethical Fashion Forum in London awarded GUNAS for being the best cruelty-free handbag brand.
Today, sensitive to the fact that overproduction and overconsumption are major threats to the environment, GUNAS produces mindfully and limits the introduction of new or seasonal items. The brand uses eco-friendly materials, and it recently won the Best Green Bag distinction at the 2015 Independent Designer Handbag Awards. It's also a brand that constantly gives back, supporting a number of animal rights' organizations and charities.
I was thrilled when the folks at GUNAS reached out to me and offered me a chance to review one of their bags and share another with a lucky Choosing Raw reader. I know that you guys will love these fashionable, whimsical bags as much as I do, and that you'll delight in knowing that the bags are manufactured with compassion in mind.
For me, GUNAS shared the lovely Madison bag in steel. I love how versatile this bag is! It's a lightweight, everyday design that can be worn on the shoulder or across using the detachable body strap.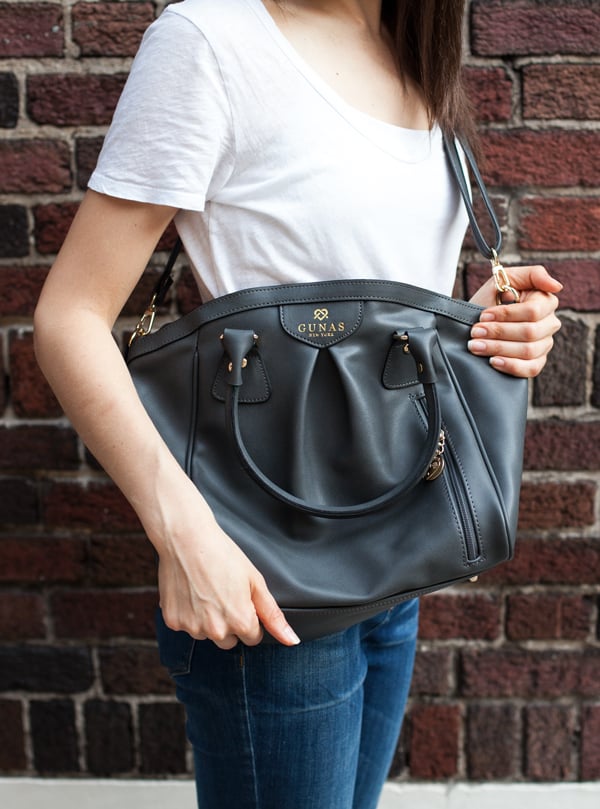 So classy and versatile. The faux leather is buttery soft and has a subtle sheen–the quality is great, and the craftsmanship is obvious.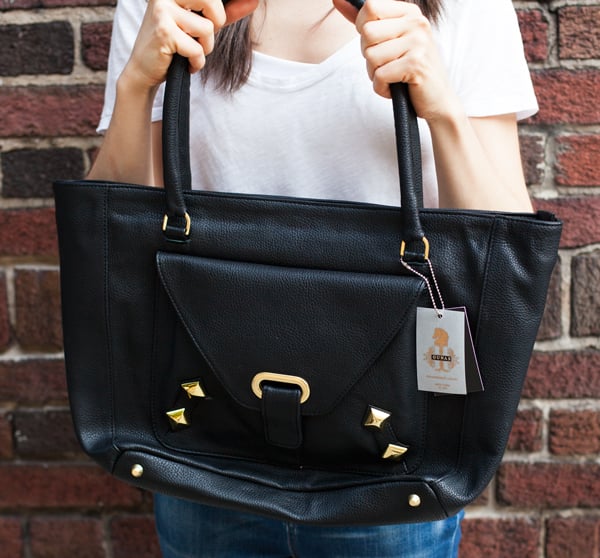 And now the fun part! GUNAS is offering one lucky US reader their brand new Nicole tote bag in black. The bag is in pre-order right now, and won't be shipping widely for 4-6 weeks, so you get a sneak peek–and a chance to snag one before this hot new design sells out.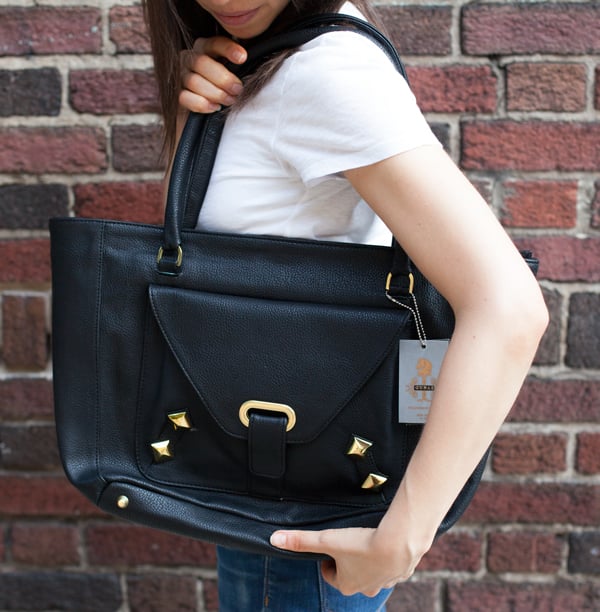 This is an ideal, everyday bag. It's roomy, soft, and can store all of your odds and ends–it has a top zipper closure, a pocket for accessories, and 2 internal zipper pockets. It will absolutely hold most laptops and tablets. It's subtle and simple enough to use as a work or a school bag, yet it still boasts a fashionable look and feel. I love the rich black color and beautifully pebbled faux leather.
I can't wait to share the bag with one of my readers–I'll be shipping directly to the lucky winner! If you'd like to add this durable, cruelty free bag to your wardrobe, simply enter below to win. The contest is open to US entries, and it will run for two weeks!
Good luck, everyone! And be sure to learn more about GUNAS, to check out its wonderful array of shoulder bags, and to read more about the company's story. And a huge thanks to the folks at GUNAS, not only for sharing their wonderful bags with me and a CR reader, but also for making respect and care for animals a cornerstone of their business. I'll be back on Sunday for weekend reading, of course. Have a wonderful start to the weekend, everyone! xo