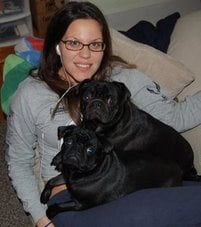 Happy Tuesday, all. I have a very special post for you today!
One of my main goals with Choosing Raw is to offer you a variety of perspectives on nutrition, health, and green living. This will mean testimonials from eaters of all persuasions: raw, cooked, omni, flexitarian, vegan, and more. It will also mean conversations with other bloggers, figures in the health and fitness worlds, entrepreneurs, and, naturally, leaders in the raw community.
It is with tremendous pride, then, that I'm officially kicking off the Choosing Raw interview series! With any luck, I'll have new interviews appearing every three to four weeks. I already have a number of interviewees in mind, but please feel free to share your suggestions!
My first interviewee is a lady whom I have great admiration for. I think her blog is incredible: in fact, it was one of the blogs that inspired me to begin blogging myself. She's Lindsay, otherwise known as the Happy Herbivore–one of the blog world's most vociferous and friendly vegan voices. Beyond her talent with the pen (or keyboard), Lindsay has become a good friend: she's consistently sweet, supportive, and hilarious. We were lucky enough to share lunch when she was visiting New York from L.A. in December, and we had a blast!
If you aren't familiar with Lindsay's blog, here's the deal: Lindsay cooks 100% vegan and almost 100% fat free. Now, you guys know that I'm all about my healthy fats. But I'm also all about eliminating unnecessary and/or animal-based fats, and this is where Lindsay's genius comes in: think sweet potato muffins, tacos, key lime pie, and cupcakes, sans fat. But not without flavor: I was lucky enough to be one of Lindsay's cookbook testers last year, and I know for a fact that her recipes are both scrumptious and healthy!
Here are the top five things I love about Lindsay:
1)    She's a Fellow NYC native.
Holla!
2)    She Knows What People Want to Eat
Lindsay has a particular genius for cooking up comfort food. She takes traditional recipes—recipes that are satisfying, familiar, and enticing—and veganizing them. This is the kind of food you can feed to friends, family, and—the ultimate test—dudes! I dare you to find a boyfriend who won't love Lindsay's food.
On her blog, you'll find recipes for burritos, cheesecake, double-chocolate brownie muffins, mac n' cheese, mock meatloaf, and more. Along with these, you'll find more traditional healthy vegan dishes: nourishing soups, stews, glazed tofu dishes, and a variety of ethnic meals, including her famous red lentil daal, which has made its way through the blogosphere to rave reviews.
3)    Her Creativity
Lindsay says it best: "you could deep fry a piece of bark and it would taste good." Oh, how true it is. Let's face it, it doesn't take tremendous skill to make food taste good when you can lean on butter, salt, oil, refined sugar, or whatever your poison of choice happens to be. Making food—especially baked goods—that are fat free, whole-foods, and plant-based? Now that takes skill. Among vegan chefs, I consider Lindsay imminently resourceful and talented; you'll never see two sticks of earth butter in her muffins, or a cup of oil in her stir fry. All you'll find are whole ingredients and lots of ingenuity.
4)    Her Consistency
If you've been reading my blog for a while, then you know that I'm a big fan of consistency and commitment (I also think that these are the keys to lasting weight loss and health maintenance). No one embodies these qualities more than Lindsay. A strict vegan who never apologizes for her views, Lindsay is 100% consistent; she, like me, never eats animal products (I make an exception for honey, against which I have yet to hear an entirely persuasive health or ethical argument). She, like me, doesn't take "breaks" for travel or restaurants. As much as I respect the need for flexibility, I really admire Lindsay's whole-hearted dedication to her lifestyle, and I know that I can always count on her to support mine.
5)    Her Commitment
Whether she's running a race (yes, Lindsay is a marathon runner and a serious athlete), writing one of her new cookbooks (for the record, she's self-published four already), or devising a new recipe, Lindsay gives everything 100% effort and more. I love her hard work ethic and unflagging energy!
Now, I consider myself what my buddy Kristen likes to call HRAV: High Raw, All Vegan. Even when I'm not totally raw, I'm always totally vegan. But I tend to give the vegan transition short change on the blog, since I'm so busy discussing all things raw. Don't let my oversight stop you: if you're interested in transitioning into a vegan lifestyle, I can't recommend Lindsay's blog enough. It's informative, well researched, and beautiful. And as a vegan chef who knows how to re-create traditional comfort foods, no one is more suitable to talk about vegan eats than Lindsay is.
On that note, I've asked Lindsay to say a few words about her own journey to veganism, her way of cooking, her views on health, and her views on raw food. Without further ado, Lindsay — the Happy Herbivore!

1)    OK. It's the question we've all been waiting for: Why vegan?
I'm a vegan for the animals, the environment and my health. This quote sums it up:
"No single food choice has a farther reaching and more profoundly positive impact on the environment and all of life on earth than the choice to be vegan." – Alternative Baking Co.
2)    How did you transition to a vegan diet? Cold turkey or gradually? What foods or techniques helped you make the switch?
I was a vegetarian before I was a vegan, though making the switch was easy once I learned how to bake without eggs. I grew up thinking dairy was gross and was later diagnosed as lactose intolerant. I started drinking soymilk in the 1990's. I'm a bit of an odd vegan in that I don't like fake meats and dairy substitutes, though I'm happy those items exist for those that like them or find them helpful in maintaining a vegan diet.
3)    Were there any books or resources that influenced on you as you were transitioning to veganism that you'd recommend to other readers?
Skinny Bitch and Eat to Live. Though I was already vegan when I read them, they helped reinforce my new dietary and lifestyle choice.
4)    As soon as I went vegan, I noticed two things. 1) I never got seasonal colds anymore, and 2) I never got bad breath or body odor anymore. What did you notice right away? (Feel free to get personal. We aren't shy.)
I've completely stopped wearing deodorant. During an intense workout I will get sweaty, but I won't have BO. Even after a ten mile run I still don't "stink."
As for colds, they are few and far between. If I do pick something up, I always kick it within 24 to 48 hours and without the assistance of any medication (including over-the-counter meds). Prior to being vegan, I was always battling something – a sniffle, a cough, the flu. I was a student and riding public transportation so I was constantly exposed to germs and subsequently sick. In the first year I was vegan, I didn't have one cold… not one! I was still a student and riding the subway, but my immune system went platinum.
Going vegan has also drastically cut back on my migraines. I've suffered from migraines for 19 years. 19! I would have, on average, 4 to 10 a month. My migraines aren't just headaches: they come with sweats, shakes and vomiting. It was so out of control I was taking a pill four times a day to "prevent" them. Now I'm off the drugs AND I have one or two a year, tops.
Going vegan has also transformed my digestive system. I was always throwing up, constipated, suffering from diarrhea, or my stomach just hurt for whatever reason. At least once a week I thought I had food poisoning. I've never been so regular in my life since going vegan, and these digestive problems are a distant memory.
5)    You're not only a vegan, but a vegan athlete. What whole foods to you use to fuel your workout regime?
I love fruit. A lot of runners use GU's or other gels for "refueling" but I use coconut covered dates. I try not to use Gatorade . . . I prefer using the sports drink recipe in The Thrive Diet, but I do not always have the ability to make it.
I'm a big believer in proper fueling before and after a work out. I eat water-heavy fruits before a workout (such as melons) and I always have a banana after. After a long run, I slug fresh vegetable juice. Fresh veggie juices are a great way to get nutrients immediately back into your body after a taxing run.
One thing I don't obsess about is protein. I eat beans and lentils fairly often but not every day. I stopped drinking protein shakes. Needing a lot of protein – athlete or not – is a misconception.  I've noticed an increase in energy once I stopped eating protein-sports products.
6)    What do you think makes someone a good vegan chef? Are there any tricks of the trade that pertain specifically to vegan cooking, rather than mainstream cooking?
I am not impressed with chefs who deep fry or use gobs of oil. You could deep fry a piece of bark and it would taste good. I'm far more impressed with chefs who can cook fat free and with whole foods. If you throw gobs of fat in something, it will taste good – but to make a decadent food that is fat-free and still tastes good? Well now I'm impressed!
7)    People tend to assume that eating a vegan diet necessarily means eating a healthy diet. In my experience, this isn't true: lots of vegans subsist on processed soy products and Earth Balance. Part of what I love about your blog is that you're not just a vegan, but a vegan who advocates a low fat, low oil, and whole foods diet. Tell us a little more about why you eat the way you do—especially your choice to cook almost 100% fat free.
The fat you eat is the fat you wear. It's that simple. If you eat a low fat, plant-based diet you will lose weight and be thin. You can also eat as much as you want without gaining weight. Eat simply and as close to nature as possible and you will look and feel your best.

8)    Raw foodists, as you know, tend to be generous with their fat sources, especially oils and nuts. What tips would you give my raw readers about reducing these fats in their diets?

Cut the oil by half for starters, and remember produce! Cut back on the seeds and nuts, and eat more of earth's bounty.
9)    So here's the big question: how much raw foods do you eat? Do you enjoy eating raw? What are some of your favorite raw recipes?
I am 60-70% raw on any given day. I eating love fruit for breakfast as it gives me a bounce in my step. I snack all day on raw fruits and veggies and my lunches are typically salads or smoothies. I usually have a salad with my dinner and fresh berries for "dessert." I tend to eat some cooked foods at dinner, if I'm in the mood, and I do toss beans on my salads. However, when eating raw, its fat-free or low fat. I use nuts sparingly, and I never use oils.
My all-time favorite raw recipe is Choosing Raw's alfredo!! I also love salads and veggie wraps.
10)    Your cookbooks are overflowing with incredible recipes. But if you had to choose, what would you say is the most quintessential Happy Herbivore recipe—the recipe you think most defines you as a chef—and  why?
Hard question! My initial reaction was the low fat chocolate chip cookies – because they could convert anyone . . . and no one can discount my chickpea tacos, dal and carrot cake cupcakes which made me a vegan household name…
But I think I'll go with Scott's [Mr. Happy Herbivore's] suggestion: the "Maple Kissed Sweet Potato Muffins." They're a little untraditional and edgy, like me, and they're also fat-free and made from whole-wheat flour and maple syrup – whole ingredients are my life and cooking style.
Thanks, Lindsay!!!
Speaking of Lindsay's cooking style: Lindsay has just released her latest scrumptious e-book: Backyard Vegan! Stuffed with popular summertime treats that have been healthified and veganized, this is your go to book for summer eats! All of the recipes are made from whole foods and have no added fat. And best of all, these recipes meet my own #1 criteria for kitchen excellence: they're easy to make and use basic, inexpensive ingredients. Here's some food porn for you all:
Southwestern Macaroni Salad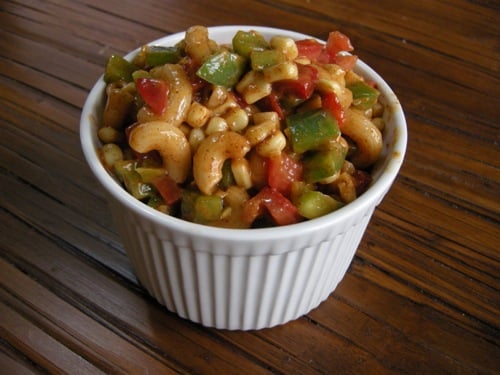 Veggie, Bean, and Quinoa "Meatballs"
Mojito Cupcakes
No-Sugar Mango Sorbet
As a little experiment, Lindsay and I thought it would be fun for me to take one of her recipes and make it raw. I chose a recipe that can't be made totally raw without being sort of unpleasant (raw potatoes? No thanks), but was simply so tempting that I couldn't resist. It's Lindsay's creamy potato salad. Lindsay's recipe calls for fat-free vegan mayo, Dijon mustard, and lots of dill and lemon. Mine calls for a raw mayo and similar flavorings!
I steamed the potatoes gently for twenty-five minutes to retain maximum nutrients while achieving a cooked-through, tender texture. Here's Lindsay's version:
And mine!
And the raw-ified recipe:

A Raw Spin on Happy Herbivore's Creamy Potato Salad (Serves 2)
Ingredients:
2 cups spring potatoes: I used baby brown potatoes, but you can use red potatoes, too
¼ – 1/3 cup raw mayo (recipe below)
1 tbsp fresh parsley
1 tbsp fresh dill
Generous sprinkle of lemon zest
Procedure:
Cut potatoes into quarters. Steam over moderate heat for about 20-25 minutes, or till fork tender. Let cool for about ten minutes, mix with mayo, and toss with herbs and zest. Enjoy!!
Gena's Easy Raw Mayo (Makes about 2 cups)
Ingredients:
1 cup cashews, soaked at least 2 hours
3 tbsp – ¼ cup fresh lemon juice
4 tbsp extra virgin olive oil
1 clove garlic (optional)
Water
Procedure:
Food processor: Blend nuts, garlic if desired and lemon until the mixture is relatively well combined. With the motor running, drizzle in the olive oil until the mix takes on a creamy texture. Check the consistency: if it's still too thick or coarse, keep blending and drizzle some additional water in. Keep going until it's rich and creamy. Add some chopped herbs, if you like!
Vitamix: Blend all of the ingredients in a Vitamix till creamy.
I tried this potato salad last night, and it is delicious! A perfect high-raw recipe for summer cookouts and parties. Your friends will never guess that it's 100% vegan and healthy!
Now, I urge you all to go purchase Backyard Vegan: for a mere $5.00, it's a tremendous value! But because she's so generous, Lindsay is offering one copy of the book to a lucky Choosing Raw reader! To enter the giveaway, simply leave a comment on this blog mentioning your favorite summertime recipe (you guys know what mine is!). Good luck!
Speaking of luck, I'll announce the winner of the Pure Food and Wine gift bag tomorrow. So stay tuned!
Have a great Tuesday, guys.
xo