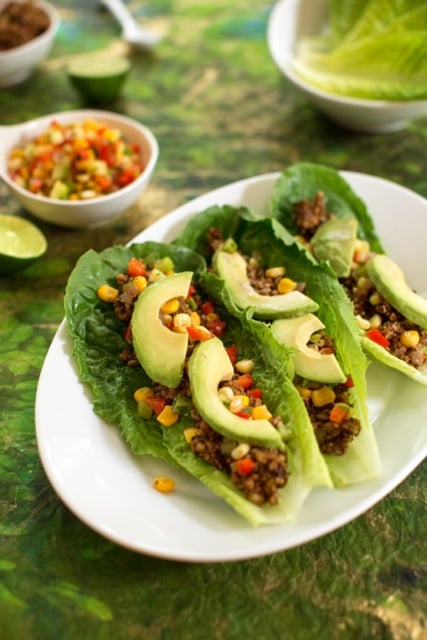 I'm pleased to be checking in quickly tonight to announce that I've picked five lucky winners of my book giveaway! The winners's names are Brian, Eileen, Shelley, Tanya, and Rivka, and I'll be emailing each of them to get shipping information. Congrats, and thank you to everyone who entered!
Speaking of the book, I thought it would be nice to share another one of my favorite recipes from its pages. I chose this one because it embodies the flexible, raw/cooked fusion approach that I tried to capture with my recipes. Using romaine leaves as a "taco" and walnut as part of the taco "meat" are standard raw foodie tricks, but the addition of cooked lentils adds extra protein, iron, and healthy complex carbs. This is a stress-free meal, easy to whip up at a moment's notice if you have some lentils in the freezer, and you can top it however you like (in the photo, I use the raw corn salsa from my book, which is delicious!).
Heat Free Lentil and Walnut Tacos. Plus, Choosing Raw Giveaway Winners!
Author -
Taco Filling Ingredients:

1 ½

cups

raw walnuts

½

teaspoon

sea salt

or to taste

10

sun-dried tomatoes

soaked in warm water for 10 minutes and drained

½

teaspoon

chili powder

¼

teaspoon

ground cumin

¼

teaspoon

ground coriander

1

cup

cooked brown or green lentils

Serving Ingredients:

8

large romaine leaves

cabbage, radicchio, and butter lettuce leaves also work well

1

cup

salsa of choice

1

avocado

pitted and sliced
Place the walnuts and sea salt in a food processor and pulse to break the nuts down until crumbly.

Add the tomatoes, spices, and lentils to the processor. Pulse until the mixture is well incorporated. Check for Seasoning, and add additional salt, cumin, or chili as needed. Add a few tablespoons of water, if needed, to bind the mixture together.

Divide the filling into the romaine leaves. Top each with 2 tablespoons of salsa and a few avocado slices. Serve.
The lentil and walnut filling is also great with whole grains (I like it with brown rice, black beans, salsa, and shredded romaine, all mixed up), in burritos, or served simply, over salad. I hope you like it.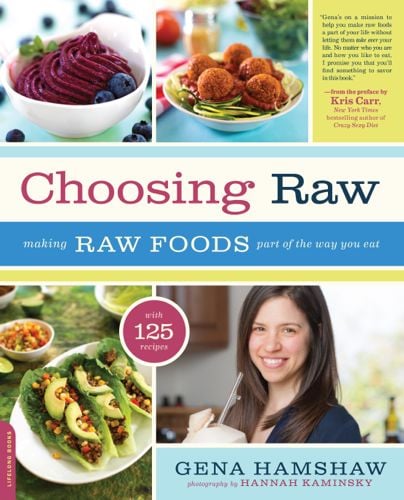 As a little reminder, Choosing Raw can be ordered from Amazon, Barnes and Noble, Books-a-Million, IndieBound, or iBooks, and there's a Kindle edition, too. I'm so grateful to everyone who has purchased the book, reached out to say they're enjoying it, and helped to support it with kind Amazon reviews. You guys rock, and I love hearing your feedback.
Tomorrow: a perfectly summery socca recipe. Stay tuned!
xo