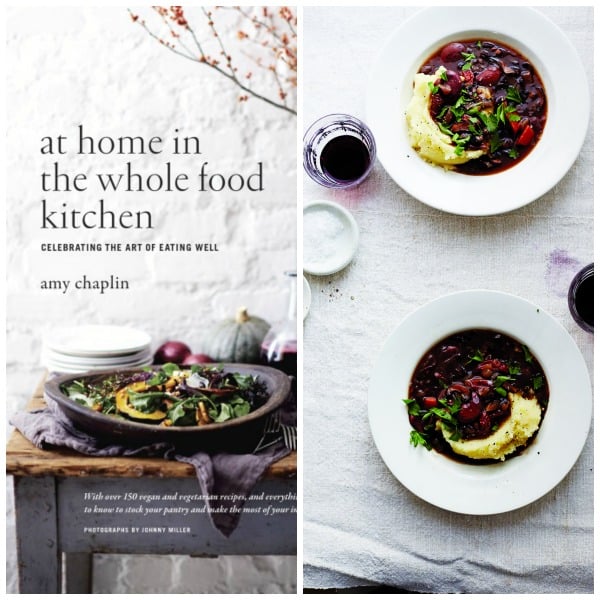 It isn't often that I truly rave about a cookbook. When you spend as much time as I do immersed in the world of food–blogs, books, photographs, not to mention one's own recipe development–it's easy to become a little numb to the beauty of what you see. There is so much talent out there, and we foodies get exposure to a lot of it.
But Amy Chaplin's At Home in the Whole Food Kitchen, which I've had since earlier this fall, has rocked my world. I've been waiting to spend some time with this gorgeous collection before I wrote about it, because it's truly a cookbook to savor, to read page-by-page. But with Christmas and New Year's Eve upon us, I'll submit that, if you decide to treat yourself to one food book for the holiday season and the new year ahead, it should probably be this one.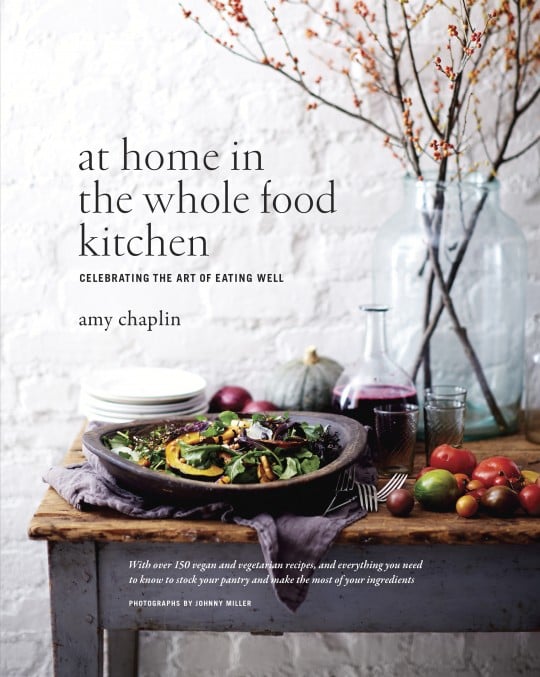 Amy Chaplin has worked as a vegetarian chef for over twenty years. Most famously, she's the former executive chef of Angelica Kitchen, one of the most renowned vegan restaurants in the country. She's worked as a recipe developer, a teacher, and a private chef (to such notable clients as Liv Tyler and Natalie Portman), and her work has appeared in all sorts of prestigious food publications. Amy's also the author of a pretty gorgeous food blog/website, where she posts her creations regularly, and an equally lovely Instagram account.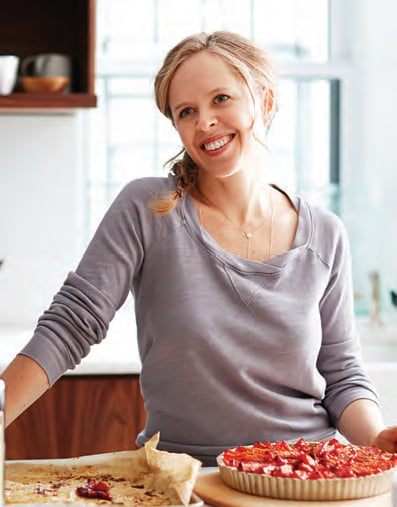 If I had to sum up Amy's culinary style, I'd say that it's hearty, wholesome, and flavorful. Reading through her book (and knowing about her culinary heritage and training and experience), I see macrobiotic influences, as well as a familiarity with global cuisine. But her book isn't a macrobiotic book, nor is it limited to one culinary perspective. In its pages you'll find everything from chia pudding to tempeh burgers to kitchari to cashew cheese. The book is not 100% vegan, but I'd guess that it's easily 92% vegan, and every recipe that calls for goat cheese or the like can be modified easily to be vegan.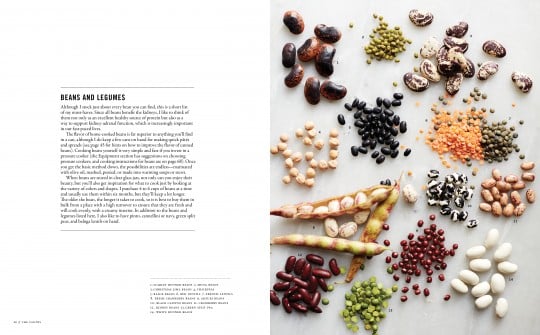 A legume primer from At Home in the Whole Foods Kitchen
One of the first passages I read in Amy's book was about the beauty and heartiness of whole grains. She called them her "desert island food," which made me smile. I have similar feelings about a warm bowl of rice or quinoa, and in our grain-phobic, carb-phobic (everything-phobic?) health food culture, it's so refreshing to see a food writer who can cut through the noise and appreciate these nourishing foods, which have sustained human populations for millennia. She also knows how to do wonders with beans, another food that is sometimes irrationally feared these days. For grains, beans, nuts, seeds, and numerous other ingredients, Amy provides detailed information on soaking, cooking methods, storage, and selection. At Home is a cookbook first and foremost, but it's also a rich and textured resource on how to stock, care for, and use a whole-foods-oriented kitchen.
Another thing I appreciate about Amy's book is that it's a perfect marriage of health-minded and food-celebratory. At the risk of dwelling on some of the food alarmism that I see poisoning the health world these days, I'm finding that it's harder and harder to find titles that celebrate good health while also celebrating the joy and taste and experience of great food. Amy is of course trained in preparing food that has healing properties, but she also celebrates delicious desserts, morning baked goods, and other treats.
Amy's Spelt Almond Waffles and Vanilla Chia Pudding
The result is a collection that feels nourishing for both the body and the spirit. Roost book's copy for this book seems to sum up its spirit in even more evocative language:
Imagine you are in a bright, breezy kitchen. There are large bowls on the counter full of lush, colorful produce and a cake stand stacked with pretty whole-grain muffins. On the shelves live rows of glass jars, all shapes and sizes, containing grains, seeds, beans, nuts, and spices. You open the fridge and therein you find a bottle of fresh almond milk, cooked beans, soaking grains, dressings, ferments, and seasonal produce. This is Amy Chaplin's kitchen. It is a heavenly place, and it is this book that will make it your kitchen too.
That's about right.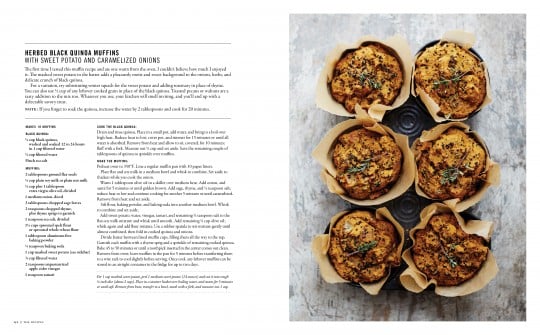 From the book: Herbed black quinoa muffins with sweet potato and caramelized onions
The book is divided into two parts. Part One walks you through setting up a pantry, finding common ingredients, picking appliances, and making weekly menus. It also provides a bastion of simple, basic recipes that are essential to a plant-based and whole foods diet. Part Two is where the magic happens: well over 200 pages of recipes, from black rice breakfast pudding with coconut and banana to beet tartlets with poppy seed crust and white bean fennel filling to a roasted fig and raspberry tart with toasted almond crust. It's a challenge not to want to make each and every item right away.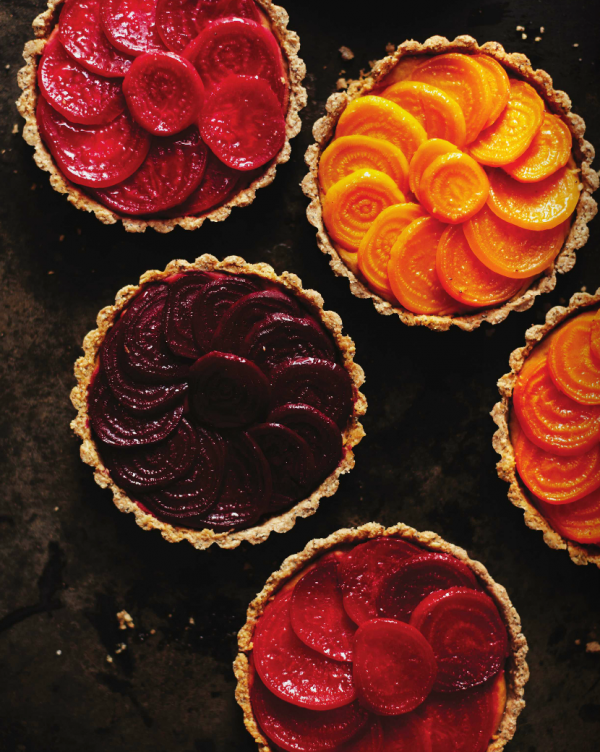 Beet tartlets with poppy seed crust and white bean fennel filling
The folks at Roost books and Amy have generously agreed to let me share a recipe from the collection. It was hard to choose, but the one I selected is a recipe that I think captures the spirit of Amy's food: satisfying, wholesome, close-to-the-earth. It's Amy's Heirloom Bean Bourguignon with celery root mash, and it is a feast for both the eyes and the tastebuds.
Heirloom Bean Bourguignon with Celery Root Mash From Amy Chaplin's At Home in the Whole Food Kitchen
Author -
Roasted vegetable stock:
1

medium onion

cut in 1-inch dice

2

large heads garlic

separated (about 20 unpeeled cloves)

2

large carrots

cut in 1-inch dice

2

medium parsnips

cut in 1-inch dice

2

medium turnips

cut in 1-inch dice

6-

inch

piece burdock root

cut in 1-inch dice

6

sprigs thyme

4

sprigs sage

2

large sprigs rosemary

3

tablespoons

extra virgin olive oil

3/4

teaspoon

sea salt

8

cups

filtered water

divided

4

stalks celery with leaves

chopped

4

bay leaves

6

large sprigs parsley

Stems from 2 pounds crimini mushrooms

from the bourguignon
Bourguignon:
1

cup

Christmas lima beans

sorted and soaked 12-24 hours in at least 3 cups filtered water

2-

inch

piece kombu

3

bay leaves

4

cups

+ 2 tablespoons filtered water

divided

15

sun-dried tomatoes

not oil packed--about 1/2 cup

1

cup

boiling filtered water

1 1/4

cups

full-bodied red wine

2

tablespoons

mirin

1

tablespoon

tamari

plus more to taste

2

pounds

crimini mushroom caps

stems removed and used above, cut in 1/4-inch slices (about 10 cups)

5

tablespoons

extra virgin olive oil

divided

Sea salt

Freshly ground black pepper

8

medium shallots

cut in 1/4-inch slices

3

garlic cloves

minced

1

tablespoon

minced fresh thyme

2

medium carrots

roll cut in 1/2-inch pieces

3

tablespoons

kuzu or arrowroot

Chopped fresh parsley

to serve
Celery Root Mash:
2

large celery root

2 1/2 pounds, peeled and cut into 3/4-inch dice

5

large waxy potatoes

3 pounds, peeled and cut into 1 1/2 inch dice

1

teaspoon

sea salt

plus more to taste

3

tablespoons

extra virgin olive oil

Freshly ground black pepper
Make the stock:
Preheat oven to 400F. Place onion, garlic, carrots, parsnips, turnips, burdock, thyme, sage, rosemary, olive oil, and salt in a large bowl; toss to combine. Divide between two baking dishes and roast for 1 hour, stirring every 20 minutes. Remove from oven and drizzle each pan with 1/2 cup water to deglaze. Scrape vegetables and any juice into a large pot, and add celery, bay leaves, parsley, mushroom stems, and remaining water; bring to a boil over high heat. Cover pot, reduce heat to low, and simmer for 1 1/2 hours. Remove from heat, strain stock, and compost vegetables. You should have 5 cups stock. Set aside, or if you are making this ahead of time, allow it to cool, pour it into jars, and then refrigerate until you're ready to use it. Stock will keep in the fridge for up to three days.
Make the bourguignon:
Rinse and drain beans. Place in a medium pot with kombu, bay leaves, and 4 cups water; bring to a boil over high heat. Cover pot, reduce heat to low, and simmer until beans are soft and creamy in center but not falling apart. Check beans at 45 minutes, then every 10 to 15 minutes until they're cooked. Remove and compost the kombu and bay leaves. Drain beans and place in a medium bowl; set aside.

While beans cook, soak sun-dried tomatoes in 1 cup boiling water for 30 minutes. Drain and cut into 1/4 inch slices. Add to drained beans along with red wine, mirin, and tamari; stir well. Set aside to marinate while you roast the mushrooms, or if you are making this ahead of time, allow to cool, and refrigerate until you're ready to use.

Preheat oven to 400F. Line 2 rimmed baking sheets with parchment paper. Place mushrooms in a large bowl with 3 tablespoons olive oil, 1/4 teaspoon salt, and a pinch of black pepper; toss to combine. Divide mushrooms between lined baking sheets and spread out in a single layer. Roast for 20 minutes, stir, and continue roasting for another 10 to 15 minutes, or until all liquid is released and mushrooms begin to brown. Remove from oven and set aside.

Warm remaining 2 tablespoons olive oil in a large pot over medium heat. Add shallots, and saute for 5 minutes, or until golden. Add 1/4 teaspoon salt and reduce heat to low; cover the pot and cook for 5 minutes, or until softened. Remove lid, stir in garlic and thyme, and cook for another 2-3 minutes. Add carrots, beans, sun-dried tomatoes with their marinade, and reserved stock; bring to a boil over high heat. Cover pot, reduce heat to low, and simmer for 30 minutes. Add roasted mushrooms; continue cooking uncovered for another 30 minutes, or until the flavors have married and bourguignon tastes rich and flavorful.

Dissolve kuzu in remaining 2 tablespoons filtered water and slowly drizzle into simmering stew. Stir constantly until mixture thickens slightly and begins to simmer again. Season to taste and remove from heat. Sprinkle with parsley, and serve with Celery Root Mash (method below).
To prepare the celery root mash:
Place celery root, potatoes, and salt in a large pot. Add enough water to cover vegetables, and bring to a boil over high heat. Cover pot, reduce heat to low, and simmer for 15 minutes or until potatoes and celery root are soft but not falling apart. Drain of all cooking liquid, and return celery root and potatoes to pot. Add olive oil and mash with a potato masher till completely smooth. Season to taste with salt and pepper, and serve warm.
From At Home in the Whole Food Kitchen by Amy Chaplin, © 2014 by Amy Chaplin. Photographs © 2014 by Johnny Miller. Reprinted by arrangement with Roost Books, an imprint of Shambhala Publications Inc., Boston, MA. www.roostbooks.com
No, this isn't a simple nor a quick recipe, but Amy explains that it's a celebratory dish for her–an offering for, say, Christmas Eve dinner (how appropriate!). The book's headnote also specifies that the vegetables should be scrubbed but not peeled to retain nutrition, that a large, ceramic or glass rimmed baking dish is best for roasting the vegetables, and that any large, creamy bean in fine in place of Christmas limas. The stock can be prepared three whole days in advance. This is the sort of recipe that I can assure you is worth the work it demands: hearty, complex, and beautiful, it is the epitome of whole foods cuisine.
At Home in the Whole Foods Kitchen is a treat for the eyes and the soul. And because I'm so smitten with this special book, it is my special pleasure to share a copy with all of you as part of a giveaway. Enter below to win your own copy of this gorgeous collection! (US residents only, please).
Good luck, readers!
Tomorrow, I'll be checking in with an easy, make ahead breakfast option for Christmas morning (or any wintery morning). Till soon.
xo
All images in this post from At Home in the Whole Food Kitchen by Amy Chaplin, © 2014 by Amy Chaplin. The photographs are © 2014 by Johnny Miller. Reprinted by arrangement with Roost Books, an imprint of Shambhala Publications Inc., Boston, MA. www.roostbooks.com