On Sunday, I gave you all a quick, easy, and stress-free method to create lacto-fermented vegetables at home. I'm so glad that so many of you were excited about the post! Looks like I'll have to be sharing more fermentation recipes from now on, huh?
I want to clear up a few excellent questions that emerged from that post. If there's anything I miss, feel free to ask.
1. After the 3-5 day fermentation period is up—then what?
Excellent question! I can't believe I didn't address this. When the fermentation period is up, simply transfer your veggies to the fridge. They should last at least a month in there (I've read that several months are fine online, but lord knows none of my vegetables last that long).
2. Isn't fermentation an anaerobic process (occurring without oxygen)? So is the tight seal method better?
As a relative fermentation novice myself, I have no doubt that there are varying and intense opinions on this debate. I shared the open method with you, which I learned from fermentation guru Sandor Katz (in his great book, Wild Fermentation). Whether it's better than a tightly sealed method, I can't say. But as for the anaerobic bit, I think the idea is that the actually veggies aren't exposed to oxygen either way because they're asubmerged in brine (which is why Katz makes such a great point of keeping them under the brine).
For more on this, check out the comments on my post, which were really thorough!
3. I'm really nervous about leaving the veggies out and then consuming them. Any advice?
Well, there's no reason for you to undertake this experiment if it makes you nervous! You can always purchase raw sauerkraut at a health food store, and the Union Square Farmers Market in NYC, if I recall correctly, has some raw, lacto-fermented veggies, too. But if you're inclined to save money by doing it yourself, know that the whole point is for the acid created to allow good bacteria to proliferate while inhibiting bad bacteria. Research it carefully, take your health and immune system into account, and follow your instincts. But I've personally always had great results.
I think that's it for now!
So speaking of fermented veggies, I wanted to share a quick, easy, high raw wrap that I made with some of my fermented carrots and beets. It's stuffed with my hemp hummus, which is probably my favorite CR hummus recipe! It had been a while since I'd made it, and boy, was it nice to get reacquainted.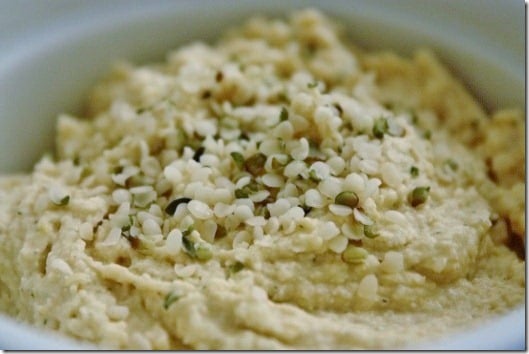 To make the wrap, simply use my collard green wrap tutorial for a DIY guide. For the filling, use 1/4 cup hemp hummus, mixed greens, bell peppers, and a few tablespoons of fermented cabbage, carrots, beets, or veggie of choice. If you haven't undertaken fermenting on your own, you can use a favorite sauerkraut or coleslaw!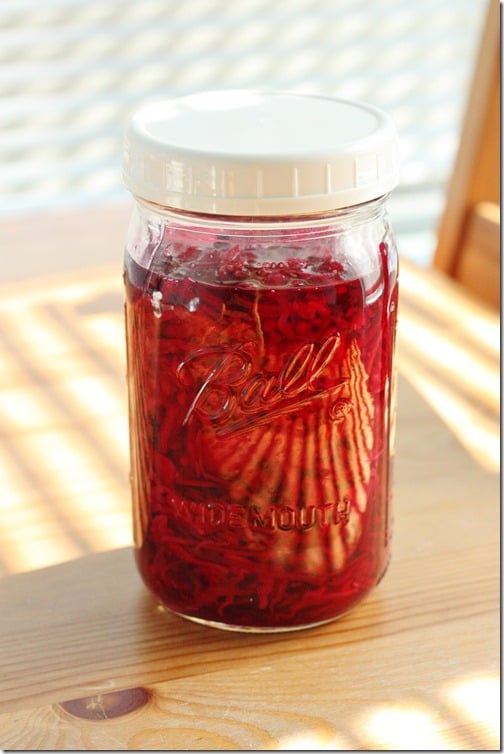 The result is a very flavorful (and colorful) wrap!

Gosh, there are so many ways to serve these wraps! I served two with a big salad of greens, navy beans, and avocado. They would also be great with some homemade lentil soup, some quinoa, or steamed veggies with my cheesy red pepper and hemp sauce!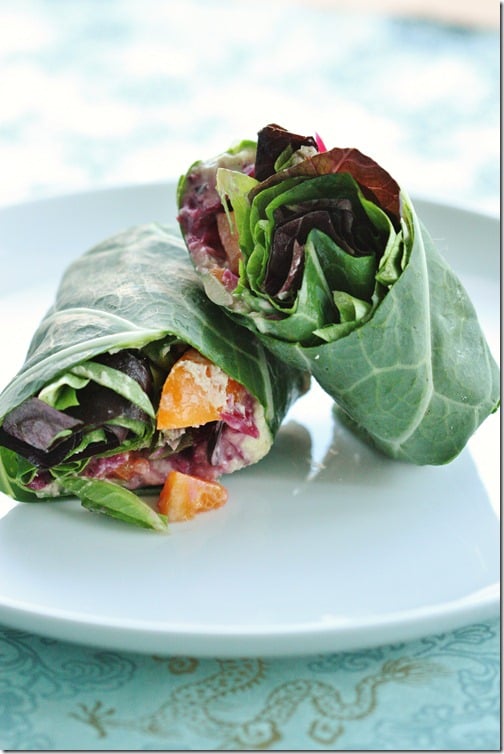 Lunch is served!
Before I go, I want to thank you all for commenting on my OHH essay yesterday. So very glad that it resonated. And what wonderful timing, because I have some exciting news: as of today, I'm officially part of the Our Hen House advisory committee! You can read all about it here. This is a tremendous honor for me, as OHH has played an important role in my own evolution as an activist.
Activist: I used to utter that word with such shyness! Activists were people who had been arrested at protests, who traveled around the country to speak publicly about animal rights issues, who leafleted and changed the world. I was just a blogger with a knack for kale salad. When I met Jasmin (at Vida Vegan Con, a year and a half ago), she and her partner, Mariann Sullivan, helped me to understand that activism is not a specialized activity, reserved only for an intrepid few. Activism is using your talents and passions to make a difference. Activism is fostering greater awareness around you. Activism is what I do every single day as a blogger.
OHH encourages people to find their own unique paths toward animal activism. If you care about animal rights, Jasmin and Mariann and their wonderful "coop" (which includes my soul sista JL, as well as the inimitable James McWilliams) will help you to find a way to make a difference. Jasmin and Mariann will make you laugh with their weekly podcast, they'll challenge you with hard hitting essays and blog posts, they'll introduce you to brilliant intellectuals, academics, journalists, writers, and artists who are talking about animal rights, and they'll draw you into a community of compassionate, engaged people. If you are interested in the arts, you'll find OHH particularly fascinating; Jasmin and Mariann are passionate about exploring the connections between artistic self-expression and activism.
Whether you're a quiet new vegan who is hoping to make friends and be inspired, an animal lover who wants to come to the aid of suffering farm animals, an artist who would like to do more for animals with your work, a blogger who'd like to harness online media for your activist efforts, or just a person who likes to hear about vegan restaurants, books, and adventures, you're likely to fall in love with OHH. In the coming weeks, I'll tell you all about ways to become more involved in this dynamic organization and community.
And for tonight, I wish you sweet dreams. Stay tuned for a wonderful giveaway tomorrow!
xo