Happy Thursday! As of today, I have exactly two weeks of my crazy summer Chem II class remaining. Given that I haven't slept more than 4-5 hours nightly on a weeknight since class started, I'm excited to realize that I'm more than halfway done. Phew.
It will come as no surprise to readers that I've found a way to squeeze hemp seeds into pesto. I love hemp seeds–they're one of my favorite easy sorts of vegan protein and healthful fatty acids–and they can make a more nutritious alternative to other nuts and seeds in all sorts of recipes. This hemp seed pesto recipe can be used for pasta, as a topping for roasted veggies, as a spread on vegan sandwiches, or as a means of adding flavor to salads.
A single serving of shelled hemp seeds provides us with:
Complete protein (all twenty amino acids, including the nine essential amino acids)
Essential fatty acids (EFA's)
An ideal 3:1 ratio of Omega-6 Linoleic Acid and Omega-3 Linolenic Acid
Zinc
Phosphorus
Magnesium
Impressive, no? I have a bunch of hemp recipes on my blog, and they include:
My Cheesy Red Pepper and Hemp Dip (personal favorite!!!)
My hemp hummus: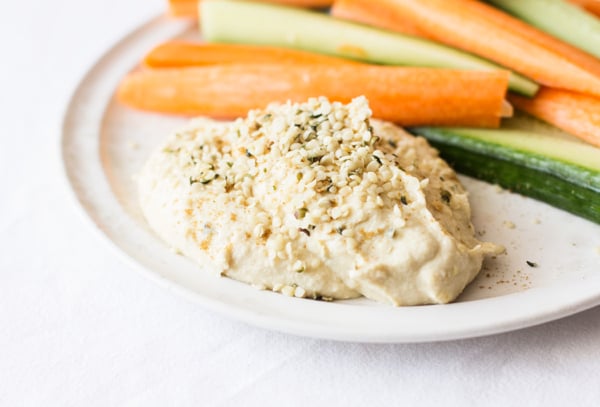 My creamy hemp milk:
And my nutrition powerhouse chia seed power pudding:
At the moment I'm enjoying this untraditional pesto on zucchini noodles, regular noodles, salads, toast, over roasted veggies, and in pasta salad. The list goes on–and I'm delighted to have a new, higher protein hemp pesto recipe to add to my pesto collection.
Hemp Pesto Recipe
Recipe Type
:
dip, spread, sauce
Cuisine:
gluten free, soy free, tree nut free
Author:
Prep time:
Cook time:
Total time:
2 tightly packed cups fresh basil leaves
1-2 cloves roughly chopped, fresh garlic
1/4 cup hemp seeds
3 tablespoons nutritional yeast
1/2 teaspoon salt
1/8 teaspoon freshly ground black pepper
2 tablespoons lemon juice
1/4 cup olive oil
Place the basil, garlic, and hemp seeds into a food processor fitted with the S blade. Pulse about 10 times, to help break down the basil.
Add all remaining ingredients. Process till smooth, adding an extra drizzle olive oil if needed to thin the pesto. Serve.
Leftover pesto will keep for up to 3 days in an airtight container in the fridge (a little discoloration is normal). It can be frozen for up to 1 month.
Two nights ago, I served this wonderful pesto over a bowl of zucchini pasta with sundried tomatoes, edamame, and cherry tomatoes from the Georgetown farmer's market:
It was a quick and summery lunch bowl!
This all goes to show that a small modification in a traditional recipe can multiply its nutrition in really significant ways. Using pine nuts in pesto is just fine, but hemp seeds truly have more to offer in terms of essential nutrients and protein. Putting them in pesto is an easy and efficient way to offer yourself a few more benefits from your meal, without sacrificing taste or turning something you like into an unpleasant form of "health food." Enjoy!
xo
Images courtesy of Lighter.