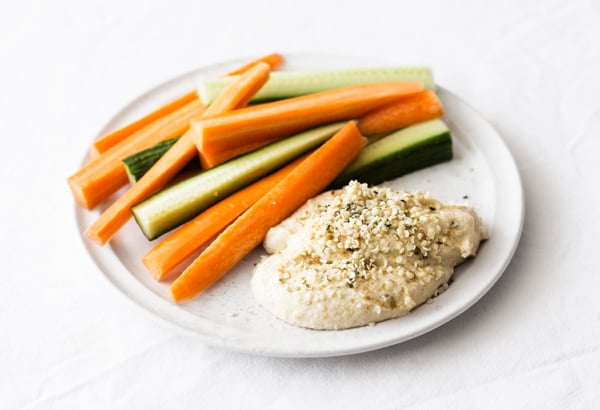 This recipe for high protein hemp hummus first sprung to mind as I was helping a client to add more high-protein foods into her everyday routine. This meant adding more legumes to her diet, but it also meant finding sneaky and innovative ways to add protein into unexpected places–like hummus. Of course, hummus already contains some protein from the chickpeas, but it often doesn't add up to a lot of protein per serving. Adding some shelled hemp seeds to the mixture can enhance protein content and increase healthful fatty acids, too.
To make the recipe, you replace most of the traditional tahini with finely ground hemp seeds. The rest of the recipe remains the same: chickpeas, lemon, salt, garlic, and a dash of cumin. You can enjoy the recipe just as you would regular hummus, but with the satisfaction that you're getting at least a little more protein and essential fatty acid action with each bite.
Like all hummus recipes, this one is mighty versatile. Use in sandwiches or wraps, as a dip for easy snacking, or as a topping on your next salad bowl. Feel free to adjust the herbs, spices, and seasonings to suit your fancy, or to pulse in some fresh herbs. Make it your own.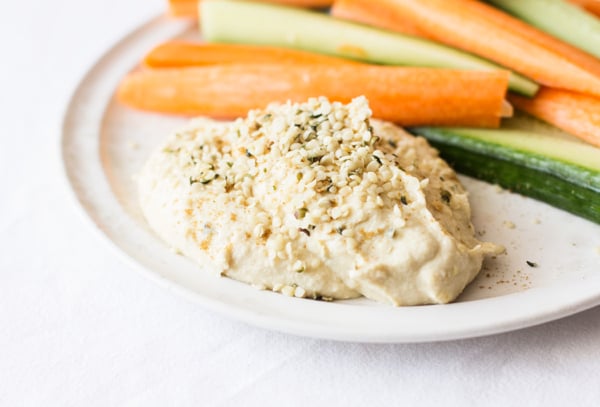 | | | |
| --- | --- | --- |
| High Protein Hemp Hummus | | Print |
Cuisine:
vegan, gluten free, soy free, no oil, tree nut free
Prep time:
Cook time:
Total time:
Serves:
1½ cups, or 6 servings
Ingredients
¼ cup shelled hemp seeds
½ teaspoon salt
1½ cups cooked chickpeas, or 1 can chickpeas, rinsed and drained
2 tablespoons freshly squeezed lemon juice
1 small clove garlic, crushed
1 tablespoon tahini
½ teaspoon ground cumin
⅓ cup water
Black pepper
Instructions
Place the hemp seeds and salt in the bowl of a food processor fitted with the S blade. Grind the hemp seeds for about 30 seconds, or until they've formed a fine meal.
Add the chickpeas, lemon, garlic, tahini, cumin, and water to the food processor. Process all ingredients until smooth and creamy (about 1-2 minutes), stopping every now and then to scrape the bowl down. Season to taste with black pepper and serve.
Notes
Leftovers will keep in an airtight container in the fridge for up to five days.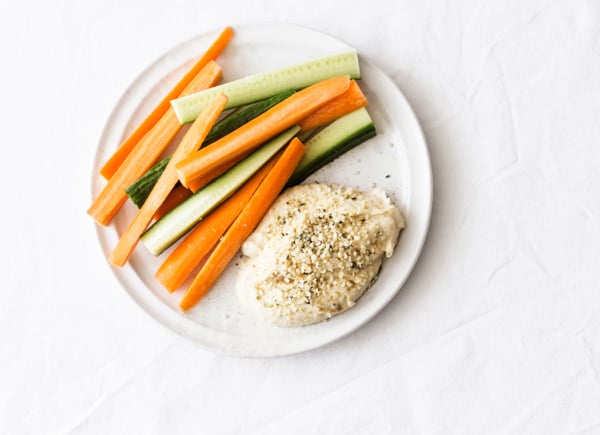 My favorite use of the week was to stuff the hummus into some nori sheets—a la my poppyseed sushi from last week—and devour piece by piece. One serving of this hummus recipe has nearly ten grams of protein—including complete proteins, thanks to the hemp seeds. That's what I can nutritious snacking!
Before I go, I just wanted to mention that submissions for Green Recovery are pouring in, and that the brave writers behind these submissions are pouring their hearts out. I've been moved to tears as I read these honest accounts—many of which represent the very first time that the writers in question have spoken openly about their histories. I have former anorexics, bulimics, binge eaters, compulsive eaters, and a few women with EDNOS histories. If there is an ED in your past, and you feel that eating a vegan diet in the present has helped you to move forward and redefine your relationship with food in a healthy way, then I'd love to hear from you.
See you tomorrow!
xo