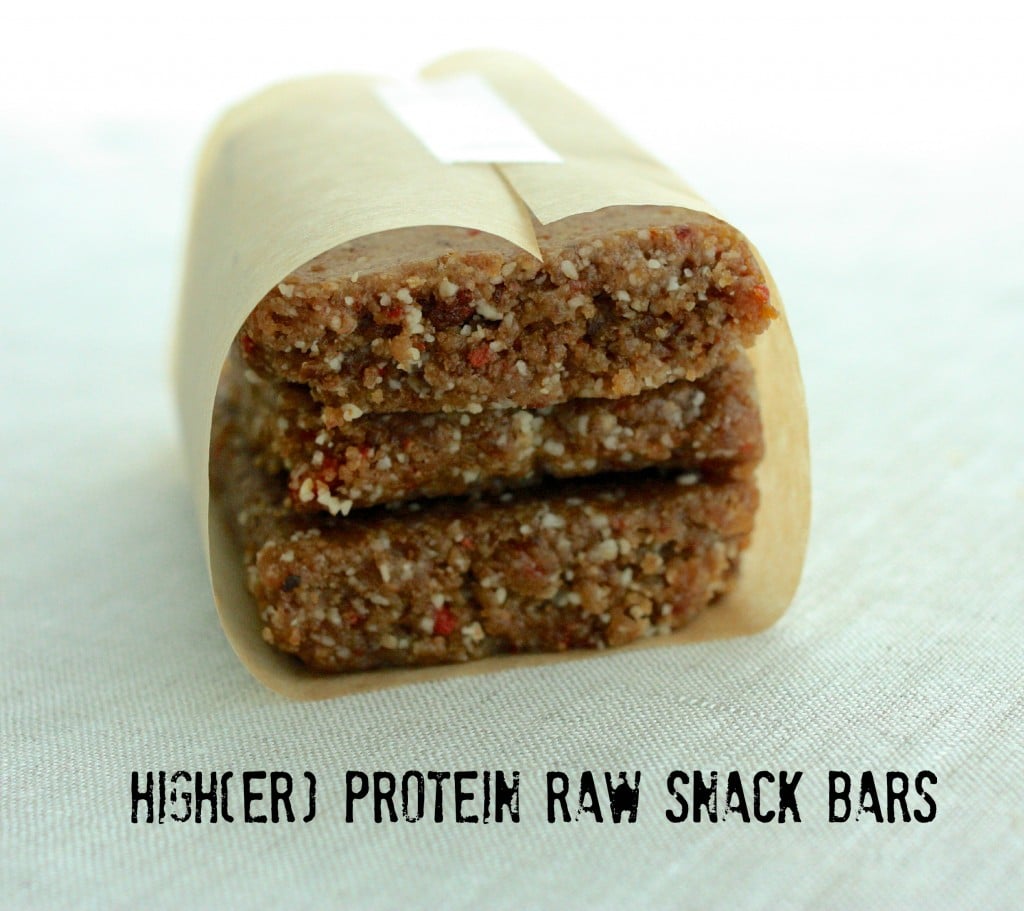 Last week, I shared a recipe for uber-customizable vegan granola bars, and I also reviewed the new Vega One bars, which we all agreed are tasty/nutritious but super pricey, too. This led one of my readers, Ali, to ask whether I have a homemade protein bar recipe? At that time, I didn't. A week later, I'm pleased to say that, while I don't quite have a protein bar recipe, I do have a higher protein bar recipe — a spin on my standard date/nut bars, but with the addition of some brown rice protein. They're easy, fast, and they provide about 10 grams of protein per bar. That's not quite as high as a lot of commercial proteins, but it's a little more than my norm!
To make these bars, I used plain Sun Warrior protein powder. I like this brown rice protein because I find it less "chalky" than some other brown rice proteins, because each bag has 47 servings, which at $42.99 on Vitacost is a good deal, and because an unflavored version is offered, which means no stevia aftertaste. But you could use any brown rice protein that you like instead; the Nutribiotic brand is a cheaper option, especially when you buy it on Vitacost (which, as you can see, is a favorite shopping destination of mine!).
Like all of my snack bars, these guys are highly customizable. If you hate dates, you can use raisins. If you're allergic to almonds, try them with cashews, Brazil nuts, or pumpkin seeds. Get creative, and have fun! At the end of the recipe, I pulsed in 1/4 cup goji berries. Raisins, cranberries, apricots, or any dried fruit would be nice, too. It's also worth saying that I cut the bars into a variety of sizes. See?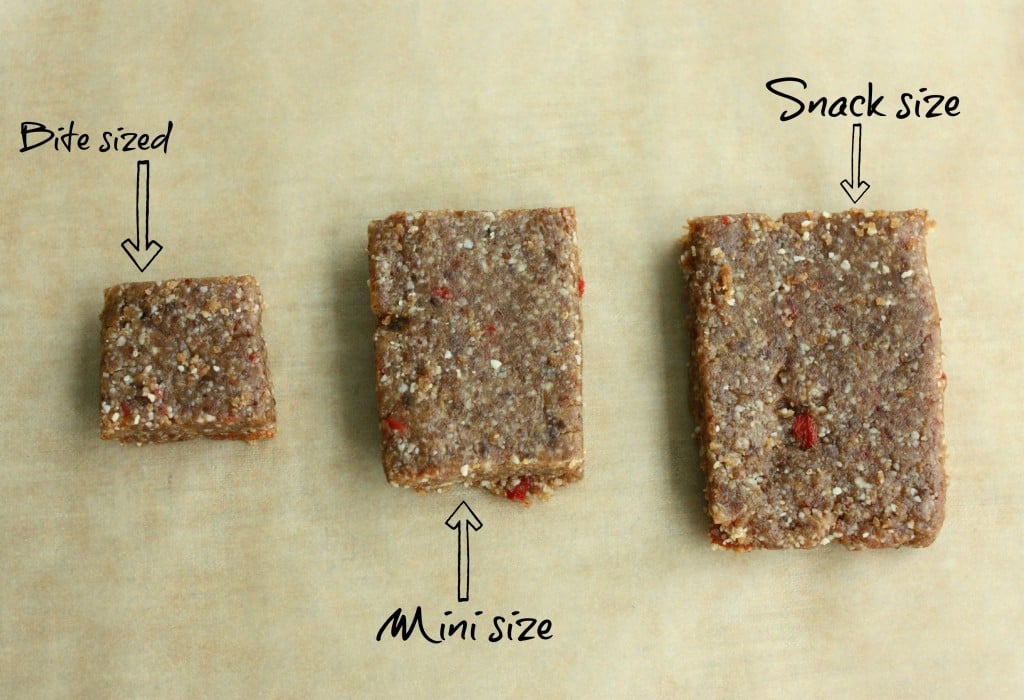 A size for everyone and every time of day!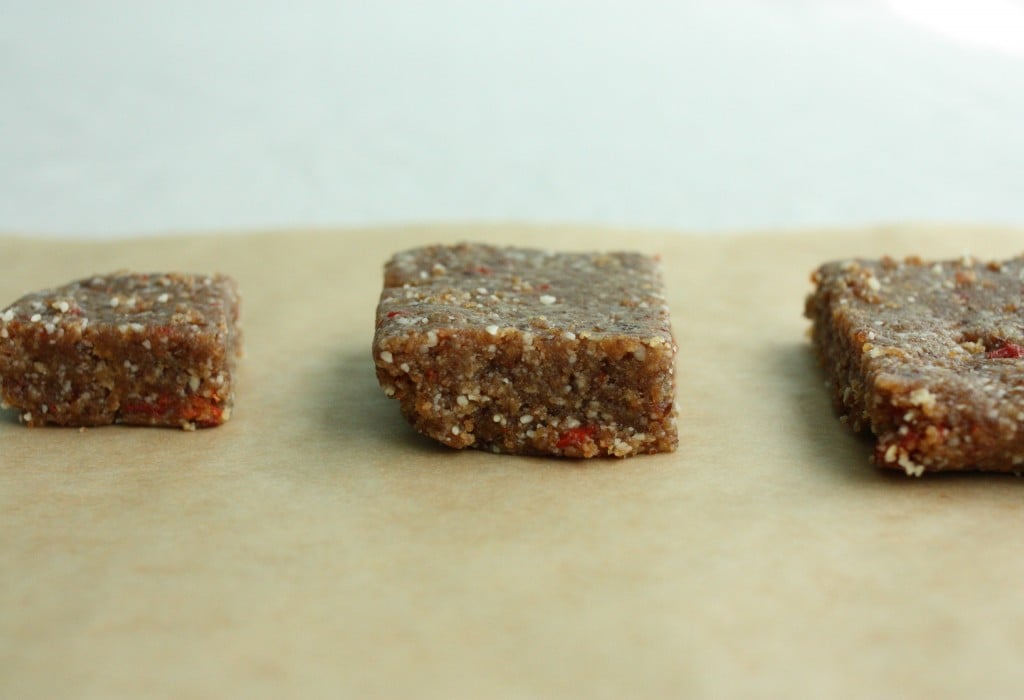 Had I added another scoop of protein, these guys would be even more protein-rich. But three scoops was the right amount in terms of texture and avoiding that chalky taste. My next experiment will be a bar with hemp protein. And more ideas will probably follow, so stay tuned 🙂 I hope you enjoy these!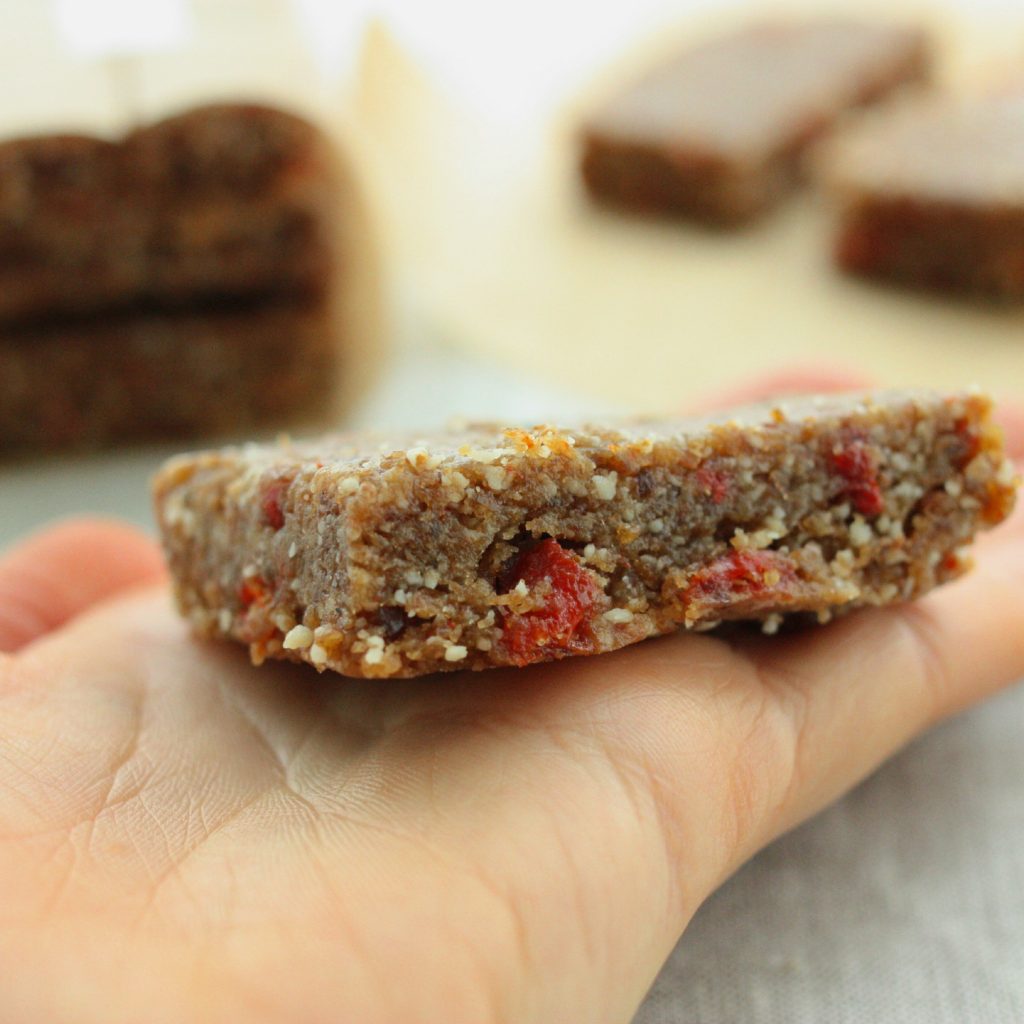 Higher Protein Raw, Vegan Snack Bars. Easy to Customize!
Author -
2

cups

raw almonds

not soaked

Pinch

of sea salt

2

cups

pitted dates

3

scoops

approximately 62 grams brown rice protein powder of choice, preferably plain flavor

4

tbsp

almond butter

1/4

cup

goji berries

raisins, chopped dried apricots, or another dried fruit of choice
In a food processor fitted with the "S" blade, process almonds and sea salt till they're ground into a coarse meal (but no giant chunks of almonds left).

Add the dates. Give the mixture a few pulses to combine. Then run the motor until the whole mixture is very well ground, and sticks together when you squeeze a handful. Add the dates and the almond butter, and continue to process for a minute or two.

Pulse in the dried fruit. If you use gojis, they can be hard, so you may need to run the motor a little.

Press the "dough" into a small rectangular baking pan (I used 11 x 7 x 2 inches) that has been lined with parchment paper. Make sure the top is even as you press. Let sit in a cool place for a little while (the fridge is good). Cut into bar shapes that fit your needs, and enjoy. Makes approximately 10-15 bars.

Notes:

1. If you use a vanilla flavored protein powder, that's totally fine, but the taste will be quite sweet. You can try omitting some of the dates (maybe a half cup) and adding more almond butter to bind (maybe 2-3 tbsp), though I haven't yet tried this method.

2. Feel free to chop in cacao nibs, to add vanilla extract, or any other add-ins you like (maca, cinnamon, cocoa powder).

3. Hemp protein should also work well!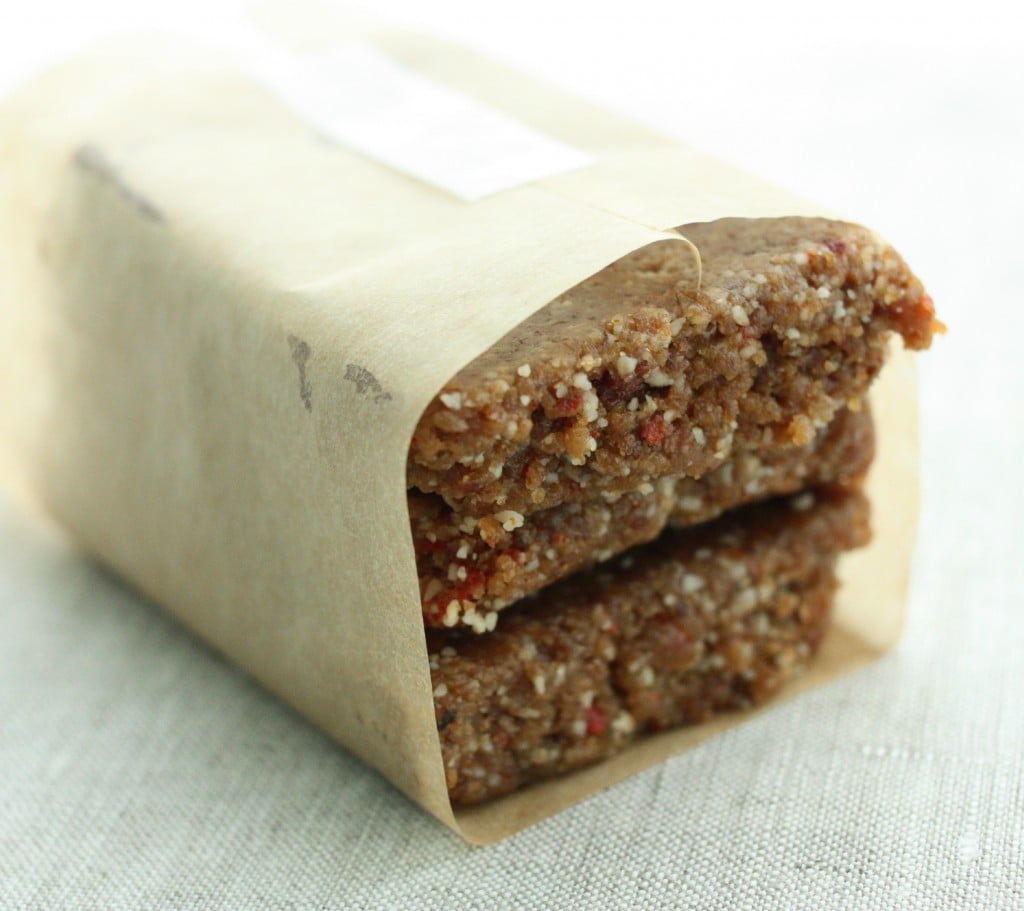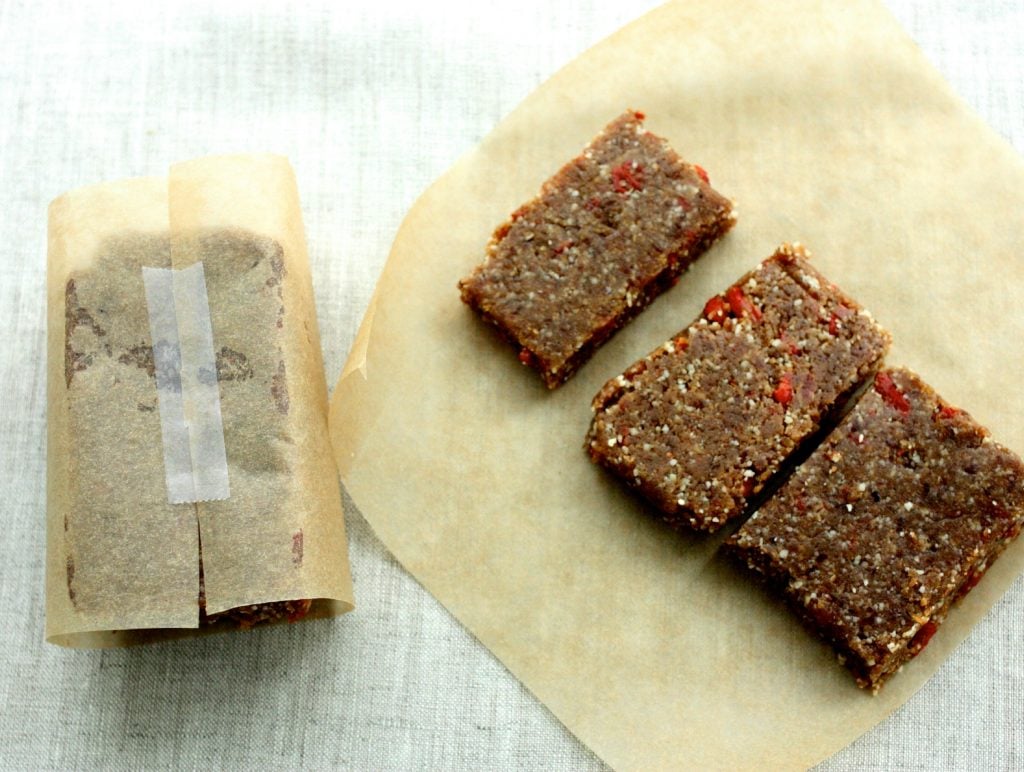 Well friends, I'm here in Portland, eagerly waiting for Vida Vegan Con 2013 to begin! Today is a designated work day, though, so I'm sticking close to my hotel and watching the rain fall outside. Can't wait to offer you some fun recaps soon. Wish everyone reading could be here, but I will do my best to transport you here in my posts 🙂
But as I wait, I wanted to draw your attention to a new program from Nutritionista Meghan Telpner (whose fabulous UnDiet was reviewed here a few weeks ago). Meghan has a new Culinary Nutrition Expert certification program. It's a deep immersion in plant-based food prep (including raw foods), as well as nutrition. The program both teaches you how to prepare a lot of incredible food yourself, and it also teaches you how to coach others in plant-based food prep. With this certification, you can go on to do menu planning, lead cooking classes, and help others maximize the quality of their food. It's an ideal culinary training for people who already have health education (holistic health coaches, nutritionists, RDs, herbalists) but want more thorough experience with the culinary arts, or people who are looking to have careers in catering, cooking classes, or menu planning with a whole foods slant.
I get a ton of emails asking me which program I recommend for nutrition work. My answer is that, if you want to do nutrition work full time, for the long haul, I recommend going for the RD. The education will greatly enrich your perspective on health, and you'll have a wide variety of career options at your disposal. If, however, you're looking for a more flexible career that is focused primarily on culinary arts (and helping others to master them), this course is an amazing option. Meghan has tremendous culinary experience, as well as a refreshing and wholesome outlook on body, health, and just about everything! Best of all, you can complete the program online–which means you can work from home as you go through it. When you browse the CNE website, you'll be able to see testimonials from her graduates, in addition to all of the details.
Check out the details here–you can definitely reach out to Meghan's team with questions. Also, if you have any questions about the program that you'd like to run by me, please feel free; I'm pretty well acquainted with a number of available culinary and nutrition programs, and I'd be happy to offer feedback. 

Till soon!!
xo