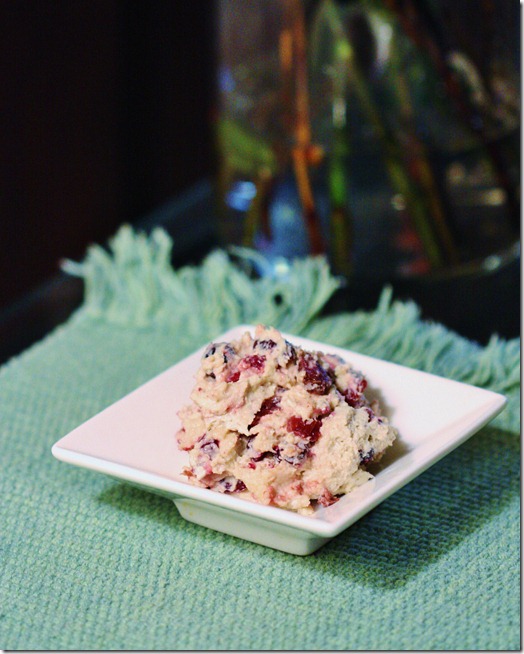 I'm back!
Hope you all had lovely weekends, full of festive preparation for the holidays to begin. I was busy finishing, and then celebrating the finish of, my first official full year as a post-bacc student. It has been without a doubt the hardest experience—and really, the hardest year—of my life, but I'm proud to have persevered so far, however shakily. And I could not manage to do that without all of your constant support and encouragement. So, CR readers: Thank you.
I thought I'd share with you a simple, yet festive holiday recipe I made this week: a sunflower seed and cashew "cheese" with cranberries. This may remind you of my cashew cheese with meyer lemon and dried cherries, which is also good, but this one is tangier and in some ways a little more fun. It's an excellent idea for a raw and vegan party appetizer that'll astound your guests: watch as they liken it to a sweet cream cheese! And it's very easy to make. I actually fermented mine, per instructions here, but you can skip all that, and in fact I made the recipe fermentation free.
Sunflower Seed and Cashew Cheese with Cranberries (raw, vegan, gluten and soy free)
Makes about 3 cups; Recipe Can Easily Be Halved
1 C. raw cashews, soaked 1 hr and drained
1 c. raw unsalted sunflower seeds, soaked 1 hr and drained
2 tbsp nutritional yeast
Juice of 1 lemon
1/2 tsp. salt (more to taste)
Pepper (to taste)
Water
1 cup dried cranberries (find an unsweetened brand if possible: not always easy, so don't sweat it if you can only find juice sweetened ones. Do opt for organic)
1) Add nuts and seeds to a food processor (or VitaMix). Add all other ingredients.
2) Turn on machine motor slowely, and start drizzling in water. Start with 1/2 cup water and add just enough for the cheese to be smooth and creamy, but still thick and spreadable (like a very thick hummus).
3) Add cranberries. Pulse to combine.
4) Store in fridge until ready to use.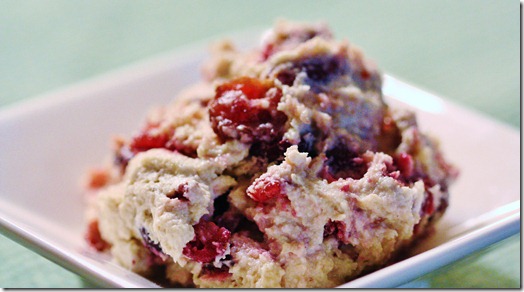 Thick, creamy, and bursting with sweet cranberry flavors! Delicious. Bring this to your next holiday cocktail gathering!
I also celebrated the end of exams yesterday with one of my favorite people: Anne P!
Anne and I haven't hung out since our trip to Café Green this past summer, and we were way overdue for some catch up and giggling. We decided to hit the Georgetown Sweet Green for lunch: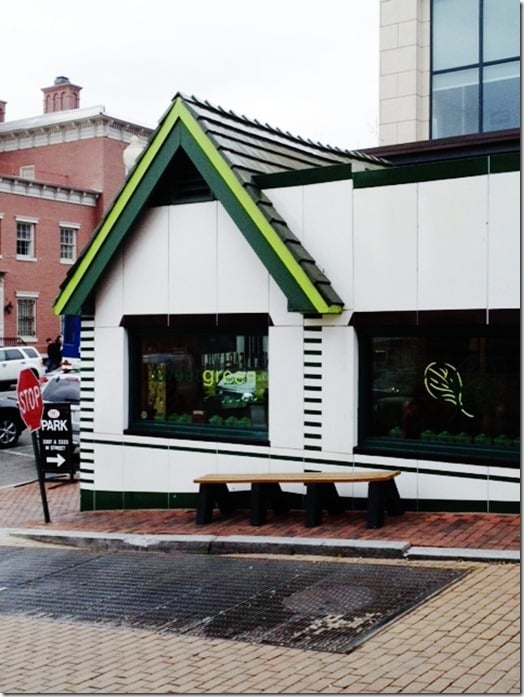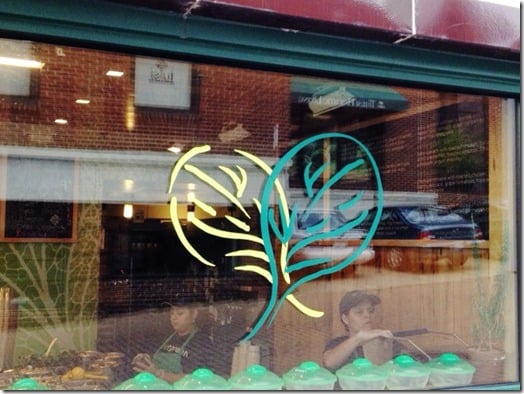 …and we both arrived exactly 5 minutes late and with wet hair, having each decided not to cut our runs short

There's no indoor seating at this SG, so we took our salads to Dean and Deluca and got some tea and a table. I enjoyed a salad of chickpeas, sweet potato, mushrooms, broc, beets, carrots, tomatoes, and peppers. Anne was impressed with my capacity to order every veggie on the salad menu. I got lemon on the salad and the hummus dressing on the side.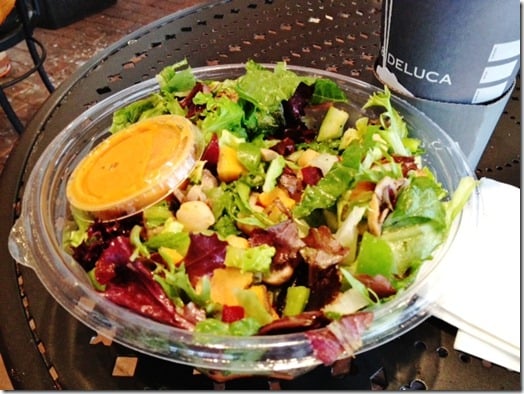 Con green tea: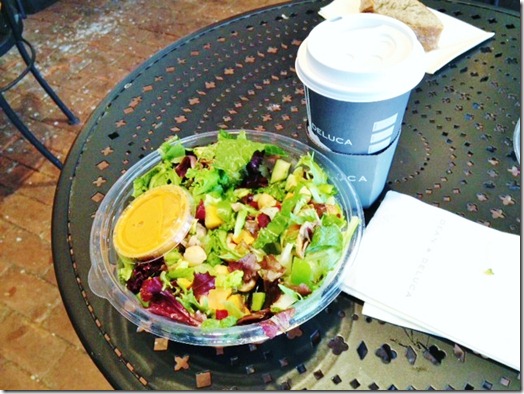 I have to say, Sweet Green has become by far my favorite place for salads. That's a big honor in my book!
It was wonderful to chat with Anne, and all too short. I can't wait till she's back in DC, so that we can extend these short visits into weekly events.
And now, as I write, I've just finished packing for a glorious three week (or almost three week) trip home to NYC. I. Can't. Wait. I'll be posting regularly from home, naturally, and eating out quite a lot, but I'll also be cooking at my Mom's place. This isn't easy for me, because my Mom doesn't have a food processor, and while I can usually make do happily without a VitaMix and a dehydrator, I'm a little lost without the mighty processor. Still, I like to remind my readers that raw and vegan foods don't demand too many appliances, so I guess I'll be putting my money where my mouth is! I'm sure you'll be seeing more cooked foods than usual, but in the meantime, could you guys tell me which non-appliance raw dishes you'd like to see me make? Or, do you have suggestions for good ones I should try? Let me know!
Happy wkd,
xo