For many of us, the last few years have been lean years in terms of material wealth. This means that the holidays are an excellent time to remind ourselves that the best and most meaningful gifts don't have the highest price tags: they're the gifts that embody love and consideration. To me, the best gift is one that indicates to me that the person giving knows me well enough to know what would make me smile.
I like to think that I keep this in mind when I give gifts to family and friends: they're not always fancy, and they're often not even store bought, but they are full of love, and I always try to fit my gifts to the tastes and fancies of the people I'm giving to.
This year, I made more edible gifts than I ever have before. It was a little more work than usual, given my final exam schedule, but absolutely worth it. I was really happy with how my holiday treats turned out, and I'll definitely be repeating them. Here, for the 2011 giving season, is a roundup of my favorites—most of which you saw here when I first posted them—as well as my picks for holiday dining this year (don't worry: there will be more of those in the next two days).
Low Fat, Raw, and Vegan Apple Cinnamon Raisin Granola
Cocoa Crunch Buckwheat Granola
Vegan Double Chocolate Chunk Cookies
And, if you're looking for some fantastic holiday dishes to prepare tomorrow, on Sunday, and throughout the week, you can try:
Creamy Fusilli with Beets, Kale, and Toasted Pine Nuts
Sunflower Seed and Cashew Cheese with Cranberries
Gluten Free, Vegan Stuffing with Brussels Sprouts and Butternut Squash
Curried Cauliflower with Fresh Cranberries
Enjoy!!!
Looking back, I think that Christmas was truly the holiday that taught me to be conscious of my own good fortune. I was so grateful for my cozy holiday dinners, my gifts, my friends, and my family, and it occurred to me that so many people around the world were spending their own Christmases without shelter, warmth, food, or company.
This Christmas, as we all get ready to dig into presents and feed ourselves like kings and queens, let's all try to remember not only the many other human beings who are less fortunate than we are, but also the hundreds of thousands of animals who are suffering this holiday season—all too often, suffering for us. Let's remember that they, too, are without warmth, shelter, or rest; let's remember that they're often sick, scared, and lonely. Before you check off all of your Christmas gifts, please consider donating to your favorite animal-oriented charity or non-profit, or, if you'd like to link your own life to that of an animal in need, please consider sponsoring an animal at a local farm sanctuary.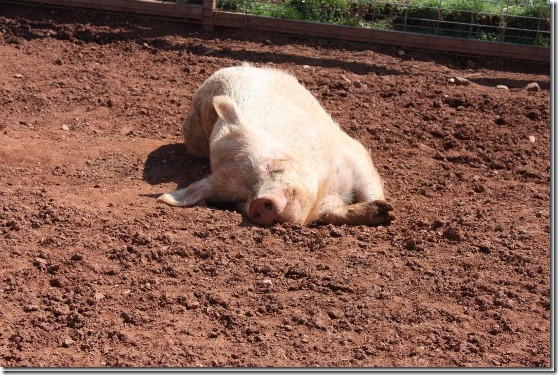 My life is so much richer because of Hamlet, the ornery pig I sponsor at Poplar Springs Animal Sanctuary near DC. And the Woodstock Farm Animal Sanctuary in upstate New York is the place I learned how to connect intimately and compassionately with animals. There's really no greater gift you can give yourself and an animal than the gift of a newly forged relationship.
For a list of farm sanctuaries near you, check this link out.
And an early, tasty, happy Christmas to you, readers
See you tomorrow!
xo