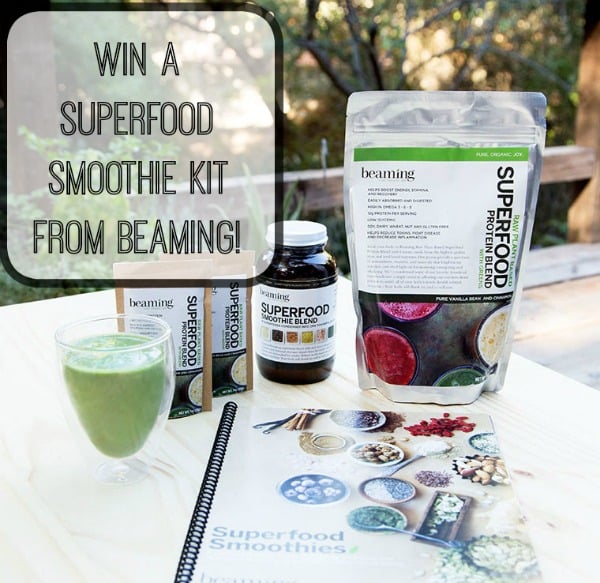 We're about to enter the season of resolutions, and we all know what this means. Lots of chatter about trimming, toning, cleaning, detoxing, and other such goals. It's hard to turn all of this food noise out, but what we can try to replace it with worthier and less superficial goals. Maybe your goal at the start of 2015 is to incorporate more greens into your diet, or to find more creative ways to enjoy vegetables. Maybe it's the goal of learning to batch cook more effectively, to bring leftovers to work, to plan meals so that you can face each week of the new year with a healthy array of food already at your fingertips. Maybe your goal is to be gentler to yourself, to take heed of your body's needs, to listen to it more closely, or to nourish yourself better. Each time you feel tempted to set a goal that is (whether outwardly stated or subtly implicated) oriented toward shaping your body into an aesthetic mold, I'd challenge you to set a gentle, sensible, health-oriented intention instead.
One great intention for any new year–or heck, any new day–is to incorporate more nutrient dense smoothies into your life. Smoothies are such an endlessly creative vehicle for healthful foods and superstar ingredients, and they're a reliably nutritious, easy-to-prepare meal. As we hover on the brink of a new year, I've been thinking what I could offer readers that might get the creative nutrition juices flowing, and I've got just the thing: a superfood smoothie kit from Beaming.
You guys know Beaming. I wrote about them last year, raving about the company's inspiring story and mission, extolling the taste of its superfood-packed protein powder, and sharing my experience tasting the company's awesome juices and smoothie blends. I love this brand; I love the creativity they bring to smoothies, and I love the fact that their products are as delicious and indulgent as they are health-aware.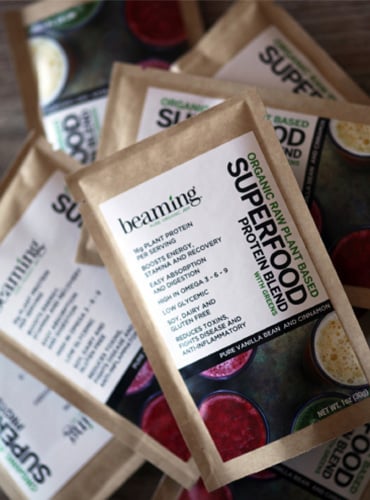 The folks at Beaming are huge supporters of this community, too, and for the holiday season they've offered to send one of my readers a superfood smoothie kit. This gift includes:
-The signature Beaming superfood smoothie blend, featuring a slew of powerful ingredients, including camu camu, maca, and more
-Individual packets of the company's plant protein
-Beaming's superfood protein blend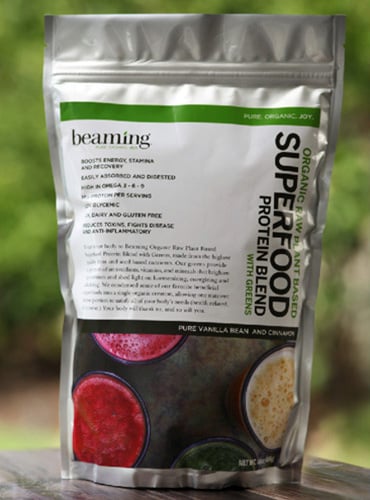 -A free copy of the Beaming superfood smoothie ebook–an awesome addition to any smoothie lover's library!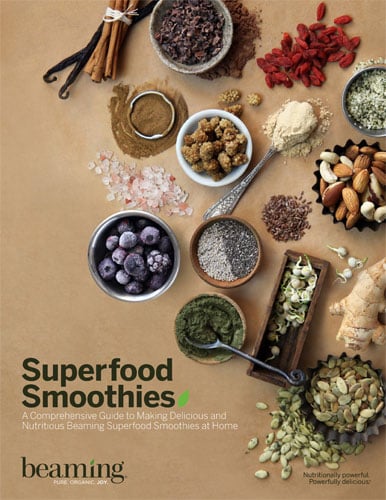 What a fantastic way to start a new year. I can attest to the excellent taste and unique qualities of the company's protein; it's packed not only with hemp, pea, and rice protein, but also with a blend of superfood ingredients and greens. The smoothie blend, meanwhile, is a great product for getting your green on while you travel, and it'll definitely take smoothies to the next level.
Enter this awesome giveaway below. It will run for one week–until Christmas! US residents only, please.
I hope you'll be as excited about these awesome smoothie additions as I was when I first tried them. Good luck!
xo