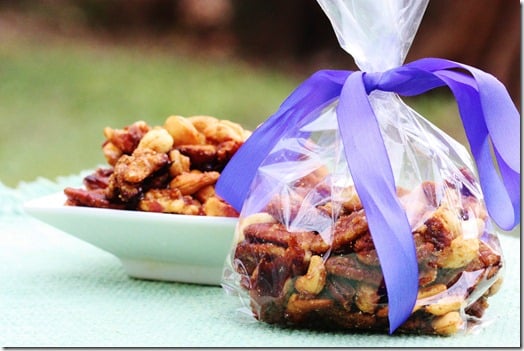 Greetings from NYC! This is a bittersweet homecoming, as my grandmother's funeral is today, but it's also great to be home, and in the company of my family and friends. It has been a long, long six months since I first arrived in Washington, and I'm looking forward to a little reflective time over this break. I'm also looking forward to catching up on some sorely needed blog work: emails, comments, updates, guest posts, and so on. Finally, I'm looking forward to being upstate with Chloe on Wednesday and Thursday! I haven't gotten up there in well over a year, and I'm long overdue.
So, while I attend to family duties today, I'm leaving you all with yet another edible gift idea: the first were my pumpkin and mocha chip macaroons. And now we have something a little more traditional: candied nuts. But this traditional recipe gets a spicy twist with some untraditional spices, and a touch of heat. Hence the sweet n' spicy part!
I first made this recipe years ago, while I was still working at FSG. It quickly became my coworkers' and friends' favorite of my gifted treats, and I've been making it every single year since. I guarantee that you'll have the same results with your loved ones, if you make this recipe. And the good news for all of my readers is that there's no dehydrating required, so you won't have to modify this recipe for your oven.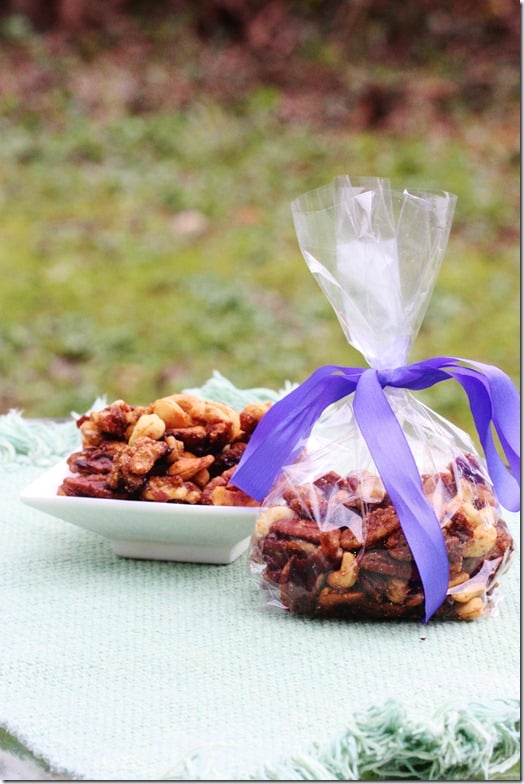 Sweet N' Spicy Candied Nuts (vegan, gluten free, soy free)
Makes about 4 cups worth
2 cups pecans
1 cup walnuts
1 cup cashews
1/3 cup coconut oil
1 tbsp tamari
1/2 cup cane sugar
1 tbsp cumin
2 tsp cinnamon
1/4 – 1/2 tsp cayenne pepper
1) Turn all nuts into a big mixing bowl.
2) Whisk together the coconut oil and tamari. Pour over nuts and toss with hands to mix thoroughly.
3) Add sugar, cumin, cinnamon and cayenne to the nuts. Toss well to combine thoroughly. Add more sugar if you have a sweet(er) tooth! And if you need a little more moisture, add a tbsp of maple syrup or agave.
4) Bake at 250 degrees for about 30 minutes, until nuts are nicely toasted and glazed. Check on them often to make sure they're not burning. At the 30 minute mark, reduce oven to 200 degrees and cook for another 15 minutes.
5) Remove from oven and break nuts apart gently with a spoon or tongs. Allow to cool completely before serving!!
This isn't a super-healthy recipe by any means, but it is a perfect recipe for a holiday treat—one you give yourself, or one you give to others. And you can't beat the buttery tasting, spicy sweet glaze: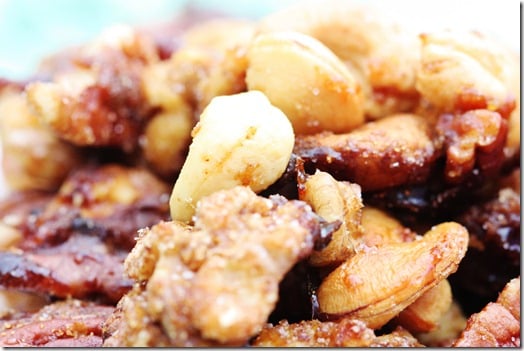 This is one you'll want to bookmark!
Hope I'm managing to give you all inspiration for some economical and tasty holiday gifts. Usually, I do a big holiday gift guide with vegan appliances, culinary specialties, and apparel. This year, as a student on a budget that truly only allows for edible giving, I thought I'd stay true to my own constraints and show you exactly what I plan to give to the people I love. I always say that food is the best kind of gift—nourishment for body and soul—and I hope you all agree

xo