It feels so nice to be writing; this last week was the longest I've gone without a substantive post since I started my blog. I hope you all had fantastic holiday celebrations, involving dear ones and delicious food. Did anyone grace a festive table with a raw dish or two?
I spent my Christmas nestled at my Mom's. Holiday or no, Mom's apartment (where I grew up — a staggering six blocks from where I live now!) is just about my favorite place. Knowing that I'd be making traveling for a few days after the Christmas Eve and day meals, I arrived prepared, with two bags of groceries. They included two heads of kale, three frozen liters of my butternut squash and apple soup, three cups of pre-made root vegetable mash, pre-cut salad veggies (shredded carrots, beets, and red cabbage), a container of red quinoa, 2 cups of my cashew cheese with dried cherries, four Larabars, 2 cups of homemade trailmix, a small container of hemp protein, four apples, two bananas, and a partridge in a pear tree. Always come prepared, folks: if you're going to be traveling hither and yon to holiday celebrations — even to homes where you expect a fully stocked vegetable bin — it never hurts to have food that you can, and will, enjoy at the ready.
Mom and I enjoyed a cozy Christmas dinner, featuring hits from this year's Choosing Raw Thanksgiving menu. The next morning, after some cozy gift-opening, juice, and a shared green smoothie, I headed to my father's home in Westchester, where I enjoyed leftover kale salad and warmed up my butternut squash and apple soup for my stepfamily. My diet has never been a bit hit in my Dad's home, but I'm pleased to say that my stepsisters and stepmom raved about the soup!
And on Saturday, I hopped on the train to travel to my happy place — Chatham, NY, where (as you may remember), my best friend's folks lives. Chloe's parents and sister are as dear to me as family, and it was wonderful to have a second Christmas celebration in their warm company. It was also great to enjoy a pastoral winter: frost on fallen leaves, black branches against a pale blue sky, snow patches on icy hay fields, the smell of chimney smoke. Here are a few snapshots from the journey: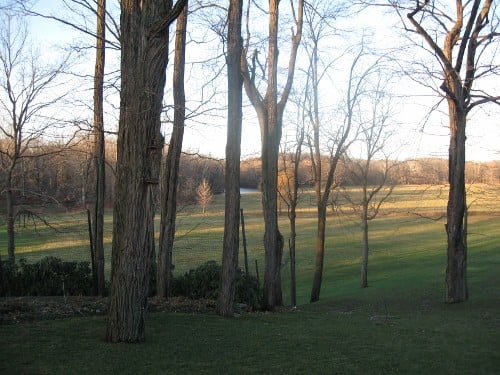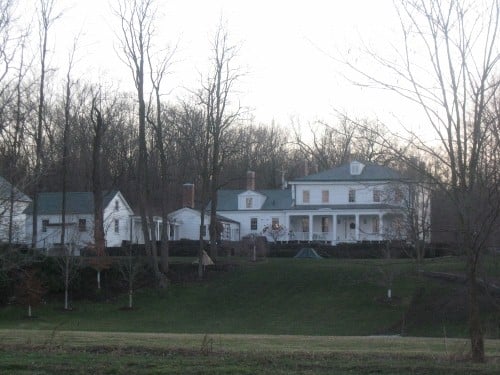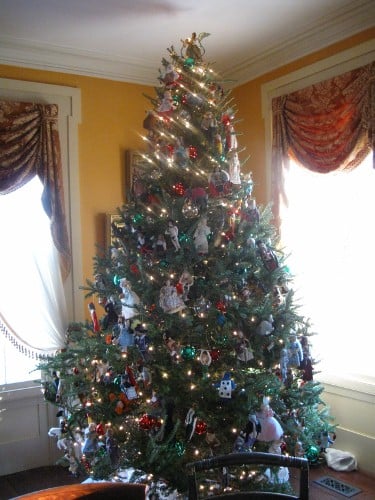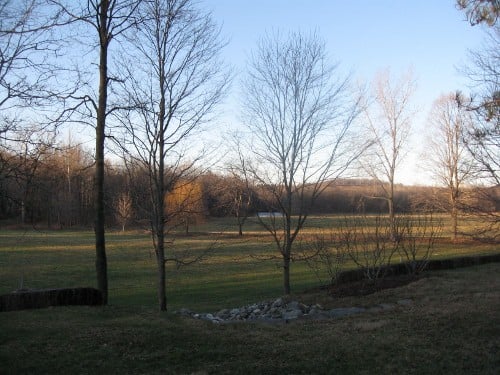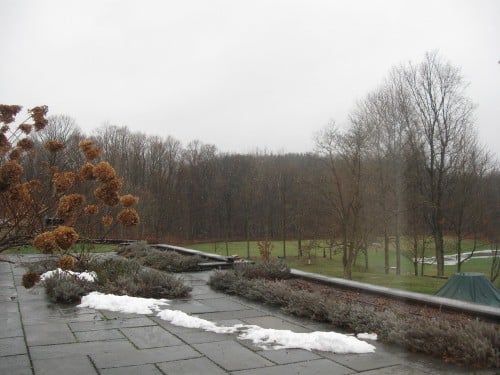 Beautiful, no?
My weekend in Arcadia involved the usual assortment of raw favorites and un-cooking: kale salads, avocado salads, nut pate wraps, fresh, local cider. It also involved some cooking-cooking! Nothing seems to invite cooked meals quite like snowy woods and the prospect of dinner by the fire (and oh, my friends, there were lovely fires built). And since I'm long overdue for a cooked recipe of the month, I figured I would share with you two of the recipes I enjoyed upstate.
The first involved my fun new ingredient: red quinoa. In truth, there's not much that's new about red quinoa: it's just like white quinoa, only a different color! Quinoa actually comes in a variety of shades, from white to pink to yellow and red. Red quinoa lends a lovely hue to side dishes, but has the same nutty and delicious taste as regular quinoa. Since kale and root vegetables were the stars of my weekend meals ('tis the season, after all), I decided to incorporate the latter into my quinoa dish. The result was a warm, comforting, and very filling dish!
Red Quinoa and Root Vegetable Pilaf (serves 2-4)
1 cup red quinoa, dry
dash salt
2 cups water
1 large carrot stick, cut into small cubes
1/2 medium sized turnip, cut into small cubes
1/2 large yam, cut into small cubes
1/2 tsp cinnamon
2 tbsp agave nectar
1/4 tsp saltDash pepper
Rinse the quinoa under a faucet till the water runs clear. Place it in a pot with a dash of salt and put it over a high flame. When the mix comes to a boil, lower the flame to a simmer and leave the lid of the pot on, but slightly ajar. After twenty minutes or so (check it at fifteen), the quinoa should be fluffly and cooked through (you'll know it's ready if the outer rim of the grain seems to have popped off).
While the quinoa is cooking, steam the cubed root veggies till tender.
Combine the cooked quinoa with the steamed veggies. Season with cinnamon, agave and salt, and enjoy!
This is an optimal winter entree: protein-rich, rich in complex carbs, well combined, tasty and highly nourishing.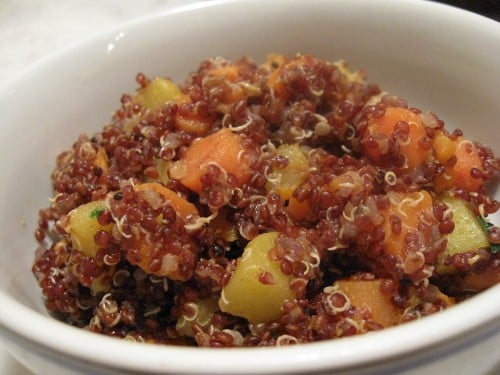 It's pretty, too!
Sadly, my trip home from Chatham was a bit of a disaster: the train was over an hour late, and we kept along at a snail's pace all the way to Manhattan. The train was also freezing cold, so when I arrived home tonight, chilled to the bone and with a runny nose, I was ready for soup. And since I had leftover yams and a bushel of kale on hand, I decided to put them to good use.
This soup is inspired by a KERF recipe: Kath's butternut squash and kale soup is a definite favorite in the Choosing Raw kitchen, and I've wanted for some time to give it my own spin. My version uses yams in the place of squash, obviously, and my own soup base, rather than the Pacific brand. I also added ginger, cinnamon and curry for a warming kick! The result is akin to my butternut squash and apple soup, but thicker and richer (i.e., perfect for a cold winter's night).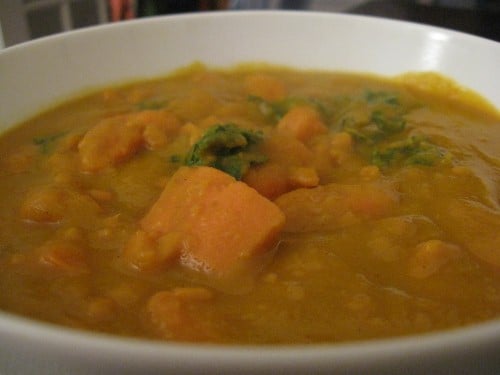 Gena's Kale and Sweet Potato Stew (yields about 5 cups)
3 large yams, cut in smallish cubes
2 large stalks celery, chopped
2 carrots, chopped
2 cups water
1/2 cup fresh apple or orange juice
2 dates
2 packets stevia
1 1/2 tsps salt
Small cut of fresh ginger (I used about 1/2 inch; you could also use 1/4 tsp dry ginger)
1/2 tsp cinnamon
1 tsp curry powder
Dash cloves
2 tbsps olive oil
3 cups raw kale, chopped
Steam the yams till fork tender. Take 2/3 of the yams (reserving 1/3 for later) and place them in a blender with all remaining ingredients except for the olive oil and kale. And the mixture is blending, add the oil in a thin stream till the whole mix is smooth and creamy.
Transfer the soup back to a large pot. Add the reserved yams and the 3 cups kale. Re-heat the soup till very warm, and the kale is kooked through.
Serve this alongside a leafy green salad for a perfect dinner, or on its own for a hearty lunch.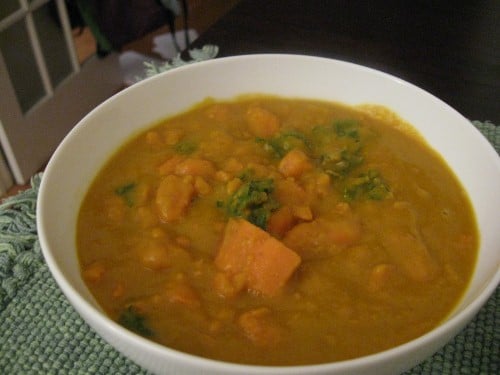 It was a definite winner!
Now it's your turn, friends! How was your holiday? And do you have any special recipe successes (or failures) to report? I'd love to hear more about the weekend.
And before I forget, there's still time to vote for me in the Best of Raw 2009 awards!!!! Simply scroll through the categories, looking for best raw educator, best raw website, and best raw blog. I would appreciate your support so very much.
Also, please head over to the lovely Averie's blog to check out my guest post yesterday on my top five tips for optimal digestive health.
Have a great night, and stay warm!
xo