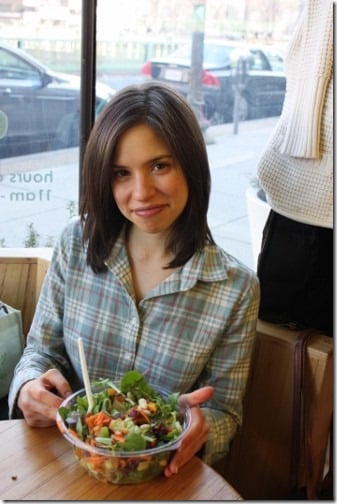 Happy Sunday, friends. I write this post from the familiar perch of my living room table in NYC. But as you all know, I spent the last week in D.C., which is where my boyfriend (otherwise known as M) resides. One of the first and best pieces of advice I got about long distance dating was this: make yourselves at home in each other's cities. M is already fairly NYC-savvy, but I'm still getting acquainted with our nation's capitol: the restaurants, the subway (sorry, I mean the Metro), the layout, and the sensibility of the place. Lifelong New Yorkers aren't known for easy acclimatization in new cities, but I think I'm doing a pretty good job so far. And reaching out to D.C. bloggers has made a huge difference.
A few days ago, I wrote about Wednesday's fun and inspiring lunch with Emily. Her sunny smile is already a little slice of home for me in D.C..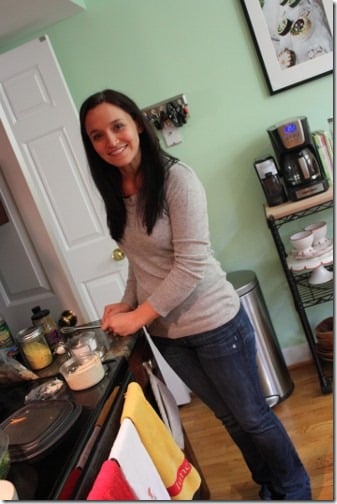 On Thursday, I reached out to another local blogger, Valerie, who has been a loyal reader and penpal for some time now. Valerie's blog, City Life Eats, is organized around her gluten-free, semi-raw, and mostly vegan lunchboxes, but it's really a chronicle of her sophisticated and intelligent thoughts on food, life, work, and living with food allergies. She's an exceptionally serious and thoughtful writer, and her recipes are delicious—heavy on the salads, the nut pates, and the dressings, just the way I like things! When you check out Valerie's blog, keep in mind that she has a very busy career as an attorney, and that she still manages to prepare nourishing, homemade meals every day, and to wrestle some contemplative time out of her schedule. Go Valerie.
Salad lovers that we are, Valerie and I decided to have lunch at D.C.'s finest salad haven: Sweet Green.
This uber-healthy, eco-friendly chain stretches across Virginia, Pennsylvania, Maryland, and the D.C. area. It reminds me quite a lot of Chop't, but the menu is slightly more extensive, featuring soups and frozen yogurts and various snacks to go. The salad options are phenomenal, and the ingredients are very fresh. Check them out—I've already tried the "chic p," and I've made a few combinations of my own.
On this particular day, I was in the mood to make my own combo. I settled on a mix of romaine and mesclun greens, chopped up with beets, butternut squash (a double helping), white beans, peppers, carrots, avocado, a drizzle of olive oil, lots of lemon juice, and salt & pepper.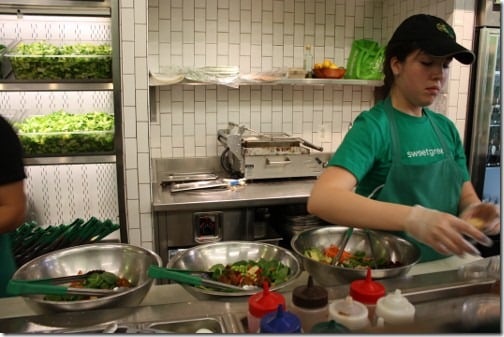 Just look at this beauty of a salad.
Major plus at Sweet Green: no skimpy avocado servings. They use a whole half avocado for each order, which is precisely how I like it!
On the side, I had some of their baked kale chips, which were super spicy and super salty and a little oily, but extremely good. Next time I'll probably get them chopped up into my salad and hold the salt, so that everything is balanced. But there will definitely be a next time with these guys!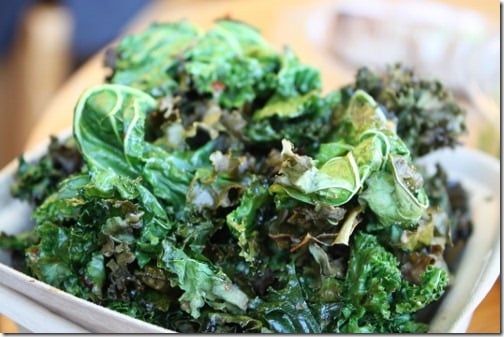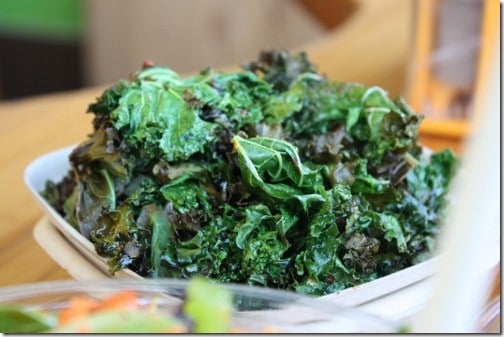 Can you tell I was pleased with my meal?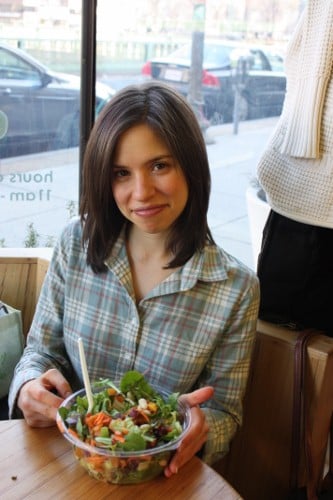 Very. I was also pleased with my conversation with Valerie. She has such a balanced perspective on holistic lifestyle practices, food, and body image. And she, like me, is very interested in striking a personal balance between alternative and allopathic medical practices on the road to healing. What a great new friend to have in D.C.! Valerie, here's to more salads.
And please, post your gluten free and vegan chocolate chip cookie recipe on your blog. Wowza.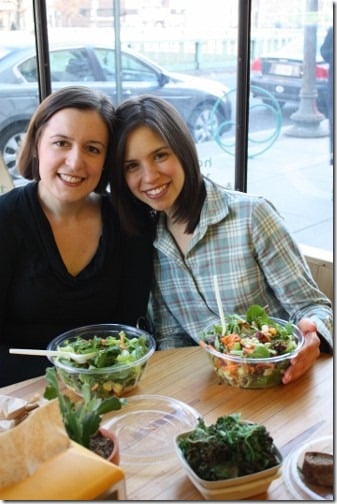 On Friday, I met up with another D.C. friend, Andrea. Andrea and I met over a year ago, when we were both attending a teacher's training led by a prominent figure in the raw foods world. As it turns out, that experience left us both highly skeptical about the so called "detox" lifestyle, but the good news is that we became instant friends, in part because we we appreciated each other's independent and inquisitive thinking. Since then, Andrea has become as close a friend as one be over gchat, and so it was a treat for me to sit down with her on Friday and chat in person.
Tryst was a terrific meeting spot, but it made me more annoyed than usual about the fact that nearly all coffeehouses have disappeared from NYC (dear Hungarian Pastry Shop, you are exempt from this statement, and even though you are the least vegan-friendly place on earth, I cannot wait to take up residence on your uncomfortable chairs in a week). I wish New York had more chill places to lounge and sip coffee, like this one:
Andrea began our lunch with some of the restaurant's mulled wine, which was out-of-this-world fabulous:
I stayed true to form, and treated myself to a decaf soy cappuccino. It was great! So great that I chugged half of it before snapping a photo.
We started our lunch with an order of red pepper hummus. Raw veggie enthusiasts that we are, we requested crudités in place of pita:
The hummus, while not quite as thick as I like it, was very tasty. And they didn't skimp on our portion, either:
Andrea got a brie and apple sandwich, which arrived cut into perfect little open-faced rectangles. I got a salad of artichokes, beets, watercress, greens, and sunflower seeds, topped with olive oil and lemon (as usual):
Not quite Sweet Green, but still a really good bowl of veg. I really liked the rest of the Tryst menu, too!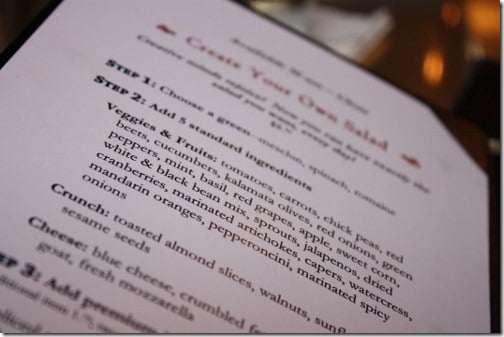 Another fine conversation and lunch. Andrea is really into the gallery scene and the arts in general, so I'm hoping she'll point me towards some fun cultural happenings in D.C. this year! In exchange, I will continue to bug her about how she should blog more often: she's a great writer, and a great cook, and she grew up in restaurants, so she has plenty of basic cooking know-how to share.
As a kid, I suffered from a pretty acute susceptibility to homesickness. It was hard for me to go anywhere for a night if my mom wasn't with me—perhaps with the exception of Chloe's place. This passed away smoothly as I got older—so much that I became a fairly passionate solo traveler (immunity to loneliness, even in foreign countries, is a nice benefit of being an only child!).
Even so, it takes me a while to adjust to new places, which is why being part of the blogging community is such a boon for me. No matter where I go, I can count on a few friendly acquaintances nearby. As I work to make myself at home in D.C., I feel thankful for the fact that M's circle of friends is exceptionally warm and generous, and quick to welcome me. But I'm also thankful for my blogging friends in the District for the awesome lunch dates this week.
What's the last city that you got friendly with? Did the blogging community play a part? How do you typically make yourself feel home away from home?
Tomorrow—gulp—is my first day of orientation for my post-bacc program. Which means no blogging time for Gena. I've asked my friend Kailey to stop by for a guest post on a topic that's really important to me—the link between veg*nism and ED recovery—and I think you'll all love what she has to say. Please tune in for it!
xo