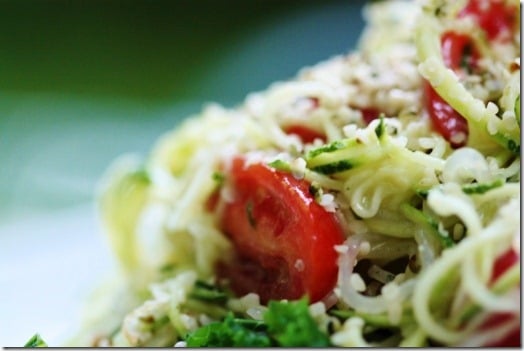 I'm almost sad not to have a Vida Vegan Con recap for today! If you missed any of my dispatches from the weekend, you can check them out here:
Travel is great, especially when it involves vegan restaurants in cool new cities. But to be honest, I always greet a return to my kitchen with glee To see me run out for fresh groceries and start cooking (sometimes before I've even unpacked my carry on) you'd think I'd starved on vacation, which is never true. I've just missed the pleasures of doing it all myself.
When I got home from PDX, I was greeted with terrifying reality of organic chemistry. I know, it sounds so nice, right? Organic! But let me quote the interwebs for you:
There is nothing quite like organic chemistry to strike fear into the hearts of pre-med students everywhere. Few other subjects require such massive memorization of terms and concepts, and even fewer cover so much difficult work at such a feverish pace.
If you have any doubt, your orgo professors will apparently be glad to confirm these legends by spending the first few days of class warning you what you're in for.
To distract myself, and to celebrate coming back to the hobbit house after ten days of travel, I decided to prepare a dish that was both homemade and inspired by my restaurant dining in PDX. Remember the goddess bowl I ate not once, but twice at Blossoming Lotus? If you don't, it was steamed kale and raw baby greens over a bed of hot quinoa, topped with balsamic and smoked avocado dressings and some avocado slices. It's as if someone googled "choosing raw dream comfort food" and then constructed a dish according to my wishes. Heaven.
In honor of that dish, I decided to make a slightly raw-er version for lunch on Tuesday, subbing kelp noodles for quinoa and spiralized zucchini for mesclun, and adding some of my favorite power food, hemp, for a little extra protein and fat. I threw in some cherry tomatoes, too, and ended up with a bowl that was lighter and brighter than the Blo Lo creation, but totally authentic in terms of flavors.
I'm going to use the same idea and dressings to make a more authentic, hot version next week, which I'll also be sharing.
The Raw Goddess Bowl (inspired by Blossoming Lotus in Portland, OR; high raw, vegan, GF and soy free)
Serves 1
3 cups kale, chopped
1/2 cup broccoli florets, chopped
1/2 zucchini, spiralized
1/2 cup kelp noodles, soaked and drained
1/3 cup cherry tomatoes, halved
2 tbsp hemp seeds
Smoked avocado cumin dressing
Balsamic tahini dressing
1) Lightly steam kale and broccoli, and blanch in cool water to retain freshness and color.
2) Mix zucchini and kelp noodles, and toss them with a generous serving of smoked avocado cumin dressing. Add cherry tomatoes and toss again.
3) Plate the kale and broccoli, and drizzle them with some balsamic tahini dressing. Top them with the dressed noodles and tomatoes and then sprinkle the whole dish with hemp seeds. Serve.
Avocado, hemp, greens, and sea veggies—so much unbelievable nutrition in every bite of this dish!! This is what I call a power meal. Maybe orgo won't be so tough, after all.
Speaking of power foods, raw foods, super foods, and the people who know them best, my dear friend Brendan has a new book coming out—Thrive Foods. It's already available for order on Amazon, and I'm already planning on a giveaway, but right now you can download a FREE sneak peak on his Facebook site. Don't waste a single minute! Brendan's recipes are stellar, but that's not even the main reason to invest in his work. He may be the single most balanced, intelligent, inspiring, and well-educated person writing about high raw, plant-based, and nutrient dense foods out there. Beyond that, he's a professional athlete and tireless entrepreneur who fuels his busy life with the same foods he writes about. I don't throw praise around lightly, so trust me: this one is worth it.
See you back here tomorrow with a special "back to school" feature!
xo