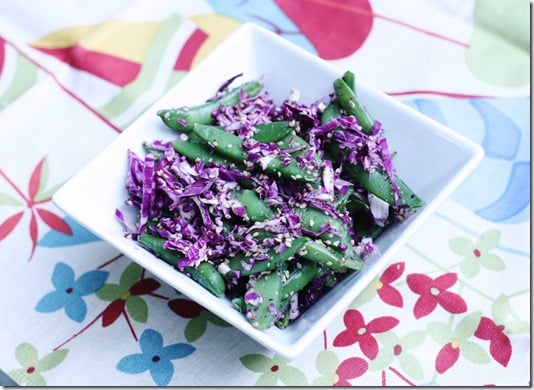 It's unusual for me to focus much on side dishes, but lately, I've created quite a few of them! The one that comes to mind most recently is myraw brussels sprouts salad with tangy dijon cider dressing, but my eggplant caprese salad was along the lines of a side/appetizer. I'm a big plate kinda gal at heart, so my focus as a recipe developer is usually on salads that are enormous, or at least easily morphed into a meal-sized recipe, but sometimes it's nice to think about side dishes, too. My favorite side dishes are always of the vegetable variety, and this fantastic, semi-raw salad of sesame sugar snap pea salad with red cabbage and homemade gomasio fits the bill nicely.
What the heck is gomasio? Well, it's a traditional Japanese condiment, popular in macrobiotic recipes, that includes unhulled sesame seeds and sea salt. You can purchase it at specialty stores, but I really like to make a "cheater's" version, either by toasting sesame seeds and mixing them with sea salt and dulse or kelp flakes, or by grinding those three components up in a food processor. Very traditional gomasio is ground in a suribachi (kinda like a mortar and pestle), but I find that food processors and spice mills will do very nicely. And to be honest, I eat the mixture unground more often than grinding it, and it's every bit as delicious!
I like to toast the sesame seeds in this recipe, but if you're a stricter raw foodist and want to leave them raw, it'll still be good. You can serve gomasio over steamed kale or broccoli, on a salad, or on the inside of nori rolls. It's a great way to add healthy fat to your meals, and it's also a wonderful means of warming up to sea vegetables, and the essential iodine they provide!
In this particular salad, crunchy gomasio is sprinkled over lightly steamed sugar snap peas and crispy, crunchy red cabbage. With a light dressing of rice wine vinegar and just a touch of sesame, this salad is unbeatable, flavorful, and very healthy. For my low/no oil readers, you can certainly omit the sesame oil, but a little goes a very long way, and even if you add it, the great majority of the fat in this recipe is from whole sesame seeds. Yum.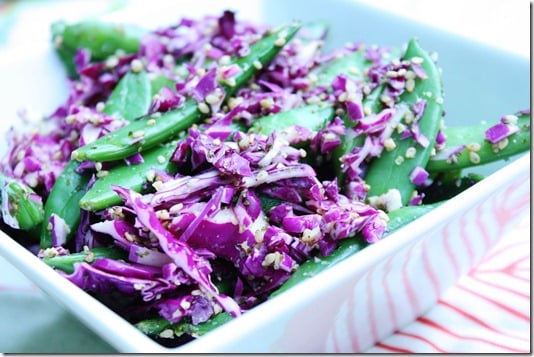 Sesame Sugar Snap Pea Salad with Red Cabbage and Homemade Gomasio (semi-raw, vegan, gluten free)
Serves 4; you can divide the recipe in half if you like!
4 cups sugar snap peas, washed
1 3/4 cup shredded red cabbage
1 scant tsp sesame oil
2 tbsp rice wine vinegar
2 tsp nama shoyu or tamari
For the gomasio:
1 cup sesame seeds
1 1/2 tsp sea salt (this is in keeping with traditional ratios of seed to salt, but you can absolutely reduce the salt to 1 tsp if you follow a lower sodium diet)
2 tbsp kelp, dulse, or nori granules
1. To make the gomasio, place the sesame seeds in a cast iron skillet or nonstick pan over medium heat. Toast, stirring constantly, for about 8-10 minutes. Remove from heat immediately if they brown quickly!
2. Toss sesame seeds with the salt and the kelp. Pulse in a food processor, or serve as is!
3. To make salad, lightly steam sugar snap peas. Combine them with the cabbage, oil, vinegar, and tamari. Toss gently, divide into four bowls, and sprinkle with a tablespoon or two of gomasio each.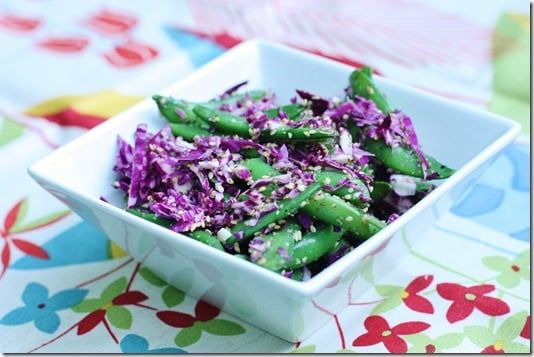 What a lovely, tasty, and easy side dish!
I think this salad would go naturally with any Japanese inspired dish; raw or cooked sushi rolls would be a clear winner here! I'd also love to serve the salad with some brown rice and steamed kale/broccoli, or as an accompaniment to a quinoa dish.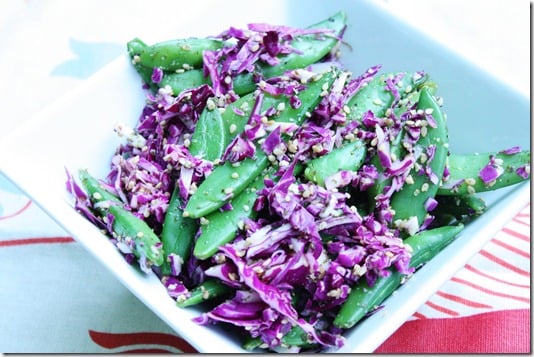 If you've never worked with gomasio before, you're in for a true treat. Enjoy it! And I'll see you back here tomorrow.
xo