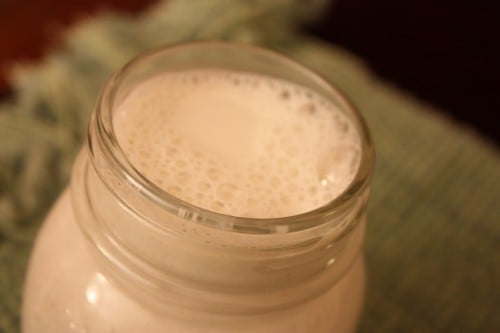 No, that title is not in any way meant to suggest the elevated aftermath of certain smokeable substances. Wrest your minds from the gutter! It is a reference to one of the most popular brands of hemp milk. And this weekend, I concluded that homemadehemp milk — though I honestly don't have a basis for comparison — must surely rival, if not surpass the delights of other hemp derivatives.
It's funny I should be making this bold claim, because I've always disliked hemp milk. Really: I've wanted to like it, but I simply couldn't get over the hemp-y taste. Which is silly, because I love hemp seeds, hemp butter, and  hemp oil, and none of those things could rightfully be called subtle-tasting, either. They're hemp foods, and they taste like it. Still, something got in the way of my enjoying hemp milk. Until this weekend, when I attempted to make my own, and a new love affair was born.
As the great heat wave of 2010 rages in NYC, I've been enjoying plenty of smoothies. Smoothies (often) mean having lots of fresh nut milks on hand, which is part of why I've been giving them some blog focus lately (see my post on nut milk troubleshooting if you're running into trouble making your own nut milks). The hemp milk I'm about to share is my latest creation, and it may henceforth be my most beloved. It's creamy, rich, high in nutrition, and somehow the hemp taste bothers me far less than it does when I drink the store-bought brands. The recipe is pretty standard: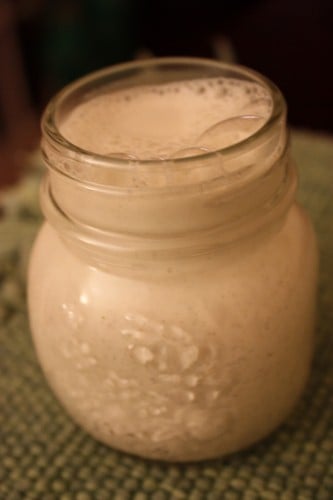 Hemp Milk (yields about 4 cups)
1 cup shelled hemp seeds
3 cups filtered water
3-4 tbsp agave nectar
1 tsp vanilla
1 tbsp soy/sunflower lecithin (optional, but it will help keep the texture smooth, which is important since you're not straining this one)
Blend all ingredients on high till they are very, very smooth. Enjoy!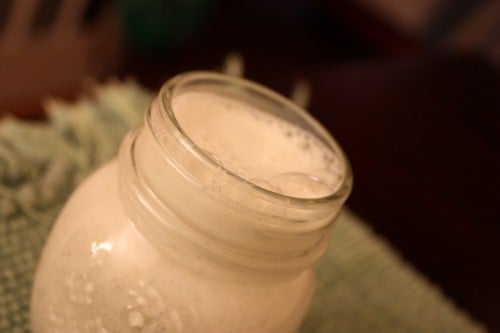 You certainly could strain this nut milk if you'd like to, but I don't recommend it. The texture is particularly nice when it's left unstrained, and moreover, hemp seeds are so rich in nutrients that it seems a shame to divest the nut milk of some of its nutrient power by straining. In fact, I'm such a fan of hemp foods as nutritional powerhouses that I even calculated the nutrition facts for the milk. This is something I've been asked to do for my almond milk, too, which I can't because I've no idea how straining effects the nutrition. And no, I don't intend to make a habit of posting nutrition information for all of my recipes. But I can make exceptions once in a while. The stats:
For 1/2 cup serving (a little goes a long way!):
Kcal = 128
Fat = 7.8
Sugars = 4.8
Protein = 8.8 g
Fiber = 1.2 g
As you can see, hemp milk is a more protein rich alternative to standard almond milk, which is great for those of you who are working to incorporate more protein nito your diets. Keep in mind, too, that the fats in this hemp milk comprise both Omega-6 and Omega-3 fatty acids, which our bodies need for brain function, growth, and development.
The bottom line is that this hemp milk is a slightly more nutrient dense alternative to my basic almond recipe. But increased nutrition does not come with decreased taste; you may need to adjust to the strong flavor of hemp, but as soon as you do, you'll want to enrich every smoothie and overnight oat bowl with this stuff!
Speaking of healthy fats, I've written yet another blog post on why we shouldn't be afraid of them–this time, it's up at Whole Living Daily. I encourage all of my readers who are scared of eating more fat to check it out, and to embrace the healthy properties of lipids!
xo