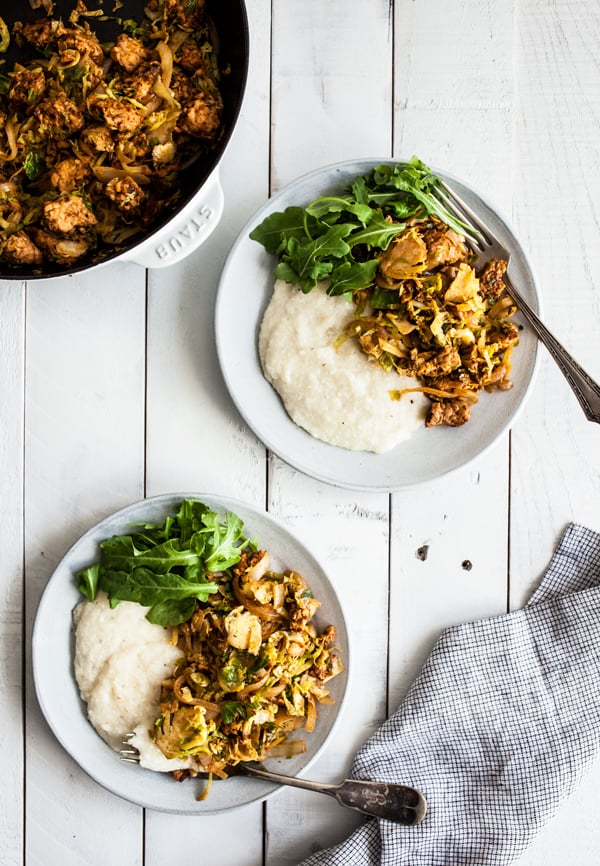 In the summer I tend to stick to very simple breakfasts: tostadas most of the time, with a smattering of toast and overnight oats. I have every intention of whipping up something special on the weekends, yet it rarely happens.
As the weather cools off in autumn and winter, I start to feel more excitement around brunch possibilities, be they pancakes, waffles, or new savory offerings. These homestyle vegan grits with tempeh sausage & brussels sprouts are not only a new brunch favorite, but also a go-to dinner option as well. They're savory, hearty, and full of texture, and the tempeh sausage is an easy homemade alternative to store-bought vegan sausages.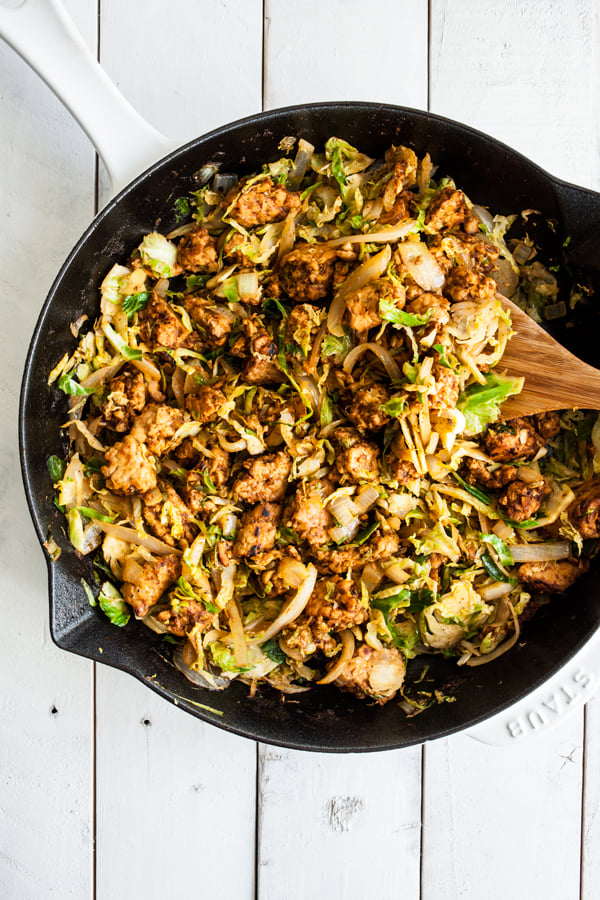 There are breakfast people, and then there are breakfast people. These are people who wake up hungry, who'd eat breakfast dishes at any time of day, and who anticipate bedtime because it brings them that much closer to a morning meal.
I'm in this group. While I can't exactly say that breakfast is my favorite meal of the day–I really like all three of them!–it's the meal that I'm always hungriest for, which is enough to award it a special place in my heart.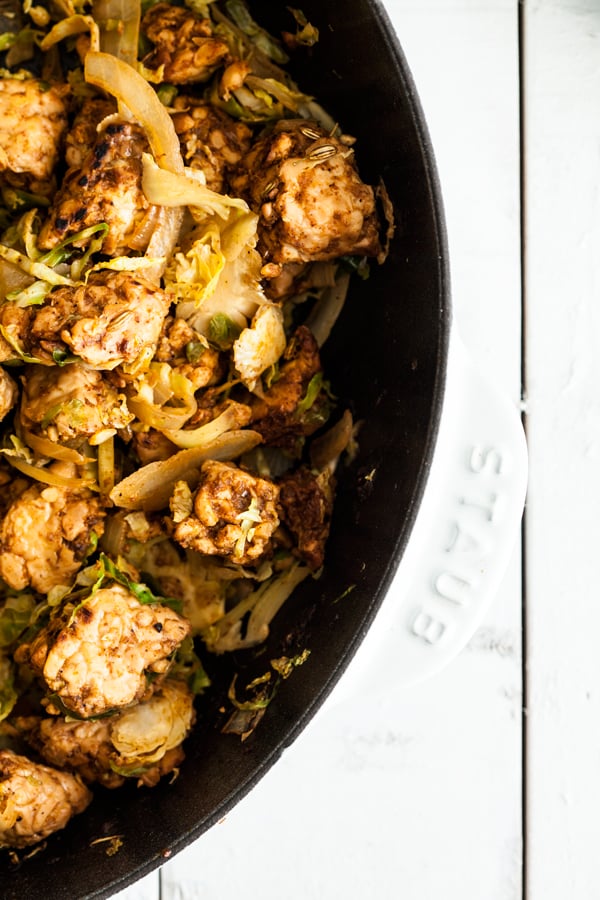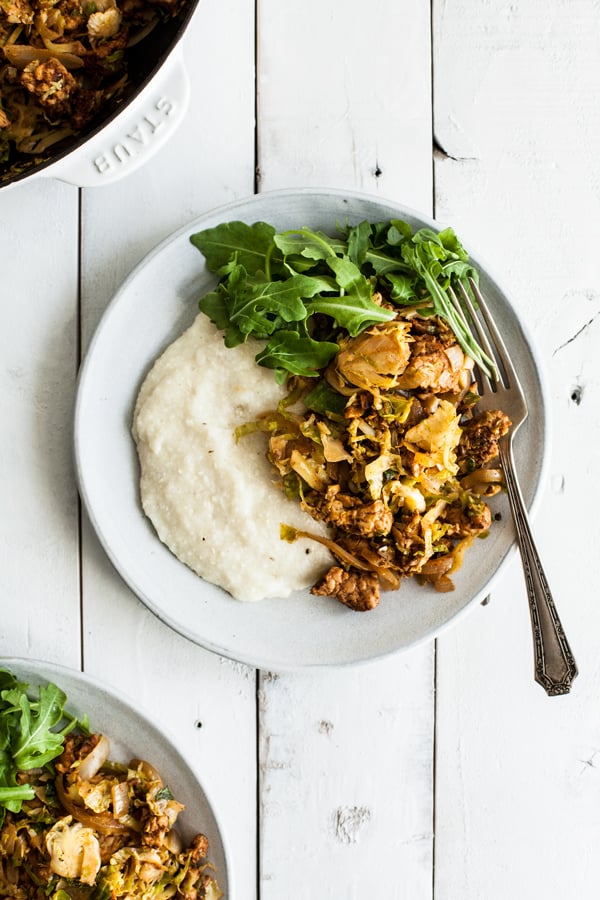 My friend Ashley is also a breakfast person–which becomes clear if you peruse her blog recipe archives and take a look at the many creative breakfast offerings. She and I have spent a lot of time discussing our mutual love of breakfast, from waffles to hash. When Ashley stayed with me in NYC a few years ago, we had almost too much fun making pumpkin oatmeal together. And when I stayed with her in Denver, I had the chance to sample her divine vegan vanilla waffles with vanilla maple cashew cream. On that same trip, we joked about co-authoring an all-muffin cookbook (the muffin diet?), dedicated to our mutual love of muffins.
Working closely with Ashley has been one of the highlights of this past year. Ashley is lending her incredible talent as a photographer to my new cookbook, and I am so lucky to have her on board. It's not only that she makes food look beautiful, which she does. It's also that she's the most valuable kind of collaborator: creative, practical, energetic, patient, kind. I'm learning a lot from her.
It came as an unexpected but delightful surprise when Ashley told me that she and her husband Chris were expecting their first child, and I've felt very honored to watch her go through the experience of pregnancy as we work together. I know that she'll be a loving parent, and I suspect that her daughter has many incredible, homemade breakfasts to look forward to as she grows up.
Today, Sonja and I are co-hosting a little virtual baby bash to celebrate the arrival of Ashley's little girl this coming winter. Knowing Ashley's passion for breakfast, we couldn't help but make it breakfast-themed. Here's a list of the delicious dishes, both savory and sweet, that blogger friends are sharing today:
Cornbread Waffles with Maple Mascarpone Schmear | A Couple Cooks
Pear and Almond Butter Baked Oatmeal | Eating Made Easy
Eggs Florentine | Brooklyn Supper
Fried Chicken and Waffles with Almond Butter Kale Slaw | Climbing Grier Mountain
Winter Vegetable Breakfast Skillet | Flourishing Foodie
Homemade Nutella Toasts | The Faux Martha
Fancy Avocado Toast | A Beautiful Plate
Apple Cinnamon Oatmeal Waffles | Making Thyme for Health
Deep Fried Nutella French Toast | I am a Food Blog
Verde Shakshuka | Beard & Bonnet
We're celebrating on Instagram, too, with the hashtag #ediblebabybash, and a lot of other blogger friends will be contributing that way! You can search for the hashtag to see what breakfast creations folks are cooking up.
As for this dish, I love its smoky flavors and the contrast of creamy grits with toothsome tempeh and tender brussels sprouts. I made it for brunch over the weekend, but I enjoyed having the leftovers for dinner every bit as much. If you don't have brussels sprouts, you can try substituting a leafy green, like kale or collards, instead: simply sauté the onion first (instead of cooking the onion and brussels sprouts together), then stir in your greens in, cook them till tender, and then fold in the sausage crumbles.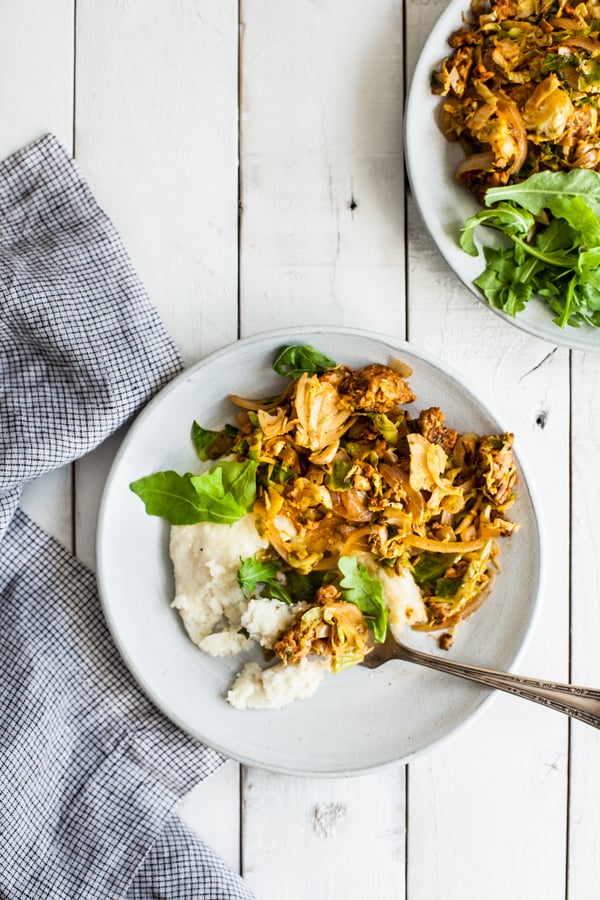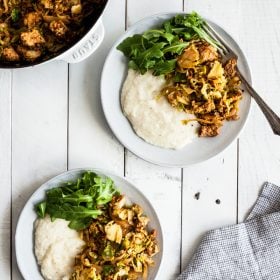 Homestyle Vegan Grits with Tempeh Sausage & Brussels Sprouts
Author -
For the sausage & sprouts:
4

teaspoons

vegetable oil

8

ounces

tempeh

crumbled

1

clove

garlic

finely minced or grated on a microplane

1

teaspoon

chili powder

1

teaspoon

fennel seeds

3/4

teaspoon

smoked paprika

3/4

cup

low sodium vegetable broth

plus more as needed (substitute water)

1

tablespoon

tamari

2

teaspoons

apple cider vinegar

1-2

teaspoons

maple syrup

to taste

1

small white or yellow onion

thinly sliced

8

ounces

shredded Brussels sprouts

about 3 heaping cups*
To prepare the sausage, heat 2 teaspoons oil in a skillet or roomy sauté pan over medium high heat. When the oil is shimmering, add the tempeh. Brown the tempeh, stirring frequently, for 3-4 minutes. When it's a light golden color, add the garlic and cook for one more minute, stirring constantly. Add the chili, fennel, paprika, broth, tamari, vinegar, and maple syrup to the pan. When the broth is simmering, reduce heat to low. Allow the sausage crumbles to simmer, uncovered, until the broth has been absorbed. Transfer the crumbles to a plate and set them aside.

Heat the remaining 2 teaspoons oil in the same skillet and return the heat to medium. Add the onion and Brussels sprouts, along with a pinch of salt and pepper. Cook, stirring now and then, for 6-8 minutes, or until the onions are tender and sweet. Fold the sausage crumbles back into the onion and sprouts, mix everything well, and then adjust salt and pepper to taste. Remove the skillet from heat.

To prepare the grits, bring the water and salt to boil. Whisk in the grits or cornmeal. Reduce heat to medium low. Cook, stirring constantly, for 5-10 minutes, or until the grits are thick and creamy (cooking time will depend on the type of grits you use, so it's a good idea to check the package for instructions). Stir in vegan buttery spread and nutritional yeast, along with a generous crack of black pepper. If you like, add a splash of non-dairy milk for extra creaminess.

Divide the grits into four plates or bowls and top each with a quarter of the tempeh and veggie mixture. Feel free to add a handful of fresh, peppery greens (like arugula) to each plate for a little color and crunch! Serve.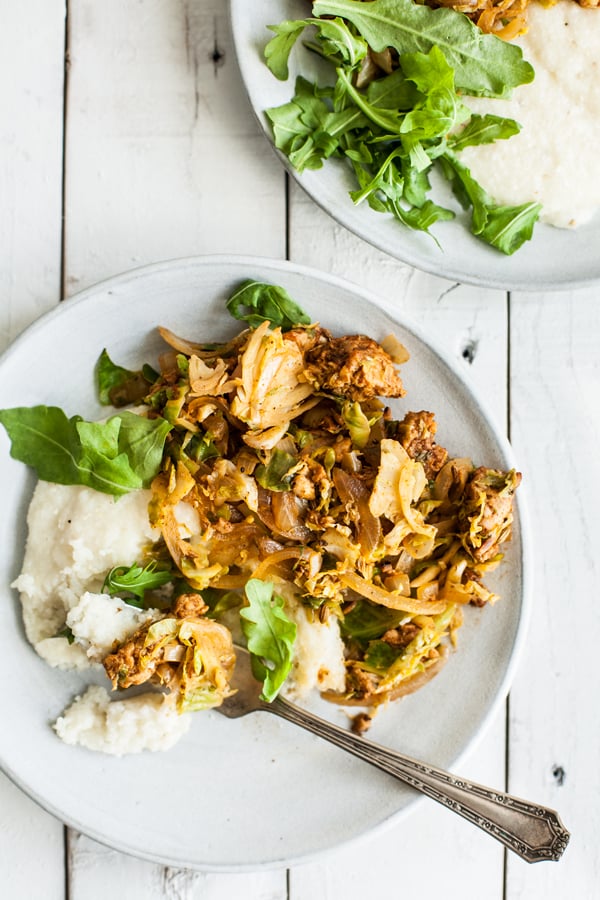 This dish is such a nutritious way to wake up. I love protein and fiber-packed breakfasts like this one; they have a lot of staying power, and they're perfect for making before heading out for a busy day or before facing a long, chilly morning. If you have leftovers, they'll make excellent repeat breakfasts: I recommend reheating the grits in a small saucepan with some extra almond milk or water to help keep them creamy.
Enjoy this meal, and I hope you'll get a chance to check out the other breakfast and brunch ideas! Ashley: happy shower to you, and may your family life include many satisfying morning meals to come.
Till soon,
xo