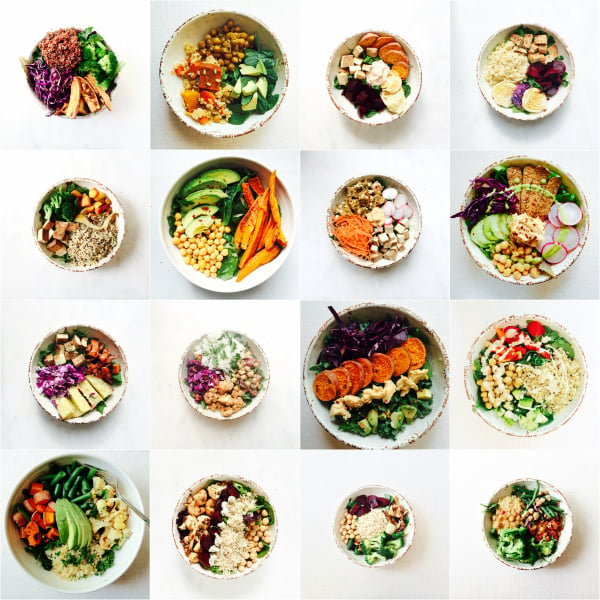 If you follow me on Instagram or your read my menu plan Monday posts pretty regularly, then it won't come as a surprise to you that I love bowls. I know, I know–the bowl thing has gotten super trendy. But things tend to become popular for a reason, and there's just so much to love about a great bowl. Bowl meals are an easy way to create a meal that's balanced, varied, and beautiful to look at.
I get a lot of questions about my bowls and how I make them on Instagram. So, whether you're a bowl pro or not, I hope that you'll enjoy these tips on how to make a perfect vegan lunch bowl.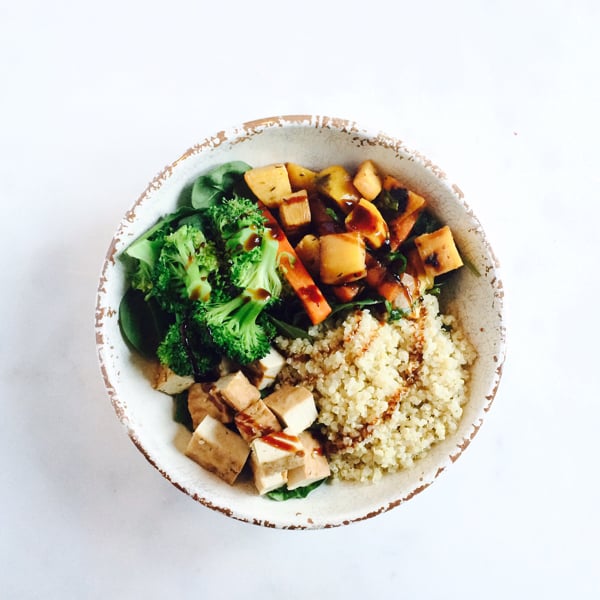 This bowl = quinoa, broccoli, roasted root veggies, smoked tofu, greens, balsamic vinaigrette
My favorite thing about bowls? Constructing them helps you to think a little harder about the constituents of your meal. And this is an invitation to think about balance, about obtaining an array of nutrients on one plate.
You can read more of my thoughts on the importance of macronutrient balance in this post, but the long and short of it is that protein, fat, and carbs are all essential for energy production, and they all play important roles in satiety and fullness after meals. Pairing protein, healthy fat, and complex carbs together with each meal can help to sustain our energy throughout the day, prevent mindless eating or grazing (which often results from meals that aren't balanced or satisfying enough), and keep us truly nourished.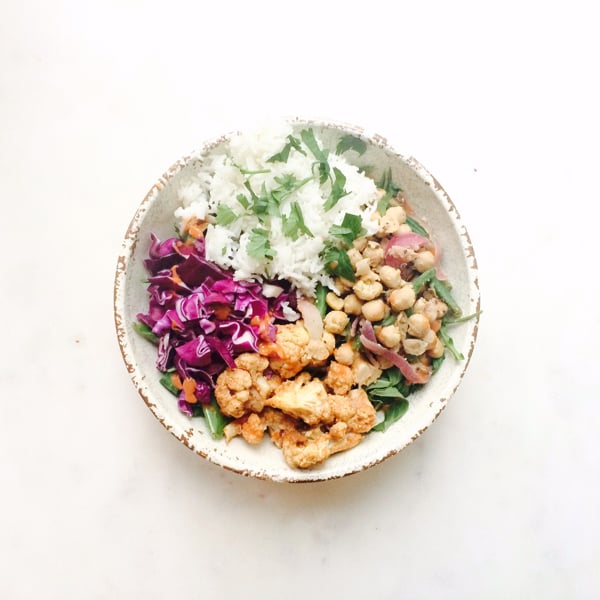 This bowl = roasted cauliflower, sauteed chickpeas and red onion, red cabbage, basmati rice, greens, and tahini
So, my approach to making a perfect vegan lunch bowl starts with thinking about how I'll get some protein, some healthy fat, and some complex carbs. Most of the time I figure this out based on what's in my fridge, especially in the form of leftovers.
This bowl=sweet potato spears, chickpeas, avocado, baby spinach and fennel in lemon vinaigrette
From there, I start to think about flavor combinations that will make the bowl pop and the veggies I want to use as my base.
Here's my foolproof method!
How to Create a Perfect Vegan Lunch Bowl
Step 1: Pick Your Veggies
Most of my bowl ingredients get piled over a small bed of dressed salad greens or steamed greens, but this isn't always the case. Sometimes I've got leftover steamed broccoli, leftover roasted zucchini or steamed green beans, or another vegetable that I served as a side dish the night before and had extra of. No matter the case, I'll use this bed of veggies as the base on which I pile everything else.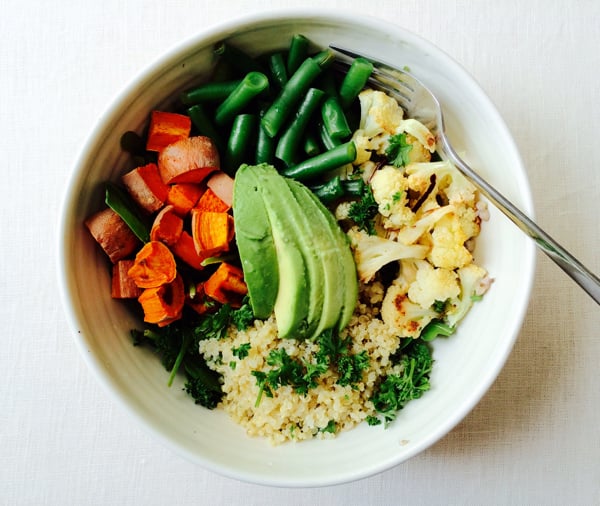 This bowl=leftover roasted sweet potatoes, roasted cauliflower, steamed green beans, quinoa, parsley, and avocado
Step 2: Pick Your Complex Carb
I think about my complex carbs/starches as being the energy powerhouse of my meal, the ingredient that helps to keep the engines running. My lunch bowls almost always feature sweet potato, whole grains, legumes, or some other starch. Here are some of my favorite choices:
●Quinoa
●Rice
●Millet
●Sweet potato
●Japanese yam
●Beans + lentils
I've also used polenta cubes, leftover savory oats, toasted bread pieces, roasted new potatoes, and buckwheat.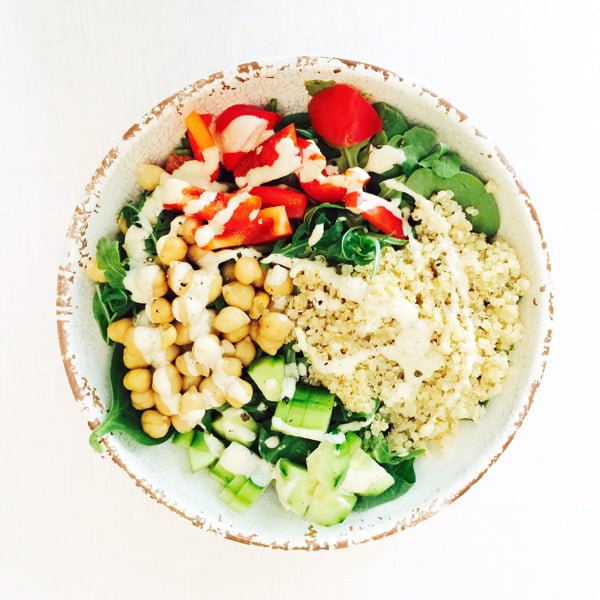 This bowl = millet, chickpeas, bell peppers, cucumbers, tahini
Step 3: Pick Your Protein
A great vegan lunch bowl contains a great source of protein. Protein also aids in satiety after meals, and I think it's especially important at lunchtime because so many folks are prone to afternoon munchies and energy dips. Protein is also essential for tissue repair, for countless enzymatic reactions in the body, for healthy hair and nails, and for maintaining muscle and bone health. My favorite plant proteins for lunch bowls are:
●Cubed tofu or smoked tofu (I love the SoyBoy smoked tofu, which is ready to eat and absolutely delicious)
●Marinated and baked tempeh cubes (like my lemon pepper baked tempeh cubes)
●Beans, lentils, and dry peas
●Quinoa
●Hemp seeds
●Beyond Meat chicken strips
●Sunshine burgers or homemade veggie burgers

This bowl = Beyond Meat grilled strips, sweet potato, carrots and peppers, celery, kale, miso sesame dressing
Step 4: Pick a Healthy Fat
Fat, just like the other two macronutrients, helps to keep us full. It slows the digestion of food, which means that we feel sated longer. Mono and polyunsaturated fats from plant foods help to regulate both insulin and blood sugar, and they're also associated with a healthy lipid profile, including lower LDL cholesterol and higher levels of HDL cholesterol. Omega-3 and Omega-6 fatty acids can help to maintain healthy skin and hair, and Omega-3 fatty acids in particular may have anti-inflammatory properties. Hooray for healthy fats!
Here are some of my favorite plant-based sources of fat for lunch bowls:
●Olive oil (as well as flax, hemp, and other nut/seed oils)
●Tahini and other nut or seed butter-based dressings
●Avocado
●Hemp seeds
●My go-to cashew cheese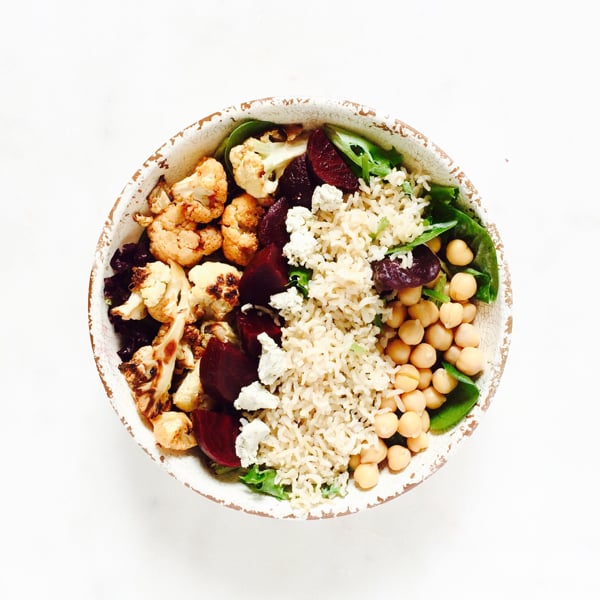 This bowl=roasted cauliflower, beets, go-to cashew cheese, crown rice, chickpeas, greens, olive oil +lemon
Step 5: Pick a Dressing or Sauce
This sort of overlaps with Step 4 (finding a healthy fat), but it's worth emphasizing, because the best part of many a bowl meal is often the sauce 🙂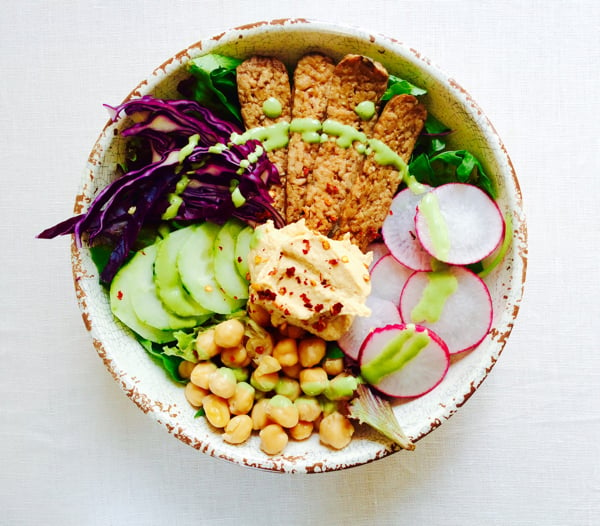 This bowl = chickpeas, radishes, red cabbage, cucumbers, tempeh strips, hummus, delightfully green tahini dressing
A great sauce can be the distinguishing factor between a ho-hum bowl and a totally spectacular bowl, and using a bunch of different sauces, dressings, and dips can help your lunch bowls to shine. Here are some of my favorite sauces for lunch bowls:
Delightfully green tahini dressing
Outstanding miso sesame dressing
Balsamic tahini dressing
Lemon hemp dressing
Pumpkin seed peppercorn dressing
Tahini lime drizzle
Sweet dijon vinaigrette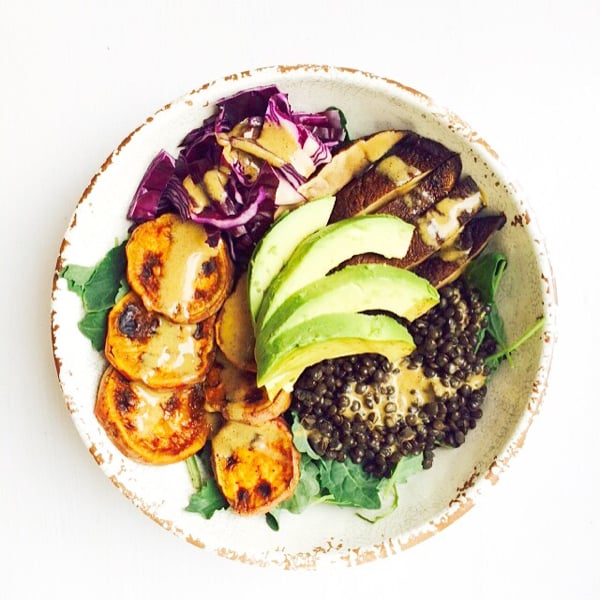 This bowl = sweet potatoes, lentils, portobello, red cabbage, avocado sweet dijon vinaigrette
Step 6: Add Some Character
If you've finished putting together your lunch bowl and you feel as if it's missing something, try adding some chopped fresh herbs, some toasted pepitas, some sesame seeds, a sprinkle of nutritional yeast, a handful of chopped almonds, or even just a dash of some crushed red pepper flakes for extra seasoning, crunch, and flavor. Small garnishes go a long way in helping to elevate a bowl and give it character!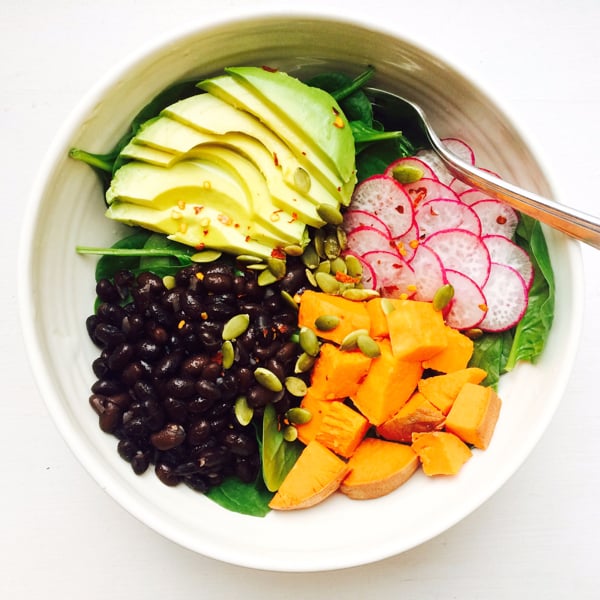 This bowl = black beans, sweet potato, avocado, radish, greens, pepitas
Tips for Lunch Bowl Success
Having a bowl formula will help to get the creative juices flowing, but lunch bowl success also depends on having a well stocked fridge and pantry. Bowls can be easy if you have a lot of components at your fingertips, but a lot of work if you prepare everything from scratch. Here are my strategies for making lunch bowls easy and accessible.
1. Batch Cook Your Main Ingredients
I tend to batch cook one batch of whole grains, one pot of beans or lentils, one dressing, and/or a hummus or cashew cheese every weekend. I'll also roast some sweet potatoes and other root vegetables as needed. This makes it easy to piece together a wholesome lunch bowl on a busy work day.
I know it's not always easy to devote precious weekend time to being in the kitchen, but an investment of only a few hours can truly help to make weekly meal planning a breeze. To see what I'm whipping up for my weekly lunch bowls, you can check out the "basics" in my menu plan Monday posts.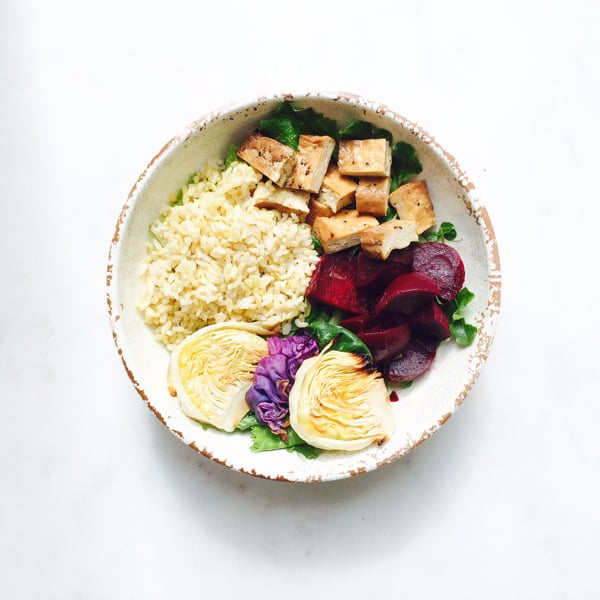 This bowl = brown rice, roasted cabbage wedges, roasted beets, smoked tofu, EVOO+lemon
2. Use Your Leftovers
Bowl meals don't have to be about piecing together staple grains, beans, and veggies. You can also use them as a vehicle to show off and transform your leftovers! I often use my bowls as a chance to mix and match leftovers that I only have a small amount of (in other words, that last little bit of chili or soup that won't add up to a meal on its own), or to serve last night's dinner in a new way.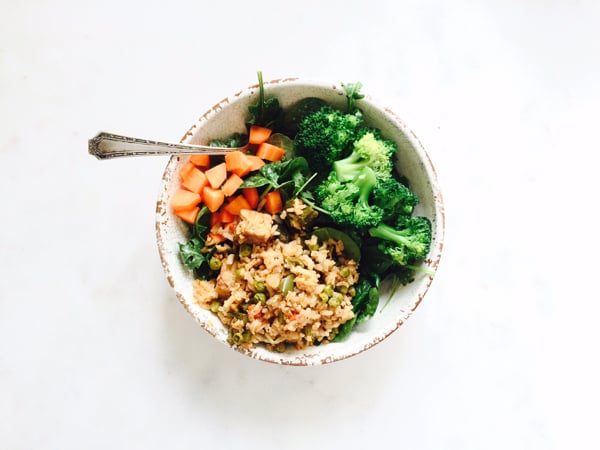 This bowl = broccoli carrots, greens with tahini dressing, and the filling of my tempeh and rice stuffed peppers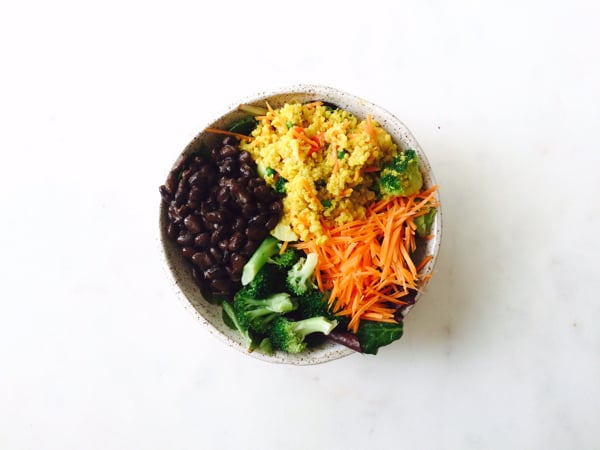 This bowl = black beans, creamy curried quinoa leftovers, broccoli, carrots, greens with simple EVOO + lemon juice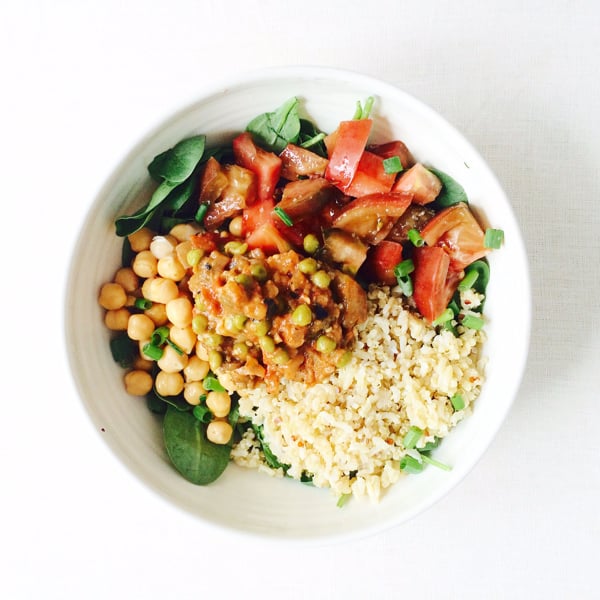 This bowl = leftover eggplant and green pea curry, chickpeas, quinoa, tomatoes, greens, tahini at the bottom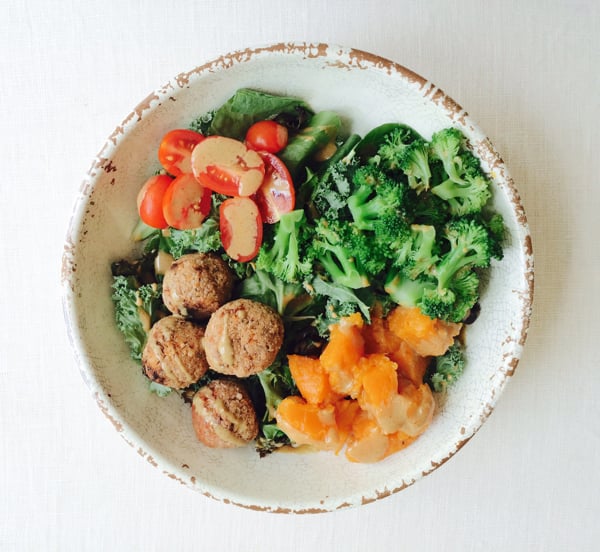 This bowl = leftover white bean balls, roasted butternut squash, broccoli cherry tomatoes, greens, sweet dijon vinaigrette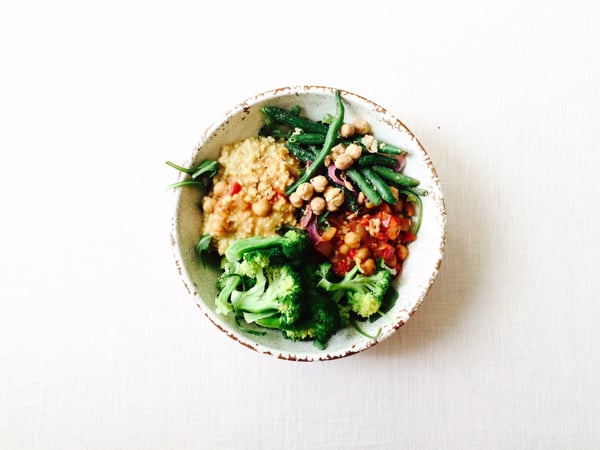 This bowl = broccoli, leftover spiced green beans, leftover chickpea marinara, leftover polenta
3. Make it Your Own
We all have flavor combinations we know and love, ingredients we can't live without. See your lunch bowls as an opportunity to express yourself with food!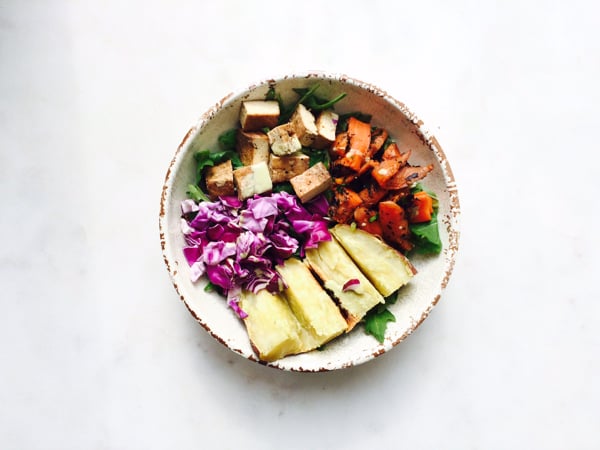 This bowl = red cabbage, baked and marinated tofu, roasted carrots, roasted Japanese yam, tahini drizzle
And of course…
These tips aren't just for lunch
Bowls can add more nutrition, variety, color, and texture to your life at any time of day!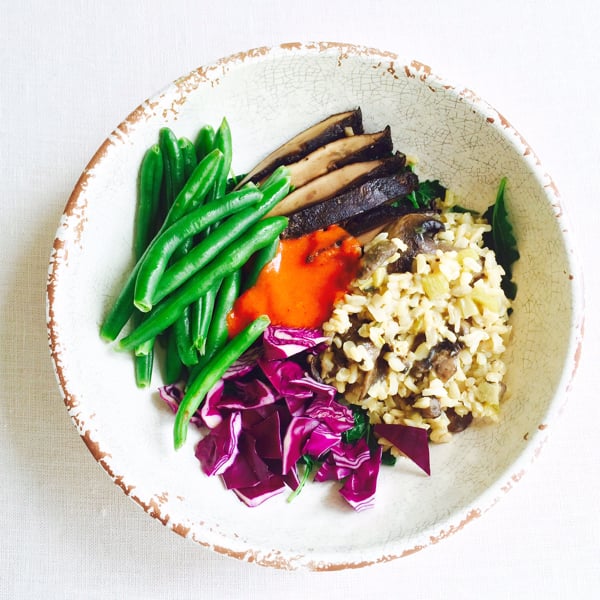 This bowl = leftover brown rice and mushroom risotto, cabbage, green beans, roasted portobello, and red pepper vinaigrette
I hope these tips will help you to create some fun, flavorful vegan lunch bowls (or anytime bowls!) of your own. You can always join me on Instagram for more peeks into my lunchbowls, and you can also follow my bowl board on Pinterest for more great ideas from around the web.
And I'd love to hear what some of your favorite flavor and ingredient combinations are–I'm always looking for new ideas and inspiration!
See you for weekend reading, and enjoy the end of the week.
xo