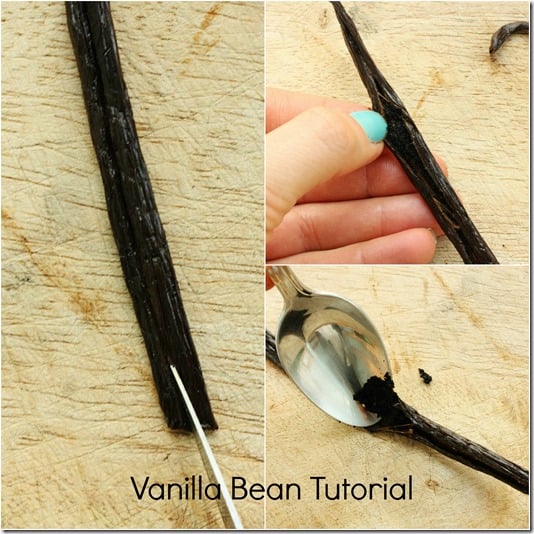 I'm happy so many of you loved the mango lassi recipe I shared this week! Since I posted it, I've had a few questions via email about working with fresh vanilla (which the recipe calls for). I thought I'd give you all a quick tutorial, as well as some details and serving suggestions for this wonderful ingredient.
It's funny that, when something strikes as as bland or ordinary, we might call it "vanilla." The implication is that vanilla things pale in comparison to their bolder chocolate counterparts; they lack flavor where chocolate oozes it. To me, vanilla is one of the most wonderful flavors there is. It is complex, rich, and elegant, all at once, and it is anything but bland. In fact, in spite of my adoration of chocolate itself, I prefer vanilla flavored ice cream to chocolate substantially.
Recipes that call for vanilla as a major ingredient—especially beverages—are greatly improved by the use of fresh vanilla bean in place of vanilla extract. Vanilla extracts are not all created equal; some are very high quality, and they create incredible taste. But fresh vanilla bean is incomparably rich and exotic, which somewhat justifies its rather steep price tag. There are a lot of foods I used to spend money on (back when I was gainfully employed) that I can't or won't anymore; I can't remember the last time I purchased lucuma, for example, even though it's an ingredient I really enjoy as a "luxury." But vanilla is so ubiquitous and so versatile in recipes, and fresh vanilla bean is so special, that I think vanilla beans are worth investing in if you're able. You can find them on Amazon at $15.75 for 1/4 pound, or $23.75 for 1/2 of a pound (a pretty good deal). You can also find them on Nuts.com (a wonderful resource for raw, organic nuts, seeds, and fruits, that also boasts really good customer service) at $18.00 for 1/4 pound.
Opening a vanilla bean is actually very simple—compared to opening a young thai coconut, it's a piece of (vanilla) cake! First, lay your bean out on a cutting board: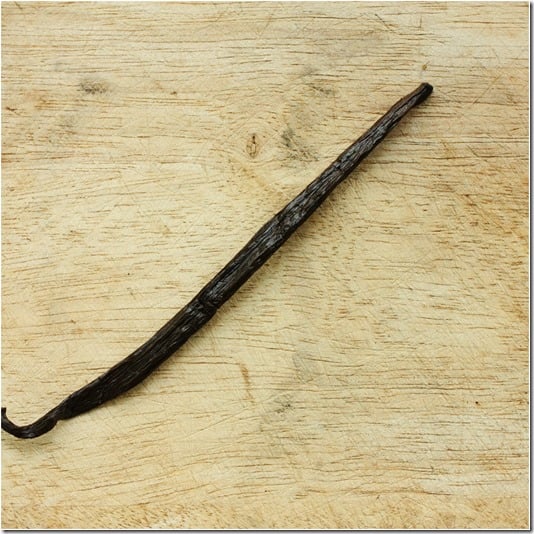 Trim off the very ends: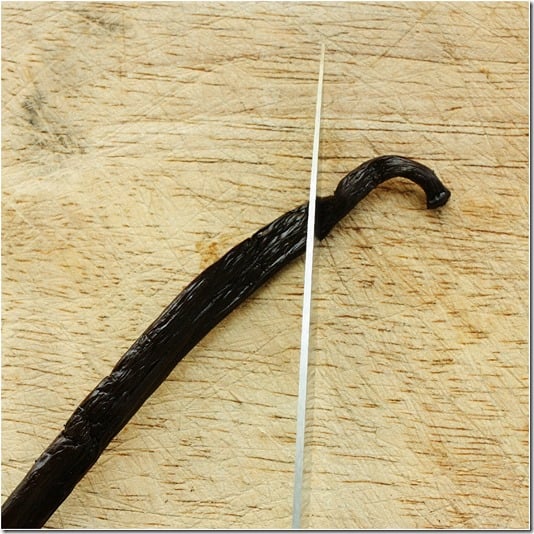 Next, slice the vanilla bean down the center using a sharp paring knife. You don't necessarily want to slice it all the way through (though it's fine if you do); you want to slice open the top of it.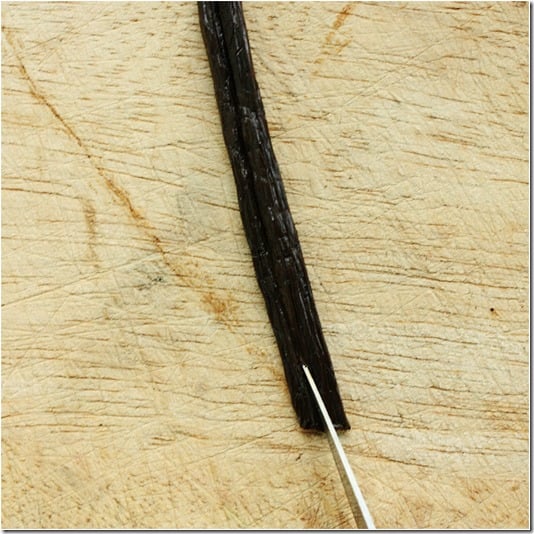 Pry open the vanilla bean to expose the seeds inside: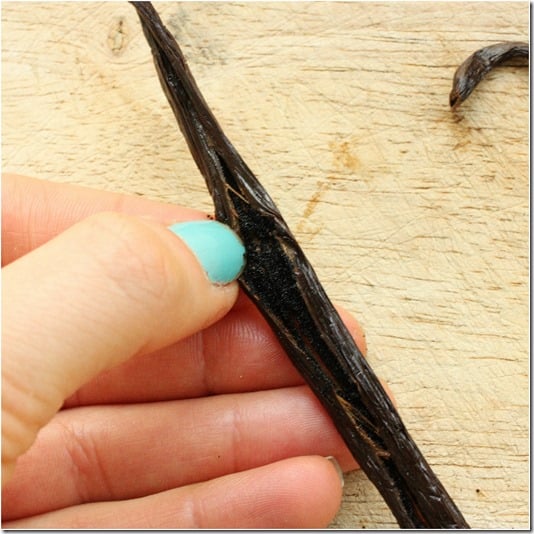 And then use a spoon to scrape along the bean and collect the seeds (you can use the side of a knife for this, too!)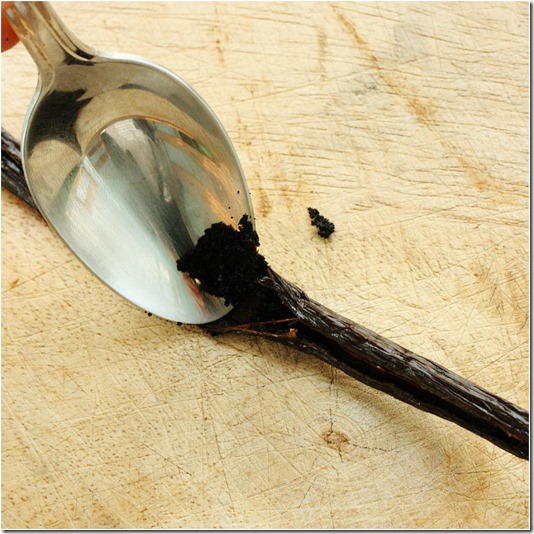 And from there, you can use the seeds as needed. If you only need half the seeds of a bean, simply cut the bean in half before you cut it open.
Vanilla bean can be used in tons of different kinds of vegan recipes, from smoothies to puddings to cake. Vanilla can also work nicely in some soups—it's not only a sweet ingredient! And if you're keen on preserving the seeds, or bringing out some of their flavor, you can steep them in alcohol to make your own vanilla extract. For real.
Hope this inspires you to play around with vanilla beans at home. And if this post was helpful, check out some of my other tutorials!
How to open a young Thai coconut
How to build a meal sized salad
How to make homemade almond milk
How to make homemade fermented nut cheese
Tomorrow, a recipe that puts the wonderful vanilla bean to good use.
xo