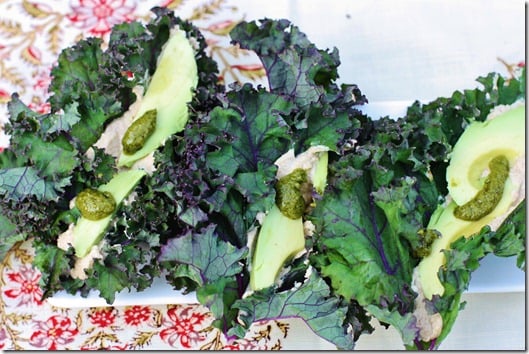 Today was the day after an epic exam, which means it should have been relatively empty. Instead, it was actually a little busy: I volunteered for an extra hour, I caught up on countless emails, I finished an outstanding assignment or two, and then I was very honored to be interviewed by a fellow Georgetown pre-med student for a project she's doing about eating disorders on the Georgetown campus. By the time I got home, I was a hangry, and in a rush to eat, but I wasn't in the mood to simply throw a salad together: I wanted to create a raw dish, too. Thus began the wild kale wraps above. They're a little unruly, due to the curly purple kale leaves, but they're no less delicious for it!
I first got the idea for purple curly kale wraps when I visited Superfood Bar in New Orleans.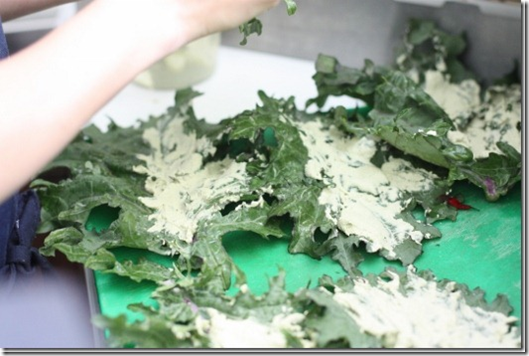 The chef there said that, although the curly red leaves could be very unruly, they were a little sweeter tasting than either regular curly kale or collard leaves (the customary raw foodie wrap of choice). She was right!! Her wraps, which contained cashew pate and avocado, had none of the bitterness that collard wraps can sometimes have. I was delighted. And this week, when I saw purple curly kale at the market, I knew I had to re-create her lovely dish.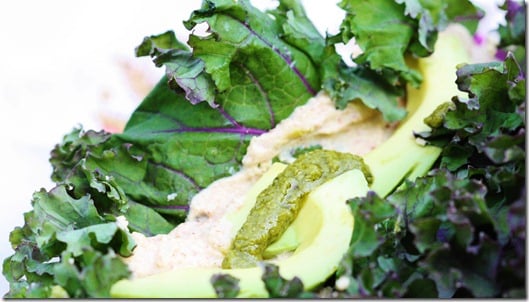 What makes this recipe different from that one is the filling I used: knowing I'd be adding avocado to this dish, I wanted to cut a little bit of the fat from the almond filling. It was the perfect moment to test a recipe idea I've had for ages: an almond and chickpea dip/spread/sauce. Given how fond I am of these two ingredients, and how healthy they are, it shocks me that it has taken so long to marry them in a dish. Now that I have, it's an instant Choosing Raw favorite.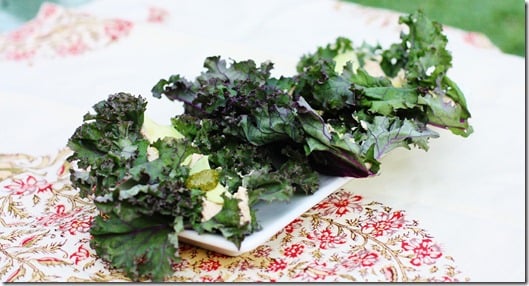 Purple Kale Wraps with Almond Chickpea Filling (high raw, vegan, gluten free, soy free)
Serves 4 (3 kale wraps each; you'll have pate left over)
For the Almond and Chickpea Pate (makes about 2 1/2 cups)
1 cup almonds
1 1/2 cup chickpeas
1 large clove garlic
2 1/2 tbsp Bragg's Liquid Aminos (substitute tamari or coconut aminos)
3/4 cup water
3 tbsp nutritional yeast
Juice of 1 large lemon
For the wraps:
12 Purple kale leaves
1 avocado, sliced thinly
1/4 cup Choosing Raw pesto
1.
If you use a Vitamix: blend all ingredients together in a high speed blender, using tamp to keep things moving. Add more water if necessary.
If you use a food processor: Grind almonds till they form a fine meal. Add beans, garlic, lemon, and Bragg's. Drizzle in water with the motor running till mixture is smooth and creamy.
2. Lay a kale leave out flat, spine up. Use a paring knife to slice some of the spine off, without cutting through the leaf.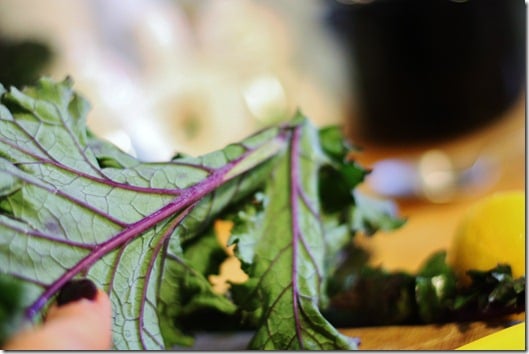 3. Spread each leaf with about 3-4 tbsp almond chickpea spread. Add a few avocado slices and a drizzle of pesto. Serve!
As the title of this post suggests, the best thing about these wraps is that they take only 15 minutes to make, from start to finish. Just blend, spread, and go! Who said raw dishes have to be complicated? When this kind of flavorful, nourishing food can be at your fingertips so quickly, there's no excuse not to choose raw.

One of the major challenges of eating raw-er, at least at first, is knowing whether or not your raw entrée constitutes a whole meal. Does it have enough protein? Is it nutrient-dense enough? Will you be hungry later? Choosing Raw has never been a "diary" style blog—I totally admire when people have the patience and stamina to post thrice daily meal recaps, but I just don't have it in me—which means that you often see recipes and photos of recipes, but don't necessarily get a sense of how I incorporate these recipes into whole meals. From now on, I'll do my best to show you!
Along with these wraps, I would have:
A large salad with lentils or quinoa and a light dressing
A cup of whole grains, or a grain and bean mix
A cup of lentil soup with nutritional yeast topping
A handful of juice pulp crackers with hemp hummus
A side salad with hummus topping and a slice of Lydia's raw bread
These foods will add some extra protein; even though the almond chickpea spread has about 6 grams per serving (more than conventional hummus) the meal could use a boost—and the grains offered up may be helpful if you don't find that raw food keeps you entirely full!
Before I sign off, I want to thank
, social media strategist, resident CR social media advisor, and husband to
look so nice! I didn't like the new look at first, but it's growing on me…as is my use of Facebook in general. Stop by and join the conversations!